Play To Win
Tips and strategies to help make you a winning casino player

Game Rules
Learn: Blackjack, Baccarat, Craps, Roulette, Slots, Video Poker, Pai Gow Poker, Texas Hold'em, Caribbean Stud, Let It Ride, Casino War, Big Six, Sic Bo (NEW!)

Systems Gallery
Win more, more often with proven betting methods from the systems gallery

Order Form
A secure on-line order form to purchase products advertised by Let's Talk Winning.

Playing Online
All about gambling at online casinos. Find out where the best deals are

Best Casino Bonuses - NEW!
The best collection of on-line casino bonuses, where you can cash $802 on your sign-up.

Links and Things
Sign our guestbook, refer a friend, link to other gambling sites.

Gambling News - NEW!
Latest Gambling News - updated daily including gambling articles, joke of the day and a gambling dictionary.

Newsletter
Click above to read the current edition of our weekly newsletter. Then get your own free subscription right here. Enter your e-mail address for immediate delivery of an introductory issue, including a FREE ROULETTE SYSTEM by clicking here.

Please tell all your friends about it.

On-Line Forum
Post a gambling question or opinion - get an answer . . .
---
Below is a selection of the most recommended
on-line casinos
and sportsbooks

Check out:
On-Line Casino of the Month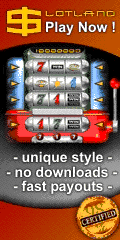 ---
================================================ Thursday, August 5, 2004

Scott's Cluster System Variation
Hello everyone,
This newsletter is a follow up on last week's newsletter, where we talked about Scott's Cluster System designed for street bets in Roulette. I came up with a variation of it, that may be safer on your bankroll and I'd like to share that with you.
Just to remind you, Scott's Cluster system bets 1 unit on a Roulette street, such as street 1 (nos. 1,2,3). If your bet wins within 11 spins, you make a profit, since it pays 11 to 1. If your bet does not win within 11 spins, then you continue betting 1 unit until your street hits. After it hits, you increase your bet by 1 unit until it hits again. If you made a profit after the second hit, then you start over again with 1 unit bet. If you haven't made a profit yet, then you increase your bet again by 1 unit and keep betting on the same street until it hits and makes a profit. The idea of the system is that if a street hasn't hit for a long time, it will later on hit more frequently as in clusters.
I have simulated Scott's original system and you can download it from: http://www.letstalkwinning.com/Scott-Cluster-Streets-Original.xls.
I have also set a parameter in cell N2, where you can change the maximum bet amount of the progression.
The variation that I came up with doesn't use the progression until your net running total is negative. That means, that you are betting 1 unit flat, as long as your balance is positive. If your balance goes negative, then you increase your bet by 1 unit on the same street until it hits, in short, you are back to the original system, until your overall balance is positive again. Then you bet flat only.
The following is what this variation achieves: Every time your balance is negative, you start using the progression, which brings you to a positive balance most of the time. Then you have no further risk to your bankroll betting flat. Also, by using the progression as less as possible, you are reducing the overall exposure and thus the risk of a total bankroll ruin.
Now, we know that on the long run, using flat bets in Roulette will yield to the house advantage. As a matter of fact, you can view the simulation of this variation by downloading it from: http://www.letstalkwinning.com/Scott-Cluster-Streets.xls. If you look at the chart, the graph goes well into the positive, until it goes back to the negative, where the progression throws it back to the positive again.
So, how can we use this variation and still make profits? The answer is the stock market approach, that is buying low and selling high. Let's say you start using the system at point 0 and your bankroll goes up, then drops again to negative, where you start using the progression. Then your bankroll goes up again, until it reaches 20-40 units. This is where you set your win goal and quit the session.
Another session, you come back at level 0 and follow the exact similar procedure as above. This way you can quit at between +20-+40 units almost every session. The only time that you will end up negative is if the progression does not bring you back to positive. But since you are using this progression as less as possible, the chances of this happening are tremendously reduced.
Here is a simulation run, which illustrates this:
Number

Street 1-12

Bet on Street

W/L

Bet

Cash

Net

23

8

1

L

1

-1

-1

12

4

1

L

1

-1

-2

00

0

1

L

1

-1

-3

34

12

1

L

1

-1

-4

16

6

1

L

1

-1

-5

23

8

1

L

1

-1

-6

17

6

1

L

1

-1

-7

29

10

1

L

1

-1

-8

22

8

1

L

1

-1

-9

32

11

1

L

1

-1

-10

5

2

1

L

1

-1

-11

13

5

1

L

1

-1

-12

12

4

1

L

1

-1

-13

29

10

1

L

1

-1

-14

18

6

1

L

1

-1

-15

32

11

1

L

1

-1

-16

18

6

1

L

1

-1

-17

9

3

1

L

1

-1

-18

9

3

1

L

1

-1

-19

3

1

1

W

1

11

-8

26

9

1

L

2

-2

-10

00

0

1

L

2

-2

-12

20

7

1

L

2

-2

-14

20

7

1

L

2

-2

-16

5

2

1

L

2

-2

-18

35

12

1

L

2

-2

-20

18

6

1

L

2

-2

-22

3

1

1

W

2

22

0

26

9

1

L

1

-1

-1

4

2

1

L

1

-1

-2

16

6

1

L

1

-1

-3

8

3

1

L

1

-1

-4

6

2

1

L

1

-1

-5

4

2

1

L

1

-1

-6

5

2

1

L

1

-1

-7

0

0

1

L

1

-1

-8

25

9

1

L

1

-1

-9

36

12

1

L

1

-1

-10

15

5

1

L

1

-1

-11

7

3

1

L

1

-1

-12

20

7

1

L

1

-1

-13

18

6

1

L

1

-1

-14

2

1

1

W

1

11

-3

00

0

1

L

2

-2

-5

5

2

1

L

2

-2

-7

1

1

1

W

2

22

15

7

3

1

L

1

-1

14

0

0

1

L

1

-1

13

10

4

1

L

1

-1

12

32

11

1

L

1

-1

11

21

7

1

L

1

-1

10

33

11

1

L

1

-1

9

26

9

1

L

1

-1

8

21

7

1

L

1

-1

7

19

7

1

L

1

-1

6

1

1

1

W

1

11

17

2

1

1

W

1

11

28

3

1

1

W

1

11

39

7

3

1

L

1

-1

38

34

12

1

L

1

-1

37

1

1

1

W

1

11

48

1

1

1

W

1

11

59

0

0

1

L

1

-1

58

25

9

1

L

1

-1

57

25

9

1

L

1

-1

56

27

9

1

L

1

-1

55

8

3

1

L

1

-1

54

4

2

1

L

1

-1

53

19

7

1

L

1

-1

52

21

7

1

L

1

-1

51

15

5

1

L

1

-1

50

13

5

1

L

1

-1

49

32

11

1

L

1

-1

48

23

8

1

L

1

-1

47

27

9

1

L

1

-1

46

22

8

1

L

1

-1

45

25

9

1

L

1

-1

44

34

12

1

L

1

-1

43

23

8

1

L

1

-1

42

30

10

1

L

1

-1

41

6

2

1

L

1

-1

40

22

8

1

L

1

-1

39

7

3

1

L

1

-1

38

34

12

1

L

1

-1

37

9

3

1

L

1

-1

36

00

0

1

L

1

-1

35

15

5

1

L

1

-1

34

25

9

1

L

1

-1

33

17

6

1

L

1

-1

32

7

3

1

L

1

-1

31

1

1

1

W

1

11

42

20

7

1

L

1

-1

41

6

2

1

L

1

-1

40

28

10

1

L

1

-1

39

13

5

1

L

1

-1

38

20

7

1

L

1

-1

37

28

10

1

L

1

-1

36

22

8

1

L

1

-1

35

29

10

1

L

1

-1

34

14

5

1

L

1

-1

33

34

12

1

L

1

-1

32

31

11

1

L

1

-1

31

26

9

1

L

1

-1

30

3

1

1

W

1

11

41

35

12

1

L

1

-1

40

5

2

1

L

1

-1

39

26

9

1

L

1

-1

38

1

1

1

W

1

11

49

33

11

1

L

1

-1

48

31

11

1

L

1

-1

47

20

7

1

L

1

-1

46

36

12

1

L

1

-1

45

14

5

1

L

1

-1

44

29

10

1

L

1

-1

43

35

12

1

L

1

-1

42

12

4

1

L

1

-1

41

29

10

1

L

1

-1

40

3

1

1

W

1

11

51

24

8

1

L

1

-1

50

10

4

1

L

1

-1

49

25

9

1

L

1

-1

48

6

2

1

L

1

-1

47

9

3

1

L

1

-1

46

11

4

1

L

1

-1

45

11

4

1

L

1

-1

44

21

7

1

L

1

-1

43

22

8

1

L

1

-1

42

33

11

1

L

1

-1

41

10

4

1

L

1

-1

40

8

3

1

L

1

-1

39

00

0

1

L

1

-1

38

20

7

1

L

1

-1

37

11

4

1

L

1

-1

36

10

4

1

L

1

-1

35

8

3

1

L

1

-1

34

34

12

1

L

1

-1

33

7

3

1

L

1

-1

32

1

1

1

W

1

11

43

7

3

1

L

1

-1

42

32

11

1

L

1

-1

41

35

12

1

L

1

-1

40

24

8

1

L

1

-1

39

22

8

1

L

1

-1

38

36

12

1

L

1

-1

37

11

4

1

L

1

-1

36

33

11

1

L

1

-1

35

00

0

1

L

1

-1

34

11

4

1

L

1

-1

33

5

2

1

L

1

-1

32

23

8

1

L

1

-1

31

31

11

1

L

1

-1

30

1

1

1

W

1

11

41

28

10

1

L

1

-1

40

00

0

1

L

1

-1

39

32

11

1

L

1

-1

38

20

7

1

L

1

-1

37

22

8

1

L

1

-1

36

18

6

1

L

1

-1

35

27

9

1

L

1

-1

34

10

4

1

L

1

-1

33

23

8

1

L

1

-1

32

27

9

1

L

1

-1

31

9

3

1

L

1

-1

30

36

12

1

L

1

-1

29

3

1

1

W

1

11

40

28

10

1

L

1

-1

39

4

2

1

L

1

-1

38

5

2

1

L

1

-1

37

31

11

1

L

1

-1

36

16

6

1

L

1

-1

35

35

12

1

L

1

-1

34

20

7

1

L

1

-1

33

17

6

1

L

1

-1

32

2

1

1

W

1

11

43

23

8

1

L

1

-1

42

28

10

1

L

1

-1

41

26

9

1

L

1

-1

40

35

12

1

L

1

-1

39

35

12

1

L

1

-1

38

3

1

1

W

1

11

49

18

6

1

L

1

-1

48

25

9

1

L

1

-1

47

30

10

1

L

1

-1

46

23

8

1

L

1

-1

45

7

3

1

L

1

-1

44

29

10

1

L

1

-1

43

1

1

1

W

1

11

54

34

12

1

L

1

-1

53

5

2

1

L

1

-1

52

31

11

1

L

1

-1

51

18

6

1

L

1

-1

50

17

6

1

L

1

-1

49

29

10

1

L

1

-1

48

25

9

1

L

1

-1

47

10

4

1

L

1

-1

46

27

9

1

L

1

-1

45

24

8

1

L

1

-1

44

30

10

1

L

1

-1

43

10

4

1

L

1

-1

42

30

10

1

L

1

-1

41

33

11

1

L

1

-1

40

14

5

1

L

1

-1

39

9

3

1

L

1

-1

38

20

7

1

L

1

-1

37

5

2

1

L

1

-1

36

30

10

1

L

1

-1

35

0

0

1

L

1

-1

34

13

5

1

L

1

-1

33

30

10

1

L

1

-1

32

17

6

1

L

1

-1

31

21

7

1

L

1

-1

30

15

5

1

L

1

-1

29

16

6

1

L

1

-1

28

14

5

1

L

1

-1

27

14

5

1

L

1

-1

26

19

7

1

L

1

-1

25

12

4

1

L

1

-1

24

12

4

1

L

1

-1

23

15

5

1

L

1

-1

22

20

7

1

L

1

-1

21

9

3

1

L

1

-1

20

4

2

1

L

1

-1

19

15

5

1

L

1

-1

18

22

8

1

L

1

-1

17

1

1

1

W

1

11

28

31

11

1

L

1

-1

27

0

0

1

L

1

-1

26

33

11

1

L

1

-1

25

28

10

1

L

1

-1

24

00

0

1

L

1

-1

23

18

6

1

L

1

-1

22

9

3

1

L

1

-1

21

3

1

1

W

1

11

32

18

6

1

L

1

-1

31

5

2

1

L

1

-1

30

17

6

1

L

1

-1

29

17

6

1

L

1

-1

28

00

0

1

L

1

-1

27

4

2

1

L

1

-1

26

35

12

1

L

1

-1

25

25

9

1

L

1

-1

24

19

7

1

L

1

-1

23

4

2

1

L

1

-1

22

32

11

1

L

1

-1

21

20

7

1

L

1

-1

20

3

1

1

W

1

11

31

2

1

1

W

1

11

42

16

6

1

L

1

-1

41

24

8

1

L

1

-1

40

34

12

1

L

1

-1

39

6

2

1

L

1

-1

38

34

12

1

L

1

-1

37

33

11

1

L

1

-1

36

4

2

1

L

1

-1

35

24

8

1

L

1

-1

34

7

3

1

L

1

-1

33

26

9

1

L

1

-1

32

16

6

1

L

1

-1

31

7

3

1

L

1

-1

30

33

11

1

L

1

-1

29

7

3

1

L

1

-1

28

36

12

1

L

1

-1

27

25

9

1

L

1

-1

26

22

8

1

L

1

-1

25

10

4

1

L

1

-1

24

24

8

1

L

1

-1

23

00

0

1

L

1

-1

22

26

9

1

L

1

-1

21

12

4

1

L

1

-1

20

17

6

1

L

1

-1

19

20

7

1

L

1

-1

18

12

4

1

L

1

-1

17

23

8

1

L

1

-1

16

21

7

1

L

1

-1

15

15

5

1

L

1

-1

14

21

7

1

L

1

-1

13

3

1

1

W

1

11

24

00

0

1

L

1

-1

23

35

12

1

L

1

-1

22

24

8

1

L

1

-1

21

17

6

1

L

1

-1

20

17

6

1

L

1

-1

19

00

0

1

L

1

-1

18

35

12

1

L

1

-1

17

00

0

1

L

1

-1

16

2

1

1

W

1

11

27

22

8

1

L

1

-1

26

5

2

1

L

1

-1

25

00

0

1

L

1

-1

24

14

5

1

L

1

-1

23

8

3

1

L

1

-1

22

12

4

1

L

1

-1

21

22

8

1

L

1

-1

20

15

5

1

L

1

-1

19

2

1

1

W

1

11

30

9

3

1

L

1

-1

29

29

10

1

L

1

-1

28

4

2

1

L

1

-1

27

36

12

1

L

1

-1

26

23

8

1

L

1

-1

25

18

6

1

L

1

-1

24

29

10

1

L

1

-1

23

34

12

1

L

1

-1

22

1

1

1

W

1

11

33

28

10

1

L

1

-1

32

5

2

1

L

1

-1

31

35

12

1

L

1

-1

30

13

5

1

L

1

-1

29

00

0

1

L

1

-1

28

34

12

1

L

1

-1

27

18

6

1

L

1

-1

26

27

9

1

L

1

-1

25

19

7

1

L

1

-1

24

00

0

1

L

1

-1

23

24

8

1

L

1

-1

22

00

0

1

L

1

-1

21

35

12

1

L

1

-1

20

23

8

1

L

1

-1

19

30

10

1

L

1

-1

18

30

10

1

L

1

-1

17

00

0

1

L

1

-1

16

24

8

1

L

1

-1

15

4

2

1

L

1

-1

14

24

8

1

L

1

-1

13

13

5

1

L

1

-1

12

30

10

1

L

1

-1

11

9

3

1

L

1

-1

10

28

10

1

L

1

-1

9

33

11

1

L

1

-1

8

18

6

1

L

1

-1

7

29

10

1

L

1

-1

6

29

10

1

L

1

-1

5

10

4

1

L

1

-1

4

2

1

1

W

1

11

15

11

4

1

L

1

-1

14

18

6

1

L

1

-1

13

10

4

1

L

1

-1

12

29

10

1

L

1

-1

11

15

5

1

L

1

-1

10

25

9

1

L

1

-1

9

28

10

1

L

1

-1

8

30

10

1

L

1

-1

7

25

9

1

L

1

-1

6

35

12

1

L

1

-1

5

34

12

1

L

1

-1

4

12

4

1

L

1

-1

3

9

3

1

L

1

-1

2

2

1

1

W

1

11

13

00

0

1

L

1

-1

12

1

1

1

W

1

11

23

19

7

1

L

1

-1

22

6

2

1

L

1

-1

21

34

12

1

L

1

-1

20

14

5

1

L

1

-1

19

16

6

1

L

1

-1

18

29

10

1

L

1

-1

17

12

4

1

L

1

-1

16

0

0

1

L

1

-1

15

2

1

1

W

1

11

26

31

11

1

L

1

-1

25

7

3

1

L

1

-1

24

29

10

1

L

1

-1

23

9

3

1

L

1

-1

22

10

4

1

L

1

-1

21

35

12

1

L

1

-1

20

9

3

1

L

1

-1

19

25

9

1

L

1

-1

18

36

12

1

L

1

-1

17

00

0

1

L

1

-1

16

23

8

1

L

1

-1

15

24

8

1

L

1

-1

14

14

5

1

L

1

-1

13

20

7

1

L

1

-1

12

12

4

1

L

1

-1

11

5

2

1

L

1

-1

10

6

2

1

L

1

-1

9

25

9

1

L

1

-1

8

34

12

1

L

1

-1

7

14

5

1

L

1

-1

6

27

9

1

L

1

-1

5

22

8

1

L

1

-1

4

00

0

1

L

1

-1

3

32

11

1

L

1

-1

2

20

7

1

L

1

-1

1

29

10

1

L

1

-1

0

21

7

1

L

1

-1

-1

24

8

1

L

1

-1

-2

20

7

1

L

1

-1

-3

31

11

1

L

1

-1

-4

17

6

1

L

1

-1

-5

19

7

1

L

1

-1

-6

2

1

1

W

1

11

5

19

7

1

L

1

-1

4

25

9

1

L

1

-1

3

7

3

1

L

1

-1

2

22

8

1

L

1

-1

1

4

2

1

L

1

-1

0

24

8

1

L

1

-1

-1

6

2

1

L

1

-1

-2

35

12

1

L

1

-1

-3

21

7

1

L

1

-1

-4

36

12

1

L

1

-1

-5

17

6

1

L

1

-1

-6

29

10

1

L

1

-1

-7

6

2

1

L

1

-1

-8

34

12

1

L

1

-1

-9

10

4

1

L

1

-1

-10

3

1

1

W

1

11

1

31

11

1

L

1

-1

0

6

2

1

L