Play To Win
Tips and strategies to help make you a winning casino player

Game Rules
Learn: Blackjack, Baccarat, Craps, Roulette, Slots, Video Poker, Pai Gow Poker, Texas Hold'em, Caribbean Stud, Let It Ride, Casino War, Big Six, Sic Bo (NEW!)

Systems Gallery
Win more, more often with proven betting methods from the systems gallery

Order Form
A secure on-line order form to purchase products advertised by Let's Talk Winning.

Playing Online
All about gambling at online casinos. Find out where the best deals are

Best Casino Bonuses - NEW!
The best collection of on-line casino bonuses, where you can cash $802 on your sign-up.

Links and Things
Sign our guestbook, refer a friend, link to other gambling sites.

Gambling News - NEW!
Latest Gambling News - updated daily including gambling articles, joke of the day and a gambling dictionary.

Newsletter
Click above to read the current edition of our weekly newsletter. Then get your own free subscription right here. Enter your e-mail address for immediate delivery of an introductory issue, including a FREE ROULETTE SYSTEM by clicking here.

Please tell all your friends about it.

On-Line Forum
Post a gambling question or opinion - get an answer . . .
---
Below is a selection of the most recommended
on-line casinos
and sportsbooks
Check out:
On-Line Casino of the Month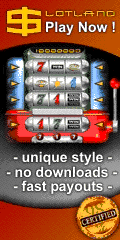 =================================================== Thursday, September 27, 2012

Free Gambling System of the Month - DDM - Dominant Dozen March
Dear Let's Talk Winning subscribers, customers, friends,
Our goal today with our free gambling system is to make about 2 units average per spin in Roulette in order to reach at least 400 units target within about 200 spins. Impossible? Well, we shall see. Seeing will be believing, as each spin will be shown.
This system is inspired from the recently announced DAS - Disparity Advantage System still on 50% discount for another 4 days. Do not miss out in taking advantage of this super special for this great system. (Click Here) to order.
DDM is a way simplified variation of the very sophisticated DAS and yet still quite powerful.
Rather than having a certain bet selection compete against itself as in DAS, it will bet on a dominant dozen in Roulette. That's why the name DDM - Dominant Dozen March.
March stands for the March Progression, but instead of going 1, 2, 3, 4, it will go in multiples of 7 units, such as 7, 14, 21, 28, 35; 35 being the highest bet, thus limited to 5 steps only.
Why 7? Because this is what causes the 2 unit per spin average profit. If you had multiples of 6 instead (March Progression: 6,12,18,24,30), one would have made 366 units profit in 224 spins, reducing the average profit to 1.6 units per spin.
In fact, you can experiment with those multiples by entering them in cell U2 (increment) of the provided simulation that you can find at: http://www.letstalkwinning.com/DDM-Simulation.xls.
Observing the electronic scores of many roulette tables, I see very often one of the three dozens being ahead among the three. The Casino of Montreal displays bar charts of the three dozens' statistics. DDM will take advantage of this feature. By all means you can apply DDM to columns as well.
How do we determine the dominant dozen? Very simple. We keep a count of all three and we bet on the dozen that has the highest count.
Money management: we reset all counts to zero when we either reach a win target of 30 units, or a loss limit of -22 units, whichever comes first. If, after our last bet, we are still less than +30, we place the next bet. Similarly, if we are not yet at -22, we place the next bet.
BTW, in the simulation provided, you can also alter those values of the maximum bet and loss limit and see what happens. Those changeable cell values are highlighted in yellow.
If no dominance can be determined, such as the counts of two out of three dozens are the same and the third one is lower (i.e. 2 2 1 for dozens 1,2, 3 respectively), then we don't place the next bet. We mark it with "No Bet" and wait until one dozen stands out in its count.
When all counts have been reset after a run is over (either by having reached >30 units or <-22 units), then again we place no bets.
Here is a full example taken from the very first 224 spins of the Zumma tester book.
Spin
Number
Dozen
Count Dozen 1
Count Dozen 2
Count Dozen 3
Bet Next on Dozen
W/L
Bet
Units
Net Units
Run Units
Run
1
13
2
0
1
0
2
2
9
1
1
1
0
0
L
7
-7
-7
-7
0
3
22
2
1
2
0
2
No Bet
0
0
-7
-7
0
4
32
3
1
2
1
2
L
7
-7
-14
-14
0
5
2
1
0
0
0
0
L
14
-14
-28
-28
1
6
6
1
1
0
0
1
No Bet
0
0
-28
0
0
7
13
2
1
1
0
0
L
7
-7
-35
-7
0
8
6
1
2
1
0
1
No Bet
0
0
-35
-7
0
9
21
2
2
2
0
0
L
7
-7
-42
-14
0
10
18
2
2
3
0
2
No Bet
0
0
-42
-14
0
11
15
2
2
4
0
2
W
7
14
-28
0
0
12
24
2
2
5
0
2
W
14
28
0
28
0
13
18
2
0
0
0
0
W
21
42
42
70
1
14
21
2
0
1
0
2
No Bet
0
0
42
0
0
15
32
3
0
1
1
0
L
7
-7
35
-7
0
16
9
1
1
1
1
0
No Bet
0
0
35
-7
0
17
34
3
1
1
2
3
No Bet
0
0
35
-7
0
18
3
1
2
1
2
0
L
7
-7
28
-14
0
19
32
3
2
1
3
3
No Bet
0
0
28
-14
0
20
5
1
3
1
3
0
L
7
-7
21
-21
0
21
26
3
3
1
4
3
No Bet
0
0
21
-21
0
22
19
2
0
0
0
0
L
7
-7
14
-28
1
23
31
3
0
0
1
3
No Bet
0
0
14
0
0
24
2
1
1
0
1
0
L
7
-7
7
-7
0
25
6
1
2
0
1
1
No Bet
0
0
7
-7
0
26
3
1
3
0
1
1
W
7
14
21
7
0
27
9
1
0
0
0
0
W
14
28
49
35
1
28
1
1
1
0
0
1
No Bet
0
0
49
0
0
29
29
3
1
0
1
0
L
7
-7
42
-7
0
30
5
1
2
0
1
1
No Bet
0
0
42
-7
0
31
18
2
2
1
1
1
L
7
-7
35
-14
0
32
19
2
0
0
0
0
L
14
-14
21
-28
1
33
26
3
0
0
1
3
No Bet
0
0
21
0
0
34
30
3
0
0
2
3
W
7
14
35
14
0
35
00
0
0
0
2
3
L
14
-14
21
0
0
36
31
3
0
0
0
0
W
21
42
63
42
1
37
17
2
0
1
0
2
No Bet
0
0
63
0
0
38
26
3
0
1
1
0
L
7
-7
56
-7
0
39
20
2
0
2
1
2
No Bet
0
0
56
-7
0
40
17
2
0
3
1
2
W
7
14
70
7
0
41
30
3
0
3
2
2
L
14
-14
56
-7
0
42
22
2
0
0
0
0
W
21
42
98
35
1
43
14
2
0
1
0
2
No Bet
0
0
98
0
0
44
29
3
0
1
1
0
L
7
-7
91
-7
0
45
25
3
0
1
2
3
No Bet
0
0
91
-7
0
46
12
1
1
1
2
3
L
7
-7
84
-14
0
47
3
1
0
0
0
0
L
14
-14
70
-28
1
48
22
2
0
1
0
2
No Bet
0
0
70
0
0
49
8
1
1
1
0
0
L
7
-7
63
-7
0
50
14
2
1
2
0
2
No Bet
0
0
63
-7
0
51
30
3
1
2
1
2
L
7
-7
56
-14
0
52
26
3
0
0
0
0
L
14
-14
42
-28
1
53
5
1
1
0
0
1
No Bet
0
0
42
0
0
54
32
3
1
0
1
0
L
7
-7
35
-7
0
55
26
3
1
0
2
3
No Bet
0
0
35
-7
0
56
21
2
1
1
2
3
L
7
-7
28
-14
0
57
12
1
0
0
0
0
L
14
-14
14
-28
1
58
36
3
0
0
1
3
No Bet
0
0
14
0
0
59
11
1
1
0
1
0
L
7
-7
7
-7
0
60
1
1
2
0
1
1
No Bet
0
0
7
-7
0
61
00
0
2
0
1
1
L
7
-7
0
-14
0
62
28
3
0
0
0
0
L
14
-14
-14
-28
1
63
36
3
0
0
1
3
No Bet
0
0
-14
0
0
64
24
2
0
1
1
0
L
7
-7
-21
-7
0
65
27
3
0
1
2
3
No Bet
0
0
-21
-7
0
66
32
3
0
1
3
3
W
7
14
-7
7
0
67
27
3
0
0
0
0
W
14
28
21
35
1
68
11
1
1
0
0
1
No Bet
0
0
21
0
0
69
5
1
2
0
0
1
W
7
14
35
14
0
70
25
3
2
0
1
1
L
14
-14
21
0
0
71
22
2
2
1
1
1
L
21
-21
0
-21
0
72
4
1
0
0
0
0
W
28
56
56
35
1
73
11
1
1
0
0
1
No Bet
0
0
56
0
0
74
34
3
1
0
1
0
L
7
-7
49
-7
0
75
25
3
1
0
2
3
No Bet
0
0
49
-7
0
76
27
3
1
0
3
3
W
7
14
63
7
0
77
25
3
0
0
0
0
W
14
28
91
35
1
78
0
0
0
0
0
0
No Bet
0
0
91
0
0
79
21
2
0
1
0
2
No Bet
0
0
91
0
0
80
22
2
0
2
0
2
W
7
14
105
14
0
81
33
3
0
2
1
2
L
14
-14
91
0
0
82
19
2
0
0
0
0
W
21
42
133
42
1
83
32
3
0
0
1
3
No Bet
0
0
133
0
0
84
3
1
1
0
1
0
L
7
-7
126
-7
0
85
14
2
1
1
1
0
No Bet
0
0
126
-7
0
86
7
1
2
1
1
1
No Bet
0
0
126
-7
0
87
33
3
2
1
2
0
L
7
-7
119
-14
0
88
31
3
2
1
3
3
No Bet
0
0
119
-14
0
89
11
1
3
1
3
0
L
7
-7
112
-21
0
90
23
2
3
2
3
0
No Bet
0
0
112
-21
0
91
28
3
3
2
4
3
No Bet
0
0
112
-21
0
92
24
2
0
0
0
0
L
7
-7
105
-28
1
93
4
1
1
0
0
1
No Bet
0
0
105
0
0
94
31
3
1
0
1
0
L
7
-7
98
-7
0
95
4
1
2
0
1
1
No Bet
0
0
98
-7
0
96
30
3
2
0
2
0
L
7
-7
91
-14
0
97
13
2
2
1
2
0
No Bet
0
0
91
-14
0
98
34
3
2
1
3
3
No Bet
0
0
91
-14
0
99
10
1
3
1
3
0
L
7
-7
84
-21
0
100
12
1
4
1
3
1
No Bet
0
0
84
-21
0
101
33
3
0
0
0
0
L
7
-7
77
-28
1
102
18
2
0
1
0
2
No Bet
0
0
77
0
0
103
28
3
0
1
1
0
L
7
-7
70
-7
0
104
29
3
0
1
2
3
No Bet
0
0
70
-7
0
105
16
2
0
2
2
0
L
7
-7
63
-14
0
106
13
2
0
3
2
2
No Bet
0
0
63
-14
0
107
34
3
0
3
3
0
L
7
-7
56
-21
0
108
00
0
0
3
3
0
No Bet
0
0
56
-21
0
109
5
1
1
3
3
0
No Bet
0
0
56
-21
0
110
29
3
1
3
4
3
No Bet
0
0
56
-21
0
111
4
1
0
0
0
0
L
7
-7
49
-28
1
112
29
3
0
0
1
3
No Bet
0
0
49
0
0
113
00
0
0
0
1
3
L
7
-7
42
-7
0
114
1
1
1
0
1
0
L
14
-14
28
-21
0
115
6
1
2
0
1
1
No Bet
0
0
28
-21
0
116
32
3
0
0
0
0
L
7
-7
21
-28
1
117
33
3
0
0
1
3
No Bet
0
0
21
0
0
118
23
2
0
1
1
0
L
7
-7
14
-7
0
119
0
0
0
1
1
0
No Bet
0
0
14
-7
0
120
32
3
0
1
2
3
No Bet
0
0
14
-7
0
121
18
2
0
2
2
0
L
7
-7
7
-14
0
122
27
3
0
2
3
3
No Bet
0
0
7
-14
0
123
15
2
0
3
3
0
L
7
-7
0
-21
0
124
8
1
1
3
3
0
No Bet
0
0
0
-21
0
125
22
2
1
4
3
2
No Bet
0
0
0
-21
0
126
9
1
0
0
0
0
L
7
-7
-7
-28
1
127
8
1
1
0
0
1
No Bet
0
0
-7
0
0
128
2
1
2
0
0
1
W
7
14
7
14
0
129
3
1
0
0
0
0
W
14
28
35
42
1
130
00
0
0
0
0
0
No Bet
0
0
35
0
0
131
36
3
0
0
1
3
No Bet
0
0
35
0
0
132
13
2
0
1
1
0
L
7
-7
28
-7
0
133
16
2
0
2
1
2
No Bet
0
0
28
-7
0
134
5
1
1
2
1
2
L
7
-7
21
-14
0
135
4
1
0
0
0
0
L
14
-14
7
-28
1
136
19
2
0
1
0
2
No Bet
0
0
7
0
0
137
16
2
0
2
0
2
W
7
14
21
14
0
138
15
2
0
0
0
0
W
14
28
49
42
1
139
15
2
0
1
0
2
No Bet
0
0
49
0
0
140
17
2
0
2
0
2
W
7
14
63
14
0
141
27
3
0
2
1
2
L
14
-14
49
0
0
142
15
2
0
0
0
0
W
21
42
91
42
1
143
17
2
0
1
0
2
No Bet
0
0
91
0
0
144
10
1
1
1
0
0
L
7
-7
84
-7
0
145
13
2
1
2
0
2
No Bet
0
0
84
-7
0
146
12
1
2
2
0
0
L
7
-7
77
-14
0
147
24
2
2
3
0
2
No Bet
0
0
77
-14
0
148
26
3
2
3
1
2
L
7
-7
70
-21
0
149
21
2
2
4
1
2
W
14
28
98
7
0
150
11
1
3
4
1
2
L
21
-21
77
-14
0
151
21
2
0
0
0
0
W
28
56
133
42
1
152
23
2
0
1
0
2
No Bet
0
0
133
0
0
153
12
1
1
1
0
0
L
7
-7
126
-7
0
154
22
2
1
2
0
2
No Bet
0
0
126
-7
0
155
10
1
2
2
0
0
L
7
-7
119
-14
0
156
3
1
3
2
0
1
No Bet
0
0
119
-14
0
157
4
1
4
2
0
1
W
7
14
133
0
0
158
6
1
5
2
0
1
W
14
28
161
28
0
159
9
1
0
0
0
0
W
21
42
203
70
1
160
0
0
0
0
0
0
No Bet
0
0
203
0
0
161
32
3
0
0
1
3
No Bet
0
0
203
0
0
162
27
3
0
0
2
3
W
7
14
217
14
0
163
9
1
1
0
2
3
L
14
-14
203
0
0
164
2
1
2
0
2
0
L
21
-21
182
-21
0
165
11
1
3
0
2
1
No Bet
0
0
182
-21
0
166
4
1
4
0
2
1
W
7
14
196
-7
0
167
26
3
4
0
3
1
L
14
-14
182
-21
0
168
6
1
5
0
3
1
W
21
42
224
21
0
169
35
3
5
0
4
1
L
28
-28
196
-7
0
170
1
1
0
0
0
0
W
35
70
266
63
1
171
35
3
0
0
1
3
No Bet
0
0
266
0
0
172
11
1
1
0
1
0
L
7
-7
259
-7
0
173
4
1
2
0
1
1
No Bet
0
0
259
-7
0
174
5
1
3
0
1
1
W
7
14
273
7
0
175
14
2
3
1
1
1
L
14
-14
259
-7
0
176
22
2
0
0
0
0
L
21
-21
238
-28
1
177
34
3
0
0
1
3
No Bet
0
0
238
0
0
178
30
3
0
0
2
3
W
7
14
252
14
0
179
34
3
0
0
0
0
W
14
28
280
42
1
180
13
2
0
1
0
2
No Bet
0
0
280
0
0
181
31
3
0
1
1
0
L
7
-7
273
-7
0
182
31
3
0
1
2
3
No Bet
0
0
273
-7
0
183
30
3
0
1
3
3
W
7
14
287
7
0
184
20
2
0
2
3
3
L
14
-14
273
-7
0
185
6
1
0
0
0
0
L
21
-21
252
-28
1
186
17
2
0
1
0
2
No Bet
0
0
252
0
0
187
20
2
0
2
0
2
W
7
14
266
14
0
188
30
3
0
2
1
2
L
14
-14
252
0
0
189
35
3
0
2
2
0
L
21
-21
231
-21
0
190
9
1
1
2
2
0
No Bet
0
0
231
-21
0
191
3
1
2
2
2
0
No Bet
0
0
231
-21
0
192
28
3
2
2
3
3
No Bet
0
0
231
-21
0
193
12
1
0
0
0
0
L
7
-7
224
-28
1
194
19
2
0
1
0
2
No Bet
0
0
224
0
0
195
19
2
0
2
0
2
W
7
14
238
14
0
196
8
1
1
2
0
2
L
14
-14
224
0
0
197
17
2
0
0
0
0
W
21
42
266
42
1
198
29
3
0
0
1
3
No Bet
0
0
266
0
0
199
26
3
0
0
2
3
W
7
14
280
14
0
200
6
1
1
0
2
3
L
14
-14
266
0
0
201
5
1
2
0
2
0
L
21
-21
245
-21
0
202
31
3
2
0
3
3
No Bet
0
0
245
-21
0
203
28
3
2
0
4
3
W
7
14
259
-7
0
204
12
1
3
0
4
3
L
14
-14
245
-21
0
205
36
3
3
0
5
3
W
21
42
287
21
0
206
21
2
3
1
5
3
L
28
-28
259
-7
0
207
33
3
0
0
0
0
W
35
70
329
63
1
208
23
2
0
1
0
2
No Bet
0
0
329
0
0
209
30
3
0
1
1
0
L
7
-7
322
-7
0
210
28
3
0
1
2
3
No Bet
0
0
322
-7
0
211
33
3
0
1
3
3
W
7
14
336
7
0
212
00
0
0
1
3
3
L
14
-14
322
-7
0
213
1
1
0
0
0
0
L
21
-21
301
-28
1
214
7
1
1
0
0
1
No Bet
0
0
301
0
0
215
5
1
2
0
0
1
W
7
14
315
14
0
216
27
3
2
0
1
1
L
14
-14
301
0
0
217
8
1
0
0
0
0
W
21