Play To Win
Tips and strategies to help make you a winning casino player

Game Rules
Learn: Blackjack, Baccarat, Craps, Roulette, Slots, Video Poker, Pai Gow Poker, Texas Hold'em, Caribbean Stud, Let It Ride, Casino War, Big Six, Sic Bo (NEW!)

Systems Gallery
Win more, more often with proven betting methods from the systems gallery

Order Form
A secure on-line order form to purchase products advertised by Let's Talk Winning.

Playing Online
All about gambling at online casinos. Find out where the best deals are

Best Casino Bonuses - NEW!
The best collection of on-line casino bonuses, where you can cash $802 on your sign-up.

Links and Things
Sign our guestbook, refer a friend, link to other gambling sites.

Gambling News - NEW!
Latest Gambling News - updated daily including gambling articles, joke of the day and a gambling dictionary.

Newsletter
Click above to read the current edition of our weekly newsletter. Then get your own free subscription right here. Enter your e-mail address for immediate delivery of an introductory issue, including a FREE ROULETTE SYSTEM by clicking here.

Please tell all your friends about it.

On-Line Forum
Post a gambling question or opinion - get an answer . . .
---
Below is a selection of the most recommended
on-line casinos
and sportsbooks

Check out:
On-Line Casino of the Month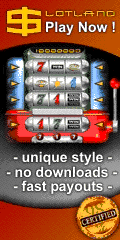 ================================================ Friday, October 24, 2008

FAQ on IBS4 - the New Infallible Baccarat System - Version 4.0 by Izak Matatya
Hello everyone,
The new IBS4 system announced 10 days ago was received with great enthusiasm and I was overwhelmed with the amount of questions and inquiries about the system. So, I would like to share with you my answers in an FAQ newsletter this week.
Some very positive feedback was received by purchasers:

"Playing with 200 units bankroll and 50 units maximum bet, I have made 350 units so far"

"I think IBS4 is a strong bet method"

And now the questions and answers:
Q: I just read your newsletter introducing IBS version 4. Very impressive stats.
What is the absolute minimum session bankroll required to play IBS4 at peak efficiency?
What is the highest required unit bet in the system's progression?
Can one play the system without pen and paper?

Thanks, Izak. Take care.
A: IBS4 feels safe with a 200 unit bankroll. The highest bet is adjusted to whatever your budget allows. The system works very well, if you tell the system, that your highest bet will be not more than say 45 units and there are guidelines to bet according to this type of maximum bet.

One could play it without pen and paper after a few hours of practice, but not with the IBS4's bet selection, which is very hard to play without. Should you decide to use an alternate bet selection, such as betting on the Player side only, IBS4 will still perform very well, as it doesn't need more than 25-30% of all bets to be won and playing the Player side only will give you 47% on the long run.

Q: If I'm playing at a $5 table what would be my lifetime bankroll?
A: The required bankroll for IBS4 is 200 units for a session buy-in, which is the maximum needed. Should any run fail with that amount (it hasn't yet), that would be an accepted loss for that session, where one resets and moves on. IBS4 generated 1500 units within 10,000 Zumma decisions and the remaining 30,000 decisions have been visually verified to produce similar profits. I would expect the -200 units to occur about once or twice within the 40,000 Zumma decisions and still maintain a win rate of 8.2 units profit in average per shoe.

So a lifetime bankroll of 400 units would be ample and your buy-in 200 to be on the safe side. Normally, the highest bet will not exceed about 40 units and if it should there are special techniques to avoid it and/or to reduce it.

If your unit side is $5, then $1000 will be enough for a buy-in and $2000 for a lifetime bankroll.
Q: Has it been tested against craps databases? because craps is notoriously less streaky than baccarat or roulette?
A: Yes, it has been checked for all games involving even (1:1) paying bets.

IBS4 doesn't really care if the table is streaky or choppy. Its bet selection groups betting decisions in such a way to gather losses and wins together. Multiple losses followed by multiple wins is what makes IBS4 win very consistently. When no grouping can take place, then one does not bet. It's a very original and particular bet selection, never seen before.
Q: Hi Izak, Have you tested all through the Zumma 600? If so what's the final results on this system, winning one spin at a time?
A: I tested 12,207 decisions of Zumma and it generated +1696 units without losing a single run.
Q: Unless my math is off, if you have 600 shoes and average 60 decisions per shoe which is probably off a bit from the actuals, that would be somewhere in the neighborhood of 40,000 decisions.

Why did you stop short of testing the entire 600 shoes?
A: Yes, 600 shoes is 40,007 decisions in Zumma averaging about 67 decisions per shoe.

The test was conducted manually, as I don't have a fully automated simulation for IBS4. My programming skills are limited and I could not implement all the rules. So I entered the IBS4 scheme manually and it took me a few months to punch in figures for 12,007 decisions.

However, I did go through the remaining 30,000 decisions visually. I know exactly how IBS4 works and which runs are very easy to complete and which runs are a bit tougher to complete. The first 12,007 had no problems to complete successfully. The remaining 30,000 had no major difficulties either by going through them without entering all the figures. I would presume, there could be one or maximum two runs, that could be abandoned with an accepted loss of the 200 units, the session buy in.

By induction, if 12,000 decisions generated 1600 units, 40,000 decisions would generate 3.3 times as much, or 5300 units. Subtract from this two potential abandoned runs of 200 units each or 400 units, it still leaves you with a profit of 4900 units for 40,000 decisions or 600 shoes, or 8.2 units profit per shoe including all losses.

The reason I was able see the above is the because IBS4's particular bet selection IS fully automated for the entire 40,007 Zumma and random decisions, producing sequences of wins and losses. And by the proper grouping of those, one could very easily see where a run starts and where it ends.
Q: What betting limits are needed for the betting system? The roulette tables in my area are usually pretty bad, 1-30 or 1-60 spread. Would it work for those types of betting spreads on a roulette wheel?

No baccarat here but plenty of craps tables with 1-400 spreads.
A: IBS4 is so flexible, that players themselves set their own maximum bets and the system adjusts itself accordingly. IBS4 will do very well if you set your maximum bet not to exceed 40-50 units, thus betting ranges of 1-50 would be quite adequate.
Q: If a player adjusts his/her maximum bet not to exceed a certain max unit bet is that going to cause a session loss where otherwise it would not, if the max unit bet was set higher?
A: No, that won't cause a session loss. It would simply reduce the size of the bets by using the special techniques documented in the system.
Q: So if I set my max bet at 15 one day and go back the next day and set it at 40 there would be no difference in performance?
A: 15 as a maximum bet is a bit on the low side for IBS4. After all, it's still a system with a progression. A maximum bet of 40-50 will perform quite well.

In a lot of runs, even a maximum of 15 units will be sufficient. But a 40 maximum will perform better, as there will be some runs requiring higher bets and they will close easier.

However, it's not a question of a performance of one day versus another. For the same run, if you set your maximum bet to be 35 or 55, IBS4 will perform equally well and will take the same number of bets to close the run.
Q: Izak, are your average wins of 8.2 units per shoe before or after commission? Is the system's success mainly due to the bet selection or progression? Will the bet selection win flat betting? Thanks...
A: The 8.2 units are after commissions. In fact, IBS4 documents a very solid method about how to eliminate commissions. It practically converts the minus 5 percent Banker win commissions into a plus 3 percent bonus.

So, if, for instance, you are aiming for $100 profit at the end of the run, because of this method, you will earn $103, as opposed to $95. Whoever has IBS4 will read how this is done in the last 2 pages.

The system's success is due to the combination of the bet selection and the bet method. The bet selection manages to group wins and losses in such a way, that multiple wins follow multiple losses, which is ideal for IBS4 to close the runs.

The bet selection did not win Zumma's 600 shoes with flat bets. The results for 40,007 decisions were:

no. of wins: 12752
no. of losses: 12806

When running the simulation for 40,000 random bets, though, the bet selection does produce more wins more than not:

Here are some samples from random runs for 40,007 decisions:

no. of wins: 12803
no. of losses: 12814

no. of wins: 12952
no. of losses: 12691

no. of wins: 12826
no. of losses: 12795

no. of wins: 13019
no. of losses: 12811

So, at times wins exceed losses by about 200 units, sometimes the losses exceed the wins by 50-100 units.

It may work on the long run, but the profits of 100-200 units per 40,000 decisions are very slow, unless you bet high amounts.
Q: Is the progression itself different from the other IBS's or is only the selection different?
A: In IBS4 both the bet selection and the method are different from the previous versions. The idea of the cancellation method remains the same, but there are many new special betting techniques that have been introduced in order to reduce the overall bankroll requirements.
Q: Izak,

What do you think about using your bet progression on a betting scheme like Perry's IPL? Since his flat bet selection method seems to produce more wins than losses, would it be fairly effective to combine the two?

Or, do you think that your bet selection method is more appropriate to the progression such that one should not separate the two?

What's different between this and your FPP? They sound similar in execution and results.

What is the average bet per closed run?

What about playing the progression on BJ?
A: IBS4 will work with most bet selections. If Perry's wins more than 50%, it will surely work with it, too.

FPP and IBS4 are two totally different systems, both in bet selection and the bet method. IBS4 is more powerful. It wins many more runs. I hardly ever had to abandon one.

With a maximum bet of 40 units, IBS4 does very well. An average bet size is about 17 units.

You can surely use IBS4's bet method with Blackjack. In case of double down, or splitting, you register losses and wins in the scheme in stages.
Q: I can't see being allowed to use a pen and paper at a blackjack table to write down a cancellation method of betting.
A: Outside of Blackjack, you should be able to use pen and paper for any other game. For Blackjack you can use some stack of chips ordered in a certain way to give you hints on where you stand (or hit...:))
Q: OK and how does your bet selection method work for blackjack if its just you against the dealer? How can your bet selection group wins to the advantage of you IBS4 betting system if you can't use a bet selection method?
A: It wouldn't make sense to use the bet selection for Blackjack. For Blackjack one would use the basic strategy and IBS4 would be applied for the bet method only, varying the amounts of your bets based on the sequence of wins and losses.
Q: I'm wondering if there would be any difference between using IBS-4 in a live casino vs. a reputable on-line casino like 888.com.
A: There would be no difference in IBS4's performance. In an on-line environment, you have more time to calculate and place your next bet.
Q: Can IBS4 be adapted for Matrix sports betting system? If so, will the results be better?
A: Actually, quite a lot of people inquired about that, have bought Matrix with IBS4 and are using it in sports betting very successfully, as it requires much less bankroll than IBS3. Results won't be much better, but it will take much less bankroll to close runs with profits.
Q: Hi Izak, interesting offer; would Matrix also be applicable to sport bets placed through Betfair?
A: The Matrix is applicable to all sports betting possibilities for OVER/UNDER type of bets or spreads with a certain vig for all environments.
Thank you all for your valuable questions.
Click here to order for an email delivery of the system. IBS4 is only $650. If you require a printout, you can have it delivered to you by first class air mail, at only $20 additional fee.
Wishing you all the best,
Izak
---
---
Click here to get a free iPod.
---
WOULD YOU LIKE TO SUBSCRIBE? Click here.
---
If you missed any newsletter, click here for an archive.
---
Poker Guide - The world's largest poker guide PokerListings.com with reviews of 750 poker sites.

Texas Holdem - Page that compares 45 Texas Holdem online poker rooms on a number of relevant features.
---
---
---

A sports betting service offering sports, casino and racebook action. With more than 7 years of experience in the gaming industry and located in San Jose, Costa Rica. enVivoSports.com has it all for the sports enthusiastic!

At enVivoSports.com they offer excellent customer service and Same Day Payouts 100% guarantee and 7 days a week.

enVivoSports.com offers juicy cash bonuses and special promotions all year round, so don't forget to check our web site at www.envivosports.com

Bet it your way at enVivoSports.com
---
When you open your account at enVivoSports.com you will be able to bet on sports, casino and horseracing just call us at 877-512-3503 or access our web site www.enVivoSports.com you will receive up to a 25% SIGN UP bonus for depositing funds into your betting account. Remember at enVivoSports.com you bet it your way! (
enVivosports.com is one of the very few offshore sports books that offers a .10 Cent line in baseball
).
---