Play To Win
Tips and strategies to help make you a winning casino player

Game Rules
Learn: Blackjack, Baccarat, Craps, Roulette, Slots, Video Poker, Pai Gow Poker, Texas Hold'em, Caribbean Stud, Let It Ride, Casino War, Big Six, Sic Bo (NEW!)

Systems Gallery
Win more, more often with proven betting methods from the systems gallery

Order Form
A secure on-line order form to purchase products advertised by Let's Talk Winning.

Playing Online
All about gambling at online casinos. Find out where the best deals are

Best Casino Bonuses - NEW!
The best collection of on-line casino bonuses, where you can cash $802 on your sign-up.

Links and Things
Sign our guestbook, refer a friend, link to other gambling sites.

Gambling News - NEW!
Latest Gambling News - updated daily including gambling articles, joke of the day and a gambling dictionary.

Newsletter
Click above to read the current edition of our weekly newsletter. Then get your own free subscription right here. Enter your e-mail address for immediate delivery of an introductory issue, including a FREE ROULETTE SYSTEM by clicking here.

Please tell all your friends about it.

On-Line Forum
Post a gambling question or opinion - get an answer . . .
---
Below is a selection of the most recommended
on-line casinos
and sportsbooks

Check out:
On-Line Casino of the Month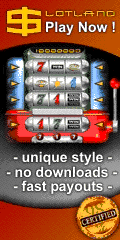 ---
================================================ Thursday, October 14, 2004

FRS - Favorite Roulette System by Izak Matatya
Hello everyone,
I have been asked many times: "Izak, you have devised so many systems. Which one is your favorite system?" My answer was always "A combination of a few strategies, which made me a consistent winner for many years". I took the time to finally document them and I'm releasing them now for you today.
Despite the odds and the 5.26% house advantage, Roulette has always been my favorite game. From a professional point of view, the most exciting part was the challenge to beat this so called unbeatable game.
In my view, winning strategies in gambling have 4 dimensions:
1) Proper bet selection, which enables you where to bet, based on certain features of the wheel;
2) Bet amounts, controlled by certain progressions, regressions, betting schemes, etc.
3) Identification of favorable conditions, such as when to get in and out of the game. The use of the famous Derivative Method.
4) A solid money management to maximize your profits and minimize your losses.
The above 4 dimensions should be applied to all gambling systems. That in itself will increase your winning chances, and most importantly the ability to quit with a profit.
Some systems are better than others, as they yield a higher winning rate. They are optimized in terms of providing the highest profits in a certain time frame. The bankroll is strongly controlled. There are many profitable sessions. Losing sessions do not wipe out the winning ones. It's possible to use those systems to profit on a long term.
My Favorite Roulette System(s) contain all those characteristics.
Specifically FRS has one excellent bet selection, probably the best for the type of bets being made and 3 different methods to suit every gambler's style and budget.
The same bet selection is used for all 3 methods.
The first method works very well. It's suitable for both aggressive and mild players. The mild players do not have to use more than a 30 unit session bankroll and 100 units for a lifetime bankroll. The aggressive players would be using a higher amount of bankroll, such as up to 500 units in order to have more frequent winning sessions. With a 30 unit bankroll, Method 1 still enables quite a few winning sessions and decent profits. This is all illustrated in the document with many examples.
The second method is more aggressive than Method 1. It is suitable for people who simply don't like to lose. I am such a person. It requires also a 500 unit bankroll. Method 2 has produced more than 5,000 units on the 15,000 spins of Zumma Roulette tester book. On randomly generated roulette numbers, it generates exactly the same amount of units on every sampling of 15,000 spins. No session has ever failed with Method 2.
Method 2 is also ideal for on-line play, where Roulette table minimum and maximum limit range is 1-300 and more.
One highly recommended on-line casino is Global Player Casino that you can get at by following the link: http://www.global-player.com/?gai=100203
For Roulette, you can use a 1-500 range for minimum bets of 5 cts up to $1 and a range of 1-200 for minimum bets of $5 to $10.
Global Player Casino is very reliable. They have a good customer service, timely and accurate payouts and fair games. I have been using FRS there for months and no session has ever yet failed with Method 2 with a bankroll of $1000 betting $1 units and using the betting range of 1-500. The highest bet I had to make was $180 bet and the run came to a winning closure. The table maximum limit was never exceeded.
Using quick spin on a single zero French Roulette wheel, you can place 3 bets per minute. Since this method averages 1 unit per 3 spins, that means that you will win 1 unit per minute in average. Playing with $1 units, this means you can make $60 an hour in average. Playing 5 hours a day, you can have a daily profit of $300 per day. If you use $5 units, you can make 5 times as much or $1,500 a day playing for 5 hours averaging a profit of $300 per hour!
This performance is valid for single play. You can join multi-player tables, but then a spin takes about 1 minute, as it waits for everyone to place their bets.
This method has been one of my favorites for quite some time now and I know you will enjoy it as much as I do.
Method 3 was contributed by a loyal Let's Talk Winning customer and is simply brilliant. It is very unique and original. The concept is very smart and has never been seen in any other system. You'll have the privilege of learning it here and will benefit from it in your plays making your gaming an unforgettable experience.
Moreover, you will be able to apply the concept to other types of progressions from other systems you are acquainted with and make them very effective.
The main characteristic is that you will never use more than 5 or 6 units tops for any bet at any stage. Your session bankroll can be as low as 20 units and you will win very consistently.
Its money management consists of going for +10 units for a session with a stop loss at -20. The number of winning sessions by far override the losing ones averaging 5 winning sessions for a loss of one. It's fully documented and the examples are taken straight from the spins of the Zumma Roulette tester book, which are for double zero wheels.
If this is the performance for American wheels, you can imagine the performance for single zero French Roulette wheels.
Method 3 gives you flexibility in terms of the betting units and bankroll you wish to use. You practically define the maximum bet unit and session bankroll and the system will work with any value you wish. It is simply ingenious.
Now, there is a great promotion and discount on all the 3 methods, which come within the 34 page document, containing multiple examples in order to ensure you master them. The price of FRS is $1125. This is extremely inexpensive for a collection of methods, which are very hard to break.
If you are not satisfied with the methods, you have a money back guarantee. You can return the system within 30 days of your purchase, if you can prove that all 3 methods have failed for the sessions that you have tried them, with a log of your sessions and I will return your money in full.
The system comes also with an Excel simulator, where you have the opportunity to fully test it, prior to using it live. The Zumma test results are provided within the system document.
With your purchase, you have my on-going support. You can email me or call me any time and I'll make sure the system works for you, as well as it has been working for me.
Click here to order.
Thank you,
Izak Matatya
---
Play FRS on-line at CasinoLasVegas with 1-300 Roulette range.

Wishing you all the best,
Until next week,
Izak
---
WOULD YOU LIKE TO SUBSCRIBE? Click here.
---
If you missed any newsletter, click here for an archive.
---

---
Poker Guide - The world's largest poker guide PokerListings.com with reviews of 750 poker sites.

Texas Holdem - Page that compares 45 Texas Holdem online poker rooms on a number of relevant features.
---