Play To Win
Tips and strategies to help make you a winning casino player

Game Rules
Learn: Blackjack, Baccarat, Craps, Roulette, Slots, Video Poker, Pai Gow Poker, Texas Hold'em, Caribbean Stud, Let It Ride, Casino War, Big Six, Sic Bo (NEW!)

Systems Gallery
Win more, more often with proven betting methods from the systems gallery

Order Form
A secure on-line order form to purchase products advertised by Let's Talk Winning.

Playing Online
All about gambling at online casinos. Find out where the best deals are

Best Casino Bonuses - NEW!
The best collection of on-line casino bonuses, where you can cash $802 on your sign-up.

Links and Things
Sign our guestbook, refer a friend, link to other gambling sites.

Gambling News - NEW!
Latest Gambling News - updated daily including gambling articles, joke of the day and a gambling dictionary.

Newsletter
Click above to read the current edition of our weekly newsletter. Then get your own free subscription right here. Enter your e-mail address for immediate delivery of an introductory issue, including a FREE ROULETTE SYSTEM:

Please tell all your friends about it.

On-Line Forum
Post a gambling question or opinion - get an answer . . .
---

---

Wanna Win At Slots? Click Here!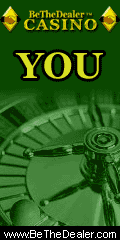 It's now $50 bonus every month!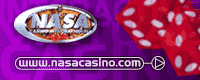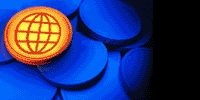 =========================================== Thursday, November 28, 2002

Customer Input on KISS and its Use with the Derivative Method
Hello everyone,
Today's newsletter's main part is written by a Let's Talk Winning customer: Paul Langham, email: Paul.LANGHAM@proximus.net, who likes sharing ideas with other members. Paul also analyses financial market trading systems and he recently emailed me on the usage of the KISS system in conjunction with the Derivative method:
"I have read the attached derivative method and you seem to have beaten me to it! By waiting for an entry point after a loss, you initiate your setup criteria. In doing that you are now matching almost perfectly the best financial market trading systems. You apply a 50/50 chance and apply a good money management system.

As I understand it on should now play the KISS system with derivative method in order to obtain best results. By best results I mean a low drawdown, and a steady growing increase in winnings.

I will continue my tests on the original KISS and try to introduce the trailing stop idea, maintaining the -6 or +12. At the same time I will look at creating some tests for the KISS/Derivative system."
There have been some mixed views on the KISS system used with the Derivative method. Some customers specified that they had to wait for 40+ decisions before joining the game and considered this waiting period as lost opportunities, although it makes it safer. On the other hand, this also shows, that the 40+ decisions had nothing but winning runs.
One can conclude from this that using KISS as is, is quite profitable. Using it in conjunction with the Derivative method requires more patience but increases profitability ratio by 10%.
This is what Paul expressed in terms of KISS:

"I am a relative newcomer to this forum, having been watching things from the sidelines, these last four months. I now feel I would like to enter the discussion concerning KISS. Firstly however, I want to say how refreshingly pleasant it is to see the interchange of ideas which takes place on the forum, and the generosity which is shown by members in offering systems advice and help to other members.

Concerning KISS I have read the various interchanges of ideas and arguments about whether or not KISS is a viable and profitable system. Perhaps I can add a small contribution to how I see that, but firstly I want to explain that I have extensive experience in trading the financial derivative markets over many years. I have known both winning and losing periods. I no longer trade these markets as I have found that I can no longer make money trading them. This is because the markets have evolved to such an extent that unless you are very heavily capitalized, it becomes difficult to stay profitable. I started trading options in 1985, the market is completely different now, I have seen it develop and change. My interest in Roulette has always been there and now my attention is turned to it on a more active basis.

Regarding KISS, what I can offer as advice and which can be readily found in any trading book is the fact there are three areas of fundamental importance to any system, the staking plan, the entry and exit points and the bank or trading capital. Izak has already shown that he understands many of the principles of good trading by establishing the rule whereby you close out when you are +12 points or -6. There has also been some mention of altering the profit get out point. I feel that perhaps with a slight alteration to the entry and exit points, the KISS system might be a very big winner indeed. This is because it has the potential for large wins relative to drawdown within the shoe or win/loose period.

If we take the old market adages, "The trend is your friend" or "Cut your losses short", "Let your winners run", we can look at KISS and see how we can apply these principles.

"The trend is your friend " – If we analyze the shoes already presented by Izak, we can see that some of them could have won by up to +60 or +80 points , if we had not have stuck to our game plan of closing out at +12. So the question should be how can we take advantage of the possibility of a +60 or +80 win occurring and yet at the same time make sure we keep some profit if the "trend" turns against us and the shoe goes from a good winning one to a loosing shoe. The answer could be if we use a "trailing stop". A trailing stop is also something frequently used by traders in financial markets. Once you are up say to +15 you use a trailing stop – which says that if we drop back by a number of points say to +10 or by a certain percentage you close out your position or here you end the shoe. The closeness of the stop, is a question of judgment, trading/gaming style and depends upon the system which has been designed. When you design your system however, and you have found the stop which suits you and the system, it must be set in concrete and you must stick to the level you have decided, with no exceptions. If it is time to get out then you must get out. Personally I like to run trailing stops not too close, say at 25% beneath the market price or in our case beneath the amount we are up. This gives the system the flexibility to drop back a little - not too much though - so that we preserve capital, but still have the chance to make more money if the shoe really takes off.

"Cut your losses short" – This adage already appears to be in place as Izak recommends closing out at -6. We obviously need to give the system some space so that we do not close out a later winning shoe too early. Izak has tested the system over thousands of shoes and so I suppose he has found that the best results achieved, whereby we have enough space to have a successful shoe , but at the same time avoid a loosing shoe becoming too big.

"Let your winners run" – By implementing the trend is your friend stop loss approach this lets your winning shoes run.

Viability of KISS

I want to add a word on the viability of KISS. I should say that I am a purchaser of the system although I have not yet played or tested it. I will carry out my own extensive testing against roulette, both live and with random number generators and with one of the reputable on-line casinos "trial" sessions. If I am satisfied, then I will play this live. If anyone wants to help me testing this just let me know.

I believe that what we all need to understand that a system can be declared as viable if it performs well over a valid observation period. What is a valid period? The system is sold as being profitable over the long run. This means, I assume over thousands and thousands of shoes. The longer the observation period the more reliable the results. Most large financial trading houses test their systems over years and years worth of data. Results from just a few shoes or a short observation period do not really prove that much, as how do you know whether or not you are in a winning phase or losing phase within a larger winning picture? Markets have phases, up, down and sideways. Within each of these phases the same three phases exist, but in mini form and this goes on and on down to phases lasting minutes or seconds. I believe that a roulette wheel although not driven by human emotion as markets also has phases. The phase where patterns repeat will result in "the trend being your friend". You get on the train and go for a ride, follow the pattern and you will win. The pattern which Izak admits will loose money is in financial terms the "downtrend", and should be avoided, this is where there is no pattern which we can profit from, and therefore we close out and await the new set up point. KISS does this by coming out at -6. It doesn't however wait too long before entering again. Perhaps the system should first see a winning pattern, before entering again? The sideways choppy market is also a pattern. With KISS this pattern may also produce a profit, according to the results provided by Izak, this is a win where we net +12 or go to -6. This case is where the shoe has had some winning hands and some losing, but is overall choppy.

What I am trying to say is that unless your observation period – number of shoes includes - all the various types of patterns, then you will always find that the results are spurious.

One other thing. Izak mentioned that one can play three sessions simultaneously on the same roulette wheel. This is because one can play the three even money chances as separate games but play them simultaneously. I feel this is a good idea, although one must be fairly agile in order to keep track of the results of each chance. The effect will be a smoothing of the profit and loss. Whilst one chance could be a good and big winner the other two might be a in a different phase. The interplay between the three chances should be a gentle winning curve. This is of course assuming that the system is a winner over a long observation period.

Concerning the bank, this seems inadequate as sold. I would personally factor in a something like bank ten times the worst known case, into any system. I traded, that way I would always know that what ever happened in the future my bank would never be sufficiently depleted that I could not carry on. If my system is correctly tested over thousands of observations I would know that in anything but totally exceptional conditions my bank would never be tested to its limit

What we really need is a real test either against roulette or Baccarat of many many thousands of observations. Where the stop loss theory is applied.

I am prepared to offer any help I can to anyone who feels I can contribute to this debate. Additionally if it is thought useful, I can publish the results of my tests, these will be roulette based, or even offer my software to any other member who can retest my tests, so that we ensure there is no slip up in testing."
I thank Paul very much for his contribution and openness.
Wishing you all the best,
Until next week,
Izak
---
WOULD YOU LIKE TO SUBSCRIBE?
---
If you missed any newsletter, click here for an archive.
---

---

---