Play To Win
Tips and strategies to help make you a winning casino player

Game Rules
Learn: Blackjack, Baccarat, Craps, Roulette, Slots, Video Poker, Pai Gow Poker, Texas Hold'em, Caribbean Stud, Let It Ride, Casino War, Big Six, Sic Bo (NEW!)

Systems Gallery
Win more, more often with proven betting methods from the systems gallery

Order Form
A secure on-line order form to purchase products advertised by Let's Talk Winning.

Playing Online
All about gambling at online casinos. Find out where the best deals are

Best Casino Bonuses - NEW!
The best collection of on-line casino bonuses, where you can cash $802 on your sign-up.

Links and Things
Sign our guestbook, refer a friend, link to other gambling sites.

Gambling News - NEW!
Latest Gambling News - updated daily including gambling articles, joke of the day and a gambling dictionary.

Newsletter
Click above to read the current edition of our weekly newsletter. Then get your own free subscription right here. Enter your e-mail address for immediate delivery of an introductory issue, including a FREE ROULETTE SYSTEM by clicking here.

Please tell all your friends about it.

On-Line Forum
Post a gambling question or opinion - get an answer . . .
---
Below is a selection of the most recommended
on-line casinos
and sportsbooks

Check out:
On-Line Casino of the Month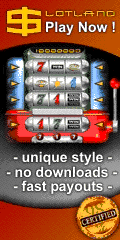 ---
---
================================================ Thursday, May 19, 2005

IBS and Sliding Technique - DS4-5 Performance
Hello everyone,
IBS - the Infallible Baccarat system has been the best performer so far out of all systems in the market. One concern purchasers had was the tendency of some bets getting to be too high. As a remedy to this, one LTW customer posted his solution in the forum.
"As for the other systems I am using, well there are a few, but I have not finished defining everything as it takes lots of testing. I do use the Reward and IBS type of progressions with changes, as well as Sliding, which looks best so far.

For the IBS type, I start with 1,1,1,1 until a win as you normally do. Once I win, of course, I bet three spots next. But instead of doing this over and over, I only do this twice. So it looks like 1,1,1,3,3.
If I have not won, I go back to betting one unit until a win again, so it looks like 1,1,1,3,3,1,1,1 etc. Now once I win, I will take down one of the 1's and add three spots together, usually the lowest numbers, so it looks like 1,1,3,3,3. At this point, I am betting three spots again until it's all clear, or I lose twice, where, of course, I go back to the one unit bets.

What this does, is give the same effect of playing IBS the normal way, but without the drawdowns or big bets, that would have come, had you kept the line like 1,1,1,3,3,3,3, win 3,3,3,3,9,9,9 etc.
Shoes like number 5, which was a -200 loser in regular IBS, only becomes a 25 unit big bet and you win the shoe. However shoes like 105, 189, 221 are big bets or losers still. Shoe 105 you still win, but have a 114 unit bet. The others you will win, but will still have huge bets or break your -200 limit.

Sliding however has been much easier to deal with, but there are lots of options to still figure out.

It starts off with say losing 8 units betting one unit at a time until a win, so it looks like 1,1,1,1,1,1,1,1. Now say you win one and your line is seven 1's and your next bet will be 7 units as you bet the whole line of 1's. Say we lose, and are line looks like this now: 1,1,1,1,1,1,1, 7.

We now go back to betting one unit but place the losing units on the line beneath the 1's, i.e. 1,1,1,1,1,1,1 7,1,1,1 etc. Now we win one and the top line looks like: 1,1,1,1,1,1 7,1,1,1, so we now add the top line all together which is 6 and say we lose, so it looks like: 1,1,1,1,1,1 7,1,1,1,6. Now go back to betting one unit, and say we win, so we have a line of five 1's and our next bet is 5, which we win. Since we have won the 5 unit bet we add the next line together which is 7,1,1,1,6 = 16 units, which we bet, and if we win it's clear and we start over. If we lose, the 16 goes under it and we go back to betting 1 unit.

Basically, that's how Sliding works, but there are lots of options, such as betting twice after a loss, as chops can make a line grow. So I am still trying to figure out which is best. Yes I know we can have some big bets but so far not like the big bets of Reward or IBS.

This also works great on dozens in roulette as well."
Thanking Robert for his great input.
---
The following are the most recent testimonials on the DS4-5 Roulette systems:
"Thanks for all the interest. I played three more sessions. I won the first with 16 units in 24 spins. I lost the second session - 40 units in 15 spins. Then I won the third session +16 units in 14 spins. DS-5 came up twice. It won once on its second spin and once on its third spin. So far DS-5 has performed 100%. Also, although I have had some losing sessions here lately, I am not writing off this system due to early success. I also know that something that wins 2 out of 3 times can lose several in a row before the recovery occurs. That's why I keep on testing before significant real money changes hands. I won't be relatively sure about this system until I play at least 1000 spins. I still like this better than any other roulette system I have seen or can imagine.

I played 3 more sessions. I won 16 units in 16 spins. Then 16 units in 68 spins. lastly 16 units in 11 spins. DS-5 came up 5 times and I hit all 5 in the first attempt."
Click here to order.
Thank you,
Izak Matatya
Wishing you all the best,
Until next week,
Izak
---

---
WOULD YOU LIKE TO SUBSCRIBE? Click here.
---
---
If you missed any newsletter, click here for an archive.
---
---
Poker Guide - The world's largest poker guide PokerListings.com with reviews of 750 poker sites.

Texas Holdem - Page that compares 45 Texas Holdem online poker rooms on a number of relevant features.
---