Play To Win
Tips and strategies to help make you a winning casino player

Game Rules
Learn: Blackjack, Baccarat, Craps, Roulette, Slots, Video Poker, Pai Gow Poker, Texas Hold'em, Caribbean Stud, Let It Ride, Casino War, Big Six, Sic Bo (NEW!)

Systems Gallery
Win more, more often with proven betting methods from the systems gallery

Order Form
A secure on-line order form to purchase products advertised by Let's Talk Winning.

Playing Online
All about gambling at online casinos. Find out where the best deals are

Best Casino Bonuses - NEW!
The best collection of on-line casino bonuses, where you can cash $802 on your sign-up.

Links and Things
Sign our guestbook, refer a friend, link to other gambling sites.

Gambling News - NEW!
Latest Gambling News - updated daily including gambling articles, joke of the day and a gambling dictionary.

Newsletter
Click above to read the current edition of our weekly newsletter. Then get your own free subscription right here.

Please tell all your friends about it.

On-Line Forum
Post a gambling question or opinion - get an answer . . .
---
Below is a selection of the most recommended
on-line casinos
and sportsbooks
Check out:
On-Line Casino of the Month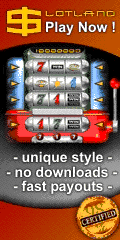 ============================================================= Saturday, February 18, 2017

FAQ on the new system SOWS - Stay on the Winning Side by Izak Matatya
Dear Let's Talk Winning subscribers, customers, friends,
There was a huge interest in the new SOWS - Stay on the Winning Side system launched two weeks ago. Before I answer your frequently asked questions in this newsletter, I would like to share some testimonials:
"Izak, about your SOWS system I just have ONE thing to say: "Damn, you're smart"", Otis D.
"Izak, this seems to be the best thing I have ever seen", Alan L.
"I have been using the systems I purchased from you now for 18 months very successfully. I have used them strictly in live Casinos and have made over 4000 dollars as a supplement to my retirement income. Your new SOWS system is fantastic!", Kenneth S.
Well, I would like to thank you all for those encouraging words.
And now your frequently asked questions:
Q: The Zumma 600 shoes produce good results. How about the Zumma 1K shoes?

A: Zumma 1000 does very well, too. 1184 units for the first 500 shoes and 654 for the second 500 shoes.
Q: Actually, this is a betting method of IBS11, right?
A: No, not at all. IBS11 looks at the winning side by its count of superiority and dominance. SOWS doesn't. It uses a totally different concept.
Q: What is the session bankroll? And what bet selection?
A: The session bankroll is 37 units. It uses a few different bet selections.
Q: Does it have any progression? Will it fail in the short run?
A: There are hardly any progressions in SOWS. It will hold very well in casinos short and long term.
Q: From the performance chat, it is not a steep sharp rise and has a few fluctuations. Does it have a killing sequence?
A: There will always be fluctuations. A killing sequence can be of the nature: LLLLWLLLLLWLLLLLLLWLLLLLLLLW, although likely, but your stop loss at 6 units and even at 14 units will handle this very smoothly.
Q: Is SOWS suitable for larger bet size or small bet size?
A: SOWS is optimized for small bets. We set a high bet limit of 6 units only. If the limit has not been reached we place the next bet, that can never exceed 20 units. Your unit size can be anything your budget allows as your maximum bet is far from reaching table's maximum bet.
Q: If the max bet 6 units fails, then we will be totally down 47 units, right?
A: No, that really depends. 47 units down is the highest possible in 40,000 decisions.
Q: What are the design concepts and theory behind SOWS? Is it a great system in your systems gallery?
A: The design concept is as its name implies is to leave the Player on the winning side, no matter what happens in the chosen bet selection, as either itself or its opposite will do well and the system will place you on the winning side, with an extremely mild bet method to close runs very frequently. It surely holds a good place in the systems gallery.
Q: Would you to describe SOWS as your best system in your gallery?
A: Depends what we call "best". For some people best means to make a lot of profits with a minimal bankroll. Then SOWS complies.

For some people it means consistent profits no matter what the bankroll. Then IHG complies.

For some people it means the most imaginative and creative. Then IBS11 complies.

For some people, it means flat bet advantage, then FBMP complies.

For some people, it means the most versatile system, then the Cluster system complies.
Q: How many units will you make until a burst in average? How many new ideas are there in SOWS?
A: If we did not have any maxbet limit, SOWS would have made 17,901 units. With small maxbet limit of 6 units it makes about 400 units for 600 shoes, so for each 67 won run we abandon one.

SOWS introduces brand new concepts, such as additive differential betting and the best use of combined strategies, which are all fully explained in the manual.
Thank you for your inquiries and valuable questions.
SOWS goes for $500 and is worth every penny.
Early bird purchasers can have a 50% discount, if you purchase SOWS by the end of February 2017. Yes, you can have it for $250 only. Your satisfaction is guaranteed, if not you can ask for your money back within 30 days of your purchase, no strings attached and no questions asked. For $15 extra, you can have a printout shipped to your mailing address.
The system document is not more than 12 easy and fun to read pages. You will enjoy every aspect of it.
Click here to order.
Thank you!
Izak Matatya
P.S. PayPal orders are welcome to my id: izak.matatya@videotron.ca
Email: webmaster@letstalkwinning.com or izak.matatya@videotron.ca
Systems Gallery: http://www.letstalkwinning.com/gallery.htm
Newsletter: http://www.letstalkwinning.com/winalert.htm
Newsletter Archive: http://www.letstalkwinning.com/archive.htm
Recommended On-Line Casinos: http://www.letstalkwinning.com/bestonline.htm
Discussion Forum: http://www.letstalkwinning.com/forum/
Izak Matatya's new contemporary digital art online store: https://www.izakmatatya-digitalart.com
---
WOULD YOU LIKE TO SUBSCRIBE? Click here.
---
If you missed any newsletter, click here for an archive.
---
Poker Guide - The world's largest poker guide PokerListings.com with reviews of 750 poker sites.

Texas Holdem - Page that compares 45 Texas Holdem online poker rooms on a number of relevant features.
---