Play To Win
Tips and strategies to help make you a winning casino player

Game Rules
Learn: Blackjack, Baccarat, Craps, Roulette, Slots, Video Poker, Pai Gow Poker, Texas Hold'em, Caribbean Stud, Let It Ride, Casino War, Big Six, Sic Bo (NEW!)

Systems Gallery
Win more, more often with proven betting methods from the systems gallery

Order Form
A secure on-line order form to purchase products advertised by Let's Talk Winning.

Playing Online
All about gambling at online casinos. Find out where the best deals are

Best Casino Bonuses - NEW!
The best collection of on-line casino bonuses, where you can cash $802 on your sign-up.

Links and Things
Sign our guestbook, refer a friend, link to other gambling sites.

Gambling News - NEW!
Latest Gambling News - updated daily including gambling articles, joke of the day and a gambling dictionary.

Newsletter
Click above to read the current edition of our weekly newsletter. Then get your own free subscription right here. Enter your e-mail address for immediate delivery of an introductory issue, including a FREE ROULETTE SYSTEM by clicking here.

Please tell all your friends about it.

On-Line Forum
Post a gambling question or opinion - get an answer . . .
---
Below is a selection of the most recommended
on-line casinos
and sportsbooks
Check out:
On-Line Casino of the Month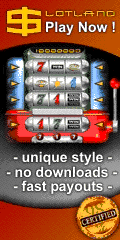 ============================================== Wednesday, April 7, 2010

Feedback on IBS8 Trial and Other Winning Opportunities
Hello everyone,
The trial period on the new IBS8 - Infallible Baccarat System Version 8.0 was over on March 27. I'm happy to say that over 85% of all purchasers liked the system and decided to keep it. Some liked it so much that they even proceeded with the remaining payment option. The system still has a 90% discount until the end of the month.
A review of the system was also posted in the discussion forum and here it is:
"OK if someone is looking for a review of IBS 8 I will give one (without I hope giving to much away) Izak did not ask me for all I know he may not even want me to but here it goes

The betting system is something not seen before in any of the IBS systems.

I view it as a modified version of a betting system that I posted on this site under test of a flat bet system.

Just to give you an idea through the first 17 pages of the craps tester my betting system with flat bets was +22 The BS for strategy 1 was +14 and it is not a total flat bet but is really close. My betting system had a larger drawdown. Izak had fewer bets placed. So ROI may be higher with his thus better but that is an opinion.

As for the other ways of play that is in many ways talked about in the system

They more or less use the same betting system and change the stop win/loss limits.

Some call for using two triggers so when one is not on the other one will call for bets. Thus you get to bet more often so if you are the only one playing at the table.

Now lets talk MM there are a few different ones talked about.

Now let's get to what you would like to know about IBS8 MM there are a few changes over IBS 7 I could call it IBS 7 meets IBS 3 MM. Let's talk about what some would think is good about the system.

W L W L W L does show a profit so single chops are fine There are some paper bets placed at times to help protect the BR. Also Lower bets at time of longer losing runs also can be viewed as a plus

If I was going to buy an IBS system this would be the one. Not saying it is perfect just look at the results from Zumma over the last 500 shoes it did not win but it has a better BS I feel than the other ones.

Differential betting is also talked about or I should say only touched on but maybe with 2 triggers and IBS 8 MM it might be worth looking at. If I did not have any system on this site and thought of getting one this 50 dollar price that Izak is offering I would think strongly about getting it."
And many people did. I thank you for the review and feedback.
This week's newsletter is not much about gambling. The site is Let's Talk Winning and winning can be not only from gambling but also from different opportunities. If we could save a certain monthly payment, for instance, that would also be winning.
In today's rocky economic climate, most households are cutting back wherever they can. And with cable and satellite television costing anywhere from $65 - $150 a month (more if you count premium movie channels) many people are making their television sets the first part of their homes to get the axe. But what if there was a way to enjoy thousands of television channels, including hard to find international shows and sports programming, and never pay another monthly cable bill again?

Welcome to Satellite Direct- the future of television.

With no subscription services or monthly bills, no hardware to install, and 24/7 unlimited access, is it any wonder that Internet Media Magazine hailed Satellite Direct as "unequivocally the best TV to PC software on the net"? Don't be fooled by other so called "Great Deals" on satellite television service for your PC that give you only limited access to channels, or have dozens of hidden fees that end up costing you more than your current cable service.

For less than the price of one month's subscription cable or satellite service, you can enjoy a lifetime of television- over 3,500 channels! from the convenience of your laptop or desktop. And forget the hassles of waiting for installation, or hours on hold with the cable company. Installing Satellite Direct is as easy as 1, 2, 3.

1. Register - Answer a few simple questions, and our easy registration system will process your ONE TIME payment. That's right, no monthly bills - ever.

2. Download - Follow the easy, on screen instructions to download our software. No hardware to install, no equipment to buy.

3. Watch and Enjoy - Sit back and enjoy thousands of television channels, from soaps and sports to movies and dramas, any time, day or night.

With crystal clear picture and sound quality, exceptional customer service, and a lifetime of television for less than you'd pay for just one month of cable service, Satellite Direct is the best way to get the most for your TV dollar.

And that's exactly what I did. I downloaded the software and installed it on my PC with a one shot payment of $49 instead of $149. The whole operation took not more than 5 minutes and now I can view the satellite broadcasts of any country, needing nothing but the internet.
You can do the same by following the link: http://talkwin123.etvcorp.hop.clickbank.net/. Make sure to follow this link, because I have arranged a secret for LTW customers that will let you save 25% more and get the entire service for $33 only.
The trick is the following: You access the site by the following link: http://talkwin123.etvcorp.hop.clickbank.net/, you read about all the options, then you click on the Back button of your browser, as though you want to leave the site and go back to whichever page you came from. You will suddenly be confronted with an on-line help desk option, that will give you an extra 25% saving. Make sure to click on the link within the new help window and you will have 3500 satellite channels on your PC for $33 only.

Why pay over $100 a month for a cable or satellite television subscription with limited channel availability, when you can get a lifetime of unlimited access to over 3,500 channels for less than half of that?

Just some of the benefits of choosing Satellite Direct over cable:

- 24/7 unlimited access to over 3,500 channels
- Hard to find international channels, as well as all the best movies, sports and news shows- at no additional cost
- No hardware to install
- No bandwidth limits
- No subscription or installation fees - EVER
- Automatic channel updates

And best of all ... You'll never have to pay another monthly cable or satellite bill again!

Why settle for other TV for PC services that deliver poor sound and picture quality, or come loaded with hidden fees? With world class customer service and support, making the switch to Satellite Direct will be one of the best decisions you've made for your family in a long time. (And with no hardware to install and no waiting around for hours for the cable guy to show upů it will be one of the easiest, as well)

Switching to Satellite Direct is simple and straightforward: Just answer a few questions using the safe and secure registration process. After your one time payment, you can download the easy to use software directly onto your PC or laptop.

Then sit back and enjoy thousands of premium channels, any time you want. That's it!

Don't pay another cable bill. Click: http://talkwin123.etvcorp.hop.clickbank.net/ and you will win.
* * * * * * * * * * * * * * * * * * * * * * * * *
I'm proud to present you my new Digital Art Gallery, that I launched yesterday. You will find it at:
http://www.letstalkwinning.com/artgallery.htm. It's an additional gallery than the one at:
http://www.letstalkwinning.com/artgallery.htm, where the graphics were generated in the 80's and the new one at: http://www.letstalkwinning.com/artgallery.htm follows more the 21st century aspects.
If you like the images, you are welcome to view and enjoy the first 14 pages of the gallery, each showing 15 images.

You can purchase the prints if you like, which are finished products or the original graphic file.

You can read all the purchase options at: http://www.letstalkwinning.com/Izak.Matatya.Art.Purchase.Options.htm
You may be working at office buildings or reception halls, that could be interested in decorating entire floors. If you could get me a contact of a landlord, or facilities manager who will give me such a contract, I'm ready to offer you up to $1000 bonus, another way for you to win. Email me at: webmaster@letstalkwinning.com for details.
Wishing you all the best,
Izak
---
WOULD YOU LIKE TO SUBSCRIBE? Click here.
---
If you missed any newsletter, click here for an archive.
---
Poker Guide - The world's largest poker guide PokerListings.com with reviews of 750 poker sites.

Texas Holdem - Page that compares 45 Texas Holdem online poker rooms on a number of relevant features.
---