Best Online Casinos
---
Newsletter
Click above to read the current edition of our weekly newsletter. Then get your own free subscription right here. Enter your e-mail address for immediate delivery of an introductory issue, including a FREE ROULETTE SYSTEM:
---
Discussion Forum
Post a Gambling
Question or Opinion -
Get an Answer. . .
---
Below is a selection of the most recommended
on-line casinos
and sportsbooks

Check out:
On-Line Casino of the Month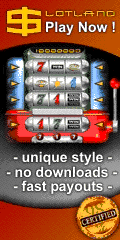 BeatWebCasinos.Com
by Bill Haywood
In more than a year of play, Bill Haywood has never been stiffed by any Internet casino. He has deposited thousands of dollars dozens of times via credit card with numerous web casinos, yet he has always had his deposit returned, and he has always received the "bonuses" and any winnings owed him from his play.
Although these eCasinos are not for high rollers, they do have many advantages for astute players with more modest bankrolls. There are no travel expenses for one thing, nor do you need to leave your house to play. You won't be bothered by other players, pit bosses, or lengthy shuffles, you can openly use a strategy chart, or even a computer, which needs not be concealed.
The legal issues are clouded, and the opportunities for making money may be short-lived, or this may just be the beginning of a new era for serious advantage players. If that's you, BeatWebCasinos.Com is the first and only book on the market that deals with every issue honestly and comprehensively with no b.s.

BeatWebCasinos.Com: The Shrewd Player's Guide to Internet Gambling. The Internet casinos are making so much money from dumb players that the few brave pros who dare to surf into the online games are finding easy pickin's. Their tactics go virtually unnoticed by the casino websites, which are simply not designed to recognize intelligent play. Bill Haywood is the first pro player to let this cat out of the bag. When it comes to beating the Internet casinos, the main rule of thumb is... Don't beat the house — beat the marketing department!
BeatWebCasinos.Com shows you how to qualify for juicy bonuses with minimum play, then walk. By systematically hopping from promotion to promotion, the canny player can collect thousands of dollars with limited risk. No broken rules — no cheating. The basic method is simple, and the book provides the background necessary to help you stay out of trouble.
BeatWebCasinos.Com will delight experienced players, but is accessible to people new to gambling and with limited web experience. Without chandeliers, theme parks or dealers on the payroll, eCasinos are, according to Bill Haywood, "hemorrhaging money." With no magic betting schemes, this book shows you how to make money systematically and consistently.
Some of the topics this book covers in detail: How much money is required? Why this book will have little effect on the industry (many will play stupid); Legal forecast: hazy;The Kyl Bill; The Federal Wire Act; State laws; Minors; Push for regulation; Taxes; If it is outlawed; Risk of ruin — introduction to gambling theory (i.e., bet small and often); Variance; Why betting systems don't work; The meat of how to do it (expanded Yikes! article); Record keeping; Camouflage (yes, you need it!); Tradeoff: variance and appearing to be a gambler; The industry's negative database; Which games to play: Blackjack (extensive); Bets that suck; Baccarat; Craps; Video Poker; Sports Betting; Poker; Safer hustling — how to pick sites; Stories of ripoffs; Name brand software (with line drawings to help identify the software); Licensed sites; Trashy Java games; Portal sites; Danger signs; Tracing urls; Watch dog sites; How to complain; Future reliability of the industry; Playing your game, not theirs (maintaining control); Avoiding compulsive habits; Golden Rules — How to play, boiled down to simple steps; Putting it all together — download diary — three days on the cyber road; Other advantage play; Positive EV off the top games; Counting cards; Positive EV video poker; Sports betting and urls; Referrals; Odd promotions; Credit cards — current foundation; Whither the Caribbean? Mass extinction? Australia; Enter the big boys? Bill's play log; Dairy casinos (good) with designations for sports books and full pay VP; Portals and resources, including lists done by software providers; Strictly sports portals and resources...
Bill Haywood is a diplomatic historian educated at the University of Wisconsin and Rutgers. A former radio news reporter, he taught himself how to count cards at the Atlantic City blackjack tables. Then he began researching profit opportunities in Internet casinos.
BeatWebCasinos.Com is the first gambling book of the new millennium. In 198 pages, Bill Haywood covers this incredible opportunity to make money from every angle. Priced at just $19.95 (includes shipping and handling within the U.S.A. - $21.20 to Canada, $24.45 elsewhere). To order click here.