Play To Win
Tips and strategies to help make you a winning casino player

Game Rules
Learn: Blackjack, Baccarat, Craps, Roulette, Slots, Video Poker, Pai Gow Poker, Texas Hold'em, Caribbean Stud, Let It Ride, Casino War, Big Six, Sic Bo (NEW!)

Systems Gallery
Win more, more often with proven betting methods from the systems gallery

Order Form
A secure on-line order form to purchase products advertised by Let's Talk Winning.

Playing Online
All about gambling at online casinos. Find out where the best deals are

Best Casino Bonuses - NEW!
The best collection of on-line casino bonuses, where you can cash $802 on your sign-up.

Links and Things
Sign our guestbook, refer a friend, link to other gambling sites.

Gambling News - NEW!
Latest Gambling News - updated daily including gambling articles, joke of the day and a gambling dictionary.

Newsletter
Click above to read the current edition of our weekly newsletter. Then get your own free subscription right here. Enter your e-mail address for immediate delivery of an introductory issue, including a FREE ROULETTE SYSTEM by clicking here.

Please tell all your friends about it.

On-Line Forum
Post a gambling question or opinion - get an answer . . .
---
Below is a selection of the most recommended
on-line casinos
and sportsbooks
Check out:
On-Line Casino of the Month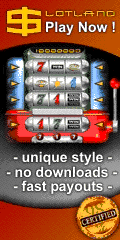 ============================================== Friday, September 16, 2011

The New IBS10 - Infallible Baccarat System Version 10.0 by Izak Matatya
Dear LTW customers and subscribers,
This newest version of IBS comes with a totally new concept in winning and beating all even paying games.
The bet selection has a unique and original concept, never seen before, that does not try to recognize or follow decision patterns, that either may or may not continue.
It rather tackles a totally random environment with sufficient randomness to create sequences of losses and wins, which are handled in an extremely efficient manner with the bet method. Within this randomness, it still keeps the system in a mechanical way, such that two players using IBS10 would bet exactly the same way with the exception of their bet sizes, as one defines the unit size, with which the player is comfortable with. The bets would still be within the same proportion.
IBS10 was designed with the mind of keeping the bets as low as possible and yet generate consistent long term profits.
In fact, one never exceeds the highest bet of 10 units at any session or even 9 units for 80 continuous shoes. 9 units, for instance, were used only twice throughout 4 continuous shoes.
Tests were conducted by randomly selecting large group of shoes from tester books and each time, an average profit of 4.5 units per shoe was achieved.
The system is very flexible in various ways. One can set different values for betting amounts under different circumstances, as well as different session bankrolls. As usual, optimal parameters were implemented to maximize the system's performance.
And those parameters are a maximum bet of 10 units, a session bankroll of 21 units, generating 4.5 units per shoe in average over an unlimited number of shoes.
Not all sessions are won. One sets a loss limit of 16 units. The moment the limit is surpassed by a next losing bet, the session is abandoned with a small accepted loss not exceeding 21 units. This is the way the long term average of +4.5 units per shoe is kept indefinitely.
Here is a performance chart of IBS10: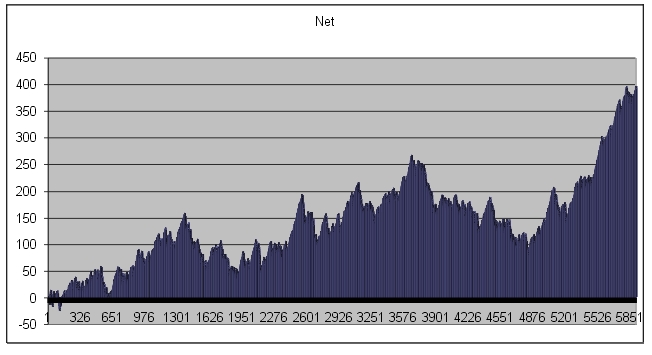 As you can see, small abandoned runs do not disrupt the overall profitability of the system and hardly brings us into a negative balance, not more than 26 units drawdown overall.
Wherever the system is started it always comes up profitable from the starting point. This is the result of selecting random areas from any tester book, which reflects into live play.
The system is slightly more complex than other versions of IBS. But once you practice it for a while, you will get a very good feel of it and you will be able to apply it with ease.
IBS10 is very dynamic. There is no tracking, no interruptions of bets and no waiting for a specific condition to occur. One bets continuously from anywhere in the shoe or a certain point in any other even bet paying game (Roulette, Craps, Sic-Bo, Baccarat, etc.) and leaves the game when the desired profit is reached.
There is no need for a win target, as the more you play, the more you will win. Time and sky is the limit. Just don't play until you exhaust yourself. Enjoy your daily profits.
The system document consists of 21 pages of very structured text, including numerous examples and variations.
The system comes with an MS-Excel simulation where you can either input your decisions or observe results from test books. You can also experiment with different bet values and session bankrolls.
The simulation is automated in terms of the bet method. The complex bet selection has been manually entered, but can be easily applied to other decisions, whether random or from tester books.
IBS10 is very practical, playable, effective, profitable, and affordable. It's probably one of the best systems around.
For a limited time, the system has an incredibly low price of $1000 only, a negligible cost next to the system's great potential.
As usual, your full satisfaction is guaranteed with a money back guarantee within 30 days of your purchase, no strings attached.
Click here to order for an email delivery of the system. For only $20 extra, you can have a printout mailed to your address.
Thank you,
Izak Matatya
Wishing you all the best,
Izak
---
WOULD YOU LIKE TO SUBSCRIBE? Click here.
---
If you missed any newsletter, click here for an archive.
---
Poker Guide - The world's largest poker guide PokerListings.com with reviews of 750 poker sites.

Texas Holdem - Page that compares 45 Texas Holdem online poker rooms on a number of relevant features.
---