Play To Win
Tips and strategies to help make you a winning casino player

Game Rules
Learn: Blackjack, Baccarat, Craps, Roulette, Slots, Video Poker, Pai Gow Poker, Texas Hold'em, Caribbean Stud, Let It Ride, Casino War, Big Six, Sic Bo (NEW!)

Systems Gallery
Win more, more often with proven betting methods from the systems gallery

Order Form
A secure on-line order form to purchase products advertised by Let's Talk Winning.

Playing Online
All about gambling at online casinos. Find out where the best deals are

Best Casino Bonuses - NEW!
The best collection of on-line casino bonuses, where you can cash $802 on your sign-up.

Links and Things
Sign our guestbook, refer a friend, link to other gambling sites.

Gambling News - NEW!
Latest Gambling News - updated daily including gambling articles, joke of the day and a gambling dictionary.

Newsletter
Click above to read the current edition of our weekly newsletter. Then get your own free subscription right here. Enter your e-mail address for immediate delivery of an introductory issue, including a FREE ROULETTE SYSTEM by clicking here.

Please tell all your friends about it.

On-Line Forum
Post a gambling question or opinion - get an answer . . .
---
Below is a selection of the most recommended
on-line casinos
and sportsbooks
Check out:
On-Line Casino of the Month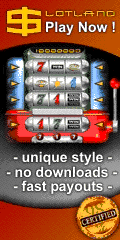 ============================================== Thursday, September 10, 2009

Beating the Odds in Craps by Dicetrakkr

Hello everyone,

This week I would like to introduce you to Marvin, the Dicetrakkr, if you don't know him already, and his great DVD, which will provide you numerous ways to win in Craps.

I will let him the podium to speak for himself:

"Welcome to "CRAPS ..."

- a casino game played by superstitious, unyielding gamblers who love the opportunity to play "lucky" for a fast buck - or two -

and "luck" is a factor which you can never eliminate - "it comes with the territory ..."

More often than not, those of us who have long-term experience [

I have 17-years] combined with long-term success [mine is 13-years as of 2009] and we beat our heads against a brick wall explaining to players they can win consistently, if only -

-

If only what?
- If only they understood:
... money management is extremely critical for long term success;
... patience is vital to know when "to" and "not to" risk a wager;
... understanding how to get a higher return on an investment [wager]
without being locked into a contract bet;
... knowing when to turn a bet off;
... realizing conversations and tossing dice are distractions which
interrupt your concentration because you are there to win;
... knowing the difference between taking a bet down after a specified number of dice rolls
- and - leaving a bet in action until either a point is made or the shooter 7s out
- the person who removes a bet after a specified number of dice rolls is there to win
- the player whose money remains in action until a 7-out [loss] or win is there to gamble and will, prove to dealers, he/she only knows how to lose -- not how to win ...

My name is Marvin; I'm known at dice tables as

"the DiceTrakkr ..." I am retired and a certified dice dealer license #MJ4296-L2 ...

I can tell you it does not take $5,000 or $100,000 to play professionally or for long-term survival ...

You need to use your intelligence - understand each toss of the dice connects the dots giving you a road map "where you are going" and why you can or cannot make a Pass Line Wager when a Don't Pass Wager is the current trend [and vice-versa] ...

In reality, casino patrons should have an "interest earning savings account" from which to draw money for gambling sessions ... In between your sessions, put more money into your account to grow it with earned interest added ... If you have less than a good day, there's no need to fret because your savings account remains safe and intact ...

Before getting into a game, your first responsibility is watching the table to determine whether this is the table you want to play at; but, you should also know:

when

to enter a game;
how to enter the game;
the cost of the game;
when to put money at risk;
how to determine the best wager;
play smarter using your knowledge without guessing ...

Money-management techniques

extends your time, not your risk, at dice tables; therefore, your time at the table can be rewarding - if not in dollars, at least in sense - here's why: you cannot alter the house edge, but, you can preserve your capital to prevent it from diminishing faster than you can replace it - this is why you need the Savings Account ...

I can open the doors to "

Beating the Odds ..." My 7.6 hours video covers both Pass Line and Don't Pass Line sides of the game; nothing has been left out except for middle-of-the-table wagers - I do not believe in horn, hopping, hardway or field bets - in the long-term these wagers diminish your bankroll ...

The video covers:


Patterns > the length of a shooter's dice roll;
Back-to-Back Numbers > not hits as in two wins in succession;
Place or Lay Sleepers > missing numbers;
Place or Lay Numbers > either the table is warm or cold;
Tracking Rolls > connecting the dots;
Rolls Between Numbers > hitting close or far apart;
Playing Smarter and Better > not how casino bean counters expect you to play
the % of disadvantage players face trying to get
lucky;
Boxcars [#12] > what frequently follows;
Combination #2 and # 3 > what to watch for;
Combination #3 and #11 > another heads up notice;

Consider a craps table with 16 to 18 players huddled around it -

no matter how well a shooter rolled before, no matter how many numbers he/she rolled, and no matter how many times he/she rolled without rolling a 7, when it is time for 7s to pop, they will roll no matter what the shooter does ... I don't care how good the shooter is or if he/she excels at pre-setting dice ... I don't care if dice hit the money, jump up, hit the rail, do a double back flip and hit someone in the eye - when dice settle on the table they will indicate a 7! And, you can't prevent it!

Dice are interchanged in numerous different combinations - with the same result - different shooters throw the dice, and yet, when it is time for 7s to pop they will roll and nothing you do prevents it ...

This is

because tables cycle through warm, choppy, hot and cold trends ... It's your responsibility to know how to handle these trends ... And, this is true with all the other dice number combinations - watch any craps table for a while and you will see this phenomenon occurring ...

My video

"Beating the Odds" shows you how to handle these situations ...

Think about this

- if casinos were concerned about dice gamblers "pre-setting" dice, there would be signs around the table outlawing "pre-setting ..." Pre-setting has its place, because it's all about rolling numbers - not necessarily rolling for hours although it happens ...

The method and technology in which tables are manufactured nowadays has pretty much diminished your chance of very long dice rolls - but - once in a while it occurs ...

Order your video

"Beating the Odds" today at this low introductory price of $495 while supplies are available ... By the way, you may call my home, 574-233-0045, Monday, Tuesday, Wednesday and Thursday evenings from 7:00 to 10:00 in the evening for additional help - daytime and weekends are my time at the casino ...

Wishing you long-term success, I am
Respectfully

Marvin
"The DiceTrakkr"

PS:

Playin' Tough to "Beat the Odds" is not how casino bean-counters want you to play ... It's difficult proving to dice players that applying a "step-by-step" technique is a long-term losing
proposition; however - YOU have the right to lose your money
any way you want - but - YOU also have the right to expand your mind, with what I prove to "Beat the Odds" using your intelligence ... As you become more successful, you will, in time, fine tune your strategy, lessen your guessing frustration - you'll learn when to wager, when to place your best wager according to what you see happening at your table to either place or lay a number ..."

Click here to order the Beating the Odds in Craps DVD.. If you wish 3-5 day delivery, $7.50 will be added extra. If you wish overnight delivery, then $21.80 will be charged extra.

Wishing you all the best,
Izak
---
WOULD YOU LIKE TO SUBSCRIBE? Click here.
---
If you missed any newsletter, click here for an archive.
---
Poker Guide - The world's largest poker guide PokerListings.com with reviews of 750 poker sites.

Texas Holdem - Page that compares 45 Texas Holdem online poker rooms on a number of relevant features.
---