Play To Win
Tips and strategies to help make you a winning casino player

Game Rules
Learn: Blackjack, Baccarat, Craps, Roulette, Slots, Video Poker, Pai Gow Poker, Texas Hold'em, Caribbean Stud, Let It Ride, Casino War, Big Six, Sic Bo (NEW!)

Systems Gallery
Win more, more often with proven betting methods from the systems gallery

Order Form
A secure on-line order form to purchase products advertised by Let's Talk Winning.

Playing Online
All about gambling at online casinos. Find out where the best deals are

Best Casino Bonuses - NEW!
The best collection of on-line casino bonuses, where you can cash $802 on your sign-up.

Links and Things
Sign our guestbook, refer a friend, link to other gambling sites.

Gambling News - NEW!
Latest Gambling News - updated daily including gambling articles, joke of the day and a gambling dictionary.

Newsletter
Click above to read the current edition of our weekly newsletter. Then get your own free subscription right here. Enter your e-mail address for immediate delivery of an introductory issue, including a FREE ROULETTE SYSTEM by clicking here.

Please tell all your friends about it.

On-Line Forum
Post a gambling question or opinion - get an answer . . .
---
Below is a selection of the most recommended
on-line casinos
and sportsbooks
Check out:
On-Line Casino of the Month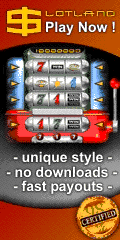 ============================================== Tuesday, October 9, 2010

Parlay Repeating Dozens System Variation
Dear Let's Talk Winning customers and newsletter subscribers,
This month's free gambling system is a variation of the Parlay Repeating Dozens System sent to you last month.
Last month, the goal was to parlay a repeating dozen until we were ahead for the run. Then we would reset and start a new run. If you don't have that newsletter, you can view it from the archive at: http://www.letstalkwinning.com/winalert_September2_2010.htm.
This month, we will parlay repeating dozens until we win four consecutive times, cash our profits and then reset.
Before starting to bet, though, we will wait for one virtual win, that is for a dozen to have already repeated once. Then we will bet on the same dozen hoping for it to repeat 4 more times.
In other words, if we win our bet, we have 3 chips on the table. We don't collect them. We let them ride (or parlay them). If we win again, should the Dozen repeat again, our 3 chips will turn into 9 chips on the table. We still don't collect them, regardless of if we are ahead overall or not. Winning one more time, the 9 chips will becomes 27 and finally, a fourth win in a row will profit us 80 units (81 units (27 X 3) minus the very first chip we invested).
Thus, if we have continuous consecutive losses, we do not lose anything, since we are not placing any bets until the first virtual win.
As per money management, our daily target will be being substantially ahead or any time you feel you made a decent profit. In order to quit negatively, those five consecutive winnings would not have occurred for more than 80 spins up front and not later on, either, which is still a possibility. But simulations show differently.
In fact, running this system over the first 4300 Zumma tester book spins of the 15,000 spins, we are able to cash 440 units, averaging about 1 unit per 10 spins, a very decent time to quit and enjoy the profits.
A full simulation is provided to you at:
http://www.letstalkwinning.com/PRD-5-steps.xls
Here is the performance chart: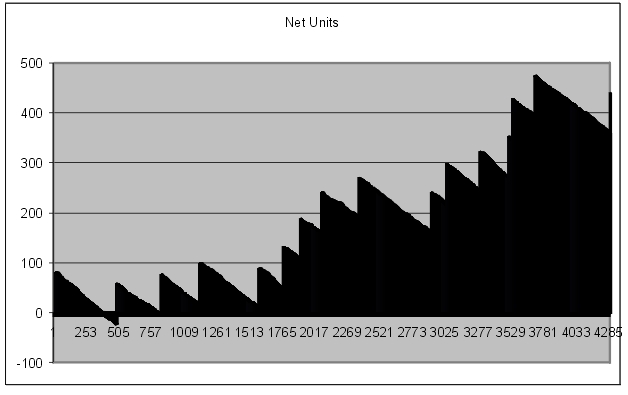 You can see that the 5 consecutive (even more) repeating dozens occur 16 times within 4300 spins. You have plenty of opportunities to quit the use of the system, while you are still ahead, which is the purpose.
At times, the repeating dozens go up to 6-7 times, but we cash our profits, after 5 consecutive wins. It could be frustrating to have 81 chips on the table and not collect them, should it lose the 6th time, although if one is very patient, one could wait for 6 wins and cash 243 chips and quit the system whenever it happens.
Even the waiting for 5 consecutive wins can take time and one needs to have patience with this kind of strategy. After all, the losing of a run costs only 1 chip and the winning profits 80. So patience does pay off.
Here are a few starting spins using the system until we are ahead by about 50 units.

Please note that the initial winning run of 5 repeating dozens at spins 10-14 is only a coincidence. The fact that this event happens 16 times, as mentioned previously, is surely not a coincidence.
Spin
Number
Dozen
W/L
Count Wins
Units
Net Units
1
13
2
0
2
9
1
L
0
3
22
2
L
0
0
0
4
32
3
L
0
0
0
5
2
1
L
0
0
0
6
6
1
W
1
0
0
7
13
2
L
0
-1
-1
8
6
1
L
0
0
-1
9
21
2
L
0
0
-1
10
18
2
W
1
0
-1
11
15
2
W
2
0
-1
12
24
2
W
3
0
-1
13
18
2
W
4
0
-1
14
21
2
W
5
80
79
15
32
3
L
0
0
79
16
9
1
L
0
0
79
17
34
3
L
0
0
79
18
3
1
L
0
0
79
19
32
3
L
0
0
79
20
5
1
L
0
0
79
21
26
3
L
0
0
79
22
19
2
L
0
0
79
23
31
3
L
0
0
79
24
2
1
L
0
0
79
25
6
1
W
1
0
79
26
3
1
W
2
0
79
27
9
1
W
3
0
79
28
1
1
W
4
0
79
29
29
3
L
0
-1
78
30
5
1
L
0
0
78
31
18
2
L
0
0
78
32
19
2
W
1
0
78
33
26
3
L
0
-1
77
34
30
3
W
1
0
77
35
00
0
L
0
-1
76
36
31
3
L
0
0
76
37
17
2
L
0
0
76
38
26
3
L
0
0
76
39
20
2
L
0
0
76
40
17
2
W
1
0
76
41
30
3
L
0
-1
75
42
22
2
L
0
0
75
43
14
2
W
1
0
75
44
29
3
L
0
-1
74
45
25
3
W
1
0
74
46
12
1
L
0
-1
73
47
3
1
W
1
0
73
48
22
2
L
0
-1
72
49
8
1
L
0
0
72
50
14
2
L
0
0
72
51
30
3
L
0
0
72
52
26
3
W
1
0
72
53
5
1
L
0
-1
71
54
32
3
L
0
0
71
55
26
3
W
1
0
71
56
21
2
L
0
-1
70
57
12
1
L
0
0
70
58
36
3
L
0
0
70
59
11
1
L
0
0
70
60
1
1
W
1
0
70
61
00
0
L
0
-1
69
62
28
3
L
0
0
69
63
36
3
W
1
0
69
64
24
2
L
0
-1
68
65
27
3
L
0
0
68
66
32
3
W
1
0
68
67
27
3
W
2
0
68
68
11
1
L
0
-1
67
69
5
1
W
1
0
67
70
25
3
L
0
-1
66
71
22
2
L
0
0
66
72
4
1
L
0
0
66
73
11
1
W
1
0
66
74
34
3
L
0
-1
65
75
25
3
W
1
0
65
76
27
3
W
2
0
65
77
25
3
W
3
0
65
78
0
0
L
0
-1
64
79
21
2
L
0
0
64
80
22
2
W
1
0
64
81
33
3
L
0
-1
63
82
19
2
L
0
0
63
83
32
3
L
0
0
63
84
3
1
L
0
0
63
85
14
2
L
0
0
63
86
7
1
L
0
0
63
87
33
3
L
0
0
63
88
31
3
W
1
0
63
89
11
1
L
0
-1
62
90
23
2
L
0
0
62
91
28
3
L
0
0
62
92
24
2
L
0
0
62
93
4
1
L
0
0
62
94
31
3
L
0
0
62
95
4
1
L
0
0
62
96
30
3
L
0
0
62
97
13
2
L
0
0
62
98
34
3
L
0
0
62
99
10
1
L
0
0
62
100
12
1
W
1
0
62
101
33
3
L
0
-1
61
102
18
2
L
0
0
61
103
28
3
L
0
0
61
104
29
3
W
1
0
61
105
16
2
L
0
-1
60
106
13
2
W
1
0
60
107
34
3
L
0
-1
59
108
00
0
L
0
0
59
109
5
1
L
0
0
59
110
29
3
L
0
0
59
111
4
1
L
0
0
59
112
29
3
L
0
0
59
113
00
0
L
0
0
59
114
1
1
L
0
0
59
115
6
1
W
1
0
59
116
32
3
L
0
-1
58
117
33
3
W
1
0
58
118
23
2
L
0
-1
57
119
0
0
L
0
0
57
120
32
3
L
0
0
57
121
18
2
L
0
0
57
122
27
3
L
0
0
57
123
15
2
L
0
0
57
124
8
1
L
0
0
57
125
22
2
L
0
0
57
126
9
1
L
0
0
57
127
8
1
W
1
0
57
128
2
1
W
2
0
57
129
3
1
W
3
0
57
130
00
0
L
0
-1
56
131
36
3
L
0
0
56
132
13
2
L
0
0
56
133
16
2
W
1
0
56
134
5
1
L
0
-1
55
135
4
1
W
1
0
55
136
19
2
L
0
-1
54
137
16
2
W
1
0
54
138
15
2
W
2
0
54
139
15
2
W
3
0
54
140
17
2
W
4
0
54
141
27
3
L
0
-1
53
142
15
2
L
0
0
53
143
17
2
W
1
0
53
144
10
1
L
0
-1
52
145
13
2
L
0
0
52
146
12
1
L
0
0
52
147
24
2
L
0
0
52
148
26
3
L
0
0
52
149
21
2
L
0
0
52
150
11
1
L
0
0
52
151
21
2
L
0
0
52
152
23
2
W
1
0
52
153
12
1
L
0
-1
51
154
22
2
L
0
0
51
155
10
1
L
0
0
51
156
3
1
W
1
0
51
157
4
1
W
2
0
51
158
6
1
W
3
0
51
159
9
1
W
4
0
51
160
0
0
L
0
-1
50
161
32
3
L
0
0
50
162
27
3
W
1
0
50
163
9
1
L
0
-1
49
164
2
1
W
1
0
49
165
11
1
W
2
0
49
166
4
1
W
3
0
49
167
26
3
L
0
-1
48
168
6
1
L
0
0
48
169
35
3
L
0
0
48
170
1
1
L
0
0
48
171
35
3
L
0
0
48
172
11
1
L
0
0
48
173
4
1
W
1
0
48
174
5
1
W
2
0
48
175
14
2
L
0
-1
47
176
22
2
W
1
0
47
177
34
3
L
0
-1
46
178
30
3
W
1
0
46
179
34
3
W
2
0
46
180
13
2
L
0
-1
45
181
31
3
L
0
0
45
182
31
3
W
1
0
45
183
30
3
W
2
0
45
184
20
2
L
0
-1
44
185
6
1
L
0
0
44
186
17
2
L
0
0
44
187
20
2
W
1
0
44
188
30
3
L
0
-1
43
189
35
3
W
1
0
43
190
9
1
L
0
-1
42
191
3
1
W
1
0
42
192
28
3
L
0
-1
41
193
12
1
L
0
0
41
194
19
2
L
0
0
41
195
19
2
W
1
0
41
196
8
1
L
0
-1
40
197
17
2
L
0
0
40
198
29
3
L
0
0
40
199
26
3
W
1
0
40
200
6
1
L
0
-1
39
201
5
1
W
1
0
39
202
31
3
L
0
-1
38
203
28
3
W
1
0
38
204
12
1
L
0
-1
37
205
36
3
L
0
0
37
206
21
2
L
0
0
37
207
33
3
L
0
0
37
208
23
2
L
0
0
37
209
30
3
L
0
0
37
210
28
3
W
1
0
37
211
33
3
W
2
0
37
212
00
0
L
0
-1
36
213
1
1
L
0
0
36
214
7
1
W
1
0
36
215
5
1
W
2
0
36
216
27
3
L
0
-1
35
217
8
1
L
0
0
35
218
17
2
L
0
0
35
219
18
2
W
1
0
35
220
2
1
L
0
-1
34
221
15
2
L
0
0
34
222
14
2
W
1
0
34
223
16
2
W
2
0
34
224
22
2
W
3
0
34
225
21
2
W
4
0
34
226
29
3
L
0
-1
33
227
10
1
L
0
0
33
228
20
2
L
0
0
33
229
30
3
L
0
0
33
230
30
3
W
1
0
33
231
8
1
L
0
-1
32
232
11
1
W
1
0
32
233
32
3
L
0
-1
31
234
35
3
W
1
0
31
235
0
0
L
0
-1
30
236
25
3
L
0
0
30
237
9
1
L
0
0
30
238
16
2
L
0
0
30
239
13
2
W
1
0
30
240
28
3
L
0
-1
29
241
32
3
W
1
0
29
242
8
1
L
0
-1
28
243
3
1
W
1
0
28
244
28
3
L
0
-1
27
245
18
2
L
0
0
27
246
35
3
L
0
0
27
247
17
2
L
0
0
27
248
14
2
W
1
0
27
249
17
2
W
2
0
27
250
17
2
W
3
0
27
251
11
1
L
0
-1
26
252
17
2
L
0
0
26
253
12
1
L
0
0
26
254
35
3
L
0
0
26
255
10
1
L
0
0
26
256
21
2
L
0
0
26
257
00
0
L
0
0
26
258
35
3
L
0
0
26
259
7
1
L
0
0
26
260
17
2
L
0
0
26
261
9
1
L
0
0
26
262
8
1
W
1
0
26
263
16
2
L
0
-1
25
264
23
2
W
1
0
25
265
35
3
L
0
-1
24
266
35
3
W
1
0
24
267
2
1
L
0
-1
23
268
35
3
L
0
0
23
269
15
2
L
0
0
23
270
21
2
W
1
0
23
271
32
3
L
0
-1
22
272
21
2
L
0
0
22
273
9
1
L
0
0
22
274
11
1
W
1
0
22
275
13
2
L
0
-1
21
276
15
2
W
1
0
21
277
17
2
W
2
0
21
278
11
1
L
0
-1
20
279
1
1
W
1
0
20
280
12
1
W
2
0
20
281
17
2
L
0
-1
19
282
1
1
L
0
0
19
283
29
3
L
0
0
19
284
27
3
W
1
0
19
285
00
0
L
0
-1
18
286
22
2
L
0
0
18
287
18
2
W
1
0
18
288
10
1
L
0
-1
17
289
20
2
L
0
0
17
290
0
0
L
0
0
17
291
00
0
L
0
0
17
292
28
3
L
0
0
17
293
22
2
L
0
0
17
294
0
0
L
0
0
17
295
6
1
L
0
0
17
296
30
3
L
0
0
17
297
0
0
L
0
0
17
298
6
1
L
0
0
17
299
0
0
L
0
0
17
300
17
2
L
0
0
17
301
8
1
L
0
0
17
302
18
2
L
0
0
17
303
21
2
W
1
0
17
304
30
3
L
0
-1
16
305
21
2
L
0
0
16
306
24
2
W
1
0
16
307
34
3
L
0
-1
15
308
19
2
L
0
0
15
309
14
2
W
1
0
15
310
2
1
L
0
-1
14
311
0
0
L
0
0
14
312
32
3
L
0
0
14
313
1
1
L
0
0
14
314
4
1
W
1
0
14
315
2
1
W
2
0
14
316
17
2
L
0
-1
13
317
25
3
L
0
0
13
318
35
3
W
1
0
13
319
16
2
L
0
-1
12
320
19
2
W
1
0
12
321
24
2
W
2
0
12
322
1
1
L
0
-1
11
323
29
3
L
0
0
11
324
13
2
L
0
0
11
325
2
1
L
0
0
11
326
25
3
L
0
0
11
327
33
3
W
1
0
11
328
5
1
L
0
-1
10
329
23
2
L
0
0
10
330
0
0
L
0
0
10
331
19
2
L
0
0
10
332
34
3
L
0
0
10
333
13
2
L
0
0
10
334
33
3
L
0
0
10
335
29
3
W
1
0
10
336
6
1
L
0
-1
9
337
3
1
W
1
0
9
338
28
3
L
0
-1
8
339
27
3
W
1
0
8
340
3
1
L
0
-1
7
341
10
1
W
1
0
7
342
5
1
W
2
0
7
343
00
0
L
0
-1
6
344
36
3
L
0
0
6
345
21
2
L
0
0
6
346
6
1
L
0
0
6
347
7
1
W
1
0
6
348
21
2
L
0
-1
5
349
3
1
L
0
0
5
350
35
3
L
0
0
5
351
28
3
W
1
0
5
352
29
3
W
2
0
5
353
9
1
L
0
-1
4
354
19
2
L
0
0
4
355
25
3
L
0
0
4
356
3
1
L
0
0
4
357
17
2
L
0
0
4
358
17
2
W
1
0
4
359
15
2
W
2
0
4
360
18
2
W
3
0
4
361
2
1
L
0
-1
3
362
29
3
L
0
0
3
363
16
2
L
0
0
3
364
23
2
W
1
0
3
365
32
3
L
0
-1
2
366
4
1
L
0
0
2
367
11
1
W
1
0
2
368
20
2
L
0
-1
1
369
36
3
L
0
0
1
370
35
3
W
1
0
1
371
2
1
L
0
-1
0
372
16
2
L
0
0
0
373
6
1
L
0
0
0
374
13
2
L
0
0
0
375
22
2
W
1
0
0
376
21
2
W
2
0
0
377
36
3
L
0
-1
-1
378
2
1
L
0
0
-1
379
2
1
W
1
0
-1
380
13
2
L
0
-1
-2
381
10
1
L
0
0
-2
382
9
1
W
1
0
-2
383
21
2
L
0
-1
-3
384
12
1
L
0
0
-3
385
15
2
L
0
0
-3
386
16
2
W
1
0
-3
387