Play To Win
Tips and strategies to help make you a winning casino player

Game Rules
Learn: Blackjack, Baccarat, Craps, Roulette, Slots, Video Poker, Pai Gow Poker, Texas Hold'em, Caribbean Stud, Let It Ride, Casino War, Big Six, Sic Bo (NEW!)

Systems Gallery
Win more, more often with proven betting methods from the systems gallery

Order Form
A secure on-line order form to purchase products advertised by Let's Talk Winning.

Playing Online
All about gambling at online casinos. Find out where the best deals are

Best Casino Bonuses - NEW!
The best collection of on-line casino bonuses, where you can cash $802 on your sign-up.

Links and Things
Sign our guestbook, refer a friend, link to other gambling sites.

Gambling News - NEW!
Latest Gambling News - updated daily including gambling articles, joke of the day and a gambling dictionary.

Newsletter
Click above to read the current edition of our weekly newsletter. Then get your own free subscription right here.

Please tell all your friends about it.

On-Line Forum
Post a gambling question or opinion - get an answer . . .
---
Below is a selection of the most recommended
on-line casinos
and sportsbooks
Check out:
On-Line Casino of the Month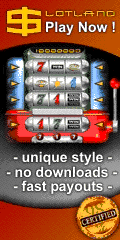 ================================================ Friday, October 23, 2020

Frequently Asked Questions on the Inertia System

Dear Let's Talk Winning subscribers, customers, friends,
After last week's newsletter and the announcement of the Bonus Inertia system, I have received many questions due to the raised interest. Although the discussion forum was not too active on debates, I have received many private emails and I'd like to share with you my answers in this newsletter.
Q: I have a question on your new system that you can flat bet and in all your testing in only went down 9 units.
Is that 9 straight losses? Is that on 1 shoe? Flat betting what is the winning average per shoe? How many shoes lost and won?

A: 9 units were the overall drawdown using the system. The total profit for 1000 shoes betting flat was 145 units, thus .145 units per shoe in average, but you can bet higher denominations. No shoes lose, we abandon a run only if we reach the loss limit of 22 units from time to time.

Q: Do you play every hand? Could you have a stop loss of 6-8 units if so would it be a winner?
What would the largest bet to make?

A: You play every hand except the very first hand of the run. The graph below shows the performance of a stop loss of 3 units and it's a great winner. Largest bet is 3 units: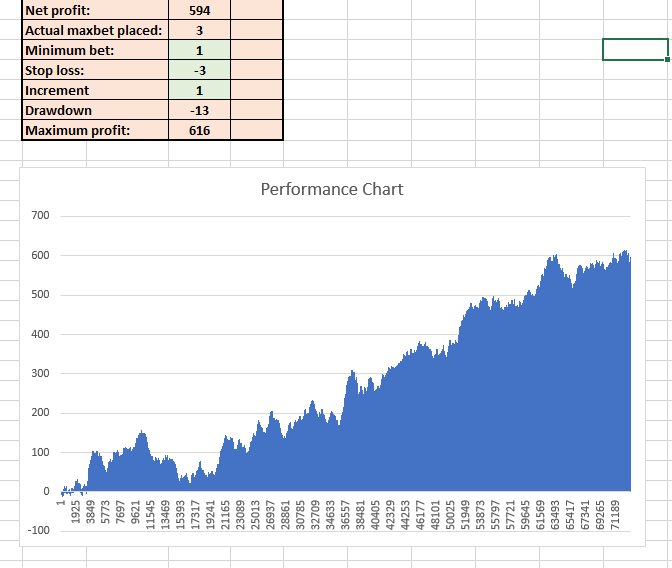 Q: Hi Izak,

The no commission Baccarat performance is amazing but it is meaningless to present them as you can't find Baccarat table with no commission.

My concern is the low return on Baccarat with commission. The return is only 0.3 unit per shoe for the 1000 shoes tested.

Since your typical winning shoes generate 11 units, the losing ones must be losing heavily otherwise you won't get only 0.3 unit profit per shoe.

That said, your relentless efforts in producing systems with less drawdown are highly admired.

Hope you can come up with a holy grail on commission basis:)
A: The Inertia system and its bonus work for both commission and non-commission based baccarat.

The profits are simply reduced by 3 fold, that's all. If the system generates 2000 units for 1000 shoes, the commission based system generates 650 units, which is great.

If you want a very solid system based on commissions, consider the BB (Banker Baccarat) system and CYL (Catch you later) both versions. They are made specifically to handle commissions.

How? Simple. If you are paying 5% commission on each Banker win, you eventually run a small progression on the commission paid and not on whole units, which reduces the steepness of the progression by 95%.
Q: Hi Izak,
The Inertia Bonus System sounds very interesting. I like the lower drawdown and higher profit potential versus the original system.

Can you walk us through what a typical session would look like? How many units profit per hour? How many winning sessions versus losing sessions? Session bankroll? Daily bankroll? Worst case scenario? Anything else that you think people would like to know?

Thanks for all you do for this community.
A: Sure,

Like I mentioned, there are 3 variations to the bonus system.

The main purpose was to create dynamism, avoid tracking and reduce bankroll requirements and lower the max bet tremendously.

From one variation to the other the bankroll requirements go down from 194 to 29 to 9 units, at the price of lowering the total profit made for 1000 shoes from 2000 to 865 to 145, the latter being an almost flat bet system.

The max bet in all 3 is reduced to 22 units.

If a shoe takes an hour and one makes the above profit for 1000 shoes, all you have to do is to divide the 1000 shoe profit by 1000. For instance if you are making 2000 units per 1000 shoes you are making 2 units per hour times your chip value.

If your chip value is $25, you are making $50 an hour.

There are no "losing" sessions, but abandoned runs, when your max bet reaches 22 units. You can count those by looking at the profit chart and see if there are any deviations from the rising graph.

Here's the the profit graph displayed wider:



I count only about 4 abandoned runs per 1000 decisions, which is wonderful profit wise.

Worst case scenario is when the 194 unit drawdown is reached. For the rest, the sky is the limit.
Q: On your system of a stop loss of 3 flat betting highest bet is 3 units. What is the percentage of winning shoes? If I played 5 shoes for the day what would my day look like?
A: Based on the performance chart of the Inertia Bonus system that has a max bet of 3 units for 1000 shoes, or 200 days playing 5 shoes a day, in average and in short, you will be able to make 600 units for 200 days or 3 units per day. If your unit size is $50, that will be $150 a day in average. With black chips only, you can make $300 a day. Each day will have some differences.
Q: Hi Izak,

Since there is no discussion about your new system at the forum, let me ask you some questions here.

You mentioned that the drawdown was 24 units, how many units will be your lifetime bankroll?

What about the bet selection and betting amounts, are they unique from your past systems?

I understand that there is no tracking required, so no charting is needed. Isn't it?

Please reply to my above questions. Also, do I still need to study the main system or I can use the bonus system without referring to the main system?

Mainly, I would like to play this on commission baccarat only.
A: You know there is the main Inertia system and 3 variations of the bonus system. Each one has different bankroll requirements.

For the highest requirement a lifetime bankroll of 194 units are required. For the least one, only 50 units are required.

Bet selection is the most unique one, very different from any previous system.

No tracking is required. For the Bonus system only the very first bet of the run has no bets.

You can use the bonus system, but to understand it you need to read the main system document first.
Following are resulting charts for the Inertia System played on 600 and 1000 Zumma shoes respectively taking commissions into account: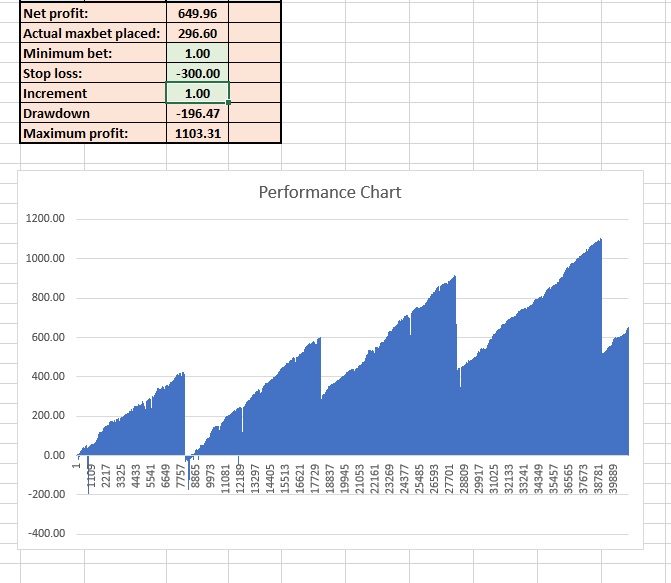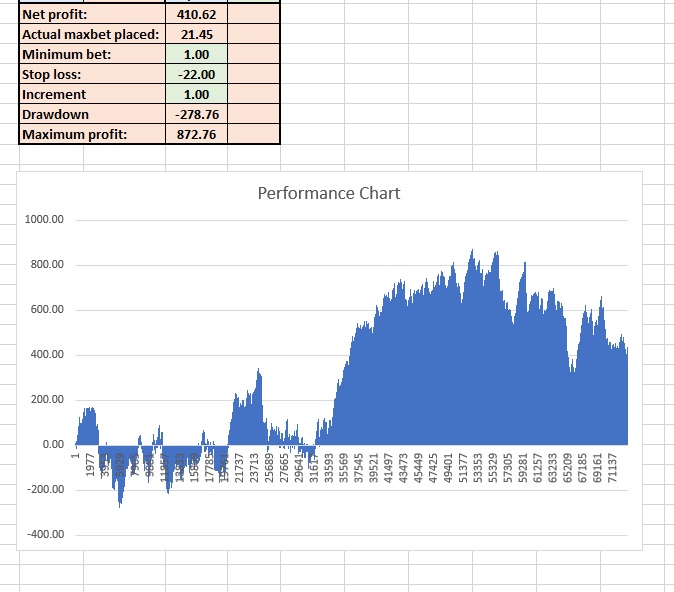 Thank you all for your valuable questions and interest.
The price of the system is still the same. $200 until the end of October 2020 with the 50% discount promotion. You have another week left to take advantage of this great promotion.

Place your orders at the following link:
https://shop.letstalkwinning.com/collections/even-bets-system/products/inertia-system
and an automatic download link will be provided to you. Do not forget to specify your email address for the link to work.

As usual, you have a full money back guarantee within 30 days of your purchase, no strings attached, no questions asked.
Thank you,
Izak Matatya
www.letstalkwinning.com
www.izakmatatya-digitalart.com

Email: webmaster@letstalkwinning.com, izak.matatya@videotron.ca or matatya.izak@gmail.com
Systems Gallery: http://www.letstalkwinning.com/gallery.htm
Newsletter: http://www.letstalkwinning.com/winalert.htm
Newsletter Archive: http://www.letstalkwinning.com/archive.htm
Recommended On-Line Casinos: http://www.letstalkwinning.com/bestonline.htm
Discussion Forum: http://www.letstalkwinning.com/forum/
Izak Matatya's new contemporary digital art online store: https://www.izakmatatya-digitalart.com, www.izakmatatya.com
---
WOULD YOU LIKE TO SUBSCRIBE? Click here.
---
If you missed any newsletter, click here for an archive.
---
Poker Guide - The world's largest poker guide PokerListings.com with reviews of 750 poker sites.

Texas Holdem - Page that compares 45 Texas Holdem online poker rooms on a number of relevant features.
---