Play To Win
Tips and strategies to help make you a winning casino player

Game Rules
Learn: Blackjack, Baccarat, Craps, Roulette, Slots, Video Poker, Pai Gow Poker, Texas Hold'em, Caribbean Stud, Let It Ride, Casino War, Big Six, Sic Bo (NEW!)

Systems Gallery
Win more, more often with proven betting methods from the systems gallery

Order Form
A secure on-line order form to purchase products advertised by Let's Talk Winning.

Playing Online
All about gambling at online casinos. Find out where the best deals are

Best Casino Bonuses - NEW!
The best collection of on-line casino bonuses, where you can cash $802 on your sign-up.

Links and Things
Sign our guestbook, refer a friend, link to other gambling sites.

Gambling News - NEW!
Latest Gambling News - updated daily including gambling articles, joke of the day and a gambling dictionary.

Newsletter
Click above to read the current edition of our weekly newsletter. Then get your own free subscription right here. Enter your e-mail address for immediate delivery of an introductory issue, including a FREE ROULETTE SYSTEM by clicking here.

Please tell all your friends about it.

On-Line Forum
Post a gambling question or opinion - get an answer . . .
---
Below is a selection of the most recommended
on-line casinos
and sportsbooks

Check out:
On-Line Casino of the Month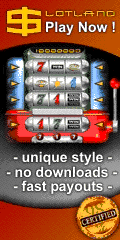 ---
================================================ Wednesday, October 20, 2004

Testimonials and FAQ on FRS - Favorite Roulette System
Hello everyone,
FRS - my Favorite Roulette System has been received with great enthusiasm and has made many happy purchasers. Here are some very encouraging testimonials:
"I bought FRS yesterday, the systems are three of the best systems I have ever read. I don't normally compliment systems at all, but I thought Izak's hard work has definitely paid off with these systems.

The thing I like with FRS-Favorite Roulette System is the variation of methods. Three methods for the price of one. Method 2 is without a doubt the BEST system I have bought. It can work on double or single zero roulette and wins 1 unit every 3 spins (I have found in the short term winning averages work out anywhere from 1 unit profit every 3 spins to over 1 unit every 2 spins!!!)

Also with Method 2 you can start with a bankroll less than $30 to test the system and to make profits and gradually move up into larger betting limits. As you do this you will be more confident with the system and will have enough practice to bet larger units.

IZAK - THANK YOU for the best system of all time. I will advise anyone to buy this system, it will be your last!" Aceblack
"FRS Method 3: a great idea that can be applied to any method or progression."
Dave R.
"These are my results with Method 2 by session (playing with real money, by the way):

+64 units in 43 minutes
+52 units in 44 minutes
+99 units in 53 minutes
+54 units in 50 minutes
+58 units in 23 minutes

I had several winning sessions before that, but did not keep good enough records to report here. But the results were similar." Ernie
'Izak,

I have looked over the 3 systems and am playing Method 2 - so far with very good results." Ernie
"Thanks,

So far, the system has worked exactly as you said - even better - although I haven't played as much as I would like. Actually, I seem to be on a streak winning approximately 100 units per hour." Ernie

I was also flooded with many questions about the 3 methods of FRS. So I decided to form a Frequently Asked Questions section in the system description page. And here they are answered:
Q. Is bet selection an inside or outside wager?

A. It's an outside wager.

Q. Playing with $1 units, what would you make per hour on average for methods 1 and 3 ( 00 wheel)?

A. For method 1, you would make $40 an hour playing with $1 units and with Method 3 $30 an hour on a double zero wheel/

Q. On average how many bets would one make per hour for each system?

A. You bet on every spin in all 3 methods. There is no tracking. So this depends on the speed of the wheel and how crowded a table is. On-line you can place 3 bets per minute. On a land-based casino a spin takes about a minute and more on a crowded table with people placing chips all over the table.

Q. In what way is method 3 unique and original......i.e. the progression or.....?

A. No, it's not the progression itself, but the way it is handled. It is unique in the sense that it treats progressions very differently than the way we are used to.

Q. Specifically how could use FRS for playing baccarat, craps etc.?

A. It's designed for Roulette only and not for even bets. It places bets mainly on the dozens. That's why it won't be adequate for Baccarat and Craps.
Q. You indicated you bet mainly on dozens. What other bet selections do you wager on and typically how often......i.e. columns and/or high-low?

A. Methods 1 and 2 bet strictly on the dozens and/or columns. Method 3 is applicable to all kinds of bets for all games requiring a certain progression.

Q. What is your worst case testing scenario for methods 1 and 3 ( highest drawdown and number of lost sessions without a win)?

A. Methods 1 and 3 are quite different. Method 1 requires a bankroll of 500 units. My highest drawdown was 360 units, but it still won the session. The same performance is valid for Method 2. Method 3 has a loss and win limit. So the most you can win in a session is +10 units, where you stop betting for the session. And the most you could lose for the session is -20 units, as this is also where you stop betting no matter which stage you are in the betting scheme. The good news is that your +10 winning sessions outnumber the -20 losing ones by a factor of 5.

Q. How extensively did you test methods 1 and 3? Are you saying in your documentation that only method 2 is a long term winner?

A. Method 2 is unbreakable. It never loses a session. However, bets can go as high as 180 units. Method 1 and 3 have also been extensively tested. Method 1 may lose a 500 unit session at times, but is profitable on the long run.

Q. For conservative bettors, is method 1 a better overall performer than method 3?

A. It's hard to compare those very 2 different methods. Method 3 is much more conservative and is designed for mild bettors, as the bets never exceed 5 or 6 units at a time. One could never lose more than 20 units. Method 1 is aggressive for people who want to win session after session. One could win 1500 sessions before losing one that could lose 500 units.

Q. Can all your methods be mastered by neophyte roulette players quickly and successfully?

A. Oh yes. The systems are very well documented with step by step explanation with lots of examples.
Q. What is the worst case of sequential loss sessions in Method 3?
A. The maximum back-to-back loss that I encountered causing 2 -20 units were 2, causing a 40 unit drop in the bankroll. That's why I recommend the use of a 60 unit bankroll to overcome such events.
Q. What is the chance of losing with FRS method 2, and what is the chance of winning in units? eg 90% of the time you win 4 units 10% of the time you lose 24 units.
A. It's not possible to lose with FRS - Method 2. You simply need more bankroll to complete the runs, but you never exceed table limits.

Method 3 goes to either +10 units or -20 units. You get 5 times more +10 units than -20 unit sessions. However, the bankroll requirements are much lower, such as 3 times a 20 unit session to overcome back to back losing sessions.
Q. To what extent have you personally played Global Player using FRS? Approximately how long and how many spins?
A. I have been playing FRS at GPC for months now. I have initially deposited $1000 and used $1 units to win about $60 per hour. I have played day after day for 5 hours a day and always made my win target of $300 a day. I have been using FRS at GPC since June 2004. The only break I had was during my vacation in August 19 - September 23. So I played a net of 73 days and I'm up by 21,859 units having started with 1000 as my initial bankroll. The largest bet I placed was 180 units. I play at the single player French Roulette $1 table. It lets me place bets up to 500.
Q. You said that you are up by 21,800 units. And method 2 which you prefer requires a 500 unit bankroll. And if we take 21800/500=43,6. That means that you must lose more than 43 rounds to get on the negative side. And you haven't lost your initial 500 units yet?!?! I think you have a 100% guaranteed long term winner here Izak!!
What is the required percentage for winning spins?
A. In FRS, there are 3 methods. In Method 1, you need to win 1 more bet than 50% of all your bets and you will win 63% of them on the long run, so you have the advantage.

In Method 2, you need to win even less than 50% of all you bets, i.e. 45%. It has an enhanced kind of cancellation method.

Method 3 is totally different. You need to win as many bets, which will bring you to +10 units and they will, much more often than to -20 units. When you reach +10 or -20, you can take a break and come back for more +10 sessions.
Q. Can all 3 systems be played continuously, or do we have to pick spots and miss bets?
A. In all 3 methods, there is no tracking, you place bets on every single spin. There is no need to qualify tables. All tables are qualified. Besides, previous spins do not influence following spins in Roulette, since the wheel has no memory. And there is no need to skip bets. All 3 methods consist of continuous play.
Click here to order for an email delivery of the system.
The system is as low as $1125. It's like buying one method and getting two for free.
Thank you,
Izak Matatya
---
Play FRS on-line at CasinoLasVegas with 1-300 Roulette range.

Wishing you all the best,
Until next week,
Izak
---
WOULD YOU LIKE TO SUBSCRIBE? Click here.
---
If you missed any newsletter, click here for an archive.
---

---
Poker Guide - The world's largest poker guide PokerListings.com with reviews of 750 poker sites.

Texas Holdem - Page that compares 45 Texas Holdem online poker rooms on a number of relevant features.
---