Play To Win
Tips and strategies to help make you a winning casino player

Game Rules
Learn: Blackjack, Baccarat, Craps, Roulette, Slots, Video Poker, Pai Gow Poker, Texas Hold'em, Caribbean Stud, Let It Ride, Casino War, Big Six, Sic Bo (NEW!)

Systems Gallery
Win more, more often with proven betting methods from the systems gallery

Order Form
A secure on-line order form to purchase products advertised by Let's Talk Winning.

Playing Online
All about gambling at online casinos. Find out where the best deals are

Best Casino Bonuses - NEW!
The best collection of on-line casino bonuses, where you can cash $802 on your sign-up.

Links and Things
Sign our guestbook, refer a friend, link to other gambling sites.

Gambling News - NEW!
Latest Gambling News - updated daily including gambling articles, joke of the day and a gambling dictionary.

Newsletter
Click above to read the current edition of our weekly newsletter. Then get your own free subscription right here. Enter your e-mail address for immediate delivery of an introductory issue, including a FREE ROULETTE SYSTEM by clicking here.

Please tell all your friends about it.

On-Line Forum
Post a gambling question or opinion - get an answer . . .
---
Below is a selection of the most recommended
on-line casinos
and sportsbooks
Check out:
On-Line Casino of the Month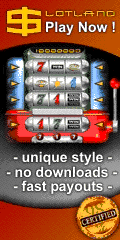 ============================================== Wednesday, November 9, 2011

Free Gambling System of the Month - Six and Go
Dear LTW customers and subscribers,
Each time I go to the casino, I may get a few ideas on a certain system. I try those ideas myself, later simulate them. When they have potential, I share them with you in my newsletters.
And here is the free gambling system of the month that I tried a couple of days ago. Played 10 rounds, made 10 units of $100 each and profited $1K in 2 hours and naturally quit the game. I stayed a couple of more hours to see if the system would continue profiting had I played more and it did.
I came to my office. Simulated the system over the 600 Zumma Baccarat shoes and it came out profitable. Not by much, just by 22 units, whole units, that is with commissions taken into account.

I could say that the system would break even on very long term. Some of you may wonder what would be the use of such a system, if the profits do not keep rising and rising. Or some of you may find the system extremely primitive. However, we will see how we can explore it in such a way, that one can quit with profits almost every time one plays it.
The system is extremely simple, such as waiting for an even bet to come up for 6 times in a row and one bets the opposite during three trials with a 3 step 1, 2, 4 progression.
It sounds like a Martingale betting the opposite of a long sequence of an even bet thinking that the opposite is finally "due". Many say, this is a classic losing system falling into the "gamblers' fallacy" and that many people have lost their shirts over such a system.
I couldn't agree less, if one did not limit the progression steps to 3. One has used the killer Martingale over quite a few steps, after encountering say 14 Reds in a row, thinking that Black is finally due and Red continued for another 9 spins, causing people who bet Black with Martingale to lose 511 units over this run using the progression with 9 steps: 1,2,4,8,16,32,64,128,256 at 1-300 range tables. With $10 units, one would have lost $5,110 and all that just in order to win $10. It surely doesn't sound very smart, does it?
But what if your total loss for this run is only 7 chips instead of 511, if you're using it for 3 steps only (the 1,2,4). And what if you are making easy 1 units, every time your opposite even bet comes within those 3 trials. That would be quite different and much less nerve racking, wouldn't it, not mentioning that you can win quite a few runs.
In fact, I checked quite a few Baccarat shoes, for which there were electronic status displays and the number of winning sessions were quite numerous.

I took the picture of such a display, that you can see below.
http://www.letstalkwinning.com/Six-and-go-shoe.jpg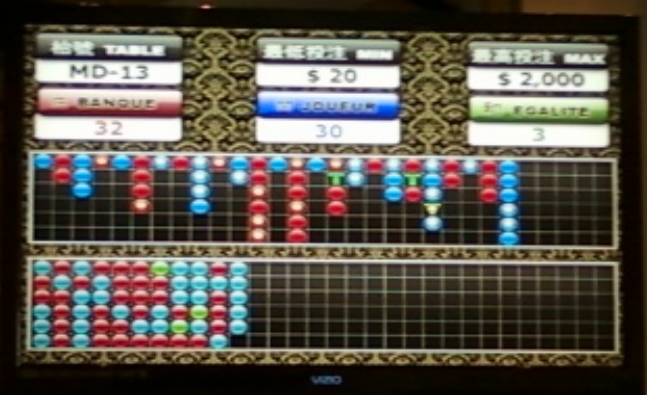 Since Baccarat is used mostly by Asian customers, the display is also in Chinese. For our purposes, we can look at it in terms of its colors. The blue dot is a Player decision. The red dot is a Banker decision. The green dot is a Tie. The blue or red dots with a smaller yellow dot is a natural Banker or Player, such as an 8 or 9, where no further cards needed to be drawn.
As you can see, the display shows the decisions in two different charts. The one above starts a new column, every time Banker changes into a Player decision and vice versa. Repetitions of Player and Banker decisions are shown vertically. It goes into a grid of 6 decisions. If it took more than 6 decisions for Banker to turn into a Player then the display would show those decisions horizontally at the bottom of the grid.
The chart below shows all decisions continuously from top to bottom until all 6 rows are filled and it continues only then to the second column.
The top chart is our system of the month. Look at the 12th column from the left. You will see 6 Banker decisions. 6 vertical red dots. Then a Player decision at column. Then at column 14, another 6 Banker decisions. Another 6 vertical red dots, also followed by a Player decision.
I was betting Player at the beginning of column 13. Placed a black chip and won. Then waited for a sequence of another 6 Banker decisions, that happened right away. I bet Player again at column 15 and won again. Two bets placed. Two units won of $100 each.
This shoe continued to produce two more columns of red dots, one which continued up to 7th Banker. Then turned into Player. 2 more units won. This shoe produced $400 profit.
2 more units won each at 3 other shoes played simultaneously, made an extra 6 units of $100, totaling to 10 units of $100 or $1000, which marked the end of the day.
Was I lucky? Maybe, yes. Could one sequence of 6 Banker continue to, say, 12 Bankers? Yes, absolutely. What would be the cost of that sequence? 7 units or $700. So if I had 9 successful runs and one not, that would end up with 9-7 = 2 units or $200 profit for this day. Still not bad. Any positive amount is better that ending up in a loss.
So, this is it. You track as many mini-Baccarat tables as possible by navigating. The moment you see the formation of a full column with red dots, or after 6 Banker decisions, you start betting on Player only in order to avoid commissions and to get full $100 profit on each run. If you lose you bet $200 and if you lose again, you bet $400. If you lose three times in a row, you abandon that run with -$700. Every time Player decision comes after either 6, 7 or 8 Banker decisions, and not after 9 or more, you make $100.
So you need to be at that table only for 3 bets, when the time comes and move on to observing all other tables. Here, it's allowed to bet behind some sitting player's back. You need to find such casinos.
During the course of the day, I have not seen a Baccarat shoe, that did not show a Player decision after a maximum of 7 Banker decisions. That, of course, cannot be said for any other day. At times, it is not unlikely to have even 15 consecutive Banker decisions.
The good thing about this system, is that 15 consecutive Banker decisions is only one losing session of 7 chips.
The ultimate question is if winning sessions outnumber the losing ones by 7 fold?
Let's talk about long term profitability of this system. The simulation, that you can find at:

http://www.letstalkwinning.com/Six-and-Go-600-Zumma-Shoes.xls
shows some up and down fluctuations of your profits. But always around a similar base. That means that if you try the system within one day, your profits could go to 20 units and then you may lose 2 session of 7 units each and end up at 6 units profit for the day. Or you could make 8 units profit then lose a session of 7 and leave with +1 unit.
Here is the performance chart of the Six-and-Go system for the first 20,000 decisions of the Zumma 600 shoes tester book: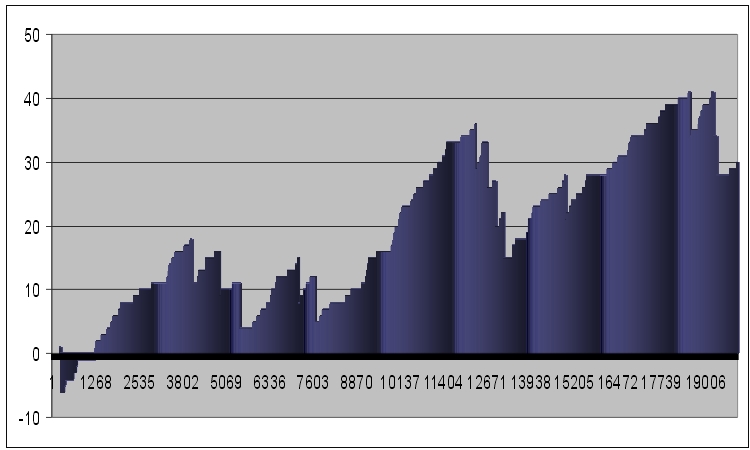 Ultimately, you also have a choice, which is a good choice, to leave once you have made those 8 units and not necessarily wait for the unavoidable losing session to come and leave then with +8 units instead.
So, even if the simulation shows waves of profits and losses, we can always leave the game when we are in the positive side and we can do so on a daily basis.
If you look at the performance chart again, you will know what I mean. See how the graph climbs nicely before an unavoidable loss of 7 units occur. There are, for instance, no losing sessions at all between decisions 7603 and 11,404, which is absolutely amazing!
Unless, of course, you have at times 2 or more losing sessions back to back. Then it would be advisable not to continue with this system any longer for that day and simply accept a -14 unit losing day without pushing your luck any further and stop after 2 losing sessions.
In the performance chart, you can see this happening between decisions 11,404 and 12,671. Had you limited your loss then to only 14 units, you would avoid the losing of 28 units for that day.
End effect, what I'm trying to say, is that you can do even better than the chart by setting your daily win target to 10 units and a loss limit of -14.
I hope you have enjoyed this simple system.
Wishing you all the best,
Izak
---
WOULD YOU LIKE TO SUBSCRIBE? Click here.
---
If you missed any newsletter, click here for an archive.
---
Poker Guide - The world's largest poker guide PokerListings.com with reviews of 750 poker sites.

Texas Holdem - Page that compares 45 Texas Holdem online poker rooms on a number of relevant features.
---