Play To Win
Tips and strategies to help make you a winning casino player

Game Rules
Learn: Blackjack, Baccarat, Craps, Roulette, Slots, Video Poker, Pai Gow Poker, Texas Hold'em, Caribbean Stud, Let It Ride, Casino War, Big Six, Sic Bo (NEW!)

Systems Gallery
Win more, more often with proven betting methods from the systems gallery

Order Form
A secure on-line order form to purchase products advertised by Let's Talk Winning.

Playing Online
All about gambling at online casinos. Find out where the best deals are

Best Casino Bonuses - NEW!
The best collection of on-line casino bonuses, where you can cash $802 on your sign-up.

Links and Things
Sign our guestbook, refer a friend, link to other gambling sites.

Gambling News - NEW!
Latest Gambling News - updated daily including gambling articles, joke of the day and a gambling dictionary.

Newsletter
Click above to read the current edition of our weekly newsletter. Then get your own free subscription right here. Enter your e-mail address for immediate delivery of an introductory issue, including a FREE ROULETTE SYSTEM by clicking here.

Please tell all your friends about it.

On-Line Forum
Post a gambling question or opinion - get an answer . . .
---
Below is a selection of the most recommended
on-line casinos
and sportsbooks

Check out:
On-Line Casino of the Month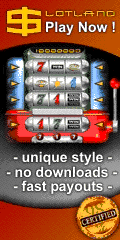 ---
---

---
================================================ Wednesday, November 23, 2005

The New 3D-RB 3 Dozens Relative Betting Roulette System
Hello everyone,
I'm very excited to present you my new Roulette system: 3D-RB 3 Dozens Relative Betting Roulette System.
The idea behind this system was born from customer feedback. A very happy purchaser and user of the famous IBS2.1 system requested the development of a system based on dozens in Roulette, where one could use the IBS strategy to be applied on each dozen at the same time and thus triple the profits. IBS2.1 has been proven to generate profits even after 1.47 millions of decisions.
After extensive research and with further improvement on the IBS betting method and in order to be able to use it on single dozens in Roulette, I came up with a very powerful strategy using an up as you win concept.
As you know, dozens and columns in Roulette pay 2:1 and increasing your bets while you're winning on them can be very beneficial, as implemented in 3D-RB.
RB, which stands for relative betting, is also a new betting concept, where bets are made relative to winning bets. The more a certain set of dozens show up, the more your bets are increased and the more profits they make. Reversely, the less the dozens show up, the less bets are placed on them, thus reducing any potential losses.
As a matter of fact, 3D RB capitalizes on the dominant dozens and places no bets on the sleeping dozens. All this is achieved automatically, by simply following the system's instructions. If a dozen has slept say for quite a few spins, you can be sure that no bets have been placed on them. So the system adjusts itself relative to the appearance of the dozens or columns in roulette and profits become exponential.
3D-RB is not a grind system, where the goal is to make 1 unit per session. It is possible to achieve 180 units per 100 spins, averaging more than 1.8 units per spin.
3D-RB is so powerful, that it works with multiple money management methods. You can set your own win targets and loss limits and you will get a strongly performing result outcome.
With the system document, you will also receive a simulator that automates the entire system. Within the simulator, you will be able to enter your win target and loss limit that you would like to set as a parameter and with one click you will be able to see the results for yourselves. You will be able to fine tune the system to your own needs and your own betting style according to your own budget.
The system document illustrates various money management methods, all with outstanding success. The one I prefer sets a win target of +100 units per run and a loss limit of -1 unit for that run, meaning that you reset your bets the moment you are in the negative and start a new run aiming for that +100 unit run and you go for it twice during your playing session.
This is similar to a reverse strategy of a grind system, where you have multiple sessions of +1 unit and a loss can wipe out your small accumulated wins, whereas in 3D-RB, your +100 unit winning run greatly compensates for all small losses incurred up until your great profit hits.
Tested also over the Zumma tester book, one makes +185 units within the first 173 spins, having hit the +100 unit runs twice as per instructed by the system. No matter at which entry point one starts applying the system, one is likely to hit the +100 unit run twice within a range of 150-200 spins. The losing of -1 unit session is not necessarily within 1 spin, as it will also occur while aiming for the +100 unit target. That means that by the time you will reach your +100 unit target, you may have a drawdown that does not exceed -30 units from cumulative small losing runs.
All the test runs have been documented in the system including the Zumma runs.
You will greatly enjoy the power and flexibility of 3D-RB.
The bankroll requirement for 3D-RB is also not much, since it's an up as you win system. The highest bet you will ever place will never exceed 20 units. And since we are in an up as you win system, if you ever reach a 20 unit bet, that means you have been very profitable, as the higher the bets go, the more you win.
The bankroll requirement will also depend on the money management method you chose. If you chose a win target of say +10 units versus a loss limit of say -50 units, you should definitely have at least 100 units to play, so you can give the system a chance to have 2 consecutively losing sessions. I would rather select a lower loss limit, such as not more than -10 units, so a bankroll of say 50 units will be sufficient to withhold any number of losing runs. As mentioned before, the win targets and loss limits of the system are set by the player and the performance will be illustrated in the simulator. The system document will provide the most recommended money management parameters, based on thousands of tests and real play results.
The system document is not more than 36 pages, that you need to study well in order to fully understand the power and flexibility of the system. Once you have a good grasp of the system, you will be ready to fly with it.
You can purchase 3D-RB for as low as $90, which is negligible next to the profits it's going to make you. You will probably cover your cost within the first few hours of your play. You have a money back guarantee based on your full satisfaction, and you can ask for a refund within 30 days of your purchase, if the system doesn't perform for you the way it should, no questions asked and no strings attached.
Click here to order, or click on the PayPal button below for an email delivery of the system.
Thank you,
Izak Matatya
Wishing you all the best,
Izak

---

---
WOULD YOU LIKE TO SUBSCRIBE? Click here.
---
---
If you missed any newsletter, click here for an archive.
---
---
Poker Guide - The world's largest poker guide PokerListings.com with reviews of 750 poker sites.

Texas Holdem - Page that compares 45 Texas Holdem online poker rooms on a number of relevant features.
---
---

A sports betting service offering sports, casino and racebook action. With more than 7 years of experience in the gaming industry and located in San Jose, Costa Rica. enVivoSports.com has it all for the sports enthusiastic!

At enVivoSports.com they offer excellent customer service and Same Day Payouts 100% guarantee and 7 days a week.

enVivoSports.com offers juicy cash bonuses and special promotions all year round, so don't forget to check our web site at www.envivosports.com

Bet it your way at enVivoSports.com
---
When you open your account at enVivoSports.com you will be able to bet on sports, casino and horseracing just call us at 877-512-3503 or access our web site www.enVivoSports.com you will receive up to a 25% SIGN UP bonus for depositing funds into your betting account. Remember at enVivoSports.com you bet it your way! (
enVivosports.com is one of the very few offshore sports books that offers a .10 Cent line in baseball
).
---