Play To Win
Tips and strategies to help make you a winning casino player

Game Rules
Learn: Blackjack, Baccarat, Craps, Roulette, Slots, Video Poker, Pai Gow Poker, Texas Hold'em, Caribbean Stud, Let It Ride, Casino War, Big Six, Sic Bo (NEW!)

Systems Gallery
Win more, more often with proven betting methods from the systems gallery

Order Form
A secure on-line order form to purchase products advertised by Let's Talk Winning.

Playing Online
All about gambling at online casinos. Find out where the best deals are

Best Casino Bonuses - NEW!
The best collection of on-line casino bonuses, where you can cash $802 on your sign-up.

Links and Things
Sign our guestbook, refer a friend, link to other gambling sites.

Gambling News - NEW!
Latest Gambling News - updated daily including gambling articles, joke of the day and a gambling dictionary.

Newsletter
Click above to read the current edition of our weekly newsletter. Then get your own free subscription right here.

Please tell all your friends about it.

On-Line Forum
Post a gambling question or opinion - get an answer . . .
---
Below is a selection of the most recommended
on-line casinos
and sportsbooks
Check out:
On-Line Casino of the Month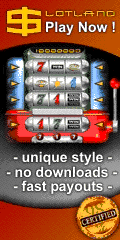 ============================================================= Sunday, November 13, 2016

Free System - Opportunity Betting

Dear Let's Talk Winning subscribers, customers, friends,

This newsletter is an addendum to the previous one, where we talked about looking for the 3-3-3 pattern and to bet against it.

We don't have to limit ourselves looking only for this pattern. In fact, we can look for numerous patterns and bet in such a way that they won't continue.
Why is that? Lots of players like to follow specific patterns, such as streaks or chops, or 2-1's or 2-2's etc. Why would we want to bet for a pattern to stop?
Well, for the simple reason, that if we are following a certain pattern there is no guarantee that that pattern will continue. What we do know is that if a formed pattern repeats itself a few times, it can no longer continue, because games are random and if they did continue, then the games would be regular or predictable games. And this is not the case.
Streaky tables turn into choppy tables and vice versa. As a matter of fact, this is already a pattern that I like to catch. If there are 9 or more streaks, I would bet for the streak to turn finally into a chop. The reverse is also true. If I see Reds and Blacks or Bankers and Players chopping for more than 9 times, I would bet for a decision to finally repeat itself.
Last week we talked about a Grand Martingale progression that lasted 4 steps: 1, 3, 7, 15, where each bet gave us 1 unit more profit that the previous bet. From my experience, one would win usually within 3 trials. So we can easily reduce the 4 step progression into a 3 step progression to 1, 3, 7 and limit our session bankroll to only 11 chips from 26.
Failing a run would cost us then only 11 units and they are so easily recoverable, because each winning run gives us between 1 and 3 units profit depending on which trial we were successful. About four opportunities would be sufficient to gain all 11 units back.
I have found lots of opportunities in my last visit to the casino. And I would like to share each one of them with you, as I have photographed the outcome of each table so we can see what the opportunity was and how I was able to cash 1, 2, or 3 units on each opportunity, my unit size being $100 (black chips). And you can use any bet size you feel comfortable with.
Tables bet ranges are usually 1-100, 1-200, etc. So in our case our range is 1-7, quite ample to use any chip denomination.
I will illustrate 9 tables with various opportunities on them and will first display the table image. As an exercise, you can first observe the image and see if you can find any opportunities yourselves before continuing to read and understanding which opportunity I have used. Along the way, you will develop your own experience on how you can find opportunities.
Opportunity Table 1: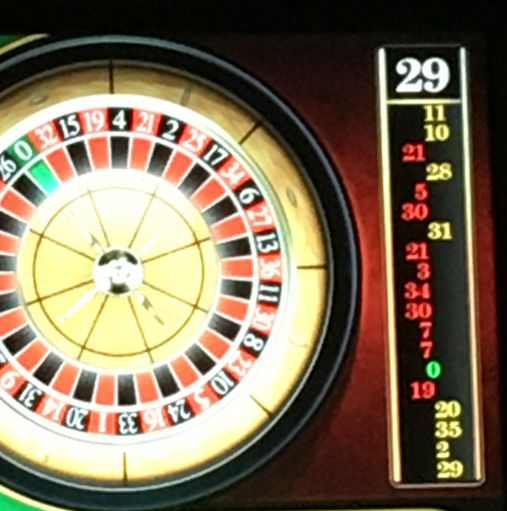 An easy one to detect? What I found was two long streaks, first one 4 streaks of black turning into 7 streaks of Red on this Roulette table. The opportunity was for the streak to end with a chop. Thus after the 31 Black, I bet for it to change into Red and it did. First trial - one unit profit. Or you could use the magic number 9: Streak of 4 Blacks followed by a Streak of 5 Reds (ignore the zero), to turn into a chop, you would win at the third trial making 3 units profit for this run.
Opportunity Table 2: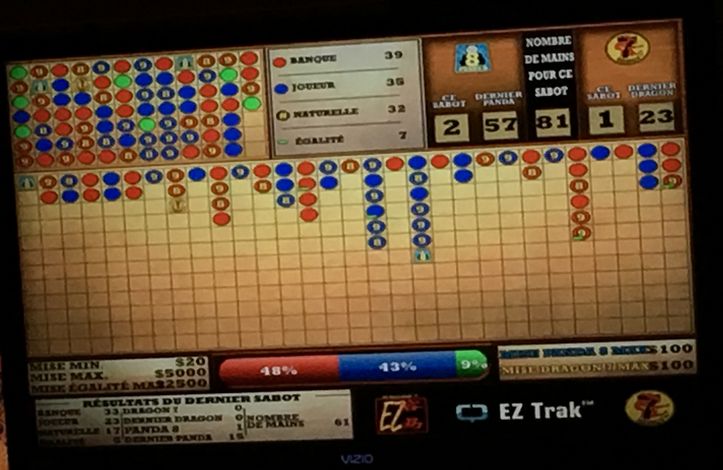 Believe it or not, this table presented 3 opportunities. (you may see or find even more yourselves)

The first one, was the 2-2 pattern, which lasted 5 times. Starting from second decision you will see: BB PP BB PP BB PP. So I bet for the 2-2 pattern to finally break and it did at the second trial. The first P decision still continued the 2-2 pattern, then it broke with a B. Two units profit at this opportunity.
Then 5 decisions later, I detected a very funny and regular pattern, that I said to myself it had to break. There was a 1-2-3-4 type of pattern. P BB PPP BBBB. And here you could bet in two different fashions 1) that the 1-2-3-4 won't go into a 1-2-3-4-5 pattern thus you bet against the next two P's will not continue as P's. Then you win at the very first trial, when B comes up. 2) or that the 1-2-3-4 pattern will not repeat, so after the first P you would bet P again and also win at the very first trial, as now we would have 1-2-3-4-2. Either way you would win 1-2 units for this run.
A couple of decisions later, yet another opportunity: We see a pattern of 6-1-6-1. Six Players followed by one Banker and again the same thing. Obviously we would bet for this pattern to break. Two P's came to support this pattern and betting B to break the 6 P's would make us win at the third trial giving us 3 units profit. And this also depended on which stage you started betting: either immediately after the 6-1-6-1 (6 Players 1 Banker 6 Players 1 Banker), which gives us 3 units profit as the pattern breaks after 2 decisions. Or you could start betting after the first P after the 6-1-6-1, then you would win at the second trial gaining 2 units. Or you would start betting after the two Players after 6-1-6-1, then you would win at your first trial gaining 1 unit for this run.
Please note that if the pattern already broke, then this would no longer be an opportunity to bet on. You would be missing the boat. Then we would move on to looking for other opportunities.
Opportunity Table 3: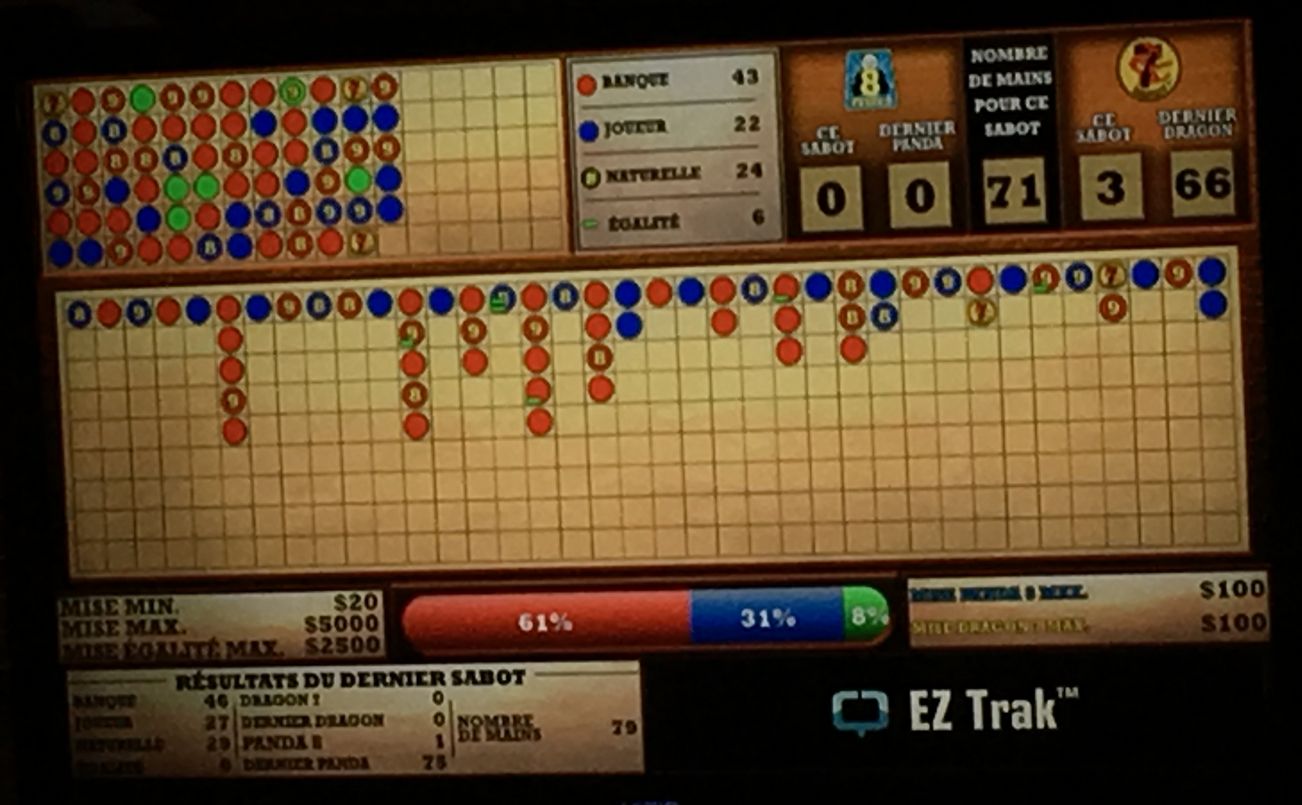 Do you see what I see? Right at the very beginning of the shoe, I saw 6 chops followed by 5 streaks, then the same thing over again. After this repeating pattern of 6 chops, 5 streaks, 6 chops, 5 streaks, I felt very comfortable to bet for this phenomena to break. How do we bet against this? Simply that the 6 chops will not longer be chops for the third time and we start betting on the same as last decision and we win at our third trial gaining 3 units, as we had 2 more chops before it they turned to a streak.
Then a new opportunity presents itself. We see a pattern of the nature: 5-1-3-1-5-1-4-1. or 5 Bankers followed by 1 Player, then 3 Bankers followed by 1 Player, then 5 Bankers followed by 1 Player, then 4 Bankers followed again by 1 Player. To bet against this pattern would mean that we would expect the one single Player between Banker streaks to turn into 2 Players and it does. We win at the very first trial, gaining 1 unit profit for this run.
Then the same thing occurs right away. There is only one Player for 2 Bankers, 3 Bankers and 3 Bankers again forming a 1-1-2-1-3-1-3-1 pattern. We bet against the one Player in between to become 2 Players and we win again at the very first trial.
You may view the table totally differently if you look at it from a different perspective. From the very beginning of the shoe you may detect the Player decision to be single for 9 times. 9 times is a good number for us to say, that it's about time to go for the second consecutive Player. So at the 10th Player, you bet for Player to repeat and it does at the first trial. Had you started to bet on the Player to repeat after, say, the 8th Player then you would have won the run at the 3rd trial, gaining three units instead of one. Any other time would be premature. I usually wait for 9 streaks (repetitions) or 9 chops or in this case 9 single P's before I go against the specific detected pattern.
It's much more fun to go against formed patterns than hoping that a certain pattern will continue.
In any event, you must see quite a few opportunities in this same table, also meaning that you won't necessarily have to wait for hours to find an opportunity. Once you develop the experience, you will see many opportunities yourselves. With time, you will be able to detect quite a few of them.
Opportunity Table 4: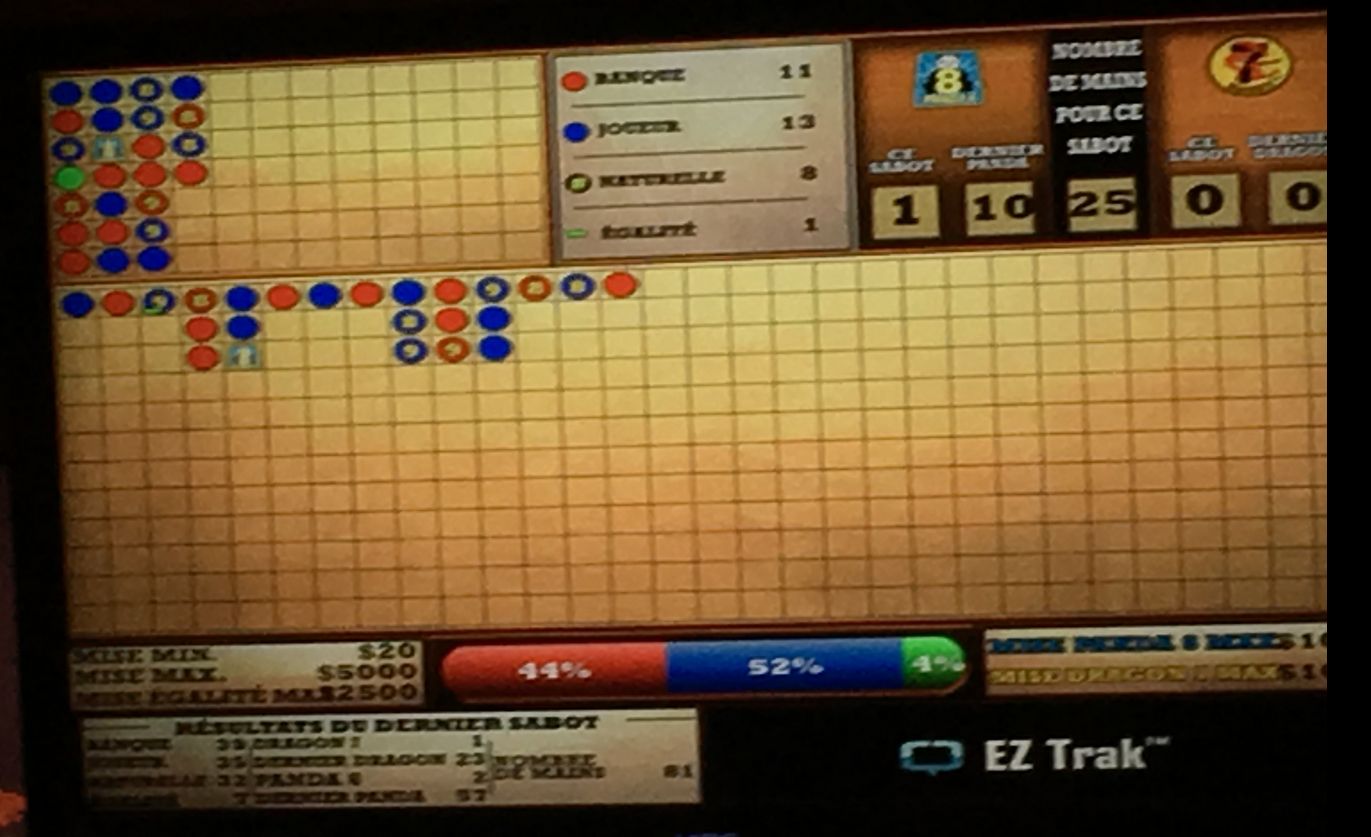 Again, a few opportunities at this table.

First detected pattern: 4-5 chops followed by 2 streaks of three decisions (Banker or Player, doesn't matter) and the same thing occurs right away. To bet against this pattern would mean that the second set of 2 streaks of 3 will not be terminated by chops. And we win at the second trial gaining 2 units. Why second trial? Because after the second set of two threes, we bet for the three to go into 4 Bankers. This bet fails, as the chop prevails. The second trial is for the chop to turn into a streak and that's where we win.

Another opportunity at this table is exactly the pattern we mentioned last week: the triple threes, where we bet for it to break and we win at the second trial as well, as the first Banker shows, as though another 3 Bankers will form, but it breaks with the appearance of a Player instead.
So both opportunities give us 2 units profit.
We already gathered more than 11 units profit, so a failing run would now break only even or leave us ahead. Fortunately no runs were lost for all nine tables in which I found opportunities. Also, depending on which stage you try to take advantage of the opportunity, you can gain between 1 and 3 units each time.
Opportunity Table 5: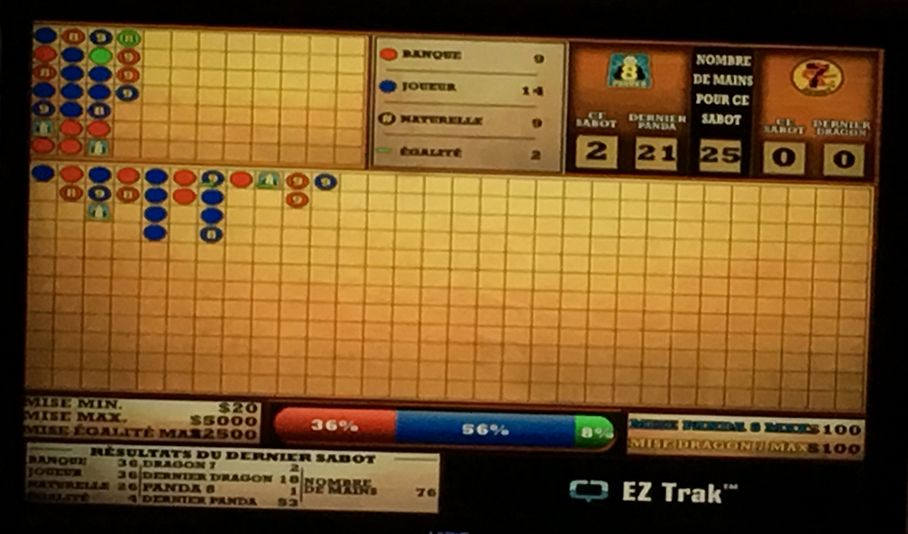 A couple of opportunities I saw:

After the second decision, the 2-2 pattern occurs 4 times. Bet against it, it breaks when the last 2 Players turn into 3 and then 4.

Another pattern to bet against is the BB PPPP BB PPPP (2-4-2-4) pattern to break. After the last 4 P's you bet for the two Bankers not to occur and you win at the second trial as the first decision was still a B, gaining 2 units.
Opportunity Table 6: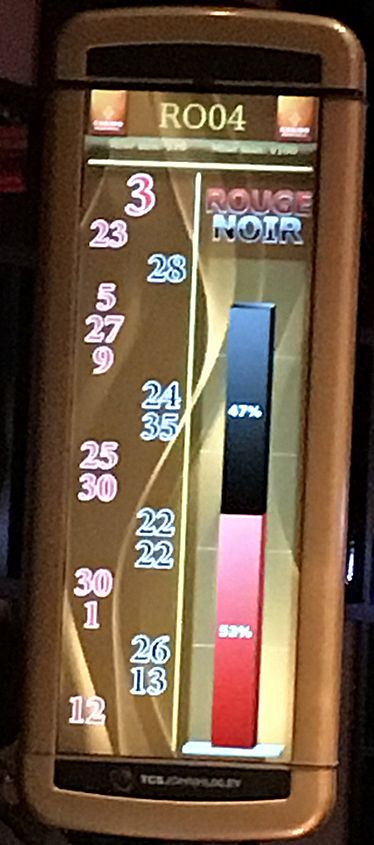 Here is a roulette table where the 2-2 pattern occurs 5 times before it breaks.

If you were trying for it to break after four occurrences, you would make 3 units, as you would win at the third trial. If you would bet for the 2-2 pattern to break after its fifth occurrence, then you would make 1 unit as you would at your first trial.
Opportunity Table 7:

Here is another Roulette table, where I detected 3 Blacks followed by 1 Red three times. Excellent opportunity. Betting against this 3-1-3-1-3-1 pattern, thus for a second red to come wins at the very first trial.
Opportunity Table 8: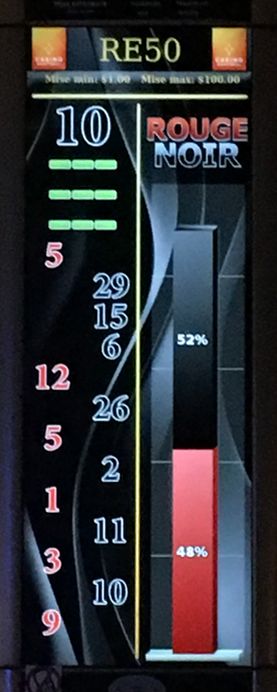 The magic 9 chops finally turns into a streak, an opportunity you should not miss.
Opportunity Table 9:


In this roulette table, I detected the pattern 3-1-1-3-1-1-3 (3 Reds 1 Black 1 Red, 3 Blacks, 1 Red, 1 Black, 3 Reds, etc.). After the third occurrence of the 3, I decided to bet against this too regularly formed pattern and the 3 Reds turned indeed into 4 Reds, thus breaking the pattern and winning at the very first trial.
I hope you have enjoyed this free system, which makes you walk a lot (much healthier than sitting hours at a table), looking at scoreboards from one table to another and find multiple different types of opportunities to bet in a hit and run fashion, staying at one table not more than 3 decisions and making 1 unit per bet in average with the 1, 3, 7 progression: the 3 step limited Grand Martingale. It's a fun and profitable system and the more you look the more you will be able to detect patterns. As mentioned you don't look for a specific pattern such as only 3-3-3 to occur, but for any other possible repeating pattern you detect, of which you may want to take advantage. So instead of looking for a certain specific pattern, which could be time consuming, we discover formation of patterns in different tables, so we are much more active and much more observant and we multiply our profits for a given time period of play.
Don't forget to take advantage of the holiday specials, which are 50% off on any system of mine that you purchase from now until midnight, ET, January 7, 2017
You can either use the secure purchase order form at this link and I will process your order by applying the 50% discount on the listed price or you can send a PayPal payment to my id: izak.matatya@videotron.ca with half the listed price of the systems.
The Cluster System for All Even Bets, by the way, is also from the type of Opportunity Betting described in this newsletter and takes advantage of certain opportunities quite differently. With the holiday specials you can have it for half price as well.
Wishing you all the best and Happy Holidays!
Izak Matatya
Email: webmaster@letstalkwinning.com or izak.matatya@videotron.ca
Systems Gallery: http://www.letstalkwinning.com/gallery.htm
Newsletter: http://www.letstalkwinning.com/winalert.htm
Newsletter Archive: http://www.letstalkwinning.com/archive.htm
Recommended On-Line Casinos: http://www.letstalkwinning.com/bestonline.htm
Discussion Forum: http://www.letstalkwinning.com/forum/
Latest Gambling News: http://www.letstalkwinning.com/latest-news.htm
New Art Gallery: http://www.letstalkwinning.com/Izak.Matatya.Art.htm
Izak Matatya's digital art works: www.izakmatatya.com
---
WOULD YOU LIKE TO SUBSCRIBE? Click here.
---
If you missed any newsletter, click here for an archive.
---
Poker Guide - The world's largest poker guide PokerListings.com with reviews of 750 poker sites.

Texas Holdem - Page that compares 45 Texas Holdem online poker rooms on a number of relevant features.
---