Play To Win
Tips and strategies to help make you a winning casino player

Game Rules
Learn: Blackjack, Baccarat, Craps, Roulette, Slots, Video Poker, Pai Gow Poker, Texas Hold'em, Caribbean Stud, Let It Ride, Casino War, Big Six, Sic Bo (NEW!)

Systems Gallery
Win more, more often with proven betting methods from the systems gallery

Order Form
A secure on-line order form to purchase products advertised by Let's Talk Winning.

Playing Online
All about gambling at online casinos. Find out where the best deals are

Best Casino Bonuses - NEW!
The best collection of on-line casino bonuses, where you can cash $802 on your sign-up.

Links and Things
Sign our guestbook, refer a friend, link to other gambling sites.

Gambling News - NEW!
Latest Gambling News - updated daily including gambling articles, joke of the day and a gambling dictionary.

Newsletter
Click above to read the current edition of our weekly newsletter. Then get your own free subscription right here. Enter your e-mail address for immediate delivery of an introductory issue, including a FREE ROULETTE SYSTEM by clicking here.

Please tell all your friends about it.

On-Line Forum
Post a gambling question or opinion - get an answer . . .
---
Below is a selection of the most recommended
on-line casinos
and sportsbooks

Check out:
On-Line Casino of the Month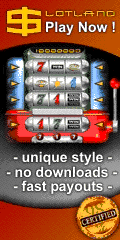 ---
---

---
================================================ Sunday, November 11, 2007

Review and FAQ on the New DBPR and FBDD systems by Izak Matatya
Hello everyone,
The recently announced DBPR - the Dozen Betting Power Roulette system and the bonus system FBDD - the Flat Bet Double Dozen Roulette systems have been given to a third party tester, who provides you today with his general report on the systems:
"The Dozen betting power roulette system [DBPR system]:
This system is most advanced system for serious players, who want to make a living or recover the lost money in casinos.

I admire Izak's hard work to get a fantastic results in Zumma 15,000 spins averaging 7500 units profit.

The system's main highlight is whenever there is a continuous winning streak, one can make a lot of profits. And when losing streaks appear, the system automatically avoids the betting, by placing bets on paper [virtual bets] including zeros. This method of betting is first of its kind, that I have experienced when compared with all other systems.

As I said earlier, this is for serious players who want to make money in roulette wheel with slow and steady basis. For me, it took a week to practice at home to be well-versed with dozen techniques, which are used in the system.

This system promotes to bet on double dozen and single dozen simultaneously to minimize the bankroll requirement. so, I highly recommend this system for all players in this forum.

Izak is also kind enough to give a bonus system, which uses flat betting for double dozens, [FBDD]. As this method uses the same principle as DBPR method, but without any progressions.

As I am a aggressive player, I could not wait for a long time for a 10 units profit for every winning session. so, I would like to recommend this FBDD for players who can spend long hours sitting in a casino, with minimum bankroll.
Once again, I thank Izak for this great system and his achievements in overcoming house edge.
with regards......tvprakash"
I thank tvprakash for his review and valuable input.
There have been quite a few questions about the systems, and I would like to provide you with my answers in this newsletter.
Q: Izak, what does one do, if the casinos do not allow the maximum bet, that the system needs to bet, at the end of its progression in DBPR?
A: Most casinos on-line and real have a range of 1-200 or $10 to $2000. If not, one can start at a table with 1-50 range, then move up to a table of 50-200 range, etc. Another possibility is to add to the dozen bet, with additional double street bets in order to complete 185 units. In any event, the 7th step, as you will see, is not more than 62 units, where 99% of all bets end, that should satisfy lower table limits.
Q: Hi Izak,

Can you please give me more information on your FBDD system? What is the hand won rate (HWR) for FBDD ? You have how many win and lose sessions for FBDD?

What is the maximum drawdown for FBDD during your testing ?

Any difference between your FBDD and FRS?
A: One wins 1 or 2 units per run, that lasts 1-8 spins maximum. You win a session when you reach +10 units or lose it when you reach -6. You should have twice as many runs as losing runs. So, in average, you would win 20-6=14 units for 3 sessions. The maximum drawdown is like a losing session of -6 units, but a winning session has a maximum drawdown of -5 units, before it reaches +10.

FBDD uses one of the bet selections of FRS, plus one more powerful one, combining the two and betting either one at different times, based on the streaks it produces.
In FBDD, if you bet 100 hands, you win 73, so HWR is 73%
Q: On the FBDD, your session win of 10 units and loss of -6 units is for how many spins? If you are betting on 2 dozen at the same time, losing the first will cause you 2 units and the second will cause you another 4 units a total of 6 units, am I right to say that?

You said that on DBPR will have the following pattern : WWWWWWLWWWWWLWWW......
Can I ask you how often this will happen ? And how often you will bet on 2 dozen at the same time?

Your 8 steps up as you lose progression causing you 554 units on a bad luck day will wipe out all your winnings; how often this will happen ? Once a month or once a week or once a ........?
A: DBPR is better than FRS, because FRS loses sometimes the 400 unit bankroll and still comes up ahead in Zumma, but DBPR never loses the 554 in Zumma 15,000 spins.

On FBDD, you are betting flat. So if you lose the first bet, you are down 2 units. If you lose the second bet, you are down another 2 units, not 4, but a total of 4. If you lose the first 3 bets, you are down 6 units, and that's the end of this session.

The WWWWWWWWWWLWWWWW pattern happens quite often in DBPR, because the first set of W's belong to one bet selection, until the first loss L and the second set of W's belongs to the second type of bet selection, which takes over, which is exactly the principle on which DBPR is based. In DBPR half the time you bet on single dozens and the other half on double dozens.

The losing of all the 8 steps of the progression will probably happen once every 10,000 spins. It depends how often and how frequently you play to determine the time this will take. Some people play 2 hours a day, which is about 100 spins and 10,000 spins will take 100 days. Some people play 10 hours a day, which is about 1000 spins and 10,000 spins will take 10 days. The question is how much you will win before the loss of 554 happens. Well, you are winning at a rate of 1 unit every 4 spins. So within 10,000 spins, you should be winning 2500 units, before you could lose 554. So you profit about 2000 units every 10,000 spins, which reduces your average rate of winning 1 unit every 4 spins to 1 unit every 5 spins, not too bad, is it?
Q. Like you said before, DBPR is using 2 methods and if the first fail then you will switch to the second. What if when you switch to the second and you lose again? Do you switch to the first again and so on and so for.....?
A. Yes, DBPR has 2 bet selections and the moment one fails (1 loss is the indicator), the other one takes over. If the other one fails right away, yes, you switch to the previous one and so on. If they keep failing, you stop after 3 losses until a paper win. This way, you avoid long losing streaks and uncertainties about which bet selection to use. Obviously, we would like to use the bet selection that gives us winning streaks and we do.

Q. As for FBDD, you say that every loss bet will cost you 2 units and a total of 3 consecutive lost will then cost you 6 units. But every time when you bet you only win 1 unit, so am I right to say you have to win in the ratio of 1:4 that is for every 4 bets that you place, you can only lose 1 bet? The session play will end when the drawdown is -6 units, right ?
A. That's correct, because when you win, you win 1 unit and when you lose on 2 dozens, you lose 2 units. 3 consecutive losses will cause the -6 losing session. However, you can have wins and losses combined, that can also bring you to -6 or to +10. In any event, the session is over when you reach either -6 or +10, the latter the better and more often.
Q. This is a set of numbers from Hamburg 01-12-2001 :

26,24,28,17,27,12,24,1,1,24,32,26,34,6,27,21,2,11,11,25,11,22,16,15,21

This is from Hamburg 02-12-2001:

24,26,12,31,5,31,12,4,11,21,22,2,28,6,6,13,0,21,29,33,3,34,33,9,16,30

Can you use DBPR and FBDD on these 2 sets of numbers and send me your results? Thanks.
A. Hamburg 01-12-2001 :

26,24,28,17,27,12,24,1,1,24,32,26,34,6,27,21,2,11,11,25,11,22,16,15,21 produces: 20 units in DBPR and in FBDD fluctuates between -1 and +3 but doesn't complete the session.

Hamburg 02-12-2001:

24,26,12,31,5,31,12,4,11,21,22,2,28,6,6,13,0,21,29,33,3,34,33,9,16,30 produces: 10 units in DBPR and FBDD has a -6 unit run.
Q. What will you do when there is zero during the session play ?
A. The zero makes you lose your bet, then you wait for a new bet selection to be identified.
Q. For FBDD, a total of 3 lost bets will cost you 6 units, do you place your 3 bets consecutively? How often you will lose all 3 bets? Can I have the win/loss ratio please?
A. FBDD places bets continuously. If I lose a session of -6, it doesn't bother me, much, I know my next few sessions will be +10 units. That's what the test results show in any event, and my live play for the last 5 months. It's flat betting, it's very easy on the bankroll. You can even use it with black chips and make $200-$300 in half an hour.

For every 2 winning sessions of +10 units, you may get a losing one of -6. So you make 14 units for 3 sessions, that last about 20 spins each.
Thank you all for your great interest in the systems.
Click here to place your order and the systems and DBPR simulation will be delivered to you by email within 24 hours. You can have printouts of the systems with regular air mail delivery for $5 extra for printing, shipping and handling.
You have a full money back guarantee on the systems, upon your full satisfaction, no questions asked, no strings attached, provided you ask for a refund within 30 days of your purchase.
Thank you,
Izak Matatya

Wishing you all the best,
Izak
---
---
Click here to get a free iPod.
---
WOULD YOU LIKE TO SUBSCRIBE? Click here.
---
---
If you missed any newsletter, click here for an archive.
---
---
Poker Guide - The world's largest poker guide PokerListings.com with reviews of 750 poker sites.

Texas Holdem - Page that compares 45 Texas Holdem online poker rooms on a number of relevant features.
---
---
---

A sports betting service offering sports, casino and racebook action. With more than 7 years of experience in the gaming industry and located in San Jose, Costa Rica. enVivoSports.com has it all for the sports enthusiastic!

At enVivoSports.com they offer excellent customer service and Same Day Payouts 100% guarantee and 7 days a week.

enVivoSports.com offers juicy cash bonuses and special promotions all year round, so don't forget to check our web site at www.envivosports.com

Bet it your way at enVivoSports.com
---
When you open your account at enVivoSports.com you will be able to bet on sports, casino and horseracing just call us at 877-512-3503 or access our web site www.enVivoSports.com you will receive up to a 25% SIGN UP bonus for depositing funds into your betting account. Remember at enVivoSports.com you bet it your way! (
enVivosports.com is one of the very few offshore sports books that offers a .10 Cent line in baseball
).
---