Play To Win
Tips and strategies to help make you a winning casino player

Game Rules
Learn: Blackjack, Baccarat, Craps, Roulette, Slots, Video Poker, Pai Gow Poker, Texas Hold'em, Caribbean Stud, Let It Ride, Casino War, Big Six, Sic Bo (NEW!)

Systems Gallery
Win more, more often with proven betting methods from the systems gallery

Order Form
A secure on-line order form to purchase products advertised by Let's Talk Winning.

Playing Online
All about gambling at online casinos. Find out where the best deals are

Best Casino Bonuses - NEW!
The best collection of on-line casino bonuses, where you can cash $802 on your sign-up.

Links and Things
Sign our guestbook, refer a friend, link to other gambling sites.

Gambling News - NEW!
Latest Gambling News - updated daily including gambling articles, joke of the day and a gambling dictionary.

Newsletter
Click above to read the current edition of our weekly newsletter. Then get your own free subscription right here. Enter your e-mail address for immediate delivery of an introductory issue, including a FREE ROULETTE SYSTEM by clicking here.

Please tell all your friends about it.

On-Line Forum
Post a gambling question or opinion - get an answer . . .
---
Below is a selection of the most recommended
on-line casinos
and sportsbooks

Check out:
On-Line Casino of the Month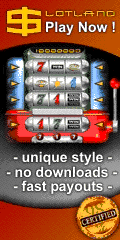 ---
---

---
================================================ Friday, November 11, 2005

Baccarat Tournament Strategies
Hello everyone,
Playing and winning in a Baccarat tournament is a totally different ball game than winning against the casino. Against the casino, the goal is to win a few units per shoe or simply quit ahead. In a tournament, you play against other contestants. You can win the tournament, even if your net balance is less than what you have initially started with, as long as the number of chips you have is larger than the number of chips of other players at your table.
Does one have to be skillful or just lucky to win a tournament? Both factors here are very important. The skill factor does not come only from having a solid strategy or winning method, but the ability to act or place your bets according to the success or failure of the other players. If one places a very high bet on either Player or Banker, for instance, one could either match the bet by placing a bet on the opposite side, in which case, if one wins, one will be ahead by quite a bit. On the other hand, if one loses, one would be way behind. One could also first determine the outcome of that bet by the other player and act only if he/she comes out ahead, as that high bet could lose all by itself, bringing that contestant down without having to match the bet. This is where a little bit of luck comes handy as well.
If one is way ahead during a round, other contestants have not much choice but place high bets in order to catch up. Otherwise, they are simply giving up on the one who is ahead.
All this leads us to say that one needs to have particular strategies in order to win a tournament.
Here's a simple winning model for tournament play based on nothing more than these two ideas (aggressive play and chip counting):

1. Bet big until you get a lead over the other players that's greater than the maximum bet allowed.
2. Make minimum bets until someone passes you, then make maximum bets until you have the lead again, and make a maximum bet on the last hand.

It might be hard to believe, but playing by these two rules alone is enough to give you a small edge in most table-game tournaments.
The following are general principles that underlie some specific strategies. A good understanding of these principles helps in learning tournament strategies, and also will aid you in developing an appropriate strategy for any tournament situation you might encounter.

Succeed or Bust
A large part of your edge comes from applying a simple money-management strategy: either advance to the next round or bust out trying.

The succeed-or-bust strategy is easiest to understand in tournaments where you know what bankroll total will allow you to advance to the next round. Suppose you buy in with $300 and know for certain that finishing with $600 or more will put you in the next round. You maximize your chance of advancing to the next round by maximizing your chance of turning your initial $300 into $600.

Do not enter a tournament if you cannot afford to lose the whole buy-in. For example, if a tournament requires you to buy in with $1500 and keep what you win (which really means parting with what you lose), then you should not enter that tournament if you are not willing to lose the whole $1500. You've got a big edge over anyone who buys in with $1500 because he has to but is willing to risk only $500 of it, and is not willing to make a bet from his final $1000.

When To Bet Big
You are better off betting small until you know for certain that your present bankroll will not be enough to accomplish your goal. Once you decide that you need to bet big, do it at the first good opportunity, which means picking a spot where if you win you gain on the people you need to catch.

When Behind, Get a Swing; When Ahead, Go With the Flow
If you are behind, try to make a bet that gives you a chance to win while the people you are trying to catch are losing. If everyone with more money than you is betting on bank, you should bet on player. Try to make your bets correlate with those of your most serious competitors so that if they win, you win too.

If Losing a Bet Will Leave You In a Hopeless Position, Bet the Max
Try to avoid getting into the position of having chips left but too few to have a chance. You should have a large enough bankroll to have a chance to advance to the next round, or you should bust out; try to avoid the middle between those two extremes.

For example, suppose only two opportunities to bet remain in the session, you have 180, and the people you are trying to catch have 260 or more. Bet the whole 180. Do not consider betting 90, which is half of your bankroll, because if you lose the 90 your remaining bankroll is helpless against 260. Losing 90 is as bad as losing 180 in that you have no chance to advance either way, but winning 180 can give you a better chance to advance than winning 90.

Flexibility
When you make a big bet, try to make a bet that gives you maximum flexibility You like to give the casino the smallest percentage possible of course, but if there is a conflict between casino edge and flexibility go with flexibility

Give Your Opponent a Chance To Make an Error
If the only way you can win is for an opponent to make a mistake, give him the opportunity. Just because an opponent can beat you doesn't mean he will beat you.
It is also a different situation if the casino provides you with chips to play, rather you using your own bankroll.
PerryB started an interesting topic at the LTW discussion forum under title: Baccarat tournaments. I would encourage you to join the discussion and share your views, thoughts and strategies.
We could simulate a real Baccarat tournament scenario with the following rules:
- Casino provides you with $5000 bankroll, where your minimum bet is $100 and maximum $2000 on either Player or Banker, with increments of $100. Tie bets are a minimum of $50 and maximum of $250.
- The tournament consists of two qualifying rounds, one semifinal round and one final round. You get to play on both qualifying rounds and the number of points you gather are cumulative to both rounds, the highest of which gets you to play at the semi-final round.
- Each game consists of 28 hands and you have to place a bet on every hand.
- A random draw will determine which player starts betting first. Other players will follow placing bets on a counter-clockwise manner. Each player will get to place bets first on a rotational basis relative to the one who started first. There will be 7 players at the table.
- Once a player has placed his/her bets, he/she is not allowed to change them within the same hand, based on the bets of the other players.
- Players may not team up in placing bets.
- If your bankroll is exhausted, you cannot continue playing.
Happy challenge and see you at the forum.
Wishing you all the best,
Izak

---

---
WOULD YOU LIKE TO SUBSCRIBE? Click here.
---
---
If you missed any newsletter, click here for an archive.
---
---
Poker Guide - The world's largest poker guide PokerListings.com with reviews of 750 poker sites.

Texas Holdem - Page that compares 45 Texas Holdem online poker rooms on a number of relevant features.
---
---

A sports betting service offering sports, casino and racebook action. With more than 7 years of experience in the gaming industry and located in San Jose, Costa Rica. enVivoSports.com has it all for the sports enthusiastic!

At enVivoSports.com they offer excellent customer service and Same Day Payouts 100% guarantee and 7 days a week.

enVivoSports.com offers juicy cash bonuses and special promotions all year round, so don't forget to check our web site at www.envivosports.com

Bet it your way at enVivoSports.com
---
When you open your account at enVivoSports.com you will be able to bet on sports, casino and horseracing just call us at 877-512-3503 or access our web site www.enVivoSports.com you will receive up to a 25% SIGN UP bonus for depositing funds into your betting account. Remember at enVivoSports.com you bet it your way! (
enVivosports.com is one of the very few offshore sports books that offers a .10 Cent line in baseball
).
---