Play To Win
Tips and strategies to help make you a winning casino player

Game Rules
Learn: Blackjack, Baccarat, Craps, Roulette, Slots, Video Poker, Pai Gow Poker, Texas Hold'em, Caribbean Stud, Let It Ride, Casino War, Big Six, Sic Bo (NEW!)

Systems Gallery
Win more, more often with proven betting methods from the systems gallery

Order Form
A secure on-line order form to purchase products advertised by Let's Talk Winning.

Playing Online
All about gambling at online casinos. Find out where the best deals are

Best Casino Bonuses - NEW!
The best collection of on-line casino bonuses, where you can cash $802 on your sign-up.

Links and Things
Sign our guestbook, refer a friend, link to other gambling sites.

Gambling News - NEW!
Latest Gambling News - updated daily including gambling articles, joke of the day and a gambling dictionary.

Newsletter
Click above to read the current edition of our weekly newsletter. Then get your own free subscription right here. Enter your e-mail address for immediate delivery of an introductory issue, including a FREE ROULETTE SYSTEM by clicking here.

Please tell all your friends about it.

On-Line Forum
Post a gambling question or opinion - get an answer . . .
---
Below is a selection of the most recommended
on-line casinos
and sportsbooks
Check out:
On-Line Casino of the Month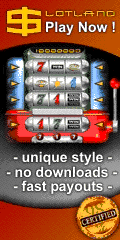 ============================================== Tuesday, May 3, 2011

FAQ on the New CYL2 - Catch You Later Baccarat System Version 2 by Izak Matatya
Dear LTW customers and subscribers,
Thank you for the great interest you have shown on my new system announced last week, the CYL2 - Catch You Later Baccarat System Version 2. There were numerous questions on the system and I'd like to share my answers with you today in this newsletter.
Q. Which set of data goes with +4, -4 and which set with +2,-4 ? Also does this work with other betting methods?
A. The first set goes with +4 and -4 and the second set with +2, -4. You can use +2, -4 in the first set, too, if you like. The system will still be profitable.

CYL2 is designed to work on its own. As far as its bet selection is concerned it simply bets on Banker only and its method is the one, which overcomes the odds.

You could use a different bet selection, but it's not necessary. We need to have the Banker win advantage of 1.23% over Player decisions.
Q. Izak, in addition, in your newsletter you stated that in the 2nd 500 shoe test, 349 shoes gained 2 units and then you stopped. What were the actual results if you were trying to achieve 4 units? What were the results if you had stopped after 2 units for the 1st 500 shoes?

A: if you set your win target to 4 units for the second half of 1K shoes, the end result goes to -27 units. However, if you set your win target to 2 units for the first half of 1K shoes, the end result is: 19 units.

If we still keep the +4 and -4 as the limits, the first half makes 70 units and the second half -27. That makes a total of +43 units for the entire 1K Zumma.

If the limits are +2, -4, then the first half makes 19 and the second half makes 30 units totaling +49 units, slightly more profitable than the +4, -4 option.
In any event both the +2, -4 and +4, -4 options can be used universally throughout the entire 1000 shoes. Both options are profitable for the total of 1K shoes and with 2 units maximum bet, one can use $1000 bets and make $40K.
Q. What table games possibly can CYL2 be applied to besides baccarat?
Would doubling ones bets after a loosing session be advantageous?

Could the minimum unit bet be a certain percent of ones bankroll to gain a compounding effect with safety? If so - what would that percent of ones bankroll be?

Would this system help to stop online casinos confiscating ones deposit for using excusing of using software against them when one is a big long-term winner?

A. CYL2 can be used only for Baccarat. CYL2 takes advantage of the fact that Banker decisions come more often than Player ones by 1.23% on the long run. The system requires more winning decisions than losing ones, because each win eliminates a previous loss at a certain point of time.

Some shoes will be Player dominant. We abandon them with the -4 units loss limit.

However, we can expect almost as many number of shoes, which are Banker dominant as Player dominant ones, if not more, which will compensate for the Player dominant ones.

And any normally distributed shoe will be won by CYL2 "normally" as per system's instructions. Thus the system will generate profits on the long run.

Doubling bets in CYL2 is not encouraged as the idea is to keep the bankroll requirements as low as possible, as many LTW clients have demanded it for quite some time now.

The minimum bet can be a certain percentage of one's bankroll. In fact, the minimum bet can be any value you wish, as long as its maximum bet, which is only twice as much as the minimum bet does not exceed table limits.

If on-line casinos are using software to make players lose, nothing can help to overcome this. You simply shouldn't play there.
Q. Izak, let me get this right, you say that using a +2/-4 stop win/stop loss, one achieves a grand total of +32 units for the entire 1600 Zuma shoes. Izak, by my math that works out to 32/1600= .02 units/shoe. If one is playing $100 units, that works out to $2/shoe. Is this correct? If so, how does one achieve long term profits with such a small shoe return versus the $100 unit bet. Please explain this.
A. Very simple. You're in and out of the shoe very fast. But you can join a second session within the same shoe either right away, or after a short break or after having detected say 4-6 Players in a row. So you can have say up to 5-6 session of +2, -4 units within the same shoe. This multiplies your profit by 6. The $2 becomes $12 per shoe or per hour. Still not much? But you can bet $200 a bet, to have $24 an hour. $300 bets will give you $36 an hour. $400 bets will give you $50 an hour, etc.

If you're making $50 an hour and you play 6 shoes a day, you cash $300 a day or $9,000 a month. Now, this is decent as a side income, isn't it?
Q. What's the longest number of loosing shoes in a row? What's the longest number of loosing shoes in a row before 2 back to back wins in a row?

A. I have placed a CYL2 shoe by shoe performance chart at:

http://www.letstalkwinning.com/CYL2-shoe-by-shoe-performance-chart.xls
which will answer all such questions.

I have counted a maximum of 9 consecutive losing (abandoned at -4 rather) shoes, that happened also to be followed by 2 consecutive winning shoes.
Thank you all for your interest. Much appreciated.
The system goes for only $450, an amount you will be able to make within a few minutes of your play. Then all profits are for you to keep. The system document is not more than 10 pages, that you will be able to master in a few hours. Its simplicity yet lies within the work of 11 years of system development and design experience.
Click here to order for an email delivery of the system. $20 extra for a printout mailed to your address.
The electronic version of the 1000 Zumma shoes was graciously offered by a loyal Let's Talk Winning customer, who has verified its accuracy against the actual Zumma tester book. The decisions in the simulation are totally certified.
Wishing you all the best,
Izak
---
WOULD YOU LIKE TO SUBSCRIBE? Click here.
---
If you missed any newsletter, click here for an archive.
---
Poker Guide - The world's largest poker guide PokerListings.com with reviews of 750 poker sites.

Texas Holdem - Page that compares 45 Texas Holdem online poker rooms on a number of relevant features.
---