Play To Win
Tips and strategies to help make you a winning casino player

Game Rules
Learn: Blackjack, Baccarat, Craps, Roulette, Slots, Video Poker, Pai Gow Poker, Texas Hold'em, Caribbean Stud, Let It Ride, Casino War, Big Six, Sic Bo (NEW!)

Systems Gallery
Win more, more often with proven betting methods from the systems gallery

Order Form
A secure on-line order form to purchase products advertised by Let's Talk Winning.

Playing Online
All about gambling at online casinos. Find out where the best deals are

Best Casino Bonuses - NEW!
The best collection of on-line casino bonuses, where you can cash $802 on your sign-up.

Links and Things
Sign our guestbook, refer a friend, link to other gambling sites.

Gambling News - NEW!
Latest Gambling News - updated daily including gambling articles, joke of the day and a gambling dictionary.

Newsletter
Click above to read the current edition of our weekly newsletter. Then get your own free subscription right here. Enter your e-mail address for immediate delivery of an introductory issue, including a FREE ROULETTE SYSTEM by clicking here.

Please tell all your friends about it.

On-Line Forum
Post a gambling question or opinion - get an answer . . .
---
Below is a selection of the most recommended
on-line casinos
and sportsbooks
Check out:
On-Line Casino of the Month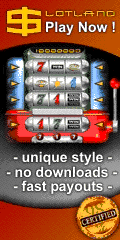 =================================================== Thursday, May 30, 2013

IHG - Izak's Holy Grail
Dear Let's Talk Winning subscribers, customers, friends,
People often ask me if there was only one system I would use to make consistent profits, which one would it be? I have developed so far 56 systems and I usually use multiple systems of mine, but if there is one system that I keep coming back to it year after year, I can tell confidently that this is the one: It is my own Holy Grail.
Some players say, the Holy Grail is not the system, but the player. He/she must know how to act when a bad run/shoe is encountered, how to take advantage of winning runs, how to quit with profits, to know when to enter the game and when to exit and how to keep the profits permanently.
The player needs to decide how to behave at different circumstances. That's true, but this behavior must meet certain conditions. One has to act one way or another based on certain criteria. If this criteria is different every time, then this holy grail becomes just one's gut feeling. If the criteria is the same every time and every time one achieves good results doing so, then this holy grail becomes systematic and it can be defined with a certain set of rules.
IHG does exactly that. Every system will have its weak points, its nemesis, either in the bet selection or within the bet method. One needs to act upon those weaknesses properly. If the losses then can be minimized by applying those principles, then the profits take over, thus we have a consistently profitable system.
IHG is based on existing principles. The idea is to use the right combinations. Like in nutrition, one must consume the correct food combinations. It is not good, for instance, to combine carbs and proteins within the same dinner, as this causes undesired extra fat. You may be surprised, but eating a tiny hamburger, containing bread (carbohydrate) and a piece of meat (protein) will cause more fat than a huge steak, green vegetables and a large salad. Just this simple formula alone, including not adding sugar to your proteins, could resolve the obesity problem in North America.
In IHG also, the right combination of the bet selection and the bet method is very important. Since every bet selection and bet method have their nemesis, one has to apply the proper parameters in order not to get caught in those nemesis. This will strip off the system's weaknesses. The remaining portion of the system will be sturdy and rock solid. Those are the constituents of my Holy Grail.
The nemesis are not failing points. They are the parameters, which let us take the proper decisions when they occur. Since we always apply the same parameters, those decisions are taken systematically. We can see below a performance chart of IHG. When the graph goes slightly lower during the consistently increasing profit chart, those are the instances of the nemesis. As one can see in the chart below, the graph portion going down is considerably smaller than the portion of the graph going upwards, meaning that the nemesis are properly contained and controlled: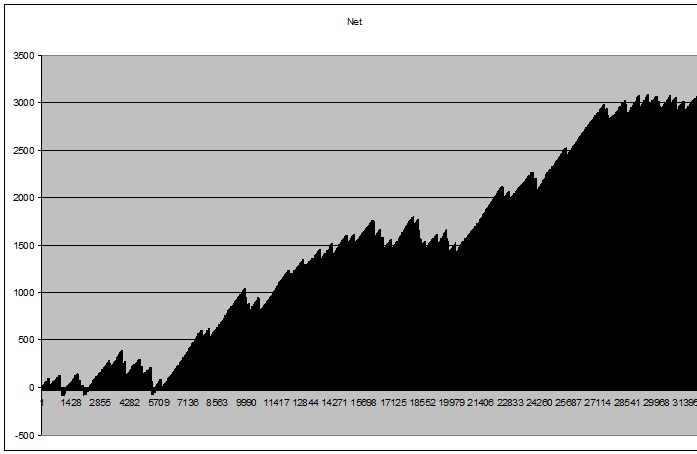 IHG has been generating over 3000 units in average on a yearly basis, playing about 500 shoes a year, year after year, for the past 12 years. This live performance is the best evidence for long term testing, much better than testing over Zumma tester books.
In any event, I still took Zumma's first half (500 shoes) of the 1K tester book, just as a sample, to see if the performance of Zumma will be similar to live. And there it was. Over 500 shoes, it indeed generates 3616.45 units in Baccarat, commissions taken into account. This simulation will be given to you upon your purchase of the system document.
IHG applies to all even bets and has been used for Roulette (Reds/Blacks, Evens/Odds, Highs/Lows), for Craps (Pass Line/Don't Pass Line), for Baccarat (Player/Banker), for Sic-Bo (Small/Big), etc.
One of the nemesis handling parameters is the setting of the highest bet limit and it is 45 for IHG. The above performance is achieved with this parameter requiring a lifetime bankroll not larger than 171 units.
The high bet limit is a trigger to take a certain action. If it hasn't been reached yet, one still places the next bet, which determines if the run closes. The highest bet ever placed in this sample of 500 shoes was 88 units, which matches my live play very closely.
You can experiment with the high bet limit value and you will be amazed that even with a lower high bet limit, such as 23, the 500 shoes will generate an end profit of more than 1100 units, which is suitable for lower budgets.
One places bets on every decision using IHG. There is absolutely no tracking required. The only time bets are interrupted are within the nemesis control region and this interruption is usually quite short. So the system is very dynamic. It's excellent for casinos requiring the placing of the bets at all times when one is seated at a table.
The system is only 14 pages of easy reading. IHG is a combination of a few formulae, the best ones.
IHG goes for $2,350 with its 500 shoe sample simulation. $20 extra if you need a printout shipped to your address.
Your satisfaction is guaranteed. If not, you can have a full refund totally unconditionally within 30 days of your purchase, no strings attached, no questions asked.
Click here to order.
Thank you,
Izak Matatya
Wishing you all the best.
Izak
www.letstalkwinning.com
email: webmaster@letstalkwinning.com

Systems Gallery: http://www.letstalkwinning.com/gallery.htm
Newsletter: http://www.letstalkwinning.com/winalert.htm
Newsletter Archive: http://www.letstalkwinning.com/archive.htm
Recommended On-Line Casinos: http://www.letstalkwinning.com/bestonline.htm
Discussion Forum: http://www.letstalkwinning.com/forum/
Latest Gambling News: http://www.letstalkwinning.com/latest-news.htm
New Art Gallery: http://www.letstalkwinning.com/Izak.Matatya.Art.htm
---
WOULD YOU LIKE TO SUBSCRIBE? Click here.
---
If you missed any newsletter, click here for an archive.
---
Poker Guide - The world's largest poker guide PokerListings.com with reviews of 750 poker sites.

Texas Holdem - Page that compares 45 Texas Holdem online poker rooms on a number of relevant features.
---