Play To Win
Tips and strategies to help make you a winning casino player

Game Rules
Learn: Blackjack, Baccarat, Craps, Roulette, Slots, Video Poker, Pai Gow Poker, Texas Hold'em, Caribbean Stud, Let It Ride, Casino War, Big Six, Sic Bo (NEW!)

Systems Gallery
Win more, more often with proven betting methods from the systems gallery

Order Form
A secure on-line order form to purchase products advertised by Let's Talk Winning.

Playing Online
All about gambling at online casinos. Find out where the best deals are

Best Casino Bonuses - NEW!
The best collection of on-line casino bonuses, where you can cash $802 on your sign-up.

Links and Things
Sign our guestbook, refer a friend, link to other gambling sites.

Gambling News - NEW!
Latest Gambling News - updated daily including gambling articles, joke of the day and a gambling dictionary.

Newsletter
Click above to read the current edition of our weekly newsletter. Then get your own free subscription right here. Enter your e-mail address for immediate delivery of an introductory issue, including a FREE ROULETTE SYSTEM by clicking here.

Please tell all your friends about it.

On-Line Forum
Post a gambling question or opinion - get an answer . . .
---
Below is a selection of the most recommended
on-line casinos
and sportsbooks

Check out:
On-Line Casino of the Month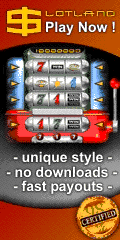 ---
---
================================================ Thursday, May 26, 2005

FRS Method 4 and Repeating Numbers
Hello everyone,
FRS, the roulette contest winning system, is still one of my favorite roulette systems, as its name implies. When I go to the casino, I always play a few variations of it, other than the 3 documented methods. A very strong variation I developed is what I call Method 4 and it hasn't failed yet for quite a few times I have used it.
Method 4 works exactly like card counting in BlackJack. You start betting low using the regular Method 1, i.e. the table minimum. You win a few sessions. Playing it continuously, you may encounter a losing streak, which could eventually recover, however, it starts drawing your bankroll down gradually. For that particular session, you may be down by 60-180 units. When there is a sign of recovery, i.e. a few consecutive wins, you suddenly increase your bet unit to such an extent to exceed your loss for the session and start betting flat until you are a few units ahead.
Following are a couple of such events that happened and here is how FRS Method 4 handled them.
Using FRS Method 1, I had won 17 sessions playing with $2 units. Session 18 started with 5 consecutive losses. Then wins and losses fluctuated, chopped back and forth, dragging the net running total for the session to -74 units. Two consecutive wins marked the end of this losing streak, bringing my net balance to -46 units. I then raised my bet unit to $50 and started betting flat with the FRS bet selection. Won two more consecutive bets and ended the session at +54 units.
At another event, I had won 24 sessions playing with $2 units. Session 25 had such a losing streak, that brought my session bankroll to -176 units. When the losing streak showed signs of recovery, I raised my bet to $200 a unit and started betting flat again. I lost my first bet, bringing the bankroll down by another $400 to -$576. Then won 3 consecutive bets, profiting $200 per bet. Ended the session at +34 units.
Other than betting on the outside bets, even bets or dozens, I also like to explore inside numbers. My favorite system for that is Repeating Numbers, which explores different ranges of numbers that have a tendency to repeat based on the law of the third.
That's another system which I play with different variations. One variation I used the other day was tracking different numbers until I had 18 different ones. I was playing FRS while tracking for different numbers. Once I had 18 different numbers I placed $10 chips on each of those 18 numbers. The way this method works is the following: You cover those 18 numbers. If you win, you keep betting the same ones until your first loss, then leave the session. If you lose your first bet, you are down by 18 units. You continue once more. If you lose the second bet, you are down by 36 units, where the session ends. If you win your second bet, you break even. You bet one more bet. Lose or win, you leave at either +18 or -18 for that particular session.
In the above particular case, I won the bet, gaining $180 for that bet. I continued betting on the same 18 numbers and won 6 consecutive bets and lost the seventh. That gives 5 X $180 = $900 profit for this session. Having won $50 from low bets of FRS, I quit for the day with +$950. All this took less than 1 hour.
Using the above strategy and money management, you have the possibilities of ending up at either -18, -36 or positively at multiples of +18, i.e. +18, +36, +54, +72, +90, +108, etc. units, which could be very profitable way of playing.
Taking the challenge of beating the wheel this way has always been a great pleasure.
Wishing you all the best,
Until next week,
Izak
---

---
WOULD YOU LIKE TO SUBSCRIBE? Click here.
---
---
If you missed any newsletter, click here for an archive.
---
---
Poker Guide - The world's largest poker guide PokerListings.com with reviews of 750 poker sites.

Texas Holdem - Page that compares 45 Texas Holdem online poker rooms on a number of relevant features.
---