Play To Win
Tips and strategies to help make you a winning casino player

Game Rules
Learn: Blackjack, Baccarat, Craps, Roulette, Slots, Video Poker, Pai Gow Poker, Texas Hold'em, Caribbean Stud, Let It Ride, Casino War, Big Six, Sic Bo (NEW!)

Systems Gallery
Win more, more often with proven betting methods from the systems gallery

Order Form
A secure on-line order form to purchase products advertised by Let's Talk Winning.

Playing Online
All about gambling at online casinos. Find out where the best deals are

Best Casino Bonuses - NEW!
The best collection of on-line casino bonuses, where you can cash $802 on your sign-up.

Links and Things
Sign our guestbook, refer a friend, link to other gambling sites.

Gambling News - NEW!
Latest Gambling News - updated daily including gambling articles, joke of the day and a gambling dictionary.

Newsletter
Click above to read the current edition of our weekly newsletter. Then get your own free subscription right here.

Please tell all your friends about it.

On-Line Forum
Post a gambling question or opinion - get an answer . . .
---
Below is a selection of the most recommended
on-line casinos
and sportsbooks
Check out:
On-Line Casino of the Month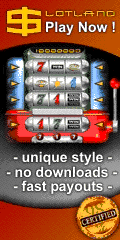 ============================================================= Friday, May 19, 2017

Review, Feedback and FAQ on the new Triangle System by Izak Matatya

Dear Let's Talk Winning subscribers, customers, friends,
The Triangle System announced on May 7 received lots of enthusiasm. I received quite a few private emails inquiring about the system and I'd like to share my answers with you all in this newsletter: Frequently Asked Questions on the Triangle System.
First of all, a couple of testimonials, review and feedback:
"The Triangle System is simply brilliant" Otis D.
"I had the system bust twice within a 62 bet span -31 units and -9 units after accounting for the busts +104 units 524 bets placed"

"The system has had a third bust -31,-9,-11 So now I am at +122 units 263 shooters 673 bets placed peak profit was +135 units back on shooter 189" Elliott M
From the discussion forum:
"I am going to offer a review of this system

1) I would not not call it a system. I would call is a money management system. The System is something like CYL and CYL2 if I remember those systems correctly but this is with a much milder progression

2) +89 units through 130 shooters or 330 bets placed in Zumma betting Don't Pass every outcome

3) what I don't like is that I had 10 L and 10 W in 20 outcomes and I had to use the 20th step in the progression but I guess all MM has a weakness.

In short, with a very small amount of bankroll, such as 40 units per session and 80 units lifetime, you will be able to win a lot with the Triangle system. I would question this claim I think this is best case and your losses could be more.

If the testing holds up I will use this live with the idea of not winning whole units but part of a unit like the BB system did thus lower the BR needed and thus allowing for a recovery set after a progression bust

If Izak is correct 40 units per buy in 80 or 2 buy in life time then with my smaller units I can use a 40 unit buy in then change my base unit size to 2 units thus my recover set and worst need to win back 20 units before I can reset.

Abandoned runs can be as low as 5 units. well that is even better but seeing the progression if you have a 25 step progression and a bust only sets you back 5 units then I think we could all agree that is best case. I am looking for a bust to cost about 50 to 70 units.

I was working on a concept of winning part of a unit with FPP but I think this will work much better but lets wait and see how testing goes.

Toughest run: LLWL LWLL WWWL LWWL LWLL LWLW W" Elliott M.
Well, thank you so much for all your feedback.
Now to the answers of your questions:
Q: Is there a progression and a bet selection?
A: Yes
Q: How does it compare to the performance of the SOWS system?
A: Very similar in performance. SOWS generates 1500 units for a set of 500 shoes, and its maximum bet size is 7 units. Triangle generates 2200 units for the same 500 shoe with a maximum bet of 20 units.
Q: Hi Izak,

I would like to know what is the highest unit lost to abandon the system? You said it the lowest is 5 but I want to know the highest!

Is this another double up system that uses different approach?

Does this betting progression takes care of all patterns such as BBBB BBPP BPBP BPPPBPPP BBPBBP .....and so on?
A: The highest ever was 37 units.

Never use double up systems any more.

The betting progression does not care about patterns, as it has 25 steps.
Q: If the betting progression does not care about patterns than I can just bet on PLAYER side like some of your systems?
Are you saying that if we lose the 25 steps than a total of 37 units will be our total lost to abandon the system?
For the Triangle system are you using a all new bet selection method?
A: Yes, you can bet either Player only or Banker only and yes, there is a suggested new bet selection as well.

The 37 units abandoned run is the worst case scenario. Otherwise, abandoned runs are between 5 and 15 units most of the time.
Q: Can you play this at any point in the shoe or do you have play at the very beginning?

A: Any time during the shoe is fine.
Q: Hi Izak,
For the 600 and 1000 shoes you tested, from the graph chart I can see there are a lot of abandon runs.
Can you tell me how often this will happen? Maybe 1 out of 5 shoes or maybe even more?
A: There are about 100 runs per 500 shoe set, which cost about 600 units. Overall the system makes 2800 minus those 600, thus 2200 unit profit per 500 shoe set.
Q: 5 units were the overall drawdown relative to the initial use of the system.
I'm not sure I understand what you mean by "overall drawdown relative to the initial use of the system". Could you expand on that and were there other times when the overall drawdown was greater than 5 units?
A: The 5 unit "overall" drawdown is relative to the initial use of the system, where we will call it the zero point. From your entire use of your lifetime bankroll, you are negative only by 5 units relative to your initial zero point. The remaining play you stay positive, although there will be certain fluctuations in your gains. This also means that if you came to the casino with only 5 chips, you would eventually have 2200 chips at the end of 600 shoes. But, of course, you need to take into consideration that you could have two abandoned runs back to back right up front, which can cost you 74 units, in the worst case scenario.

An abandoned run can be as low as 5 units and can be as high as 37 units, this is your session range.
Q: Is the new system designed for no commission Baccarat (EZ Baccarat/Dragon) or Commission based Baccarat?
A: It's designed for no commission Baccarat, but there are ways to have it work for regular Baccarat even for Dozens in roulette, which yields great results.
Thank you for your valuable questions.
The price of the system is quite within budget. For not more than $800, you can get hold of this great Triangle system.
For $20 extra you can have a printout of the system document shipped to your mailing address.
You have a full money back guarantee, if the system is not to your satisfaction, no questions asked, no strings attached, you can return it within 30 days of your purchase.
Click here to order. You will be very pleasantly surprised!
Thank you!
Izak Matatya
P.S. PayPal orders are welcome to my id: izak.matatya@videotron.ca
www.letstalkwinning.com

www.izakmatatya-digitalart.com (NEW! - yes, you can purchase my digital contemporary art, too, at the new on-line store - and if you do, you will receive any of my gambling system of your choice for free - just email me after your purchase with your proof of purchase!)
Email: webmaster@letstalkwinning.com or izak.matatya@videotron.ca
Systems Gallery: http://www.letstalkwinning.com/gallery.htm
Newsletter: http://www.letstalkwinning.com/winalert.htm
Newsletter Archive: http://www.letstalkwinning.com/archive.htm
Recommended On-Line Casinos: http://www.letstalkwinning.com/bestonline.htm
Discussion Forum: http://www.letstalkwinning.com/forum/
Izak Matatya's new contemporary digital art online store: https://www.izakmatatya-digitalart.com

---
WOULD YOU LIKE TO SUBSCRIBE? Click here.
---
If you missed any newsletter, click here for an archive.
---
Poker Guide - The world's largest poker guide PokerListings.com with reviews of 750 poker sites.

Texas Holdem - Page that compares 45 Texas Holdem online poker rooms on a number of relevant features.
---