Play To Win
Tips and strategies to help make you a winning casino player

Game Rules
Learn: Blackjack, Baccarat, Craps, Roulette, Slots, Video Poker, Pai Gow Poker, Texas Hold'em, Caribbean Stud, Let It Ride, Casino War, Big Six, Sic Bo (NEW!)

Systems Gallery
Win more, more often with proven betting methods from the systems gallery

Order Form
A secure on-line order form to purchase products advertised by Let's Talk Winning.

Playing Online
All about gambling at online casinos. Find out where the best deals are

Best Casino Bonuses - NEW!
The best collection of on-line casino bonuses, where you can cash $802 on your sign-up.

Links and Things
Sign our guestbook, refer a friend, link to other gambling sites.

Gambling News - NEW!
Latest Gambling News - updated daily including gambling articles, joke of the day and a gambling dictionary.

Newsletter
Click above to read the current edition of our weekly newsletter. Then get your own free subscription right here. Enter your e-mail address for immediate delivery of an introductory issue, including a FREE ROULETTE SYSTEM by clicking here.

Please tell all your friends about it.

On-Line Forum
Post a gambling question or opinion - get an answer . . .
---
Below is a selection of the most recommended
on-line casinos
and sportsbooks

Check out:
On-Line Casino of the Month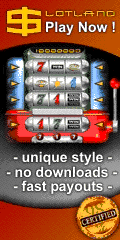 ---
================================================ Friday, May 14, 2004

Freaky Friday at Global Player Casino and Their Wild American Roulette
Hello everyone,
Global Player Casino is an on-line casino where I often play, as I trust their software and enjoy their excellent customer support. They will answer your call and inquiries right away with their toll free number.
If you are a roulette enthusiast, this is one of the best on-line casinos to play at. Not only they have a single zero wheel roulette, but you can take advantage of the La Partage rule on the French Roulette table, where half your even bet is returned to you, should a zero come up.
Most interestingly, the Global Player casino has a variation of the American Roulette with the double zero, where the house edge is practically reduced to zero. They call this variation Wild American Roulette and the following is the way it works:
In the normal American double zero roulette, all outside bets lose when the zero or the double zero win, this is where the well known 5.26% house edge comes from (2 "house" numbers out of 38, 2/38=0.0526). In the Wild American Roulette, however, the double zero has a completely different meaning: in fact it gives the player back what the single zero has taken from him/her. When the double zero wins, all outside bets as well as bets on dozens and columns win even money and this makes up the resulting 0% house edge.
In other words, if you were placing a $50 bet on Red for instance, and 00 comes up, you end up winning your bet!

This is how it works in detail: there are 36 numbers 1-36, the 0 and the 00, 38 numbers in total. When we bet e.g. $1 on red, there are 18 red numbers which win us $18 total and 18 black numbers which lose $18. Then there is the single zero whereby our bet on red loses and again the double zero where we win $1, all together we win 18-18-1+1 = 0. The same computation can be done for other even money bets. For dozens and columns it is only slightly different: when we bet e.g. $1 on the first dozen, we win $24 on the first 12 numbers and lose $24 on the 24 numbers 13-36, then we lose $1 on zero and win $1 on double zero, which makes 24-24-1+1 = 0 again. So despite its double zero layout, this game really has a 0% house edge for all outside bets and this is something you will not find in neither Las Vegas nor Monte Carlo. So, if you are a roulette player, get a hand on this game whenever you see it anywhere!
Their Roulette betting ranges from $1 to maximum $1000, ideal for IBS played on Red and Black simultaneously (see previous newsletter).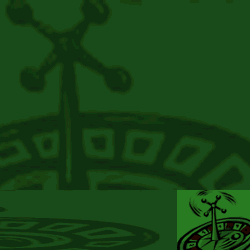 Today's Friday, May 14. Make sure to take advantage of their special promotion called Freaky Friday. Global Player will offer extra payouts:

Comp Points
Earn the whole day the double amount of Comp Points!
Here are the details of their comp program:
Cash Comps
Each time you place a real money wager at the Global-Player Casino, you will receive Comp Points, no matter if your bet has won or lost. When you collect enough Comp Points, they will be automatically converted to bonus chips.

The number of Comp Points earned by a wager depends on the game you play. For each $10 wagered, you earn Comp Points as follows:

Slot machine 2 points
Video poker 1 point
Blackjack 1 point
French roulette 1 point
American roulette 3 points

You can view your current Comp Points at any time by clicking on the "CASHIER" symbol in the casino program. It is displayed there together with the cash and bonus balance.

For High Rollers they reserved a special level in their Cash Comp point system.

Daily Comps
In addition to the standard Comp Points, you will also receive Daily Comp Points just for stopping by: the very first time you log in to the casino you will be awarded 300 Comp Points. After that, you will receive 50 Comp Points for your first visit each day.

Comp Points Payout
Each 100 Comp Points are worth $1 bonus. On the first day of every month the Comp Points of all active users are converted to bonus chips in the following way: All players who have accumulated at least 2000 points will obtain $1 bonus for every 100 Comp Points. Remaining Comp Points as well as non daily Comp Points of users that had less than 2000 points will stay on your Comp Point account and will be converted to bonus as soon as they reach the 2000 points limit.

The Daily Comps are valid only for the current month. When you reach 2000 total comp points at the end of the month, they will be fully converted to bonus chips. If you end up with less than 2000 points, only the normal Comp Points will be rolled over to the next month. To make the start in the next month easier, you will receive 100 Daily Comp Points for your first visit after the Comp Points have been converted.
Coming back to more Freaky Friday specials:

Roulette
Place a bet on the Roulette-Table Number 1 (French Roulette Multi Player $1) and if the ball falls on Number 14 then you receive a $5 Bonus!

Blackjack
All bets on all blackjack tables except for Spanish 21 will include a silent Freaky Friday side bet: when the first two player cards are freaky cards, the player will win a special bonus; if the dealer's first cards are also freaky, the player will win even more. Freaky cards are all 4s and 5s and the wins are:

First two cards in player's hand are freaky cards: $1. This also holds for split hands, so if you split a pair of 4s, you have two new hands with one freaky card each.
Player's first two cards and the dealer's upcard (or first card in double exposure) is also a freaky card: $5
Both dealer's and player's first two cards are freaky: $25

Video Poker
Similar to blackjack, the video poker games Jacks or Better, All American, Quick Pick and Tens or Better will have additional payouts on hands with 4 or 5 freaky cards (4s and 5s). The exact payouts are written at the bottom of the payout table of each game.

Slots
Just as the last promotion, on Golden Planet games without jackpot, the GPC logo symbol will complete and double all winning combinations. Two logo symbols will quadruple each win.
Click here to open an account with Global Player Casino and take advantage of all those special benefits.

Wishing you all the best,
Until next week,
Izak
---
WOULD YOU LIKE TO SUBSCRIBE? Click here.
---
If you missed any newsletter, click here for an archive.
---

---

---
---