Play To Win
Tips and strategies to help make you a winning casino player

Game Rules
Learn: Blackjack, Baccarat, Craps, Roulette, Slots, Video Poker, Pai Gow Poker, Texas Hold'em, Caribbean Stud, Let It Ride, Casino War, Big Six, Sic Bo (NEW!)

Systems Gallery
Win more, more often with proven betting methods from the systems gallery

Order Form
A secure on-line order form to purchase products advertised by Let's Talk Winning.

Playing Online
All about gambling at online casinos. Find out where the best deals are

Best Casino Bonuses - NEW!
The best collection of on-line casino bonuses, where you can cash $802 on your sign-up.

Links and Things
Sign our guestbook, refer a friend, link to other gambling sites.

Gambling News - NEW!
Latest Gambling News - updated daily including gambling articles, joke of the day and a gambling dictionary.

Newsletter
Click above to read the current edition of our weekly newsletter. Then get your own free subscription right here.

Please tell all your friends about it.

On-Line Forum
Post a gambling question or opinion - get an answer . . .
---
Below is a selection of the most recommended
on-line casinos
and sportsbooks
Check out:
On-Line Casino of the Month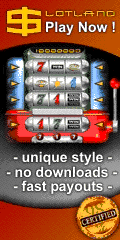 =================================================== Friday, March 27, 2015

New System - SLDW - Single Loss Double Win by Izak Matatya
Dear Let's Talk Winning subscribers, customers, friends,
I'm proud to present you my latest system, SLDW, which stands for Single Loss Double Win. It's designed for all even paying bets of all games, such as such as Red/Black, High/Low, Even/Odd in Roulette, Player/Banker in Baccarat, Pass-Line/Don't Pass Line in Craps, Small/Big in Sic Bo, etc.
It shows a high performance for a double zero roulette wheel, which is a 5.26% house edge game for only betting Reds and Blacks. If used for all 3 even bet areas, the profits are tripled. For Baccarat, the odds are better and so are the profits, not mentioning the speed of the game being also 3 times faster.
The system is the result of high end innovation with the goal of achieving high profits without requiring high bets or a huge amount of bankroll. The idea behind the system is something you have never seen before.
It goes through four passes of efficiency procedures until the optimum results are achieved, keeping the system as simple as possible with the simplest bet selection, such as betting on one or both sides of an even bet, regardless of any past decisions, patterns or anything that doesn't really alter the odds for the next decision.
The system's forte is the actual bet method, which is not altered from one procedure to the next, keeping the same structure for clarity. The result is the utmost sophisticated system, that will amaze you all.
Going from one pass to another, bet sizes are tremendously reduced. Reaching the final stage of the system required the betting of only 2% of the original initial stage. Whatever result could require the betting of 63 units to achieve a profit at the end of the run in the first stage was reduced to as low as 1 unit for the same decision in the final stage.
In fact, the highest bet overall for the entire 15,000 Zumma roulette spins does not exceed 86 units. A 200 unit session bankroll is used most efficiently. If a run should be abandoned, the session bankroll would be the total loss. This happens not more than 6 times throughout the entire 15,000 spins, thus a total of 1468 units are generated. Your lifetime bankroll would be about twice that amount, thus 400 units, in case a session loss would occur back to back, which never does for Zumma. In fact, you gain the first 500 units without any abandoned runs at all, which is an amazing performance. Thus you never require more than your initial 200 unit bankroll. You even build it up gradually during the use of the system.
At $20 a unit, this makes a total profit of 1,468 X $20 = $29,360 for 15,000 spins. If a spin takes a minute, 15,000 spins are 15,000 minutes or 250 hours. And your hourly profit becomes $29,360 / 250 = $117.44 an hour. Not bad! And this is for a 00 roulette table, which has a 5.26% house edge. That means, you can profit even more with better odds system, such as single zero roulette or Baccarat. Also the speed of Baccarat will be 3 times faster, thus you can count for $500 an hour using SLDW.
Here is the performance chart of the system for 15,000 Zumma roulette spins betting only on Reds and Blacks:
(http://www.letstalkwinning.com/SLDW-Performance-Chart.jpg)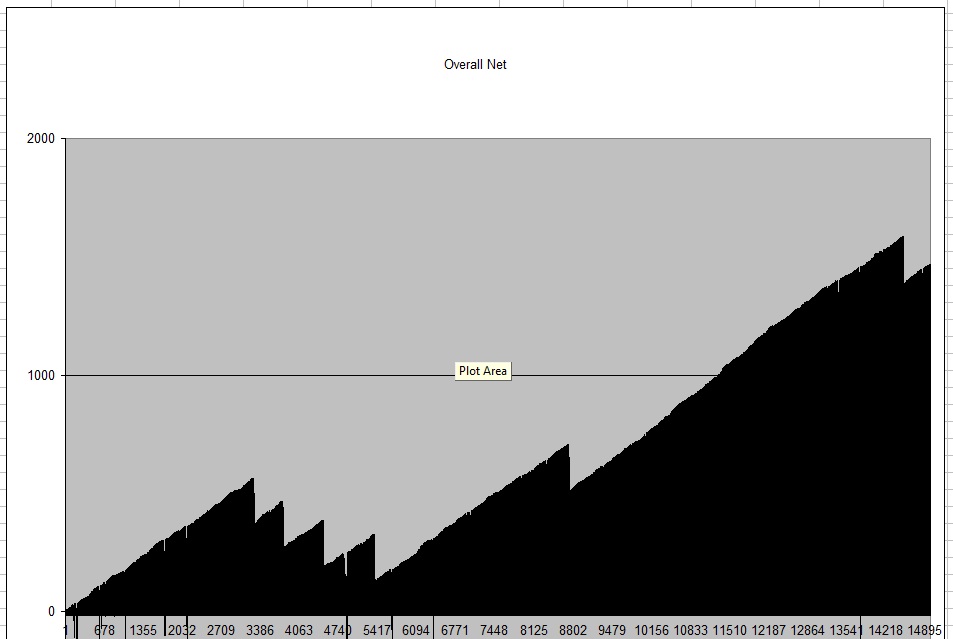 We can see that the six 200 unit abandoned runs do not affect the overall profitability of the system, that keeps rising in profits indefinitely.
You can triple those gains when you use the system for the other even bets as well, thus achieve 4500 units, or gain 1500 units in Baccarat three times faster.
The system is $500, an amount you will make during the first hour of the usage of the system with a $20 unit size. Early bird purchasers will have a 50% discount, for $250, if you buy the system by April 15, 2015. The system has a non-conditional money back guarantee, should you want to return it within 30 days of your purchase, no strings attached, no questions asked, as usual.
If you need printouts of the system document, it will be delivered to your mailing address for $10 extra. You won't have more than 11 pages of easy and to-the-point reading.

With your purchase of SLDW, you will receive the system document and its 15,000 spin Zumma Roulette simulation for double zero table, which shows the full usage of the system with all four passes including extra procedures to cut your bets to minimum. 6 elaborate examples will make the system crystal clear to understand. With a little amount of practicing, you should be ready to go.

Click here to order. Your satisfaction is guaranteed.
Thank you!
Izak Matatya
Wishing you all the best!
Izak
Email: webmaster@letstalkwinning.com or izak.matatya@videotron.ca
Systems Gallery: http://www.letstalkwinning.com/gallery.htm
Newsletter: http://www.letstalkwinning.com/winalert.htm
Newsletter Archive: http://www.letstalkwinning.com/archive.htm
Recommended On-Line Casinos: http://www.letstalkwinning.com/bestonline.htm
Discussion Forum: http://www.letstalkwinning.com/forum/
Latest Gambling News: http://www.letstalkwinning.com/latest-news.htm
New Art Gallery: http://www.letstalkwinning.com/Izak.Matatya.Art.htm
Izak Matatya's digital art works: www.izakmatatya.com
---
WOULD YOU LIKE TO SUBSCRIBE? Click here.
---
If you missed any newsletter, click here for an archive.
---
Poker Guide - The world's largest poker guide PokerListings.com with reviews of 750 poker sites.

Texas Holdem - Page that compares 45 Texas Holdem online poker rooms on a number of relevant features.
---