Play To Win
Tips and strategies to help make you a winning casino player

Game Rules
Learn: Blackjack, Baccarat, Craps, Roulette, Slots, Video Poker, Pai Gow Poker, Texas Hold'em, Caribbean Stud, Let It Ride, Casino War, Big Six, Sic Bo (NEW!)

Systems Gallery
Win more, more often with proven betting methods from the systems gallery

Order Form
A secure on-line order form to purchase products advertised by Let's Talk Winning.

Playing Online
All about gambling at online casinos. Find out where the best deals are

Best Casino Bonuses - NEW!
The best collection of on-line casino bonuses, where you can cash $802 on your sign-up.

Links and Things
Sign our guestbook, refer a friend, link to other gambling sites.

Gambling News - NEW!
Latest Gambling News - updated daily including gambling articles, joke of the day and a gambling dictionary.

Newsletter
Click above to read the current edition of our weekly newsletter. Then get your own free subscription right here.

Please tell all your friends about it.

On-Line Forum
Post a gambling question or opinion - get an answer . . .
---
Below is a selection of the most recommended
on-line casinos
and sportsbooks
Check out:
On-Line Casino of the Month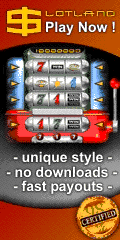 ============================================================= Saturday, March 24, 2018

The New RPTS - Reaction Point Trading Service - Second Week's Results

Dear Let's Talk Winning subscribers, customers, friends,
Here are the results of the second week's usage of RPTS - the Reaction Point Trading Service.
RP
TIME = CET B=BUY S=SELL P=PROFIT L=LOSS NT=NO TRADE

03/19
1) 05h00 P
2) 16h00 L

03/20
1) 02h00 P
2) 13h00 L
3) 23h00 P

03/21
1) 10h00 P
2) 20h00 P

03/22
1) 07h00 P
2) 17h00 P

03/23
1) 03h00 P
2) 13h00 P

9 trades ended in profit versus 2 trades ending in loss. Again, outstanding results for the second week in a row.

Please note that, like in sports betting, there is a vigorish involved. If a profit makes 20 units a loss will lose 25 units. This is the kind of proportion you need to have in mind.
Since 9 trades ended in profit, this is like 180 units. 2 losses would be 50 units. Thus a total profit of 180 - 50 or 130 units. If your unit size is $100, the profit for the week would be 5 times 130 or $650.
Thus the RPTS services provides with a 4 week side income of 4 X $650 = $2600 for a fee of $100 only. It's a good trade.
Some subscribers' unit size may be $1000. This will provide $26,000 for each four week usage of RPTS. Sky is the limit for profits.
Please email me at: izak.matatya@videotron.ca if you would like to start your 2-week free trial period of your subscription. Next week's RP's will be sent to existing subscribers today.
Thank you!
Izak Matatya
www.letstalkwinning.com
www.izakmatatya-digitalart.com

Email: webmaster@letstalkwinning.com, izak.matatya@videotron.ca or matatya.izak@gmail.com
Systems Gallery: http://www.letstalkwinning.com/gallery.htm
Newsletter: http://www.letstalkwinning.com/winalert.htm
Newsletter Archive: http://www.letstalkwinning.com/archive.htm
Recommended On-Line Casinos: http://www.letstalkwinning.com/bestonline.htm
Discussion Forum: http://www.letstalkwinning.com/forum/
Izak Matatya's new contemporary digital art online store: https://www.izakmatatya-digitalart.com
---
WOULD YOU LIKE TO SUBSCRIBE? Click here.
---
If you missed any newsletter, click here for an archive.
---
Poker Guide - The world's largest poker guide PokerListings.com with reviews of 750 poker sites.

Texas Holdem - Page that compares 45 Texas Holdem online poker rooms on a number of relevant features.
---