Play To Win
Tips and strategies to help make you a winning casino player

Game Rules
Learn: Blackjack, Baccarat, Craps, Roulette, Slots, Video Poker, Pai Gow Poker, Texas Hold'em, Caribbean Stud, Let It Ride, Casino War, Big Six, Sic Bo (NEW!)

Systems Gallery
Win more, more often with proven betting methods from the systems gallery

Order Form
A secure on-line order form to purchase products advertised by Let's Talk Winning.

Playing Online
All about gambling at online casinos. Find out where the best deals are

Best Casino Bonuses - NEW!
The best collection of on-line casino bonuses, where you can cash $802 on your sign-up.

Links and Things
Sign our guestbook, refer a friend, link to other gambling sites.

Gambling News - NEW!
Latest Gambling News - updated daily including gambling articles, joke of the day and a gambling dictionary.

Newsletter
Click above to read the current edition of our weekly newsletter. Then get your own free subscription right here. Enter your e-mail address for immediate delivery of an introductory issue, including a FREE ROULETTE SYSTEM:

Please tell all your friends about it.

On-Line Forum
Post a gambling question or opinion - get an answer . . .
---

---

Wanna Win At Slots? Click Here!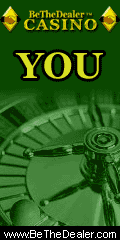 It's now $50 bonus every month!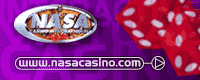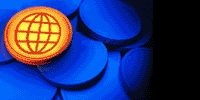 ================================================= Thursday, March 20, 2003

All about Sports Betting
Hello everyone,
A wide array of betting propositions are available to players. They vary from two dollar parlay cards to the legendary $100,000 bets accepted at some sportsbooks under special arrangements. (The standard maximum bet limit is $5,000 at most books). Sports betting, race wagering, and poker are the only venues of chance open to the gaming public in which the player is not in direct competition with the casinos (the house). In all other casino games (such as craps, keno, slot machines, baccarat, blackjack and roulette), the house has a statistical advantage. In sports wagering, however, players can gain an edge on the house when they can identify games where the posted line does not accurately reflect the true odds for the game's outcome.

Many people find that placing bets on the outcome of a game greatly enhances their enjoyment in watching the game on television or listening to it on the radio. Most Las Vegas sportsbooks have satellite hook-ups and big-screen TV's broadcasting the numerous college and pro games being played across the country and they post frequent scoring updates on the progress of all games on which they are taking action.
Sportsbooks will only accept bets on those games which have been posted on their board. These games are known as "board games." Generally, all major league baseball, NFL, NBA and NHL games are "on the board," whereas college games are limited to football and basketball match-ups being played by major Division I schools. Limited betting is available at some books on golf, tennis, car racing, and other miscellaneous sports.

The main object of sports betting is to beat the 'Oddsmakers' or the 'Odds Compilers' and win some money. Additionally, placing a bet on your favorite sport event makes the game exciting and more enjoyable.

Betting is done through Sportsbooks (US) or Bookmakers (UK) entities that accept bets. You can bet on the outcome of several sporting events, such as; Baseball, Basketball, Football, Tennis, Hockey, Snooker and Soccer games.

To place a sports bet, you go to a sportsbook, physical or online. You could also bet over the phone with many sportsbooks. Note that a sports book or sportsbook is not the same as an oddsmaker. The sportsbook simply accepts sports bets. An oddsmaker is a person who sets the betting odds.

You need to state what you are betting on by making a selection, the type of bet and the amount you are wagering. Your selection will obviously depend on the odds offered, so you will want to examine the range of odds available before you make a decision.

There are many types of bets you can place. Some sportsbooks may offer more betting varieties and combinations than others. Below is a list of the more common types of bets.

• Straight bet or Single.
This is the simplest and most common bet. You bet on a winner at given odds.

• Point Spread.
This bet lets you bet on a winner from two selections who have been made equal by allocating appropriate points to the underdog team. The Point Spread is the number of points allocated and is shown with a + sign for the favorite and a - sign for the underdog. The favorite has to win by more than the Point Spread for you to win, otherwise you lose your bet even if the team wins. Inversely, if you bet for the underdog, that team has to lose by less than the Point Spread for you to win. If the favorite wins by the exact Point Spread, then it is a push or a tie. You get your bet back. To eliminate a tie result, the oddsmakers sometimes include a half point spread. Since scores use full numbers only, one team has to win outright.

• Buy Points.
Also, to buy Key Points. Move the Point Spread favorably at a price.

• The Moneyline.
This establishes the odds for each team but inversely proportional to what would have been a Point Spread, and is indicated by a + for the underdog and a - sign for the favorite. Say team A is favorite and quoted at -180 and B is the underdog at + 120. The bets offered would be 10:18 odds-on for the favorite, and 12:10 for the underdog. For every $180 you bet on A you would win $100 or lose $180, but for every $100 you bet on B you would win $120 or lose $100.

• Total.
A bet for the number of points scored in the game by both teams combined, including points scored in overtime.

• Over/Under.
A bet that the combined number of points scored by the two teams in the game will be Over or Under the total set by the oddsmaker.

• Parlay or Accumulator.
A multiple bet. A kind of 'let-it-ride' bet. Making simultaneous selections on two or more games with the intent of pressing the winnings of the first win on the bet of the following game selected, and so on. All the selections made must win for you to win the parlay. If a game is a tie, postponed or cancelled, your parlay is automatically reduced by one selection; a double parlay becomes a straight bet, a triple parlay becomes a double. A parlay bet can yield huge dividends if won.

• Teaser.
It is like a parlay, but with the option to add or subtract points (called 'moving the line') from one or more Spread bets. When betting a teaser additional points are either added to the underdog or subtracted from the favorite. The odds vary according to the number of points the spread is moved and the number of teams combined to form the teaser. As in the parlay, all selections must win for the teaser to win. Teasers odds are usually worse than the parlays.

• If-wager.
A bet that allows the bettor to make a second wager, up to an equal amount, pending a win on the first selection.

• Open Wager.
Open wagers allow the bettor to play teasers or parlays making a selection at different times and even different days.

• Future.
A bet on a future event. At the start of each season, the sportsbooks give out odds for teams to win a certain championship. The odds change as the game date approaches and in most cases get shorter, but if you win you get paid at the original odds that you took. This is possibly one of the most profitable bets if you have considerable knowledge of the sport that you are betting on including the players, and a good sense of judgment.

• Exotic Bets.
Betting on unusual events. Some sportsbooks post odds and take bets on a wide variety of other sports related events and activities. A few others will take bets on just about anything you can think of.

• Proposition Bet or Prop Bet.
An offer of bets at odds and conditions chosen by the sportsbook, usually on 'Exotic' bets.
Now that we know the types of bets that exist, let's see on which sports you can apply the above bets.

Football
Types of wagers available for football and basketball: Straight (point spread & money-line), totals, half-times, and propositions.

Basketball
Types of wagers available for football and basketball: Straight (point spread & money-line), totals, half-times, and propositions.

Baseball
Types of wagers available for baseball: Straight (run-line & money-line), totals, and propositions.

Baseball games are declared official after 5 innings of play or 4 1/2 innings if the home team is winning. If a game is called or suspended, the winner is determined by the score after the last full inning unless the home team scores to tie or take the lead in the bottom half of the inning, in which case the winner is determined by the score at the time the game is called. Wagers will be refunded if the home team ties the game and it is then suspended. Events will not carry over to the following, unless otherwise specified.

For total (over/under) wagers, the game must complete nine innings (8 1/2 if the home team is winning) to have action. If a game is called or suspended, the score will be determined by the last full inning unless the home team scores to tie or take the lead in the bottom half of the inning, in which case the score is determined at the time the game is called. All total wagers are automatically both listed pitchers.

Rules for run-line wagers and propositions are the same as those for baseball totals.

There are three wagering options for baseball (currently, all Internet baseball wagers are listed pitchers only, check your sportsbook rules!)

Action - wager on team vs. team, regardless who pitches. If one of the listed pitchers does not start the game, the line will be adjusted to the opening line with the new pitcher.

List Both Pitchers - wager only if both listed pitchers start the game. The wager will be "no action" if either or both pitchers do not start the game.

List One Pitcher - wager only if one team's listed pitcher starts the game. The wager will be "no action" if the specified pitcher does not start the game.

How To Figure Baseball Parlays

For each price or odds quote on your teams, look at their respective payoffs (to $1) and always add $1 to these payoffs. Multiply your bet times the products of these payoffs (+$1) for your parlay return.

Example: Bet $50 on Twins (-150) parlayed to Yankees (-130) bet Twins Yankees return
(-150) (-130) $50 X 1.67 X 1.77 = $147.80 return includes the $50 bet.

Use the same method for any number of team for example: Bet $75 on Cubs (+120) to Reds (-135) to Mets (EVEN) for 3 team parlay

BET CUBS REDS METS RETURN
(+120) (-135) (EV)
$75 X 2.20 X 1.74 X 2.00 = $574.20

(1.00 + 1.20) (1.00 + .74) (1.00 + 1.00)

Return includes the $75 bet, remember to always add a $1 to the payoff price to figure out all parlays.

Hockey
Types of wagers available for hockey: Straight (puck-line & money-line), totals, and propositions.

In addition, in the NHL Playoffs, the reason why casinos post lines in the form of a money line (i.e. PK-250, etc) rather than use a Puck Line (i.e. 1 1˝) is that you cannot have a time game in the playoffs, one team or the other must win the game in order to advance to the next round.

Golf
Types of wagers available for golf: Odds to win & place (top four) tournament, odds to win foursome, straight bets on daily matchups (odds plus stroke line with odds), and propositions.

For any wager, if the selected player (or opponent if daily matchup) does not tee off, the wager is "no action", and the wager amount will be refunded. For stroke line wagers, the player with the "-" is the favorite and the "+" is the underdog (example, you wager on Fred Couples (+2) over David Duval, Couples shoots 68 and Duval 67: Couples is the winner by a margin of one stroke since Duval was favored by two strokes).

Odds to Place - Wager on a player to finish in first through fourth place for the tournament. If there is a tie for fourth place, the payouts are calculated by dividing the payout odds by the number of players tied for fouth place (example, you wager $10 on Tiger Woods to place, his place odds are 6 to 1, and three players tie for fourth place: payout= 6 / 3 = 2; $10 x 2 = $20 total winnings).

Odds to Win Foursome - Wager on a player to place higher than the other players in the tournament. If there is a tie, the leader following the previous round is the winner. If two players tie every round, the player who was leading latest in the final round is the winner.

Daily Mathups: wager on one player to place higher than another, either for the tournament of the specified round. If there is a tie, the wager amount will be refunded.
If a tournament does not go the specified number of completed holes (usually 72), and the tournament is shortened by PGA officials, the leader at the end of number of holes determined by PGA officials shall be the winner.

Example:
If the tournament was scheduled for 72 holes, but only 54 holes can be played due to weather concerns, then the leader at the end of 54 holes would be declared the winner of the tournament. In the event that two (or more) players are tied for the lead at the end of regulation play, sudden death playoff occurs to determine the winner of the event. In some cases PGA officials may also have the individuals play a specified number of holes to determine the tournament winner.

In head to head matchups, both golfers must tee off in order to have action. The player with the most completed holes and the lowest score is the winner of the matchup.

In the event that one golfer or the other is disqualified or withdraws, the other player will be the winner of the matchup.

Tennis
Types of wagers available for tennis: Odds to win tournament, odds to win daily matches, and propositions.

Boxing
Types of wagers available for boxing: Odds to win fight, draw, total rounds (over, under), and propositions.

When a draw is available to wager and the fight ends in a draw, the sportsbook pays only those who bet a draw. If a draw was not available at a sportsbook, then all wagers are refunded. Sportsbooks who did not carry a draw as an available betting proposition are obligated to refund all wagers. Sportsbooks which offered the draw, pay only on the draw and do not refund any wagers on either fighter. The only exception to this rule would be when a draw is listed as a seperate bet.

Auto Racing
Types of wagers available for auto racing: Odds to win race, odds to win matchups, propositions.

I n Head-to-Head or Three way matchups, all drivers must start the race in order to be considered "in action". In addition, a driver is considered starting the race after having driven one lap.

In the race a starting driver who has completed at least one lap, but is replaced during the race with another driver for any reason, the starting driver will be awarded the finishing driver's position at the end of the race.

If a starting driver has to be replaced with another driver after completing one lap, and the second driver ends in 10th place, then the starting driver will be awarded for 10th place.

Example:
Driver Scott starts the race, he completes 10 full laps, but leaves the race due to injury, and then driver Matt finishes the race and places 10th. In the race standings, driver Scott would be credited with 10th place.

Horse Racing
Types of wagers available for horse racing: Odds to win, place & show; exactas, quinellas, trifectas, and propositions.

Straight Wagers - Straight bets are very simple, select which horse will be on the first, second or third position. Win corresponds to First place, Place for Second place, and Show is Third Place. For example, if you wanted to bet $10 on horse number 3 to win first place, then you have to bet on "Win". If you want to bet all three positions, then you must ask for "horse number 3 all across the board".

Exotic Wagers - All exotic bets are just like placing a straight wager except now you will be selecting multiple horses. The following is a list of exotic wagers:

• Quinella choose horses to come in 1st and 2nd place.
• Exacta choose horses to come in 1st and 2nd place.
• Perfecta choose horses to come in 1st and 2nd place.
• Trifecta choose horses to come in 1st, 2nd and 3rd place.
• Superfecta choose horses to come in 1st, 2nd, 3rd and 4th place.
• Daily Double choose horses to come in 1st place for 2 races.
• Pick 3 choose horses to come in 1st place for 3 races.

Boxing - With most exotic wagers you may also box the horses. This means they can come in any order. ie If you bet a $2 Trifecta Box on horses 1-3-7, you win if any combination of 1-3-7 comes out. For example, if 7-3-1 comes out you win! By boxing a wager you are essentially buying a ticket for all the different combinations for the horses you selected. So in the above example the total wager cost would be $12, because there are 6 combinations possible.

Coupled pairs - Sometimes horses are coupled. That is there will be a 1 and a 1A. Most times one of the horses will be scatched, but if they both run, you get them both. So, if you select a horse that is part of a coupled pair (horses 1 and 1A) both horses would be considered as one selection.

Example:
If you played 1-3-7 as your trifecta and result was 1A-3-7 you win. Also if one horse gets scratched, you have the other horse regardless of who you selected. ie If you select 1A and 1A gets scratched - you still have the 1 horse.

Horse Payouts - Payouts will be made based on the actual track payout. Usually the Morning Line (ML) listed in any race is just informational and is not used to calculate the payouts.

Soccer
Types of wagers available for Soccer: Odds to win game (Single bets), half time (1st half and 2nd half), total (over and under), draw, and propositions.

Single Bets - This is the exact same thing as taking a money-line, all though goals scored in extra times don't count for betting purposes. In some sportsbooks you will find an "outright winner", these odds are for bettors that are predicting the game to go in extra-time, by penalties or by the golden goal.
The above covers all the information about sports betting. You can use it as a good reference when you need to know about a specific type of bet.
Wishing you all the best,
Until next week,
Izak
---
WOULD YOU LIKE TO SUBSCRIBE?
---
If you missed any newsletter, click here for an archive.
---

---

---

---