Play To Win
Tips and strategies to help make you a winning casino player

Game Rules
Learn: Blackjack, Baccarat, Craps, Roulette, Slots, Video Poker, Pai Gow Poker

Systems Gallery
Win more, more often with proven betting methods from the systems gallery

Order Form
A secure on-line order form to purchase products advertised by Let's Talk Winning.

Playing Online
All about gambling at online casinos. Find out where the best deals are

Links and Things
Sign our guestbook, refer a friend, link to other gambling sites

Newsletter
Click above to read the current edition of our weekly newsletter. Then get your own free subscription right here. Enter your e-mail address for immediate delivery of an introductory issue, including a FREE ROULETTE SYSTEM:

Please tell all your friends about it.

On-Line Forum
Post a gambling question or opinion - get an answer . . .

Message Board Lobby - NEW!
Links you to multiple discussion forums categorized per your game of preference.
---

---

Wanna Win At Slots? Click Here!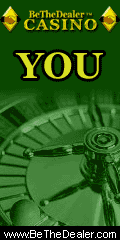 It's now $50 bonus every month!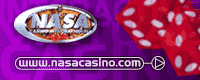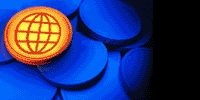 ========================================= Wednesday, March 20, 2002

The Hot List Roulette System
Hello everyone,
Aaron Baker, a Let's Talk Winning customer approached me a couple of months ago and said he had developed a roulette system for inside numbers and that he has been winning consistently with it. Aaron asked me to test his system to see how it would perform on the long run and I gladly agreed. I have built a simulation program for his system and started testing it for hundreds and thousands of sessions.

To my very pleasant surprise, the system was showing between 20-146 unit profit per a 36 spin session over and over again, with some losing sessions in between. The good thing was that the winning sessions were by far outnumbering the losing ones, thus giving you the possibility of coming out a winner even after hundreds of sessions.
A typical play of a series of 36 spin sessions produced the following results:
+67, -19, +54, +80, -40, -23, +41, +57, -30, +26, +15, -38, +53, +130, +88, +110, -39, +64, +78, +51, -26, +97, +87, -41, -87, +56, -27, +65, -47, +119, +52, ...
This is +973 units in 31 sessions of 36 spins or 1116 spins.
Aaron and I have tested the system in parallel, Aaron using Hamburg Spielbank results for the month of February and myself on my simulator and the results were very similar. We were both convinced it's definitely a long run winner and decided it's worth for you to have it availabe at Let's Talk Winning.
Here is what Aaron Baker has to say about his system:
"The Hot List Roulette System is based on betting on the inside numbers with flat bets only. After tracking the wheel for a relatively short period of time, this system will tell you what to bet on and when. There is no progression involved, so this system will not deplete your bankroll.
Sessions with the Hot List Roulette System win far more often than they lose. These sessions are also plentiful, only lasting as long as slightly over a half hour. These sessions are also capable of lasting less than 10 minutes, tracking and all. Approximately 80% of these sessions will be winning sessions – sometimes well over 80%.
The Hot List Roulette System is designed, as all good systems should be, to maximize profits in the shorter run and minimize losses in the long run. Through extensive testing, it has proven to do this quite effectively.
While the Hot List System is purely mathematical and mechanical, it is recommended only for use against real roulette wheels. The system is not recommended for use against online casinos. The reason for this is that while this may be a purely mathematical system, this system is capable of exploiting wheels and dealers that are thoroughly or only temporarily biased. In other words, this is a system that should please both the mathematical and the physical bias types of players.
The Hot List Roulette System is based on the mathematical law, the Law of the Third. This is a mathematical law in roulette that says that in any 36 spin cycle, on average, you will see only 24 different numbers. The Hot List Roulette system takes advantage of this fact and makes the best use of it, producing winning bets on inside numbers with the lowest amount of chips, thus minimizing your risk.
Benefits of this system include the ability to wager with minimal tracking, winning nearly $250 in an 8-hour day at the casino, playing often enough and wagering enough to get compensated for meals, rooms and other items, all while protecting your bankroll against sizable losing streaks. And this is achieved by playing with $5 chips only. Playing with larger units will multiply your profits.
This system does have a money-back guarantee. If you can find a streak of spins on consecutive days from the postings at the Hamburg-Spielbank that would completely defeat your starting, recommended bankroll, you will receive your money back within 30 days of your purchase. This system has been tested and it has proven to bring in profit consistently. Don't give up on it after only one losing session.
The Hot List System requires a minimum bankroll of $5,000. The system, when tested against real spins, showed the capability to consistently win 5 or 6 units an hour.
In testing against the entire month of February 2002 from the Hamburg Spielbank, this system created over 900 units of profit in only 160 hours worth of spins.
The system is only $40 sent to you by email, $45 sent to you by first class mail, and this is negligeable relative to the amount you are going to win.
Click to order.
Thank you,
Aaron Baker,
Izak Matatya

---
On Sunday, March 24, I will be taking one week off in the Caribbean. So, there will be no newsletter issued next week. I'm not taking my computer with me. I'm leaving it for my assistant who will process your orders. If you have questions concerning the Hot List Roulette System, the author Aaron Baker will be happy to answer them by email (abaker4469@sssnet.com). I will answer any other question or inquiry when I come back in March 31. My assistant will call me should you have any question that can't wait, as he will be checking all emails.
In the meantime, I'm here for another 4 days.

Wishing you all the best,
Will be with you in a couple of weeks,
Izak
---
WOULD YOU LIKE TO SUBSCRIBE?
---
If you missed any newsletter, click here for an archive.
---

---