Play To Win
Tips and strategies to help make you a winning casino player

Game Rules
Learn: Blackjack, Baccarat, Craps, Roulette, Slots, Video Poker, Pai Gow Poker, Texas Hold'em, Caribbean Stud, Let It Ride, Casino War, Big Six, Sic Bo (NEW!)

Systems Gallery
Win more, more often with proven betting methods from the systems gallery

Order Form
A secure on-line order form to purchase products advertised by Let's Talk Winning.

Playing Online
All about gambling at online casinos. Find out where the best deals are

Best Casino Bonuses - NEW!
The best collection of on-line casino bonuses, where you can cash $802 on your sign-up.

Links and Things
Sign our guestbook, refer a friend, link to other gambling sites.

Gambling News - NEW!
Latest Gambling News - updated daily including gambling articles, joke of the day and a gambling dictionary.

Newsletter
Click above to read the current edition of our weekly newsletter. Then get your own free subscription right here. Enter your e-mail address for immediate delivery of an introductory issue, including a FREE ROULETTE SYSTEM by clicking here.

Please tell all your friends about it.

On-Line Forum
Post a gambling question or opinion - get an answer . . .
---
Below is a selection of the most recommended
on-line casinos
and sportsbooks

Check out:
On-Line Casino of the Month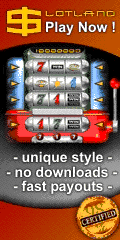 =================================================== Monday, June 4, 2007

RSS - The New Repeating Single Streets Roulette System by Izak Matatya
Hello everyone,
How would you like to own a roulette system, that gives you a 1.17 unit profit in average per spin? It's like getting more than your bet on every single bet, continuously over thousands of spins?
My new Repeating Single Streets Roulette system is, I think, by far, the most profitable roulette system ever designed by anyone. It should be used for contests, competitions, tournaments, etc. I had numerous sessions, where profits sky rocketed over 350 units without losing a single session. With this system, I have surprised even myself.
What's the secret behind the system? Well, its concept, some initial ideas worked differently in various different ways and finally optimized to provide the ultimate solution, after months of research and testing. The final product is a very dynamic system, requiring almost no tracking, betting session after session continuously and winning every single run with no exception.
Is it infallible? I should like to say so, but I don't receive positive feedback when I put such a label. What you should know, however, is that the system has beaten the entire 15,000 spins of the Zumma tester book with a total of 17,558 units without losing a single session. This is the most profit obtained by any system designed for a double zero roulette wheel.
Following is the performance graph of the system applied to the 15,000 Zumma spins: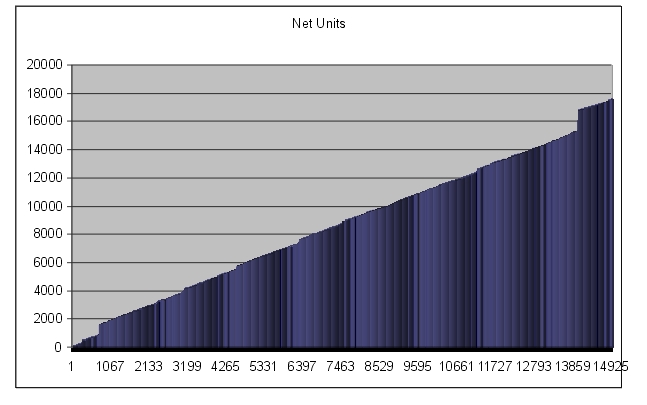 Impressive, isn't it? I can't stop admiring it. The graph going linearly up and no downfalls. Do you see some peeks of profit suddenly jumping in the graph? Those profits sometimes amount to 66 or 186 and even up to 726 units for a particular session.
Yes, this system has lots of pleasant surprises, that are totally unique to the design of this system, and cannot be found in any other one, and, trust me, I have seen and tested hundreds of systems.
The system does use a progression, but the first 4 stages are flat betting. Most runs will complete within 4-7 stages.
A lifetime bankroll of 8,634 units are required in order to win every single run. But this is the most aggressive mode. Otherwise, one could establish a loss limit, not exceeding 354 units and meet a daily win target of 100 units very consistently.
The system bets on single streets in roulette in various different ways and not always is a single street defined the conventional way. The system has a unique way of treating single streets, that you will see in the system document, which is not more than 17 pages, containing no fluff, but pure system explanation.
RSS is not hard to learn, but needs to be practiced in order not to make mistakes. The results you will obtain will be very satisfactory, I have no doubts. And, as usual, you still have a full money back guarantee, should you find the system not to your satisfaction, no questions asked and no strings attached. You can have a full refund, if you return the system within 30 days of your purchase.
The system is $1125 and is not high compared to the profits you will make. 100 units per day with $10 minimum already will provide you with $1000 profit on the first day you will use the system for real.
Click here to order. You can have a printout with regular air mail delivery for $20 extra for printing, shipping and handling.
Thank you,
Izak Matatya
Wishing you all the best,
Izak
---
Use the Repeating Single Streets Roulette System at Windows Casino

---
---
Click here to get a free iPod.
---
WOULD YOU LIKE TO SUBSCRIBE? Click here.
---
---
If you missed any newsletter, click here for an archive.
---
---
Poker Guide - The world's largest poker guide PokerListings.com with reviews of 750 poker sites.

Texas Holdem - Page that compares 45 Texas Holdem online poker rooms on a number of relevant features.
---
---

A sports betting service offering sports, casino and racebook action. With more than 7 years of experience in the gaming industry and located in San Jose, Costa Rica. enVivoSports.com has it all for the sports enthusiastic!

At enVivoSports.com they offer excellent customer service and Same Day Payouts 100% guarantee and 7 days a week.

enVivoSports.com offers juicy cash bonuses and special promotions all year round, so don't forget to check our web site at www.envivosports.com

Bet it your way at enVivoSports.com
---
When you open your account at enVivoSports.com you will be able to bet on sports, casino and horseracing just call us at 877-512-3503 or access our web site www.enVivoSports.com you will receive up to a 25% SIGN UP bonus for depositing funds into your betting account. Remember at enVivoSports.com you bet it your way! (
enVivosports.com is one of the very few offshore sports books that offers a .10 Cent line in baseball
).
---