Play To Win
Tips and strategies to help make you a winning casino player

Game Rules
Learn: Blackjack, Baccarat, Craps, Roulette, Slots, Video Poker, Pai Gow Poker, Texas Hold'em, Caribbean Stud, Let It Ride, Casino War, Big Six, Sic Bo (NEW!)

Systems Gallery
Win more, more often with proven betting methods from the systems gallery

Order Form
A secure on-line order form to purchase products advertised by Let's Talk Winning.

Playing Online
All about gambling at online casinos. Find out where the best deals are

Best Casino Bonuses - NEW!
The best collection of on-line casino bonuses, where you can cash $802 on your sign-up.

Links and Things
Sign our guestbook, refer a friend, link to other gambling sites.

Gambling News - NEW!
Latest Gambling News - updated daily including gambling articles, joke of the day and a gambling dictionary.

Newsletter
Click above to read the current edition of our weekly newsletter. Then get your own free subscription right here.

Please tell all your friends about it.

On-Line Forum
Post a gambling question or opinion - get an answer . . .
---
Below is a selection of the most recommended
on-line casinos
and sportsbooks
Check out:
On-Line Casino of the Month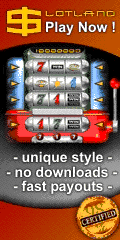 ============================================================= Thursday, June 2, 2016

The New Dragon Betting Baccarat System by Izak Matatya
Dear Let's Talk Winning subscribers, customers, friends,
What if I told you I have a new system, that profits indefinitely by placing flat bets only, would you believe me?

Well, this is a system I have been using for the last 3 months and I did not want to publish it before I was sure about its performance.
It's the so called Dragon Betting Baccarat system, designed specifically for EZ or Dragon Baccarat, where there are no commissions on Banker wins.
It takes full advantage of the side bet called the Dragon, which is formed on a Banker win consisting of 3 cards totaling 7 and pays 40 to 1.
Since it's a side bet, it's also associated with placing regular bets.
But instead of concentrating on the regular bets and make a small bet on a Dragon, to catch the 40 to 1 win, like most people do, it reverses the concept and uses the Dragon betting as a major profit source and doesn't let the regular bets bother or interrupt the profits.
In order to prove the profitability of the system, I designed a simulation that takes into account 16,000 Baccarat shoes generated totally randomly, unlike the fixed 1.6K shoes published by Zumma for testing purposes. Besides, in Zumma tester books, one cannot tell if the Banker win is a Dragon, as it doesn't show the card values, but only if the decision is Player or Banker. So Zumma cannot be used for testing this system.
Since the 16,000 shoes are randomly created, you can run the simulation indefinitely to generate results.
In fact, each set of 16,000 random shoes generate a profit of at least 150,000 to 170,000 units (!!!) very consistently, so we can be safe to tell that there is a strong average of 10 units profit per shoe.
Here is a typical performance chart for those 16,000 shoes: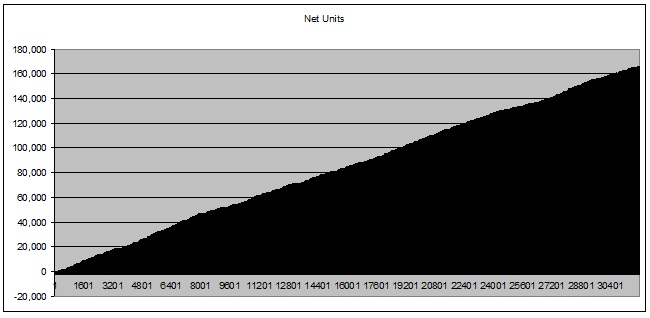 You see the number 30,401 in the bottom, but those are number of half shoes, thus we're talking 15,000 full shoes and more than 160,000 units profit for those shoes.
This is most probably the most consistent and profitable system you can ever have, since each set of 16,000 random shoes shows the same kind of picture, with profits that keep growing and growing.
Having ran the simulation numerous times, the largest drawdown encountered was 398 units, where I would say a lifetime bankroll of 400 units would be quite ample to apply this system fully.
Since the 10+ units a shoe is an average, you will not be making 10 units each and every shoe. The 10 units is the average for long term play, which settles down after 3-4 days of continuous play or within 36 hours.
36 hours is exactly the time I have been using this system. There is the concept of 36 hours of casino play and the number of hours of net play during which you are at the table actively betting. My net play time was 24.5 hours and using $100 unit size, I was able to accumulate $24,500 in those 3 months playing once a week, which exactly amounts to the 10 units average or $1000 per hour.
I am including the log of my play for each shoe I played during this time at the system document. After all, live play is the best proof.
I bet $100 units because I trust the system completely. You will see the simulation makes total sense, and you will be amazed at the concept. It's so simple and efficient.
If your budget allows $10 flat bets, that's OK, too, because then you will be averaging $100 an hour. For $20 a bet, you will average $200 an hour. Playing 5 hours a day, you can still make $1,000 a day. And all that, without raising your bets by a penny. Each and every decision you will bet the same amount. A gambler's dream!
One does not need to track for anything. On the contrary, one needs to know when to leave the shoe, which is much easier than sitting there for hours waiting for a certain opportunity.
The system document is only 19 pages of easy reading, explaining the concept, the probabilities and the math behind it fully and thoroughly. The math is very simple arithmetic. I don't even use pen and paper. I sit at the table, totally relaxed and enjoy my wins. The system takes care of everything else.
The system is so valuable that any price I ask for it will be worth it. In fact, I will price it at $1100 that you will make up for it within one day's play (or an hour if your budget allows it). $20 extra if you need a printout shipped to your address. You will have one full month to evaluate it, use it, and make tons of money. Make sure to comment about it at the forum. Your questions and inquiries are welcome. I'll be more than happy to answer all your questions either at the discussion forum or by email.
And, as usual, your satisfaction is my number 1 priority and you have full money back guarantee, should you dislike anything about the system. You can return it for a full refund within 30 days of your purchase, no questions asked, no strings attached. Although I will doubt that you will want to do so, as this is a system you have not seen the like before.
Click here to order.
Thank you!
Izak Matatya
Wishing you all the best!
Izak
Email: webmaster@letstalkwinning.com or izak.matatya@videotron.ca
Systems Gallery: http://www.letstalkwinning.com/gallery.htm
Newsletter: http://www.letstalkwinning.com/winalert.htm
Newsletter Archive: http://www.letstalkwinning.com/archive.htm
Recommended On-Line Casinos: http://www.letstalkwinning.com/bestonline.htm
Discussion Forum: http://www.letstalkwinning.com/forum/
Latest Gambling News: http://www.letstalkwinning.com/latest-news.htm
New Art Gallery: http://www.letstalkwinning.com/Izak.Matatya.Art.htm
Izak Matatya's digital art works: www.izakmatatya.com
---
WOULD YOU LIKE TO SUBSCRIBE? Click here.
---
If you missed any newsletter, click here for an archive.
---
Poker Guide - The world's largest poker guide PokerListings.com with reviews of 750 poker sites.

Texas Holdem - Page that compares 45 Texas Holdem online poker rooms on a number of relevant features.
---