Play To Win
Tips and strategies to help make you a winning casino player

Game Rules
Learn: Blackjack, Baccarat, Craps, Roulette, Slots, Video Poker, Pai Gow Poker, Texas Hold'em, Caribbean Stud, Let It Ride, Casino War, Big Six, Sic Bo (NEW!)

Systems Gallery
Win more, more often with proven betting methods from the systems gallery

Order Form
A secure on-line order form to purchase products advertised by Let's Talk Winning.

Playing Online
All about gambling at online casinos. Find out where the best deals are

Best Casino Bonuses - NEW!
The best collection of on-line casino bonuses, where you can cash $802 on your sign-up.

Links and Things
Sign our guestbook, refer a friend, link to other gambling sites.

Gambling News - NEW!
Latest Gambling News - updated daily including gambling articles, joke of the day and a gambling dictionary.

Newsletter
Click above to read the current edition of our weekly newsletter. Then get your own free subscription right here. Enter your e-mail address for immediate delivery of an introductory issue, including a FREE ROULETTE SYSTEM by clicking here.

Please tell all your friends about it.

On-Line Forum
Post a gambling question or opinion - get an answer . . .
---
Below is a selection of the most recommended
on-line casinos
and sportsbooks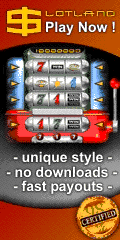 =================================================== Friday, June 15, 2007

FAQ on RSS - The New Repeating Single Streets Roulette System by Izak Matatya
Hello everyone,
Thank you for the great interest you have shown on my new system RSS - Repeating Single Streets Roulette system announced a couple of weeks ago.
I would like to answer all your questions in this newsletter, but before I do, I would like to share with you some feedback received from a happy customer:
"Test report:
First of all, I would like to appreciate Izak's hard work to beat the roulette wheel consistently. This new system has proved way ahead winning profits in the long term, when comparing with other systems which he has formulated. The betting method and betting progression has been tremendously improved and modified, so that there is not a single losing run. All Zumma 15,000 spins shows positive results.

One has to play patiently with high discipline, can make long term profits without any doubt. Izak has taken out the so called LUCK FACTOR and formulated totally a mechanical system. This new RSS system adds one more feather in the cap [in all of Izak's systems]. It is worth buying this system. Happy winnings to everybody.... tvprakash.

RATING:
****"
I appreciate tvprakash's input, who has tested the system and provided his third party independent review on it.
And here are the answer to your frequently asked questions:
Q: What's the highest stake needed Izak?
Why is such a high bank needed when the drawdowns appear to minimal?
A: The highest bet ever placed was 120 units. The high bankroll is required if one wants to win every single run. Otherwise, with a daily win target of 100 units, one should not require more than 1,434 units at most.
Q: Izak, so if one was to settle for less of a win target per day, say 50 units he could then get by with a bankroll of 700+ units?
A: No, that's not the way it works. The daily win target is not in proportion of the bankroll you put in. You need 1434 units in order to go through the 9 steps of RSS's progression, whether your daily win target is 100 units or 50 units. 100 units is simply the amount you can accomplish within 1 day. Making 50 units will cut your casino visit time in half, that's all.
Q: Thanks Izak. Well, about the cheapest you can get by in Vegas these days is a $5 min and that would be a pretty large bankroll. And I don't trust online casinos. What do you recommend?
A: Well, I recently downloaded the new version of Global Player
(from: http://www.global-player.com/?gai=100203). They have European and French roulette, both with single zero (just different layouts) with bet ranges of 1-1000. Playing with $1 (Euro actually), I have been meeting my daily target of 100 Euros on a daily basis for the last 17 days. I think they're very trustable.
Q: Izak,
Problem is in real live most casino's don't have a greater spread then 1 to 50 but sometimes 1 to 100, so on a $10 table, max bet on a spread of 50 would be a $500.00 bet.

Would your system work under these conditions?
Thanks,
A: Yes, it will. Then, you won't win every run, but most of them. You will need to have a loss limit set to 200 units. If your daily target is 100 units, you will be winning at least 7-9 days for every loss of the 200 units.
Q: So Izak you are playing your method online....?

Can you let me know more about this method I'm interested in knowing more, thanks...
A: Sure. I'm playing the method on-line and in land based and electronic (rapid roulette) platforms. It's good for all environments, since there is almost no tracking.

The advantage of betting on streets that are to repeat is even better than on numbers that are to repeat, because there are only 12 single streets as opposed to 38 numbers.

Although nothing is due in roulette, but just imagine if a single street has not repeated for quite some time, say between 8-10 spins, isn't it about time for one of them to repeat? Otherwise, would you get 12 unique streets consecutively? What are the chances for that to happen?

Based on this solid idea, the system performs just as solidly. Moreover, it contains some very pleasant surprises for extra profits. I'm fond of it, like many other systems of mine and had a lot of success with it.
Q: Izak, your literature states you can achieve your 100 unit daily win goal consistently using a 354 unit loss limit. What percent of the time can you accomplish this and what is your net average win per session using that loss limit? Thanks...
A: You will achieve your 100 unit daily target at least 9 times before you ever lose your 354 unit session bankroll. This means you will win 900-354 = 546 units for 10 days, making you an average profit of 54.6 units per day.
Q: If that is really true then this is the holy grail and it will definitely be worth a lot more than $1125.
A: Absolutely! $1125 is very low for such a system.
Q: As per the review, by patience is it meant one doesn't play every spin? How long between bets if not? Here in Vegas they don't let you go too long on any game without making a bet. At least that's been my experience.
A: RSS has two betting modes, one that requires some tracking and the other one almost no tracking at all (just 1 spin). The latter is the essence of the system. Every casino will allow you to bet this way (bet for one to nine spins and then skip a bet).
Q: Izak ---

In your course description for RSS you state the following:

"A lifetime bankroll of 8,634 units are required in order to win every single run. But this is the most aggressive mode. Otherwise, one could establish a loss limit, not exceeding 354 units and meet a daily win target of 100 units very consistently."

A large bankroll is required for the "most aggressive mode." What bankroll is required for the "less aggressive mode" in which you have a loss limit?

During your testing, what was the maximum number of units required to complete a run? (This question applies to both modes.)

How many hours of play, on average, would be required to win 100 units consistently, if that was your target while playing with a loss limit?

Is this system user-friendly, or does it require a lot of practice, record-keeping and concentration?
A: The less aggressive mode is the one, which uses the bankroll of 364 units.

Those are session bankrolls. Therefore they are the maximum amount of units required to close a run.

One would win about 4-6 units per run. For 100 units, one needs to win 25 runs. Each run would take about 10 minutes. So 250 minutes or a bit more than 4 hours would be necessary to win 100 units.

The system is very user friendly, straightforward with no guessing required. It needs a little record keeping but not too much. The system gives hints on how to identify and convert a number to a single street for easy tracking. Concentration is always good to have. It's important not to make mistakes.
Q: Izak, what is the benefit of skipping a spin and then betting after a win...? And also, is it smart to trace back to the last unique streets and bet from there? Or should you just start all over? Which is the safest approach with a 354 units bankroll?
A: The benefit of skipping a bet before a new run and to track anew is due to the cyclic effect of repeating single streets. Also, as you may have seen, the full progression consists of 10 steps. Skipping a bet enables the progression not to go beyond 9, which is more manageable from a bankroll perspective and safer for the 354 unit bankroll.
Again, thank you all for your interest and valuable questions.
Don't forget to take advantage of the huge discount of 90%, which is valid until midnight, June 30, 2007, ET.
Click here to order. You can have a printout with regular air mail delivery for $20 extra for printing, shipping and handling.
Thank you,
Izak Matatya
Wishing you all the best,
Izak
---
Use the Repeating Single Streets Roulette System at Windows Casino

---
---
Click here to get a free iPod.
---
WOULD YOU LIKE TO SUBSCRIBE? Click here.
---
---
If you missed any newsletter, click here for an archive.
---
---
Poker Guide - The world's largest poker guide PokerListings.com with reviews of 750 poker sites.

Texas Holdem - Page that compares 45 Texas Holdem online poker rooms on a number of relevant features.
---
---

A sports betting service offering sports, casino and racebook action. With more than 7 years of experience in the gaming industry and located in San Jose, Costa Rica. enVivoSports.com has it all for the sports enthusiastic!

At enVivoSports.com they offer excellent customer service and Same Day Payouts 100% guarantee and 7 days a week.

enVivoSports.com offers juicy cash bonuses and special promotions all year round, so don't forget to check our web site at www.envivosports.com

Bet it your way at enVivoSports.com
---
When you open your account at enVivoSports.com you will be able to bet on sports, casino and horseracing just call us at 877-512-3503 or access our web site www.enVivoSports.com you will receive up to a 25% SIGN UP bonus for depositing funds into your betting account. Remember at enVivoSports.com you bet it your way! (
enVivosports.com is one of the very few offshore sports books that offers a .10 Cent line in baseball
).
---