Play To Win
Tips and strategies to help make you a winning casino player

Game Rules
Learn: Blackjack, Baccarat, Craps, Roulette, Slots, Video Poker, Pai Gow Poker, Texas Hold'em, Caribbean Stud, Let It Ride, Casino War, Big Six, Sic Bo (NEW!)

Systems Gallery
Win more, more often with proven betting methods from the systems gallery

Order Form
A secure on-line order form to purchase products advertised by Let's Talk Winning.

Playing Online
All about gambling at online casinos. Find out where the best deals are

Best Casino Bonuses - NEW!
The best collection of on-line casino bonuses, where you can cash $802 on your sign-up.

Links and Things
Sign our guestbook, refer a friend, link to other gambling sites.

Gambling News - NEW!
Latest Gambling News - updated daily including gambling articles, joke of the day and a gambling dictionary.

Newsletter
Click above to read the current edition of our weekly newsletter. Then get your own free subscription right here. Enter your e-mail address for immediate delivery of an introductory issue, including a FREE ROULETTE SYSTEM by clicking here.

Please tell all your friends about it.

On-Line Forum
Post a gambling question or opinion - get an answer . . .
---
Below is a selection of the most recommended
on-line casinos
and sportsbooks

Check out:
On-Line Casino of the Month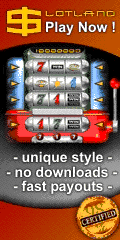 ================================================ Wednesday, July 2, 2008

SBSMP - the New Simple Baccarat System with the Mildest Progression
Hello everyone,
After the tremendous success of the Cluster System for All Even Bets, I have a brand new system for you, this time for Baccarat, titled SBSMP - Simple Baccarat System with the Mildest Progression.
Based on the third card drawing rule in Baccarat, It is a statistically known fact that on the long run the Banker side wins 45.86% of all bets, the Player side wins 44.62% of all bets and 9.52% of all bets are Tie decisions.
That means, out of 10,000 Baccarat decisions, we could have nearly 952 Ties, 4586 Bankers and 4462 Players. Ignoring Tie bets, we could have 4586 - 4462 = 124 more Banker decisions than Player decisions.
The house edge is 1.06% on the banker bet, 1.24% on the player bet, and 14.36% on the tie.
Would we have an advantage then placing bets only on Banker decisions? Not necessarily, because of the 5% commission taken on Banker wins, but slightly over placing bets only on Player. However, some shoes can be Player decision rich as well.
We really need a bet selection, which encourages more Banker bets, while taking advantage of all Player streaks at the same time.
The new SBSMP - Simple Baccarat System with the Mildest Progression does exactly that. Its bet selection is ideally suited for this statistical outcome of Banker and Player decisions. It produces lots of winning streaks in numerous conditions. When the wins are not continuous, it generates W L W L type of choppy win loss results. And this is where its mild progression comes handy winning those sequences as well.
The progression is the mildest one can ever have. The bets will never exceed 5 units maximum and most runs are won within the first 3 stages. The system is not of a grind type, producing 1 unit per run, and can end with a few units profit for a particular run.
The bet selection is probably one of the best ever. It's very simple in the fact, that you need to know only three rules to follow and everything runs as mechanically as ever, not requiring any guesses at all. It's also excellent if the table does not allow you to sit without placing any bets, because the system is very dynamic and you will be placing bets on every decision from the very beginning of the shoe until the end.
You may leave the shoe, of course, anytime you have reached a certain win target for that shoe. That can be up to 10 units per shoe. Or, if you prefer, you can stay at the same table and bet shoe after shoe. The system will perform equally well.
With a 35 unit buy in, you can be safe to play for the entire day for as many shoes you like. With a lifetime bankroll of 100 units, the system will generate continuous and consistent profits for you.
The bet selection is suitable for Baccarat only. It even generates profits using flat bets only. And its progression is so smart, it will work for you for any other even bet game, such as in Roulette, Craps, Sic-Bo and Casino War. So, you can use any bet selection of your own preference with SBSMP's mild progression in the above games.
The system is not hard to learn. In fact, the rules are very specific and learning only 3 rules makes it extremely simple to use. One has to coordinate the bet selection with the use of the mild progression properly and they are harmonized ideally, as you will see in the 26 page system document.
A fully automated simulation is also provided to you. It contains 1000 random Baccarat decisions and with the pressing of one button, it will generate a new set of 1000 random decisions, where you can see the outcome on a graph, as well as each separate decision, calculating the commissions for Banker wins after each bet.
Taking all commissions into account, the system generates 100 units for those 1000 decisions, or about 1 unit profit per 10 decisions in average, which makes about 7 units per shoe. And since the progression is very mild, you can even use large size units to maximize your profits. At $10 a bet, one can generate $70 per shoe. At $100 units, one can make $700 per shoe. You can start small and as you gain confidence, you can gradually increase your unit size using your winnings.
The chart below shows the performance of the system, reflecting the above results: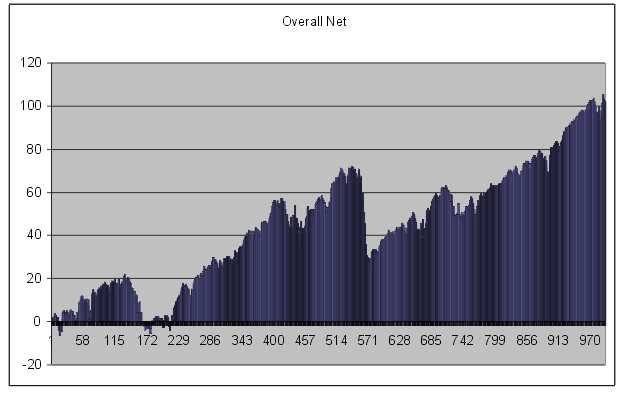 As you can see, within 300 decisions, the system generates about 30 units, within 500 decisions, about 50 units and within 1000 decisions about 100 units, so it's pretty much consistent and the profits are steadily growing.
The system goes for $320 and it's worth every penny. It will pay itself off within the first day of its use and then it's open ended profits for you. You have a full money back guarantee on it within 30 days of your purchase upon your full satisfaction.
Click here to order. You can have a printout with regular air mail delivery for $20 extra for printing, shipping and handling.
Thank you,
Izak Matatya
Wishing you all the best,
Izak
---
---
Click here to get a free iPod.
---
WOULD YOU LIKE TO SUBSCRIBE? Click here.
---
---
If you missed any newsletter, click here for an archive.
---
---
Poker Guide - The world's largest poker guide PokerListings.com with reviews of 750 poker sites.

Texas Holdem - Page that compares 45 Texas Holdem online poker rooms on a number of relevant features.
---
---
---

A sports betting service offering sports, casino and racebook action. With more than 7 years of experience in the gaming industry and located in San Jose, Costa Rica. enVivoSports.com has it all for the sports enthusiastic!

At enVivoSports.com they offer excellent customer service and Same Day Payouts 100% guarantee and 7 days a week.

enVivoSports.com offers juicy cash bonuses and special promotions all year round, so don't forget to check our web site at www.envivosports.com

Bet it your way at enVivoSports.com
---
When you open your account at enVivoSports.com you will be able to bet on sports, casino and horseracing just call us at 877-512-3503 or access our web site www.enVivoSports.com you will receive up to a 25% SIGN UP bonus for depositing funds into your betting account. Remember at enVivoSports.com you bet it your way! (
enVivosports.com is one of the very few offshore sports books that offers a .10 Cent line in baseball
).
---