Play To Win
Tips and strategies to help make you a winning casino player

Game Rules
Learn: Blackjack, Baccarat, Craps, Roulette, Slots, Video Poker, Pai Gow Poker, Texas Hold'em, Caribbean Stud, Let It Ride, Casino War, Big Six, Sic Bo (NEW!)

Systems Gallery
Win more, more often with proven betting methods from the systems gallery

Order Form
A secure on-line order form to purchase products advertised by Let's Talk Winning.

Playing Online
All about gambling at online casinos. Find out where the best deals are

Best Casino Bonuses - NEW!
The best collection of on-line casino bonuses, where you can cash $802 on your sign-up.

Links and Things
Sign our guestbook, refer a friend, link to other gambling sites.

Gambling News - NEW!
Latest Gambling News - updated daily including gambling articles, joke of the day and a gambling dictionary.

Newsletter
Click above to read the current edition of our weekly newsletter. Then get your own free subscription right here. Enter your e-mail address for immediate delivery of an introductory issue, including a FREE ROULETTE SYSTEM by clicking here.

Please tell all your friends about it.

On-Line Forum
Post a gambling question or opinion - get an answer . . .
---
Below is a selection of the most recommended
on-line casinos
and sportsbooks
Check out:
On-Line Casino of the Month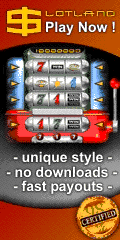 ============================================================== Saturday, July 28, 2012

Free Gambling System of the Month - Casino War - Double Win Strategy
Dear Let's Talk Winning subscribers, customers, friends,
Last time I have visited the casino, it was very crowded and hard to get a seat at a Roulette or Baccarat table. Walking around, I found a table, which was totally empty. It drew my curiosity and approached the table to see what it was. It was a Casino War table and I was wondering why nobody was playing on that table. I guess, it must be a popularity question, as BlackJack, Craps, Roulette and Baccarat tables were all occupied.
I wonder why War would not be so popular. After all, it's the easiest game to play and the fastest, I find. Well, I sat down and applied one of my strategies, that I will share with you today as a free gambling system. You can apply it to all even bet games.
Casino War consists of placing a bet. The dealer deals you a card and him/herself. The card that has the higher denomination wins, as simple as that and you get paid even.
Where does the casino get its edge? Well, every game has a built-in casino advantage. In War, if there is equality, one has the option of either quitting and accepting a loss, or betting the exact same amount. If one wins, casino pays the original bet and not the double. If one loses, one loses both bets.
The house advantage is lower if one goes to war, meaning that the player places the same bet on equality, and our system will always go to war.
The system is extremely simply to use but very effective and powerful. The table limits at the casino I play (Casino of Montreal) is $15 minimum and $1000 maximum or a range of 1-65. I have limited my highest bet to 40 units, thus was able to use quarters (green chips) of $25 as a unit size and not reach the max bet of $1000 if I had to.
The system however, will use a max bet of 20 units. In case your last bet was les than 20 units, you still place your next bet, even if it's above 20 units, as you haven't reached 20 units yet, as long as it does not exceed 40 units, as that would exceed the table limit.
My win target for the day was 60 units with a session bankroll of 100 chips (of $25). +60 or -60 would be the quitting points, whichever comes first, hopefully the former. I have kept the entire log of 441 hands I played, that I fully documented for you in this newsletter. Despite some abandoned runs (having reached bets higher than 20), I was able to achieve the +60 unit goal for the day.
Casino War is a real fast game, particularly when I'm totally alone at the table. It took not more than 30 seconds to play a hand, thus 441 hands was a matter of 220 minutes or 3.5 hours of continuous play.
Now, the strategy:
You place 1 chip (1 unit / $25) initially. If you lose, you keep betting 1 unit, until a win, while keeping track of your net balance for that run. A run will be complete when you're ahead by 1 unit, then you reset and place 1 unit again. If you win your bet, you look at the amount of the negative balance you have for that run and place 1 unit more than that amount. If you were, for instance, at -6 units for that run after your win, you place 7 units next. This way your second win will always bring you ahead for the run and you reset.
If you lose your bet after the win, you register your loss and add it to your negative balance for the run and bet 1 unit, as after every loss, you bet 1 unit, until you win again.
So a long sequence of consecutive losses will cost you only 1 unit per loss and a double win will close the run with 1 unit profit for the run.
If you reach your maximum bet of 20 units and you lose, you accept the loss, you reset as though it was the end of the run and bet 1 unit again until your next win.
If there is equality and you decide to go to war by placing the same amount and you lose your bet, your register this double amount that you lost in your net for run and place 1 unit next, since it was a loss. You keep betting again only 1 unit until you win. After the win, you look how much you're down and you bet 1 unit more. A double win will close the run with 1 unit profit.
Here is the 441 hand log, which stops at +60 units profit:
Hand
Dealer
Player
Bet
W/L
Cash
Net for Run
Run
Net
1
Q
K
1
Lose
-1
-1
0
-1
2
5
8
1
Win
1
0
0
0
3
5
3
1
Lose
-1
-1
0
-1
4
6
1
1
Lose
-1
-2
0
-2
5
3
Q
1
Win
1
-1
0
-1
6
4
10
2
Win
2
1
1
1
7
8
3
1
Lose
-1
-1
0
0
8
7
K
1
Win
1
0
0
1
9
2
3
1
Win
1
1
1
2
10
Q
J
1
Lose
-1
-1
0
1
11
3
4
1
Win
1
0
0
2
12
4
Q
1
Win
1
1
1
3
13
Q
6
1
Lose
-1
-1
0
2
14
Q
5
1
Lose
-1
-2
0
1
15
A
A
1
War
0
-2
0
1
16
2
A
1
Win
1
-1
0
2
17
A
2
2
Lose
-2
-3
0
0
18
1
2
1
Win
1
-2
0
1
19
A
6
3
Lose
-3
-5
0
-2
20
10
K
1
Win
1
-4
0
-1
21
J
1
5
Lose
-5
-9
0
-6
22
7
6
1
Lose
-1
-10
0
-7
23
4
J
1
Win
1
-9
0
-6
24
2
8
10
Win
10
1
1
4
25
J
K
1
Win
1
1
1
5
26
1
8
1
Win
1
1
1
6
27
9
Q
1
Win
1
1
1
7
28
9
5
1
Lose
-1
-1
0
6
29
8
1
1
Lose
-1
-2
0
5
30
Q
10
1
Lose
-1
-3
0
4
31
1
5
1
Win
1
-2
0
5
32
9
3
3
Lose
-3
-5
0
2
33
K
9
1
Lose
-1
-6
0
1
34
6
10
1
Win
1
-5
0
2
35
9
Q
6
Win
6
1
1
8
36
10
5
1
Lose
-1
-1
0
7
37
5
6
1
Win
1
0
0
8
38
9
10
1
Win
1
1
1
9
39
Q
3
1
Lose
-1
-1
0
8
40
5
4
1
Lose
-1
-2
0
7
41
6
10
1
Win
1
-1
0
8
42
2
2
2
War
0
-1
0
8
43
A
2
2
Lose
-4
-5
0
4
44
J
J
1
War
0
-5
0
4
45
Q
3
1
Lose
-2
-7
0
2
46
A
6
1
Lose
-1
-8
0
1
47
3
Q
1
Win
1
-7
0
2
48
4
9
8
Win
8
1
1
10
49
K
10
1
Lose
-1
-1
0
9
50
10
J
1
Win
1
0
0
10
51
8
10
1
Win
1
1
1
11
52
2
10
1
Win
1
1
1
12
53
J
J
1
War
0
0
0
12
54
A
5
1
Lose
-2
-2
0
10
55
5
9
1
Win
1
-1
0
11
56
1
A
2
Win
2
1
1
13
57
2
3
1
Win
1
1
1
14
58
Q
5
1
Lose
-1
-1
0
13
59
4
10
1
Win
1
0
0
14
60
10
3
1
Lose
-1
-1
0
13
61
K
A
1
Lose
-1
-2
0
12
62
4
9
1
Win
1
-1
0
13
63
1
2
2
Win
2
1
1
15
64
10
6
1
Lose
-1
-1
0
14
65
J
3
1
Lose
-1
-2
0
13
66
J
3
1
Lose
-1
-3
0
12
67
8
Q
1
Win
1
-2
0
13
68
10
7
3
Lose
-3
-5
0
10
69
2
4
1
Win
1
-4
0
11
70
7
10
5
Win
5
1
1
16
71
10
Q
1
Win
1
1
1
17
72
J
A
1
Lose
-1
-1
0
16
73
6
A
1
Win
1
0
0
17
74
3
J
1
Win
1
1
1
18
75
4
9
1
Win
1
1
1
19
76
A
8
1
Lose
-1
-1
0
18
77
J
9
1
Lose
-1
-2
0
17
78
A
9
1
Lose
-1
-3
0
16
79
9
Q
1
Win
1
-2
0
17
80
5
2
3
Lose
-3
-5
0
14
81
3
4
1
Win
1
-4
0
15
82
8
10
5
Win
5
1
1
20
83
4
4
1
War
0
0
0
20
84
8
K
1
Win
1
1
1
21
85
3
J
1
Win
1
1
1
22
86
9
10
1
Win
1
1
1
23
87
7
A
1
Win
1
1
1
24
88
4
K
1
Win
1
1
1
25
89
3
Q
1
Win
1
1
1
26
90
K
4
1
Lose
-1
-1
0
25
91
Q
1
1
Lose
-1
-2
0
24
92
1
8
1
Win
1
-1
0
25
93
2
Q
2
Win
2
1
1
27
94
A
A
1
War
0
0
0
27
95
4
6
1
Win
1
1
1
28
96
A
10
1
Lose
-1
-1
0
27
97
1
6
1
Win
1
0
0
28
98
J
1
1
Lose
-1
-1
0
27
99
6
9
1
Win
1
0
0
28
100
8
A
1
Win
1
1
1
29
101
4
9
1
Win
1
1
1
30
102
K
5
1
Lose
-1
-1
0
29
103
A
8
1
Lose
-1
-2
0
28
104
9
10
1
Win
1
-1
0
29
105
2
4
2
Win
2
1
1
31
106
K
10
1
Lose
-1
-1
0
30
107
6
4
1
Lose
-1
-2
0
29
108
8
6
1
Lose
-1
-3
0
28
109
9
5
1
Lose
-1
-4
0
27
110
10
Q
1
Win
1
-3
0
28
111
8
5
4
Lose
-4
-7
0
24
112
8
7
1
Lose
-1
-8
0
23
113
3
10
1
Win
1
-7
0
24
114
J
4
8
Lose
-8
-15
0
16
115
K
5
1
Lose
-1
-16
0
15
116
K
J
1
Lose
-1
-17
0
14
117
5
7
1
Win
1
-16
0
15
118
6
8
17
Win
17
1
1
32
119
2
2
1
War
0
0
0
32
120
J
3
1
Lose
-2
-2
0
30
121
Q
6
1
Lose
-1
-3
0
29
122
K
8
1
Lose
-1
-4
0
28
123
4
Q
1
Win
1
-3
0
29
124
5
2
4
Lose
-4
-7
0
25
125
6
Q
1
Win
1
-6
0
26
126
6
8
7
Win
7
1
1
33
127
9
7
1
Lose
-1
-1
0
32
128
10
2
1
Lose
-1
-2
0
31
129
9
5
1
Lose
-1
-3
0
30
130
1
6
1
Win
1
-2
0
31
131
3
5
3
Win
3
1
1
34
132
6
Q
1
Win
1
1
1
35
133
3
7
1
Win
1
1
1
36
134
1
A
1
Win
1
1
1
37
135
9
8
1
Lose
-1
-1
0
36
136
2
A
1
Win
1
0
0
37
137
8
1
1
Lose
-1
-1
0
36
138
K
2
1
Lose
-1
-2
0
35
139
6
3
1
Lose
-1
-3
0
34
140
4
J
1
Win
1
-2
0
35
141
3
2
3
Lose
-3
-5
0
32
142
6
1
1
Lose
-1
-6
0
31
143
8
4
1
Lose
-1
-7
0
30
144
8
A
1
Win
1
-6
0
31
145
7
J
7
Win
7
1
1
38
146
5
4
1
Lose
-1
-1
0
37
147
Q
K
1
Lose
-1
-2
0
36
148
1
9
1
Win
1
-1
0
37
149
8
4
2
Lose
-2
-3
0
35
150
4
A
1
Win
1
-2
0
36
151
Q
10
3
Lose
-3
-5
0
33
152
Q
5
1
Lose
-1
-6
0
32
153
8
4
1
Lose
-1
-7
0
31
154
10
9
1
Lose
-1
-8
0
30
155
8
2
1
Lose
-1
-9
0
29
156
6
1
1
Lose
-1
-10
0
28
157
5
5
1
War
0
-10
0
28
158
A
1
1
Lose
-2
-12
0
26
159
10
7
1
Lose
-1
-13
0
25
160
Q
2
1
Lose
-1
-14
0
24
161
K
3
1
Lose
-1
-15
0
23
162
1
3
1
Win
1
-14
0
24
163
1
3
15
Win
15
1
1
39
164
3
2
1
Lose
-1
-1
0
38
165
A
4
1
Lose
-1
-2
0
37
166
7
A
1
Win
1
-1
0
38
167
Q
7
2
Lose
-2
-3
0
36
168
9
2
1
Lose
-1
-4
0
35
169
8
3
1
Lose
-1
-5
0
34
170
4
10
1
Win
1
-4
0
35
171
3
2
5
Lose
-5
-9
0
30
172
9
3
1
Lose
-1
-10
0
29
173
6
10
1
Win
1
-9
0
30
174
Q
3
10
Lose
-10
-19
0
20
175
K
10
1
Lose
-1
-20
0
19
176
7
7
1
War
0
-20
0
19
177
3
A
1
Win
1
-19
0
20
178
J
10
20
Lose
-20
-39
1
0
179
10
6
1
Lose
-1
-1
0
-1
180
8
Q
1
Win
1
0
0
0
181
5
2
1
Lose
-1
-1
0
-1
182
8
K
1
Win
1
0
0
0
183
8
7
1
Lose
-1
-1
0
-1
184
7
7
1
War
0
-1
0
-1
185
4
A
1
Win
1
0
0
0
186
J
6
1
Lose
-1
-1
0
-1
187
8
8
1
War
0
-1
0
-1
188
4
6
1
Win
1
0
0
0
189
3
7
1
Win
1
1
1
1
190
8
9
1
Win
1
1
1
2
191
8
J
1
Win
1
1
1
3
192
A
10
1
Lose
-1
-1
0
2
193
A
2
1
Lose
-1
-2
0
1
194
6
7
1
Win
1
-1
0
2
195
10
6
2
Lose
-2
-3
0
0
196
5
A
1
Win
1
-2
0
1
197
1
9
3
Win
3
1
1
4
198
10
6
1
Lose
-1
-1
0
3
199
8
J
1
Win
1
0
0
4
200
K
8
1
Lose
-1
-1
0
3
201
J
6
1
Lose
-1
-2
0
2
202
7
8
1
Win
1
-1
0
3
203
Q
10
2
Lose
-2
-3
0
1
204
J
5
1
Lose
-1
-4
0
0
205
10
K
1
Win
1
-3
0
1
206
10
1
4
Lose
-4
-7
0
-3
207
Q
8
1
Lose
-1
-8
0
-4
208
3
A
1
Win
1
-7
0
-3
209
9
4
8
Lose
-8
-15
0
-11
210
Q
9
1
Lose
-1
-16
0
-12
211
8
Q
1
Win
1
-15
0
-11
212
6
2
16
Lose
-16
-31
0
-27
213
A
5
1
Lose
-1
-32
0
-28
214
7
10
1
Win
1
-31
0
-27
215
J
Q
32
Win
32
1
1
5
216
6
9
1
Win
1
1
1
6
217
9
3
1
Lose
-1
-1
0
5
218
1
1
1
War
0
-1
0
5
219
Q
2
1
Lose
-2
-3
0
3
220
3
9
1
Win
1
-2
0
4
221
J
J
3
War
0
-2
0
4
222
3
2
3
Lose
-6
-8
0
-2
223
Q
9
1
Lose
-1
-9
0
-3
224
3
10
1
Win
1
-8
0
-2
225
9
6
9
Lose
-9
-17
0
-11
226
8
4
1
Lose
-1
-18
0
-12
227
J
7
1
Lose
-1
-19
0
-13
228
8
10
1
Win
1
-18
0
-12
229
7
A
19
Win
19
1
1
7
230
10
10
1
War
0
0
0
7
231
5
A
1
Win
1
1
1
8
232
7
2
1
Lose
-1
-1
0
7
233
6
2
1
Lose
-1
-2
0
6
234
K
7
1
Lose
-1
-3
0
5
235
Q
A
1
Lose
-1
-4
0
4
236
2
Q
1
Win
1
-3
0
5
237
7
1
4
Lose
-4
-7
0
1
238
K
3
1
Lose
-1
-8
0
0
239
J
2
1
Lose
-1
-9
0
-1
240
2
3
1
Win
1
-8
0
0
241
8
10
9
Win
9
1
1
9
242
5
5
1
War
0
0
0
9
243
Q
7
1
Lose
-2
-2
0
7
244
10
9
1
Lose
-1
-3
0
6
245
8
2
1
Lose
-1
-4
0
5
246
A
6
1
Lose
-1
-5
0
4
247
A
Q
1
Win
1
-4
0
5
248
1
Q
5
Win
5
1
1
10
249
K
7
1
Lose
-1
-1
0
9
250
Q
5
1
Lose
-1
-2
0
8
251
1
J
1
Win
1
-1
0
9
252
5
8
2
Win
2
1
1
11
253
K
1
1
Lose
-1
-1
0
10
254
K
9
1
Lose
-1
-2
0
9
255
7
6
1
Lose
-1
-3
0
8
256
8
2
1
Lose
-1
-4
0
7
257
1
1
1
War
0
-4
0
7
258
A
J
1
Win
1
-3
0
8
259
9
A
4
Win
4
1
1
12
260
6
5
1
Lose
-1
-1
0
11
261
Q
4
1
Lose
-1
-2
0
10
262
2
A
1
Win
1
-1
0
11
263
1
J
2
Win
2
1
1
13
264
K
5
1
Lose
-1
-1
0
12
265
9
K
1
Win
1
0
0
13
266
A
1
1
Lose
-1
-1
0
12
267
2
5
1
Win
1
0
0
13
268
4
1
1
Lose
-1
-1
0
12
269
J
4
1
Lose
-1
-2
0
11
270
1
J
1
Win
1
-1
0
12
271
5
4
2
Lose
-2
-3
0
10
272
K
1
1
Lose
-1
-4
0
9
273
7
1
1
Lose
-1
-5
0
8
274
10
4
1
Lose
-1
-6
0
7
275
6
1
1
Lose
-1
-7
0
6
276
3
J
1
Win
1
-6
0
7
277
8
J
7
Win
7
1
1
14
278
1
9
1
Win
1
1
1
15
279
7
A
1
Win
1
1
1
16
280
1
4
1
Win
1
1
1
17
281
A
10
1
Lose
-1
-1
0
16
282
A
7
1
Lose
-1
-2
0
15
283
6
1
1
Lose
-1
-3
0
14
284
1
A
1
Win
1
-2
0
15
285
6
J
3
Win
3
1
1
18
286
J
1
1
Lose
-1
-1
0
17
287
3
K
1
Win
1
0
0
18
288
1
10
1
Win
1
1
1
19
289
4
2
1
Lose
-1
-1
0
18
290
3
8
1
Win
1
0
0
19
291
4
6
1
Win
1
1
1
20
292
5
8
1
Win
1
1
1
21
293
J
10
1
Lose
-1
-1
0
20
294
4
3
1
Lose
-1
-2
0
19
295
6
A
1
Win
1
-1
0
20
296
Q
5
2
Lose
-2
-3
0
18
297
7
9
1
Win
1
-2
0
19
298
8
A
3
Win
3
1
1
22
299
8
1
1
Lose
-1
-1
0
21
300
10
1