Play To Win
Tips and strategies to help make you a winning casino player

Game Rules
Learn: Blackjack, Baccarat, Craps, Roulette, Slots, Video Poker, Pai Gow Poker, Texas Hold'em, Caribbean Stud, Let It Ride, Casino War, Big Six, Sic Bo (NEW!)

Systems Gallery
Win more, more often with proven betting methods from the systems gallery

Order Form
A secure on-line order form to purchase products advertised by Let's Talk Winning.

Playing Online
All about gambling at online casinos. Find out where the best deals are

Best Casino Bonuses - NEW!
The best collection of on-line casino bonuses, where you can cash $802 on your sign-up.

Links and Things
Sign our guestbook, refer a friend, link to other gambling sites.

Gambling News - NEW!
Latest Gambling News - updated daily including gambling articles, joke of the day and a gambling dictionary.

Newsletter
Click above to read the current edition of our weekly newsletter. Then get your own free subscription right here. Enter your e-mail address for immediate delivery of an introductory issue, including a FREE ROULETTE SYSTEM by clicking here.

Please tell all your friends about it.

On-Line Forum
Post a gambling question or opinion - get an answer . . .
---
Below is a selection of the most recommended
on-line casinos
and sportsbooks
Check out:
On-Line Casino of the Month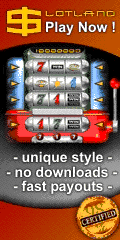 ============================================== Wednesday, July 13, 2011

Free Gambling System - A Simple Baccarat System
Dear LTW customers and subscribers,
Here is the free gambling system of this month: a Simple Baccarat system, that uses a very low buy-in bankroll, such as 10 units altogether, highest bet 2 units and it gives you lots of winning sessions with a minimal amount of tracking.
The way it works is also very simple.
You wait until a Player (P) decision comes up and you bet 1 unit for the P decision to repeat. If it wins, you keep betting 1 unit on P following a P.
If it loses to a Banker (B) decision, then you bet 2 units on Banker. If Banker comes up indeed, this ends your 1,2 progression and you end the run still with a profit, despite the fact that the repetition of P got interrupted. Then you wait again for a P to show up.
If P comes up after you lost to the B you're betting on, you go back to the initial criteria and bet 1 unit following the P.
That's all. You can apply it to any even bet game.
So, the advantages are the following:
A sequence of repeating P's keep adding 1 unit to your bankroll.
A sequence of repeating B's do not make you lose your bets, as you are not betting during that time.
A losing P repetition gives you another chance to win your run, if the following B decision repeats.
Having a very mild progression as 1, 2, should not make you have to dig into your wallet heavily.
In any shoe, you should be able to set a win target of +4 units and quit the shoe when it happens. Never lose more than the allocated 10 units.
Here is a small simulation taken from the Zumma tester books 1K and 600 shoes, the first 3 shoes of each respectively.
Example 1:
| | | | | | | | |
| --- | --- | --- | --- | --- | --- | --- | --- |
| Shoe | Hand | Decision | Bet on | Bet Amount | W/L | Cash | Net |
| 1 | 1 | B | | | | | |
| 1 | 2 | P | No Bet | 0 | | 0 | 0 |
| 1 | 3 | P | P | 1 | W | 1 | 1 |
| 1 | 4 | B | P | 1 | L | -1 | 0 |
| 1 | 5 | P | B | 2 | L | -2 | -2 |
| 1 | 6 | B | P | 1 | L | -1 | -3 |
| 1 | 7 | P | B | 2 | L | -2 | -5 |
| 1 | 8 | P | P | 1 | W | 1 | -4 |
| 1 | 9 | B | P | 1 | L | -1 | -5 |
| 1 | 10 | B | B | 2 | W | 1.9 | -3.1 |
| 1 | 11 | B | No Bet | 0 | | 0 | -3.1 |
| 1 | 12 | P | No Bet | 0 | | 0 | -3.1 |
| 1 | 13 | P | P | 1 | W | 1 | -2.1 |
| 1 | 14 | B | P | 1 | L | -1 | -3.1 |
| 1 | 15 | B | B | 2 | W | 1.9 | -1.2 |
| 1 | 16 | B | No Bet | 0 | | 0 | -1.2 |
| 1 | 17 | B | No Bet | 0 | | 0 | -1.2 |
| 1 | 18 | B | No Bet | 0 | | 0 | -1.2 |
| 1 | 19 | P | No Bet | 0 | | 0 | -1.2 |
| 1 | 20 | B | P | 1 | L | -1 | -2.2 |
| 1 | 21 | B | B | 2 | W | 1.9 | -0.3 |
| 1 | 22 | P | No Bet | 0 | | 0 | -0.3 |
| 1 | 23 | B | P | 1 | L | -1 | -1.3 |
| 1 | 24 | B | B | 2 | W | 1.9 | 0.6 |
| 1 | 25 | B | No Bet | 0 | | 0 | 0.6 |
| 1 | 26 | P | No Bet | 0 | | 0 | 0.6 |
| 1 | 27 | B | P | 1 | L | -1 | -0.4 |
| 1 | 28 | P | B | 2 | L | -2 | -2.4 |
| 1 | 29 | B | P | 1 | L | -1 | -3.4 |
| 1 | 30 | P | B | 2 | L | -2 | -5.4 |
| 1 | 31 | P | P | 1 | W | 1 | -4.4 |
| 1 | 32 | P | P | 1 | W | 1 | -3.4 |
| 1 | 33 | B | P | 1 | L | -1 | -4.4 |
| 1 | 34 | B | B | 2 | W | 1.9 | -2.5 |
| 1 | 35 | P | No Bet | 0 | | 0 | -2.5 |
| 1 | 36 | P | P | 1 | W | 1 | -1.5 |
| 1 | 37 | P | P | 1 | W | 1 | -0.5 |
| 1 | 38 | B | P | 1 | L | -1 | -1.5 |
| 1 | 39 | P | B | 2 | L | -2 | -3.5 |
| 1 | 40 | P | P | 1 | W | 1 | -2.5 |
| 1 | 41 | P | P | 1 | W | 1 | -1.5 |
| 1 | 42 | B | P | 1 | L | -1 | -2.5 |
| 1 | 43 | P | B | 2 | L | -2 | -4.5 |
| 1 | 44 | P | P | 1 | W | 1 | -3.5 |
| 1 | 45 | P | P | 1 | W | 1 | -2.5 |
| 1 | 46 | P | P | 1 | W | 1 | -1.5 |
| 1 | 47 | P | P | 1 | W | 1 | -0.5 |
| 1 | 48 | B | P | 1 | L | -1 | -1.5 |
| 1 | 49 | B | B | 2 | W | 1.9 | 0.4 |
| 1 | 50 | P | No Bet | 0 | | 0 | 0.4 |
| 1 | 51 | P | P | 1 | W | 1 | 1.4 |
| 1 | 52 | P | P | 1 | W | 1 | 2.4 |
| 1 | 53 | B | P | 1 | L | -1 | 1.4 |
| 1 | 54 | B | B | 2 | W | 1.9 | 3.3 |
| 1 | 55 | B | No Bet | 0 | | 0 | 3.3 |
| 1 | 56 | B | No Bet | 0 | | 0 | 3.3 |
| 1 | 57 | P | No Bet | 0 | | 0 | 3.3 |
| 1 | 58 | P | P | 1 | W | 1 | 4.3 |
| 1 | 59 | B | P | 1 | L | -1 | 3.3 |
| 1 | 60 | B | B | 2 | W | 1.9 | 5.2 |
| 1 | 61 | B | No Bet | 0 | | 0 | 5.2 |
| 1 | 62 | B | No Bet | 0 | | 0 | 5.2 |
| 1 | 63 | P | No Bet | 0 | | 0 | 5.2 |
| 1 | 64 | B | P | 1 | L | -1 | 4.2 |
| 1 | 65 | B | B | 2 | W | 1.9 | 6.1 |
| 1 | 66 | B | No Bet | 0 | | 0 | 6.1 |
| 1 | 67 | P | No Bet | 0 | | 0 | 6.1 |
| 1 | 68 | B | P | 1 | L | -1 | 5.1 |
| 1 | 69 | B | B | 2 | W | 1.9 | 7 |
| 1 | 70 | P | No Bet | 0 | | 0 | 7 |
| 1 | 71 | P | P | 1 | W | 1 | 8 |
| 2 | 1 | P | P | 1 | W | 1 | 9 |
| 2 | 2 | B | P | 1 | L | -1 | 8 |
| 2 | 3 | B | B | 2 | W | 1.9 | 9.9 |
| 2 | 4 | B | No Bet | 0 | | 0 | 9.9 |
| 2 | 5 | P | No Bet | 0 | | 0 | 9.9 |
| 2 | 6 | B | P | 1 | L | -1 | 8.9 |
| 2 | 7 | P | B | 2 | L | -2 | 6.9 |
| 2 | 8 | P | P | 1 | W | 1 | 7.9 |
| 2 | 9 | P | P | 1 | W | 1 | 8.9 |
| 2 | 10 | P | P | 1 | W | 1 | 9.9 |
| 2 | 11 | P | P | 1 | W | 1 | 10.9 |
| 2 | 12 | B | P | 1 | L | -1 | 9.9 |
| 2 | 13 | B | B | 2 | W | 1.9 | 11.8 |
| 2 | 14 | P | No Bet | 0 | | 0 | 11.8 |
| 2 | 15 | B | P | 1 | L | -1 | 10.8 |
| 2 | 16 | B | B | 2 | W | 1.9 | 12.7 |
| 2 | 17 | B | No Bet | 0 | | 0 | 12.7 |
| 2 | 18 | B | No Bet | 0 | | 0 | 12.7 |
| 2 | 19 | B | No Bet | 0 | | 0 | 12.7 |
| 2 | 20 | B | No Bet | 0 | | 0 | 12.7 |
| 2 | 21 | P | No Bet | 0 | | 0 | 12.7 |
| 2 | 22 | P | P | 1 | W | 1 | 13.7 |
| 2 | 23 | P | P | 1 | W | 1 | 14.7 |
| 2 | 24 | P | P | 1 | W | 1 | 15.7 |
| 2 | 25 | P | P | 1 | W | 1 | 16.7 |
| 2 | 26 | P | P | 1 | W | 1 | 17.7 |
| 2 | 27 | B | P | 1 | L | -1 | 16.7 |
| 2 | 28 | B | B | 2 | W | 1.9 | 18.6 |
| 2 | 29 | B | No Bet | 0 | | 0 | 18.6 |
| 2 | 30 | P | No Bet | 0 | | 0 | 18.6 |
| 2 | 31 | B | P | 1 | L | -1 | 17.6 |
| 2 | 32 | B | B | 2 | W | 1.9 | 19.5 |
| 2 | 33 | P | No Bet | 0 | | 0 | 19.5 |
| 2 | 34 | B | P | 1 | L | -1 | 18.5 |
| 2 | 35 | B | B | 2 | W | 1.9 | 20.4 |
| 2 | 36 | P | No Bet | 0 | | 0 | 20.4 |
| 2 | 37 | B | P | 1 | L | -1 | 19.4 |
| 2 | 38 | B | B | 2 | W | 1.9 | 21.3 |
| 2 | 39 | B | No Bet | 0 | | 0 | 21.3 |
| 2 | 40 | B | No Bet | 0 | | 0 | 21.3 |
| 2 | 41 | B | No Bet | 0 | | 0 | 21.3 |
| 2 | 42 | P | No Bet | 0 | | 0 | 21.3 |
| 2 | 43 | B | P | 1 | L | -1 | 20.3 |
| 2 | 44 | B | B | 2 | W | 1.9 | 22.2 |
| 2 | 45 | B | No Bet | 0 | | 0 | 22.2 |
| 2 | 46 | P | No Bet | 0 | | 0 | 22.2 |
| 2 | 47 | B | P | 1 | L | -1 | 21.2 |
| 2 | 48 | B | B | 2 | W | 1.9 | 23.1 |
| 2 | 49 | B | No Bet | 0 | | 0 | 23.1 |
| 2 | 50 | B | No Bet | 0 | | 0 | 23.1 |
| 2 | 51 | B | No Bet | 0 | | 0 | 23.1 |
| 2 | 52 | P | No Bet | 0 | | 0 | 23.1 |
| 2 | 53 | B | P | 1 | L | -1 | 22.1 |
| 2 | 54 | P | B | 2 | L | -2 | 20.1 |
| 2 | 55 | P | P | 1 | W | 1 | 21.1 |
| 2 | 56 | P | P | 1 | W | 1 | 22.1 |
| 2 | 57 | P | P | 1 | W | 1 | 23.1 |
| 2 | 58 | B | P | 1 | L | -1 | 22.1 |
| 2 | 59 | B | B | 2 | W | 1.9 | 24 |
| 2 | 60 | B | No Bet | 0 | | 0 | 24 |
| 2 | 61 | P | No Bet | 0 | | 0 | 24 |
| 2 | 62 | B | P | 1 | L | -1 | 23 |
| 2 | 63 | B | B | 2 | W | 1.9 | 24.9 |
| 2 | 64 | P | No Bet | 0 | | 0 | 24.9 |
| 2 | 65 | P | P | 1 | W | 1 | 25.9 |
| 2 | 66 | B | P | 1 | L | -1 | 24.9 |
| 2 | 67 | B | B | 2 | W | 1.9 | 26.8 |
| 2 | 68 | P | No Bet | 0 | | 0 | 26.8 |
| 2 | 69 | B | P | 1 | L | -1 | 25.8 |
| 2 | 70 | P | B | 2 | L | -2 | 23.8 |
| 2 | 71 | B | P | 1 | L | -1 | 22.8 |
| 2 | 72 | B | B | 2 | W | 1.9 | 24.7 |
| 3 | 1 | B | No Bet | 0 | | 0 | 24.7 |
| 3 | 2 | P | No Bet | 0 | | 0 | 24.7 |
| 3 | 3 | P | P | 1 | W | 1 | 25.7 |
| 3 | 4 | P | P | 1 | W | 1 | 26.7 |
| 3 | 5 | P | P | 1 | W | 1 | 27.7 |
| 3 | 6 | P | P | 1 | W | 1 | 28.7 |
| 3 | 7 | P | P | 1 | W | 1 | 29.7 |
| 3 | 8 | B | P | 1 | L | -1 | 28.7 |
| 3 | 9 | B | B | 2 | W | 1.9 | 30.6 |
| 3 | 10 | P | No Bet | 0 | | 0 | 30.6 |
| 3 | 11 | P | P | 1 | W | 1 | 31.6 |
| 3 | 12 | B | P | 1 | L | -1 | 30.6 |
| 3 | 13 | B | B | 2 | W | 1.9 | 32.5 |
| 3 | 14 | P | No Bet | 0 | | 0 | 32.5 |
| 3 | 15 | P | P | 1 | W | 1 | 33.5 |
| 3 | 16 | B | P | 1 | L | -1 | 32.5 |
| 3 | 17 | P | B | 2 | L | -2 | 30.5 |
| 3 | 18 | B | P | 1 | L | -1 | 29.5 |
| 3 | 19 | P | B | 2 | L | -2 | 27.5 |
| 3 | 20 | P | P | 1 | W | 1 | 28.5 |
| 3 | 21 | P | P | 1 | W | 1 | 29.5 |
| 3 | 22 | P | P | 1 | W | 1 | 30.5 |
| 3 | 23 | P | P | 1 | W | 1 | 31.5 |
| 3 | 24 | P | P | 1 | W | 1 | 32.5 |
| 3 | 25 | B | P | 1 | L | -1 | 31.5 |
| 3 | 26 | P | B | 2 | L | -2 | 29.5 |
| 3 | 27 | P | P | 1 | W | 1 | 30.5 |
| 3 | 28 | B | P | 1 | L | -1 | 29.5 |
| 3 | 29 | P | B | 2 | L | -2 | 27.5 |
| 3 | 30 | B | P | 1 | L | -1 | 26.5 |
| 3 | 31 | P | B | 2 | L | -2 | 24.5 |
| 3 | 32 | P | P | 1 | W | 1 | 25.5 |
| 3 | 33 | B | P | 1 | L | -1 | 24.5 |
| 3 | 34 | B | B | 2 | W | 1.9 | 26.4 |
| 3 | 35 | B | No Bet | 0 | | 0 | 26.4 |
| 3 | 36 | P | No Bet | 0 | | 0 | 26.4 |
| 3 | 37 | B | P | 1 | L | -1 | 25.4 |
| 3 | 38 | P | B | 2 | L | -2 | 23.4 |
| 3 | 39 | B | P | 1 | L | -1 | 22.4 |
| 3 | 40 | B | B | 2 | W | 1.9 | 24.3 |
| 3 | 41 | P | No Bet | 0 | | 0 | 24.3 |
| 3 | 42 | P | P | 1 | W | 1 | 25.3 |
| 3 | 43 | B | P | 1 | L | -1 | 24.3 |
| 3 | 44 | P | B | 2 | L | -2 | 22.3 |
| 3 | 45 | B | P | 1 | L | -1 | 21.3 |
| 3 | 46 | P | B | 2 | L | -2 | 19.3 |
| 3 | 47 | B | P | 1 | L | -1 | 18.3 |
| 3 | 48 | B | B | 2 | W | 1.9 | 20.2 |
| 3 | 49 | B | No Bet | 0 | | 0 | 20.2 |
| 3 | 50 | P | No Bet | 0 | | 0 | 20.2 |
| 3 | 51 | B | P | 1 | L | -1 | 19.2 |
| 3 | 52 | B | B | 2 | W | 1.9 | 21.1 |
| 3 | 53 | B | No Bet | 0 | | 0 | 21.1 |
| 3 | 54 | P | No Bet | 0 | | 0 | 21.1 |
| 3 | 55 | B | P | 1 | L | -1 | 20.1 |
| 3 | 56 | B | B | 2 | W | 1.9 | 22 |
| 3 | 57 | P | No Bet | 0 | | 0 | 22 |
| 3 | 58 | B | P | 1 | L | -1 | 21 |
| 3 | 59 | B | B | 2 | W | 1.9 | 22.9 |
| 3 | 60 | B | No Bet | 0 | | 0 | 22.9 |
| 3 | 61 | B | No Bet | 0 | | 0 | 22.9 |
| 3 | 62 | B | No Bet | 0 | | 0 | 22.9 |
| 3 | 63 | B | No Bet | 0 | | 0 | 22.9 |
| 3 | 64 | P | No Bet | 0 | | 0 | 22.9 |
| 3 | 65 | B | P | 1 | L | -1 | 21.9 |
| 3 | 66 | P | B | 2 | L | -2 | 19.9 |
| 3 | 67 | P | P | 1 | W | 1 | 20.9 |
| 3 | 68 | P | P | 1 | W | 1 | 21.9 |
| 3 | 69 | P | P | 1 | W | 1 | 22.9 |
| 3 | 70 | P | P | 1 | W | 1 | 23.9 |
Example 2:
Shoe
Hand
Decision
Bet on
Bet Amount
W/L
Cash
Net
1
1
B
1
2
B
1
3
B
1
4
B
1
5
P
1
6
B
P
1
L
-1
-1
1
7
B
B
2
W
1.9
0.9
1
8
B
No Bet
0
L
0
0.9
1
9
P
No Bet
0
L
0
0.9
1
10
P
P
1
W
1
1.9
1
11
P
P
1
W
1
2.9
1
12
P
P
1
W
1
3.9
1
13
P
P
1
W
1
4.9
1
14
P
P
1
W
1
5.9
1
15
P
P
1
W
1
6.9
1
16
B
P
1
L
-1
5.9
1
17
B
B
2
W
1.9
7.8
1
18
P
No Bet
0
L
0
7.8
1
19
B
P
1
L
-1
6.8
1
20
B
B
2
W
1.9
8.7
1
21
B
No Bet
0
L
0
8.7
1
22
P
No Bet
0
L
0
8.7
1
23
P
P
1
W
1
9.7
1
24
B
P
1
L
-1
8.7
1
25
B
B
2
W
1.9
10.6
1
26
B
No Bet
0
L
0
10.6
1
27
B
No Bet
0
L
0
10.6
1
28
P
No Bet
0
L
0
10.6
1
29
B
P
1
L
-1
9.6
1
30
P
B
2
L
-2
7.6
1
31
P
P
1
W
1
8.6
1
32
P
P
1
W
1
9.6
1
33
B
P
1
L
-1
8.6
1
34
B
B
2
W
1.9
10.5
1
35
B
No Bet
0
L
0
10.5
1
36
B
No Bet
0
L
0
10.5
1
37
P
No Bet
0
L
0
10.5
1
38
P
P
1
W
1
11.5
1
39
B
P
1
L
-1
10.5
1
40
B
B
2
W
1.9
12.4
1
41
P
No Bet
0
L
0
12.4
1
42
B
P
1
L
-1
11.4
1
43
B
B
2
W
1.9
13.3
1
44
P
No Bet
0
L
0
13.3
1
45
P
P
1
W
1
14.3
1
46
P
P
1
W
1
15.3
1
47
P
P
1
W
1
16.3
1
48
P
P
1
W
1
17.3
1
49
B
P
1
L
-1
16.3
1
50
B
B
2
W
1.9
18.2
1
51
B
No Bet
0
L
0
18.2
1
52
P
No Bet
0
L
0
18.2
1
53
B
P
1
L
-1
17.2
1
54
P
B
2
L
-2
15.2
1
55
P
P
1
W
1
16.2
1
56
P
P
1
W
1
17.2
1
57
B
P
1
L
-1
16.2
1
58
B
B
2
W
1.9
18.1
1
59
B
No Bet
0
L
0
18.1
1
60
P
No Bet
0
L
0
18.1
1
61
B
P
1
L
-1
17.1
1
62
B
B
2
W
1.9
19
1
63
P
No Bet
0
L
0
19
1
64
P
P
1
W
1
20
1
65
P
P
1
W
1
21
1
66
P
P
1
W
1
22
1
67
B
P
1
L
-1
21
1
68
P
B
2
L
-2
19
1
69
B
P
1
L
-1
18
1
70
B
B
2
W
1.9
19.9
1
71
B
No Bet
0
L
0
19.9
2
1
P
No Bet
0
L
0
19.9
2
2
P
P
1
W
1
20.9
2
3
P
P
1
W
1
21.9
2
4
B
P
1
L
-1
20.9
2
5
P
B
2
L
-2
18.9
2
6
B
P
1
L
-1
17.9
2
7
P
B
2
L
-2
15.9
2
8
P
P
1
W
1
16.9
2
9
B
P
1
L
-1
15.9
2
10
P
B
2
L
-2
13.9
2
11
B
P
1
L
-1
12.9
2
12
P
B
2
L
-2
10.9
2
13
B
P
1
L
-1
9.9
2
14
P