Play To Win
Tips and strategies to help make you a winning casino player

Game Rules
Learn: Blackjack, Baccarat, Craps, Roulette, Slots, Video Poker, Pai Gow Poker, Texas Hold'em, Caribbean Stud, Let It Ride, Casino War, Big Six, Sic Bo (NEW!)

Systems Gallery
Win more, more often with proven betting methods from the systems gallery

Order Form
A secure on-line order form to purchase products advertised by Let's Talk Winning.

Playing Online
All about gambling at online casinos. Find out where the best deals are

Best Casino Bonuses - NEW!
The best collection of on-line casino bonuses, where you can cash $802 on your sign-up.

Links and Things
Sign our guestbook, refer a friend, link to other gambling sites.

Gambling News - NEW!
Latest Gambling News - updated daily including gambling articles, joke of the day and a gambling dictionary.

Newsletter
Click above to read the current edition of our weekly newsletter. Then get your own free subscription right here. Enter your e-mail address for immediate delivery of an introductory issue, including a FREE ROULETTE SYSTEM by clicking here.

Please tell all your friends about it.

On-Line Forum
Post a gambling question or opinion - get an answer . . .
---
Below is a selection of the most recommended
on-line casinos
and sportsbooks
Check out:
On-Line Casino of the Month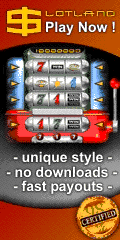 ============================================== Sunday, January 29, 2012

Review of the New WTP - Well Tempered Progression by Izak Matatya
Dear Let's Talk Winning subscribers, customers, friends,
Well, what can I say? WTP - Well Tempered Progression announced 4 days ago is a real success. I'm getting nothing but positive feedback and reviews and I'd like to share them with you in this newsletter.
Here are some directly from the discussion forum:
"Based on the early bird special Izak was offering on WTP and his no-questions-asked refund policy I decided to spend the $90 to get the system. I received my copy promptly and probably didn't spend more than an hour digesting the document that explains how the progression works. As soon as I felt confident in my understanding of the progression, I wanted to test some of my own recorded shoes to see if the results proved promising.

I want to emphasize that I am totally aware that I have not done exhaustive testing on many of my own shoes. Based on the many simulations Izak provides with the system which covers several variations or approaches to applying the system, I felt he did a thorough job of covering his bases. And like the subject of this post states, this is a preliminary analysis.

1. The first 5 shoes I tested were the first shoes I ever recorded at Harrah's casino in Reno, NV. The criteria I used to run the test included the following:

a) My base unit would be $10
b) My session bankroll would be $1000
c) My maximum bet would be 50 units

I came up with this criteria based on the results I saw in the many examples Izak provides in the WTP documentation. Also I used a bet selection based on derived Baccarat Roads which seemed to provide a higher win/loss ratio over the various bet selections Izak used in his examples. I figured this would give me a pretty good chance of getting through my test unscathed if what Izak was claiming was true.

Summary of first 5 Harrah's shoes:

a) Total hands played = 338
b) Hands won = 169, Hands lost = 169, Win rate = 50%
c) Biggest bet = 30 units
d) Highest drawdown = $366
e) Total units won = 231.75 or $2,317.50
f) Average units per shoe = 46.35

Not a bad return on a $1000 session bankroll.

Based on what I was seeing, I decided to go downtown to my favorite casino, the Silver Legacy which is in Reno, NV. I used the same criteria for playing as outlined above. I ended up playing 2 1/2 shoes before I quit and this is what happened:

I decided to quit after the 34th hand of the third shoe which was a win. My total winnings after commissions was $767.00. I stayed around long enough to finish recording the third shoe, tipped the dealer $25 and walked with $742.00. The way I look at it that's a 74.2% return on my $1000 investment in a little over 3 hours time. My bet selection method yielded 77 wins and 78 losses which is a 49.68% win rate. My biggest bet was 30 units and my highest drawdown was $500. Winning 76.7 units in approximately 2 1/2 shoes works out to a shoe win average of 30.68 units per shoe. I know it's not a long term average but I'm slowly developing some confidence in this system which I have never really experienced before with any other system I have used. WTP is looking very much like a truly consistent winning system.

Note: If I had played completely to the end of the 3rd shoe, my total winnings would have been $1,128.00 and my average units per shoe would have been 37.6 units.

I believe that the progression Izak has developed is unique and powerful. Make no mistake, I believe that any "good" system will require a reasonably sized bankroll to succeed. By reasonable for this system, I personally feel that would mean a bankroll between $1500 and $2000. I think to start with only $100 or $200 would be a mistake. Izak can correct me if he feels I am off on this assessment. Gambling is a strange endeavor. I've seen people start with practically nothing and win thousands of dollars. And, on the other side of the coin, I've seen people buy in for $20,000 and lose it all in 30 minutes.

Based on what I've seen so far, I believe that WTP has incredible potential and deserves checking out. It's not a complicated system but I think you'll find the progression itself unlike anything you've seen before. And, one more thing I noticed in the examples Izak provides, if you do abandon runs as you will occasionally do, your overall profitability doesn't suffer as it does in other systems I have seen.

I know this sounds like a TV ad but for the price and the guarantee Izak is willing to give you, you really risk nothing and have the potential to gain immensely. I seriously doubt I will regret making the decision I did."
"My examples represent much fewer shoes than Izak is showing in his simulations. When you take a representative time-slice over a much longer period of time many factors come into play and ups and downs take bigger swings. To answer the 2nd part of your post, the way WTP is set up to succeed, one has to bet every hand. I believe all of Izak's examples start betting from the very first decision out of the shoe and then a bet is placed every hand thereafter. In my case, in the beginning I always sit out a minimum of 4 hands before I start betting. Sometimes I have to wait a few more than 4 because of the way I integrate the Baccarat Roads into my bet selection. But once I start betting, I bet every hand until I decide to end my playing session. Also, I continue from one shoe to the next as if it's one giant shoe. I place a bet on the first hand out of each succeeding shoe as if it was a continuation from the last hand in the preceeding shoe.

I finished testing 10 consecutive shoes from my Harrah's test and here is a summary of the results:

I ended up having to abandon 1 run in shoe 6 which proved to be a tough nut to crack. As a result, my overall profitability suffered slightly and reduced by $991.00 and left me with $1,384.50. It should be obvious that this would reduce my overall average units per shoe.

But by the end of 10 complete shoes, I had recovered my $991.00 loss because of the abandoned run and added substantially to my total. I ended up with $3,235.00 for 10 shoes. And remember, I am using a $10 base unit to start my betting session. So even with the abandoned run, my units per shoe average is 32.35 which is better than anything I ever hoped to achieve. After 10 shoes, my draw down is still at $366.00. The profit I show as $3,235.00 is AFTER deducting Banker commissions of $425.00. I've won 323 hands and lost 344 hands which is a win rate of 48.43%. I still think this high percentage of wins is attributable to my bet selection. Even with a different bet selection and a lower win percentage WTP will still turn respectable profits consistently.

I also went downtown to play live and played 4 shoes. It's Chinese New Year and my favorite casino (Silver Legacy) plays it up big for the benefit of the large Asian contingent of players they attract. They had 4 tables open which is unusual for them. Anyway, here is a breakdown of how I did last night playing 4 shoes:

Base bet - $10
Buy in - $1000.00
Total won - $1,098.50 (I tipped the dealer $50 out of that)
Highest draw down - $39.50 (This really impressed me)
Hands won - 115
Hands lost - 114 (Win rate 50.22%)
Commission paid - $91.50
Total runs completed - 71

Note: I have never done this well in this casino over the last 6-7 years I have played here. I've definitely started to notice that the pit bosses who know me well have started to pay more attention to what I am doing. I use my own specially designed score cards which I created specifically for WTP and I seriously doubt anyone could figure out what I am doing by looking over my shoulder. Even if the casino took a picture of my score card with their "eye in the sky" I don't think they could figure out what I am doing.

Below is a summary of the 71 winning runs. The first column of numbers is the total units won and the second column is the number of hands needed to play to complete the run with a profit.

Won Hands
1 1
1 1
1 4
1 1
1 2
1 1
1 2
1 2
1 1
1 1
1 2
1 1
1 2
1 4
1 5
1 1
1 1
1 1
3 10
2 6
1 1
1 1
1 2
1 1
1 1
1 1
2 6
1 1
1 1
5 10
3 9
1 1
1 1
1 2
1 1
1 5
1 1
7 10
2 8
1 2
1 1
1 2
1 2
1 4
7 9
1 2
1 1
14 14
2 6
1 1
4 8
1 1
1 1
1 1
1 1
1 2
1 2
1 4
5 13
1 2
1 2
1 2
1 2
4 8
1 2
3 9
1 1
1 5
1 2
1 2
1 2

This averages out to a completed run every 3.21 hands. Also notice that the number of units won when completing a run varies. In this particular series, I actually won 14 units in 1 run. So, keep in mind a completed run does not mean that you are only gaining 1 unit profit (minus commission). And if you look closely at the results above, you should notice that there is a fairly consistent correlation between the number of hands to complete a run and the number of units won. Generally the longer the run, the more units won when the run is completed.

I believe that I have provided considerable information regarding what kind of results I'm getting with WTP. The basic rules for implementing the unique progression devised in this system are really not complicated at all but as with any new concept it takes a little effort and practice to properly understand it and commit it to memory. And because you can use just about any bet selection out there and can change the parameters as far as your max bet and loss limits, there is a lot of flexibility in how you use the knowledge you will gain.

Here are my closing words of advice:

"No matter how well a system has been designed, if it is not learned thoroughly and executed properly, you can almost be guaranteed that you will not win with it and will come to the conclusion that it is worthless."

If you seriously give WTP a try and take it slow, I seriously doubt that most of you will fail to find it rewarding. That's my advice to everyone who is curious about this system. If you're letting the idea of spending $90 make you hesitant to get it then you probably shouldn't be considering gambling as a casual sideline or a serious profession. And before anyone is offended by what I said, I want you to know that I have asked myself the same question many times over the years. I've lost more money than I care to think about and a couple of times I started to tell myself that there is no such thing as a winning system. Many people still tout that as gambling gospel on this and many other forums. I'm just glad that I stuck around long enough to come across this system. I believe that Izak discovered something very worthwhile and is willing to share it at a bargain of a price. Even at $550, it's absolutely worth it.

And, just in case anyone out there thinks that Izak may be rewarding me in any way to say everything I've said regarding WTP, you would be very wrong.

The best of luck to everyone!"
Those are extremely encouraging reviews. I thank the poster for the feedback.
As usual, your full satisfaction is guaranteed with full purchase and unconditional money back guarantee within 30 days of your purchase, no strings attached.
Click here to order for an email delivery of the system. For only $20 extra, you can have a printout mailed to your address.
Wishing you all the best,
Izak

www.letstalkwinning.com
email: webmaster@letstalkwinning.com

Systems Gallery: http://www.letstalkwinning.com/gallery.htm
Newsletter: http://www.letstalkwinning.com/winalert.htm
Newsletter Archive: http://www.letstalkwinning.com/archive.htm
Recommended On-Line Casinos: http://www.letstalkwinning.com/bestonline.htm
Discussion Forum: http://www.letstalkwinning.com/forum/
Latest Gambling News: http://www.letstalkwinning.com/latest-news.htm
New Art Gallery: http://www.letstalkwinning.com/Izak.Matatya.Art.htm

---
WOULD YOU LIKE TO SUBSCRIBE? Click here.
---
If you missed any newsletter, click here for an archive.
---
Poker Guide - The world's largest poker guide PokerListings.com with reviews of 750 poker sites.

Texas Holdem - Page that compares 45 Texas Holdem online poker rooms on a number of relevant features.
---