Play To Win
Tips and strategies to help make you a winning casino player

Game Rules
Learn: Blackjack, Baccarat, Craps, Roulette, Slots, Video Poker, Pai Gow Poker, Texas Hold'em, Caribbean Stud, Let It Ride, Casino War, Big Six, Sic Bo (NEW!)

Systems Gallery
Win more, more often with proven betting methods from the systems gallery

Order Form
A secure on-line order form to purchase products advertised by Let's Talk Winning.

Playing Online
All about gambling at online casinos. Find out where the best deals are

Best Casino Bonuses - NEW!
The best collection of on-line casino bonuses, where you can cash $802 on your sign-up.

Links and Things
Sign our guestbook, refer a friend, link to other gambling sites.

Gambling News - NEW!
Latest Gambling News - updated daily including gambling articles, joke of the day and a gambling dictionary.

Newsletter
Click above to read the current edition of our weekly newsletter. Then get your own free subscription right here. Enter your e-mail address for immediate delivery of an introductory issue, including a FREE ROULETTE SYSTEM by clicking here.

Please tell all your friends about it.

On-Line Forum
Post a gambling question or opinion - get an answer . . .
---
Below is a selection of the most recommended
on-line casinos
and sportsbooks
Check out:
On-Line Casino of the Month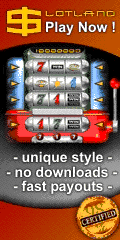 ============================================== Thursday, January 26, 2012

The New WTP - Well Tempered Progression by Izak Matatya
Dear Let's Talk Winning subscribers, customers, friends,
I'm proud to present you my newest system this week: WTP - Well Tempered Progression for all even bets and also for dozens/columns in Roulette.
Like many good things in life, this progression was discovered by pure coincidence. I was reading a book on brain teasers. In one of the puzzles, one had to know what the next number would be in a certain number series. And this was a result of a calculation. When I looked at the final series that was formed, I wondered if this could be used as a progression in gambling. My findings were extremely interesting.
The best illusion of the year 2011 was also discovered by chance. Jordan Suchow had some colorful polka dots, which kept changing colors, until Jordan accidentally dropped his Macintosh laptop, during which the screen rotated and the moving dots appeared as though they were no longer changing colors, although they were.

Read all about it at:
http://illusioncontest.neuralcorrelate.com/2011/silencing-awareness-of-change-by-background-motion/
if you're interested. It's quite fascinating.
You know even Fibonacci had nothing to do with gambling. He was a mathematician who came up with the series:
1, 2, 3, 5, 8, 13, 21, 34, 55, 89, 144, 233, 377, 610, 987,...
You might ask where this came from? In Fibonacci's day, mathematical competitions and challenges were common. For example, in 1225 Fibonacci took part in a tournament at Pisa ordered by the emperor himself, Frederick II.
It was in just this type of competition that the following problem arose:
Beginning with a single pair of rabbits, if every month each productive pair bears a new pair, which becomes productive when they are 1 month old, how many rabbits will there be after n months?
And there came the famous series we use in gambling, because the next number is the sum of the previous two, meaning that one win will cancel two previous losses. For even bets, on a short term, this can have some advantage. Why short term? Because, as you can see, the numbers are always in increasing mode. Eventually bets escalate when consecutive losses become frequent and one runs out of money or table limits are reached.
A lot of classic progressions have bets increasing from bet to bet, not to mention the famous Martingale, that doubles every bet on a loss, with the aim of 1 unit profit on the very first win that comes.
The problem with all those progressions is that one is in a rush to make profit and thus chases all previous losses in order to overcome them.
Yes, we need to overcome previous losses in order to finally be profitable. But why on the first or second win necessarily? This is exactly what causes those systems not to win on the long term, as casinos have implemented counter-measures and one of the most serious one is table limits. In most table ranges, one runs out of bankroll already at the 7th or 8th step of a Martingale.
What if we had a progression where we can make profits at the 15th or even at the 20th step of it. What if it would take a few wins to achieve that, instead of one or two. We still need to overcome the odds by having overall less wins than losses, as this is the way the games have been designed.
So all this brings us to WTP, a very adjusted or, as the name implies, tempered progression where within a sequence of, say, 25 bets, if about 17 are losses and 8 are wins, which is very likely, we will come up profitable for that run.
The name Well-Tempered is a musical term from the times of Johann Sebastian Bach, where tones were adjusted to have 12 equal half tones within one octave, so music will sound the way we hear it today, so the third chords will be more pleasant to the ear, rather than quarts used in medieval music.
The series in the brain teasers book has also been tempered to adjust it to the world of gambling and the result is a very powerful and effective system.
And it's not a grind system, that aims to make 1 unit profit per run. There are runs, where 14, 18 and even 26 units are made within not more than 20 decisions.
WTP has been tested against all tester books, whether it's the 600 shoe or 1000 shoe Zumma tester book and the Zumma 15,000 roulette spins additional to random number generators.
The system comes with many simulations from all the above mentioned tester books. The maximum bet amounts and the session bankroll to be utilized come as parameters, where you can experiment with different values. You will see that the system will generate 1300 units profit with a maximum bet not exceeding 47 units.
You will see that betting columns in Roulette the system will average more than 1 unit per spin over thousands of decisions.
Using the system a bit more aggressively, such as a highest bet of 192 units, WTP will be able to generate more than 5200 units.
Those are the 9 simulations packaged for you that you will receive together with your system document:
1. WTP - 1K Zumma shoes - first 500 - Betting P only - low budget
2. WTP - 1K Zumma shoes - first 500 - special bet selection - low budget
3. WTP - 600 Zumma shoes - bet selection 2-2 - aggressive - 5200 unit profit
4. WTP - 600 Zumma shoes - betting B only - end profit 1143 units
5. WTP - 600 Zumma shoes - special bet selection - max bet 155 units - end profit 1967 units after commissions
6. WTP - 600 Zumma shoes - special bet selection - max bet 192 units - end profit 2457 units after commissions
7. WTP - 600 Zumma shoes - special bet selection - max bet 192 units - end profit 3346 units after commissions
8. WTP - Roulette - Follow Last Column - 500 spins - 639 units profit
9. WTP - Well Tempered Progression Simulation - betting P only - 900 unit profit target
Here are some performance charts from different tester books to give you an idea:
WTP - 1K Zumma shoes - first 500 - special bet selection - low budget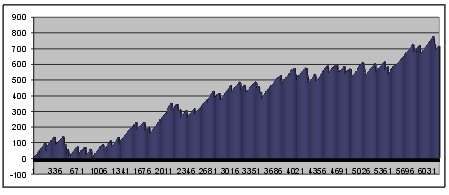 ---
WTP - Roulette - Follow Last Column - 500 spins - 639 units profit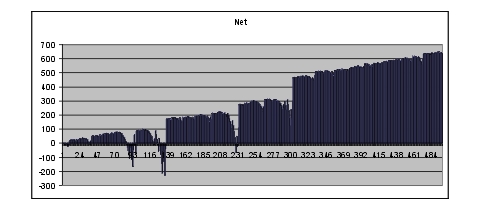 ---
WTP - 600 Zumma shoes - special bet selection - max bet 155 units -
end profit 1967 units after commissions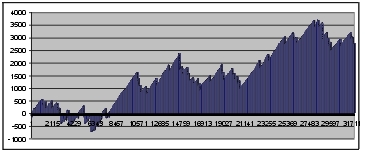 ---
WTP - 600 Zumma shoes - bet selection 2-2 - aggressive - 5200 unit profit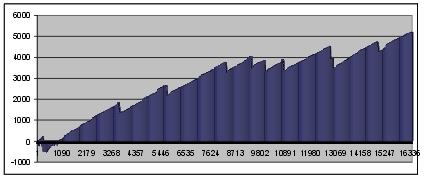 ---
WTP - Well Tempered Progression Simulation - betting P only -
900 unit profit target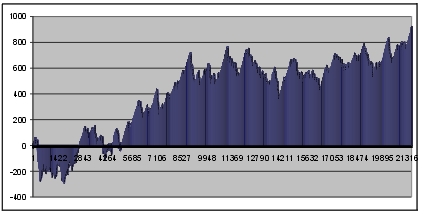 The system will work for you for a low budget with bets not exceeding 30 units and for a larger one with bets up to 192 units max. It's totally adjusted to your pocket and to the amount of profits you wish to make.
WTP has 24 pages of well documented text and numerous examples. The progression is not hard to learn, if you can memorize a simple formula made easy for you to remember.
Any bet selection of your choice will generate profits. The system also suggests very interesting bet selections you have never seen before in any other system.
The simple bet selections include betting on the Player side only in Baccarat, as well as playing on the Banker side only, and many different combinations involving the betting on both Player and Banker.
There is no need for tracking for WTP, unless your bet selection requires one. Otherwise, you bet on every single decision with no interruption until you reach the desired profit level.
In roulette, the system will work for any even bet area and for dozens and columns, also with different bet selections of your choice.
The system is only $550, a very low price for its very high potential.
As usual, your full satisfaction is guaranteed with full purchase and unconditional money back guarantee within 30 days of your purchase, no strings attached.
Click here to order for an email delivery of the system. For only $20 extra, you can have a printout mailed to your address.
Thank you,
Izak Matatya
Wishing you all the best,
Izak

www.letstalkwinning.com
email: webmaster@letstalkwinning.com

Systems Gallery: http://www.letstalkwinning.com/gallery.htm
Newsletter: http://www.letstalkwinning.com/winalert.htm
Newsletter Archive: http://www.letstalkwinning.com/archive.htm
Recommended On-Line Casinos: http://www.letstalkwinning.com/bestonline.htm
Discussion Forum: http://www.letstalkwinning.com/forum/
Latest Gambling News: http://www.letstalkwinning.com/latest-news.htm
New Art Gallery: http://www.letstalkwinning.com/Izak.Matatya.Art.htm

---
WOULD YOU LIKE TO SUBSCRIBE? Click here.
---
If you missed any newsletter, click here for an archive.
---
Poker Guide - The world's largest poker guide PokerListings.com with reviews of 750 poker sites.

Texas Holdem - Page that compares 45 Texas Holdem online poker rooms on a number of relevant features.
---