Play To Win
Tips and strategies to help make you a winning casino player

Game Rules
Learn: Blackjack, Baccarat, Craps, Roulette, Slots, Video Poker, Pai Gow Poker, Texas Hold'em, Caribbean Stud, Let It Ride, Casino War, Big Six, Sic Bo (NEW!)

Systems Gallery
Win more, more often with proven betting methods from the systems gallery

Order Form
A secure on-line order form to purchase products advertised by Let's Talk Winning.

Playing Online
All about gambling at online casinos. Find out where the best deals are

Best Casino Bonuses - NEW!
The best collection of on-line casino bonuses, where you can cash $802 on your sign-up.

Links and Things
Sign our guestbook, refer a friend, link to other gambling sites.

Gambling News - NEW!
Latest Gambling News - updated daily including gambling articles, joke of the day and a gambling dictionary.

Newsletter
Click above to read the current edition of our weekly newsletter. Then get your own free subscription right here.

Please tell all your friends about it.

On-Line Forum
Post a gambling question or opinion - get an answer . . .
---
Below is a selection of the most recommended
on-line casinos
and sportsbooks
Check out:
On-Line Casino of the Month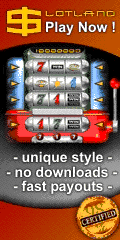 ============================================================= Sunday, January 13, 2019

Happy New Year and Extension of Holiday Specials

Dear Let's Talk Winning subscribers, customers, friends,
I hope you had a relaxing holiday season with your families. I would like to take this opportunity to wish you all a Happy New Year 2019, lots of success and prosperity.
Quite a few people took advantage of the Holiday Specials, where you could purchase a system of mine for as low as $40 a piece with a minimum order of 5 systems. Whoever purchased at least 5 systems could order additional systems at $40 a system with no limitations.
The secure purchase order form at: https://www.letstalkwinning.com/order/ stopped working for some reason. Apparently my domain host is blocking the emails forwarded to me. So I did not get a lot of the orders you have placed.
To that extent, I would like to extend the Holiday Specials until the end of January 2019. Since the purchase order form doesn't work (I hope temporarily until the issue is resolved), you can use PayPal to my id: izak.matatya@videotron.ca or simply email me to izak.matatya@videotron.ca or to matatya.izak@gmail.com with the list of systems you are interested in with your credit card details.
I'm also working on an e-commerce solution, where your orders will be processed and you will be able to download the system files you have ordered instantly without my intervention.
I will keep you posted as this activity takes place and the ordering will be replaced by this elegant solution.
In the meantime be well and do take advantage of this great offer.
Best regards,
Izak
www.letstalkwinning.com
www.izakmatatya-digitalart.com
Systems Gallery: http://www.letstalkwinning.com/gallery.htm
Newsletter: http://www.letstalkwinning.com/winalert.htm
Newsletter Archive: http://www.letstalkwinning.com/archive.htm
Recommended On-Line Casinos: http://www.letstalkwinning.com/bestonline.htm
Discussion Forum: http://www.letstalkwinning.com/forum/
Izak Matatya's new contemporary digital art online store: https://www.izakmatatya-digitalart.com
Izak's digital contemporary art portfolio and selected works: www.izakmatatya.com
---
WOULD YOU LIKE TO SUBSCRIBE? Click here.
---
If you missed any newsletter, click here for an archive.
---
Poker Guide - The world's largest poker guide PokerListings.com with reviews of 750 poker sites.

Texas Holdem - Page that compares 45 Texas Holdem online poker rooms on a number of relevant features.
---