Play To Win
Tips and strategies to help make you a winning casino player

Game Rules
Learn: Blackjack, Baccarat, Craps, Roulette, Slots, Video Poker, Pai Gow Poker, Texas Hold'em, Caribbean Stud, Let It Ride, Casino War, Big Six, Sic Bo (NEW!)

Systems Gallery
Win more, more often with proven betting methods from the systems gallery

Order Form
A secure on-line order form to purchase products advertised by Let's Talk Winning.

Playing Online
All about gambling at online casinos. Find out where the best deals are

Best Casino Bonuses - NEW!
The best collection of on-line casino bonuses, where you can cash $802 on your sign-up.

Links and Things
Sign our guestbook, refer a friend, link to other gambling sites.

Gambling News - NEW!
Latest Gambling News - updated daily including gambling articles, joke of the day and a gambling dictionary.

Newsletter
Click above to read the current edition of our weekly newsletter. Then get your own free subscription right here.

Please tell all your friends about it.

On-Line Forum
Post a gambling question or opinion - get an answer . . .
---
Below is a selection of the most recommended
on-line casinos
and sportsbooks
Check out:
On-Line Casino of the Month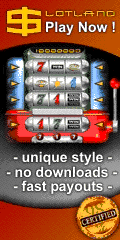 ============================================================= Saturday, February 4, 2017

New system SOWS - Stay on the Winning Side by Izak Matatya
Dear Let's Talk Winning subscribers, customers, friends,
Here's a fantastic way to start our new year. A new system that guarantees you will stay on the winning side as its name implies: SOWS - Stay on the Winning Side system.

That's the main goal of the system: to keep you profiting at all times. In fact, the overall drawdown is only 37 units, then throughout your entire play you are on the positive side of the graph.
Those are the incredible continuous performance charts for all 600 Zumma tester book shoes: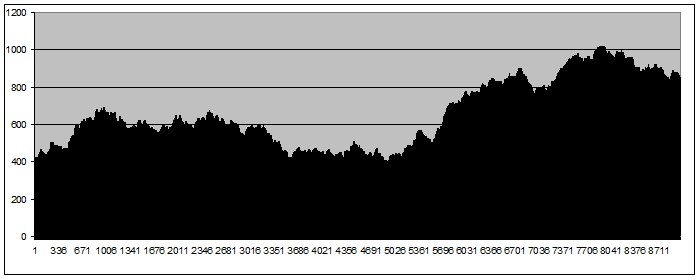 And all this achieved with a maxbet limit of merely 6 units, which lets your actual bet never be higher than 20 units.
SOWS is for all games paying even bets. No side bets are placed, just straight on Player/Banker in Baccarat, all even bets in Roulette, Pass Line/Don't Pass Line in Craps, etc.
The system verifies alternate bet selections and chooses automatically to place itself on the winning side. As the winning side switches, the system switches to the winning side, enabling you to take advantage of all its winning streaks no matter which side wins.
As winning streaks pass from one side to another, you will find yourself at the winning side. So let's say one side had 9 consecutive wins followed by 8 consecutive losses, the 8 consecutive losses meant 8 winning consecutive wins on the opposing side, so you end up winning 9 wins on one side and 7 wins on the other, winning 16 bets out of 17. Simply fantastic!
The system takes care of the ping-pong effects very efficiently. The ping-pong effect is caused by alternate losing of one side to another taking you also from one side to another back and forth. This is handled by the bet method, which is very innovative and closes runs one after another regardless of any win/loss sequence you may encounter during your play.
And at 6 units maxbet you can't go wrong. An abandoned run may cause not more than 20-30 units tops when you are at +500 units for the duration of your play and becomes totally negligible.
As systems development advance, the goal becomes more and more long term profitability without escalation of bets to high amounts, staying within budget, enjoying your play, dynamic and continuous play with no interruptions and SOWS achieves all of the above very elegantly.
New concepts have also been introduced in this system, which you will find very creative and will set certain new standards even with other systems you may be using.
SOWS practically triples your profits and decreases your bankroll requirements three fold. Your lifetime bankroll requirement is not more than 100 units. With a small session bankroll of 40 units, you can start playing and end up with hundreds of units.
On the short run, we see profits of 10-20 units per shoe (or 80 decisions), and on the long run the 600 Zumma shoe sample shows up to +849 units.
Simulations are provided for you upon your purchase for the 600 Zumma shoes and 600 random shoes for a basic strategy and combined strategies. 600 random shoes will give you an indefinite number of decisions you can test against.
Also different maxbet values, such as 14 and 6 give you all profiting charts keeping you on the winning side indefinitely.
You will love SOWS, the way I do.
SOWS goes for $500 and is worth every penny.
Early bird purchasers can have a 50% discount, if you purchase SOWS by the end of February 2017. Yes, you can have it for $250 only. Your satisfaction is guaranteed, if not you can ask for your money back within 30 days of your purchase, no strings attached and no questions asked. For $15 extra, you can have a printout shipped to your mailing address.
The system document is not more than 12 easy and fun to read pages. You will enjoy every aspect of it.
Click here to order.
Thank you!
Izak Matatya
P.S. PayPal orders are welcome to my id: izak.matatya@videotron.ca
Email: webmaster@letstalkwinning.com or izak.matatya@videotron.ca
Systems Gallery: http://www.letstalkwinning.com/gallery.htm
Newsletter: http://www.letstalkwinning.com/winalert.htm
Newsletter Archive: http://www.letstalkwinning.com/archive.htm
Recommended On-Line Casinos: http://www.letstalkwinning.com/bestonline.htm
Discussion Forum: http://www.letstalkwinning.com/forum/
Latest Gambling News: http://www.letstalkwinning.com/latest-news.htm
New Art Gallery: http://www.letstalkwinning.com/Izak.Matatya.Art.htm
Izak Matatya's digital art works: www.izakmatatya.com
Izak Matatya's new contemporary digital art online store: https://www.izakmatatya-digitalart.com
---
WOULD YOU LIKE TO SUBSCRIBE? Click here.
---
If you missed any newsletter, click here for an archive.
---
Poker Guide - The world's largest poker guide PokerListings.com with reviews of 750 poker sites.

Texas Holdem - Page that compares 45 Texas Holdem online poker rooms on a number of relevant features.
---