Play To Win
Tips and strategies to help make you a winning casino player

Game Rules
Learn: Blackjack, Baccarat, Craps, Roulette, Slots, Video Poker, Pai Gow Poker, Texas Hold'em, Caribbean Stud, Let It Ride, Casino War, Big Six, Sic Bo (NEW!)

Systems Gallery
Win more, more often with proven betting methods from the systems gallery

Order Form
A secure on-line order form to purchase products advertised by Let's Talk Winning.

Playing Online
All about gambling at online casinos. Find out where the best deals are

Best Casino Bonuses - NEW!
The best collection of on-line casino bonuses, where you can cash $802 on your sign-up.

Links and Things
Sign our guestbook, refer a friend, link to other gambling sites.

Gambling News - NEW!
Latest Gambling News - updated daily including gambling articles, joke of the day and a gambling dictionary.

Newsletter
Click above to read the current edition of our weekly newsletter. Then get your own free subscription right here. Enter your e-mail address for immediate delivery of an introductory issue, including a FREE ROULETTE SYSTEM by clicking here.

Please tell all your friends about it.

On-Line Forum
Post a gambling question or opinion - get an answer . . .
---
Below is a selection of the most recommended
on-line casinos
and sportsbooks

Check out:
On-Line Casino of the Month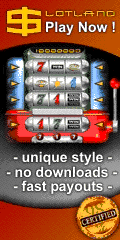 ---
================================================ Thursday, February 3, 2005

Sic-Bo Strategies and Feedback on 14 Months at the Sic-Bo Table by Perry Benedik
Hello everyone,
Sic-Bo is becoming a more and more attractive game for me recently, particularly that I am able to use all even money bet strategies including Perry B's methods outlined in his ebook 14 Months at the Sic-Bo Table announced at last week's newsletter. The nice thing about Perry B's methods is that you can use them for all even money bets in Roulette, Craps and Baccarat. Perry calls the Small and Big Sic-Bo bets, High and Low and calls the triples (1,1,1 - 6,6,6) "O"'s. So you can apply them directly to Roulette's High and Low even money bets, the "O"'s corresponding to the zeros on the roulette wheel. Moreover, the odds are identical: 2.8% in Sic-Bo versus 2.7% in single zero Roulette.
I highly recommend Perry's ebook. You should take advantage of this very low price of $70, which is in place only for a limited time. You won't regret it. Perry's methods are low risk, have no progressions, and use a very special bet selection, giving the player a 51% winning rate played with flat bets only.
With your order, you receive a 22 page e-book, 273 pages of analyzed Sic-Bo results of 46,288 rolls, plenty of useful strategies, as well as some of Perry's famous articles.
Click here to order, or click on the PayPal button below for an email delivery of the system.
Here is a testimonial received by a happy purchaser: Oen, whose post was published at the newsletter titled: Baccarat - Bet Selection Design.
"I play only EVEN MONEY BET. Here is my idea to share with you all playing even money game such as Baccarat, Sic Bo and Roulette.

There are principally two ways how you will play even money bets: you will play every roll, spin or hand or you will NOT play every roll, spin or hand; it means that you will play only when a certain event occurred. You can use entry and exit rules to filter your bet selection and therefore you do not necessarily need to play every bet. The advantage to bet when a particular event occurred is that you can use relative small betting unit but with a large amount and your betting progression will be kept in relatively flat or mild bet. So it is a kind of method that is low risk and can last longer.

The following drawing shows you the relationship between a bet selection and a progression.

Bet selection ------Exit------------------Entry-------------->>>>>
Progression -----------??????????????-------------------->>>>>

Example 1 (only and just example):
Bet selection: FTL (Follow The Last decision)
1. p->p
2. b->b

Filtration on bet selection: gaps allowance=2
1. Exit rule: Play until 3 losses in a row occurred.
2. Entry rule: Enter when first bet won.

Progression: 1-2-4 (limited Martingale)
Filtration on progression:
1. Bet unit=0 from the exit up to the entry point (fictive bet).

Example 2 (only and just example):
Bet selection: (Betting 1 bet after last two decisions showing opposite decision)
1. bp->b
2. pb->p

Filtration on bet selection:
1. Exit rule: Lost or won, re-qualifying.
2. Entry rule: Last two decisions showing opposite decision

Progression: flat bet
Filtration on progression:
1. Bet unit=0 from the exit up to the entry point (fictive bet).

Various concepts, which are based on the above idea, have been discussed on VIP forum, which are posted by Vegaskid. Many of his concepts can be applied for the above consideration.

I want to share with you what I have done with Perry's method. His methods are based on the above idea as well. I have used one of his methods and played on the Sic Bo table yesterday. I won 2 units with the unit = 50$. I played almost 20 rolls out of total 60 rolls. The highest drawdown was 3 units and the highest profit won is 4 units. So I stopped playing Sic Bo and switched to play Baccarat for the rest of the night. I will try to use his method on Baccarat.
Maybe Perry can post some his experiences, too.

Thanks.
Oen"
Perry's response:
"Getting ahead at the casino sometimes feels like a seemingly-impossible task, and when a day starts out with winning bets, we always never want it to end. But at one point or another, it always does, and that's the time to take a couple of units of profit, and stop playing for the day. (From that point on, it doesn't usually get better - only worse.)

My experiences have shown that even using my primary bet selection, not only should your daily stop-loss limit be very small, but you must often be content to accept only a small profit for the day, rather than being greedy, and end up giving back too many previous hard-fought wins.

PerryB"
My own experience has been very pleasant with Perry's methods. I spent quite a few hours last Saturday at the Sic-Bo table. Using Perry's strategy I made 4 units within half an hour.
There are quite a few things I like about Sic-Bo. There are quite a lot of variety of bets one can place. The minimum betting unit is usually much lower than other games. The betting range between the minimum to the maximum is 1-100. I even used my IBS system and made 47 units playing with $5 units, just betting on Small. Bets escalating to 16 units at times, didn't cost more than $90 a bet with the $5 units
Another feature I like about Sic-Bo is the speed of the game. After bets are placed within 10-15 seconds, the dealer calls no more bets and presses the button, which shakes the dice in a glass box. The dice are shaken for about 8 seconds until the results are displayed. Since not more than 5-6 people play the game, payouts are quickly and easily distributed guided by the lights of the winning combinations on the layout. So one roll takes about 30 seconds. Therefore, the game becomes two-three times faster than Roulette with the same odds and a lower minimum bet, which justifies Perry's choice of the game over others for even money bets.
Betting on dice combinations 9,10,11 and 12 have a 6 to 1 payout in Sic-Bo. I quickly developed a strategy betting on all those 4 numbers, which made the payout 3:2. 9,10,11 or 12 show up quite often in the 3 dice combination. You can easily catch a good winning streak on those numbers. Betting on all 4 gives you 6 chips on the winning combination and 2 unit profit to your 4 unit investment. Getting 2 units on every win and losing 4 units on every loss, makes it similar to betting on 2 dozens simultaneously in Roulette, where you can use the betting methods for 2 dozens such as Relaxed Roulette or FRS, the contest winning system or any other good strategy you may have for 3:2 payout bets.
I have also tried a d'Alembert type of bet covering the 4 areas 9, 10, 11, 12 by raising each bet by 1 unit on a loss and reducing by 1 unit on a win, until you are ahead by 1 unit profit.
As Oen pointed out, Perry's even money bet strategies work quite well for Baccarat as well. With minimum amount of tracking one would be able to place a bet every 3-4 hands and reach the win target quite fast.
I have tried them on Craps' Pass Line and Don't Pass Line with equal success.
I fully endorse Perry's ebook. It's an excellent buy for $240. It will improve your overall gaming and gambling concepts, as well provide you with unique even money bet methods, not seen anywhere else. Your satisfaction is guaranteed.
Click here to order, or click on the PayPal button below for an email delivery of the system.
Wishing you all the best,
Until next week,
Izak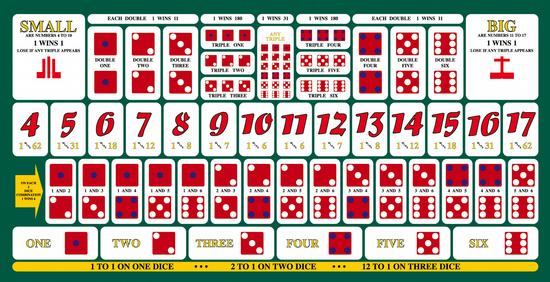 Try one of PerryB's Sic-Bo methods at Lucky Nugget
---
WOULD YOU LIKE TO SUBSCRIBE? Click here.
---
---
If you missed any newsletter, click here for an archive.
---
---
Poker Guide - The world's largest poker guide PokerListings.com with reviews of 750 poker sites.

Texas Holdem - Page that compares 45 Texas Holdem online poker rooms on a number of relevant features.
---