Play To Win
Tips and strategies to help make you a winning casino player

Game Rules
Learn: Blackjack, Baccarat, Craps, Roulette, Slots, Video Poker, Pai Gow Poker, Texas Hold'em, Caribbean Stud, Let It Ride, Casino War, Big Six, Sic Bo (NEW!)

Systems Gallery
Win more, more often with proven betting methods from the systems gallery

Order Form
A secure on-line order form to purchase products advertised by Let's Talk Winning.

Playing Online
All about gambling at online casinos. Find out where the best deals are

Best Casino Bonuses - NEW!
The best collection of on-line casino bonuses, where you can cash $802 on your sign-up.

Links and Things
Sign our guestbook, refer a friend, link to other gambling sites.

Gambling News - NEW!
Latest Gambling News - updated daily including gambling articles, joke of the day and a gambling dictionary.

Newsletter
Click above to read the current edition of our weekly newsletter. Then get your own free subscription right here. Enter your e-mail address for immediate delivery of an introductory issue, including a FREE ROULETTE SYSTEM by clicking here.

Please tell all your friends about it.

On-Line Forum
Post a gambling question or opinion - get an answer . . .
---
Below is a selection of the most recommended
on-line casinos
and sportsbooks
Check out:
On-Line Casino of the Month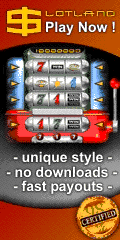 ============================================== Monday, February 14, 2011

The New CYL (Catch you Later) Baccarat System by Izak Matatya
Hello everyone,
I'm proud to present you my newest Baccarat system, which is a breakthrough in gambling system design and history of Baccarat systems. It has a totally new and different concept on how to beat Baccarat.
Most gambling systems try to get ahead by catching up on previous losses by using some kind of progression, such that, within the first, second or third win, previous losses are recovered with a certain gain. That tends to create very aggressive systems, such as the double up Martingale system, where one wants to be ahead on the very first win, even if one had 5-6 losses previously, thus putting on the table hundreds of units, just to be ahead by 1. Eventually, on a bad run, the entire bankroll is exhausted and one cannot go on betting.
The CYL system, as the name implies, tries to catch a certain loss some time later. There is absolutely no hurry, no greed and no eagerness to win everything on just one single win. One plays patiently, knowing that wins will eventually come and will eliminate previous losses very gradually, one at a time and one after another.
There is absolutely no tracking, no waiting for a trigger, no pattern recognition. Those are all old concepts. The idea behind the system is totally innovative and new. One starts betting at the very first decision of the shoe (or wherever the player choses) and one bets on every single decision, with no interruption.
This makes the system very dynamic and continuous. No dealer will ask you to leave the table for sitting and not placing bets. What you can do is to leave the table when you are way ahead and you don't even have to because wins and profits are there to come for sure.
You must be wondering how can one sit at the table at all times and overcome the house edge built in to the game? Once you read the system document, it will all be very clear to you. You will probably say to yourself, how come I didn't think of that before. The concept is so simple, yet so powerful.
The power yet the simplicity of the system is the result of numerous years of research, willingness to overcome the odds and come up with a very playable system, which will adapt itself to all styles and all requirements of the casino table, whether it is the amount of bets, that need to be increments of not less than $5 or whether the minimum bet is $5, $10, $20 or $50.
At the bet range of 1-650, and suiting all budgets, the system generates 11,011 units profit for the 600 Zumma shoes, averaging a whooping 18.35 units per shoe, all losses and all Banker win commissions taken into account.
One can have a lower budget option and a higher one, depending on the amount you can afford to risk. At $10 minimum bets, 11,011 units mean the profit of $110,011, for 600 shoes, that would take one 120 days (4 months) to play, if one plays about 5 shoes a day. You can then take the rest of the year off.
There are shoes, that make up to 70 units, even if the number of wins is lower than the number of losses in total within the same shoe. Simply amazing!
The system is not more than 15 pages long with concrete examples, telling you exactly how much to bet and at what instance, placing bets on each and every decision. You also receive two totally automated Excel simulations, where you can experiment with different input parameters, to change the value of your initial bet, multiplier factors, ceilings, plateaus, etc., to find out that the above mentioned profit level is only the minimum you can make.
You can also plug in your shoes into the simulation and it will produce results for you immediately.
Here is the performance chart of the CYL system: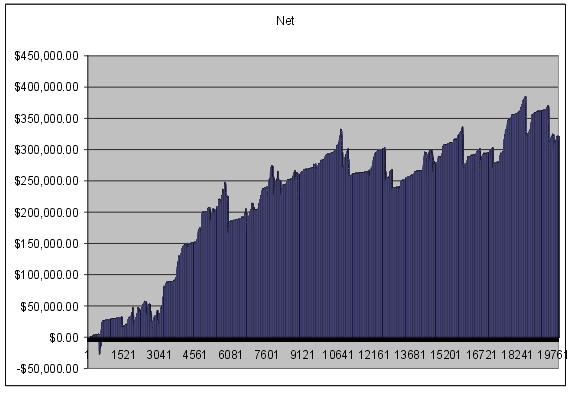 One of the most profitable systems ever designed indeed.
The price of the system is $350, an amount you will probably make playing only 2 shoes with $10 bets. The remaining profits are all yours to keep.
Click here to order for an email delivery of the system. $20 extra for a printout mailed to your address.
The electronic version of the 600 Zumma shoes was graciously offered by a loyal Let's Talk Winning customer, who has verified its accuracy against the actual Zumma tester book. The decisions in the simulation are totally certified.
Thank you,
Izak Matatya
Wishing you all the best,
Izak
---
WOULD YOU LIKE TO SUBSCRIBE? Click here.
---
If you missed any newsletter, click here for an archive.
---
Poker Guide - The world's largest poker guide PokerListings.com with reviews of 750 poker sites.

Texas Holdem - Page that compares 45 Texas Holdem online poker rooms on a number of relevant features.
---