Play To Win
Tips and strategies to help make you a winning casino player

Game Rules
Learn: Blackjack, Baccarat, Craps, Roulette, Slots, Video Poker, Pai Gow Poker, Texas Hold'em, Caribbean Stud, Let It Ride, Casino War, Big Six, Sic Bo (NEW!)

Systems Gallery
Win more, more often with proven betting methods from the systems gallery

Order Form
A secure on-line order form to purchase products advertised by Let's Talk Winning.

Playing Online
All about gambling at online casinos. Find out where the best deals are

Best Casino Bonuses - NEW!
The best collection of on-line casino bonuses, where you can cash $802 on your sign-up.

Links and Things
Sign our guestbook, refer a friend, link to other gambling sites.

Gambling News - NEW!
Latest Gambling News - updated daily including gambling articles, joke of the day and a gambling dictionary.

Newsletter
Click above to read the current edition of our weekly newsletter. Then get your own free subscription right here. Enter your e-mail address for immediate delivery of an introductory issue, including a FREE ROULETTE SYSTEM by clicking here.

Please tell all your friends about it.

On-Line Forum
Post a gambling question or opinion - get an answer . . .
---
Below is a selection of the most recommended
on-line casinos
and sportsbooks

Check out:
On-Line Casino of the Month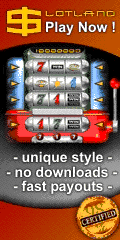 ---
---

---
================================================ Thursday, December 8, 2005

Holiday Specials and a Sports Betting Strategy
Hello everyone,
This is a short newsletter to first wish you all a pleasant holiday season and second to announce you that from now until January 2, 2006, all systems at the LTW Systems Gallery will be available to you at 50% discount. That's right! You can purchase any system at half price, except the newly announced ones: Future 4 by Edmond Petitjean and my 3D-RB - 3 Dozens Relative Betting Roulette System.
You can place your orders by simply sending 50% of the listed prices directly to my PayPal account: webmaster@letstalkwinning.com, specifying which systems you're ordering, or simply fill in the secure purchase order form at: /order/ and click on the items you are interested in, and I will process your orders manually by charging you half price only.
I will leave you also with some food for thought on a sports betting strategy I have been using successfully for a while lately. You can email me your thoughts on it having made some verifications and tests by going in some past logs. You can refer to the site http://www.donbest.com for archives of games odds and results.
The idea is the following:
On NBA (National Basketball Association), you can have several type of bets, a couple of the ones of interest for this strategy are the spread bets and the money lines. The spread bets usually have equal odds and vig, i.e. -107 or -110, depending on where you bet. It's not more than -107 if you bet at Canbet at: http://www.commissionking.com/_8c422dc4410eadba7fb80a1ebc90d15d/100/, one of my favorite sports books. The spread type of bet consists of betting on a certain team provided that team covers the spread point. For instance, if we are betting say LA Lakers -9.5, this means that LA Lakers has to win the game and have a difference of at least 10 points against the opposing team. If LA wins the game with only 9 points or less, we lose the bet.
Being a favorite and having a -9.5 or more type of spread, in a way, gives an indication that that team will probably win. What is not sure is if they will cover the spread. This brings about the idea of betting on the money line, where the spread no longer matters. The only thing that matters is if that particular team is going to win the game. Of course, the vig becomes much larger. You sometimes need to bet 400-500 in order to win 100. But then, what do you prefer? To bet small with a doubt of winning or to bet higher with a larger chance of winning.
Note that I would use this strategy only if the spread is above 7.5 and not less.
Betting this way (on the money line), and looking on past results, I noticed that one wins 12 out of 14 games in average or 6 out of 7. If the cost of losing is about 4 units per game, one would lose 4 units for each gain of 6 units within 7 games in average profiting 2 units every 7 games. Since there is no progression involved and only flat betting, one could bet about $1000 or more per game and advance by $2000 every 7 games. Not bad.
Well, give it some thought and let me know what you think. You could also apply the reverse strategy. After observing 4-5 consecutive winning favorites on paper, bet the money line for underdogs. Any game you win will bring you 4-5 units for each unit you place. Bet the underdogs until you are 2 units ahead. That may work, too.
Let me know what you prefer or discuss it at the forum.
Wishing you all the best,
Izak

---

---
WOULD YOU LIKE TO SUBSCRIBE? Click here.
---
---
If you missed any newsletter, click here for an archive.
---
---
Poker Guide - The world's largest poker guide PokerListings.com with reviews of 750 poker sites.

Texas Holdem - Page that compares 45 Texas Holdem online poker rooms on a number of relevant features.
---
---

A sports betting service offering sports, casino and racebook action. With more than 7 years of experience in the gaming industry and located in San Jose, Costa Rica. enVivoSports.com has it all for the sports enthusiastic!

At enVivoSports.com they offer excellent customer service and Same Day Payouts 100% guarantee and 7 days a week.

enVivoSports.com offers juicy cash bonuses and special promotions all year round, so don't forget to check our web site at www.envivosports.com

Bet it your way at enVivoSports.com
---
When you open your account at enVivoSports.com you will be able to bet on sports, casino and horseracing just call us at 877-512-3503 or access our web site www.enVivoSports.com you will receive up to a 25% SIGN UP bonus for depositing funds into your betting account. Remember at enVivoSports.com you bet it your way! (
enVivosports.com is one of the very few offshore sports books that offers a .10 Cent line in baseball
).
---