Play To Win
Tips and strategies to help make you a winning casino player

Game Rules
Learn: Blackjack, Baccarat, Craps, Roulette, Slots, Video Poker, Pai Gow Poker, Texas Hold'em, Caribbean Stud, Let It Ride, Casino War, Big Six, Sic Bo (NEW!)

Systems Gallery
Win more, more often with proven betting methods from the systems gallery

Order Form
A secure on-line order form to purchase products advertised by Let's Talk Winning.

Playing Online
All about gambling at online casinos. Find out where the best deals are

Best Casino Bonuses - NEW!
The best collection of on-line casino bonuses, where you can cash $802 on your sign-up.

Links and Things
Sign our guestbook, refer a friend, link to other gambling sites.

Gambling News - NEW!
Latest Gambling News - updated daily including gambling articles, joke of the day and a gambling dictionary.

Newsletter
Click above to read the current edition of our weekly newsletter. Then get your own free subscription right here. Enter your e-mail address for immediate delivery of an introductory issue, including a FREE ROULETTE SYSTEM by clicking here.

Please tell all your friends about it.

On-Line Forum
Post a gambling question or opinion - get an answer . . .
---
Below is a selection of the most recommended
on-line casinos
and sportsbooks

Check out:
On-Line Casino of the Month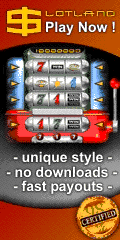 ---
---

---
=================================================== Wednesday, December 6, 2006

FAQ on the New FBSD - Flat Bet Single Dozen Roulette System by Izak Matatya
Hello everyone,
Thank you for the interest you have shown on my latest Roulette system, FBSD - Flat Bet Single Dozen Roulette system announced last week. As usual, your frequently asked questions are answered in this newsletter.
And now the FAQ:
Q: Izak, may I ask what the average drawdown? What should be lifetime bankroll in units? Thank you.
A: The drawdown is really a function of the loss limit you put for the session. There are various money management techniques, one of which limits the session loss to -5 or -2 units, meaning that the moment you reach this loss, you reset your session and start over. The total drawdown would be then the sum of back to back losses of those loss limits, which can be not more than 3 maximum 4 or 20 units.

A lifetime bankroll of 100 units should be sufficient to use this system most effectively.
Q: Hi Izak,

As usual, looks like you have come up with another great system. Maybe I am looking for something like this. You mention that I can go to the table with 20 units and come away with 50 units. Does this mean a profit of 50 units, or a profit of 30 units? Either way, it sounds great.

How often do you lose your entire 20 unit bankroll?

You mentioned that there is almost no tracking. Does this mean that I can sit at a table in a casino without a pen and paper? I really don't like sitting there writing things down. I know it is allowed, but I feel uncomfortable because everyone starts looking at you.

How much time will it take to make the profit? In other words, if I sat down for an hour at a table, how much do you think I could walk a way with?
A: 50 units is your profit.

Your bankroll is not 20 units, it's your buy-in for the session.
FBSD has different money management techniques. One of them uses a loss limit of -5 units, for which 20 units will be sufficient for 4 back to back losses, which is extremely rare.

There is no tracking in terms of waiting for the right opportunity. You wait for not more than 1 spin before you start betting. However, in terms of tracking what happens, it's better first to write down certain stats, based on the template given with the system. With time, you can do this from memory, if you can remember only 3 numbers from bet to bet, then you will need no paper at all.

Your average profit is 1 unit every 6 spins. If it takes an hour to play 60 spins, you should be able to profit 10 units per hour.
Q: How did this new system test out in the Zumma books and other tests?
A: This time, I did not test fully against Zumma, in order not to give the impression that the system was reverse-engineered against known results. That's why only the specifically designed FBSD simulator was used to test the system, outside my real use of it. The simulator tests thousands of spins, and the tests can be repeated as many times as one wishes with a different set of random spins every time.
Q: Also are you betting every spin? As you know casinos sometimes ask players to leave the table if they are not betting every spin.
A: You don't bet every spin, but you surely bet more than 90% of all spins, so there is a lot of action and only very few interruptions. It works very well and no one asks you to leave the table if you skip a spin or two here and there.
Q: Can you give us some typical results?
A: The results are based on different money management techniques the document provides you.

For instance,
setting a win target of +10 units and a loss limit of -5 for a session, FBSD generated 41 units in 500 spins;
setting a win target of +5 units and a loss limit of -10 for a session, FBSD generated 45 units in 500 spins,
setting a win target of +5 units and a loss limit of -5 units for a session, FBSD generated 23 units in 400 spins;
setting a win target of +2 units and a loss limit of -5 units for a session, FBSD generated 57 units in 451 spins;
setting a win target of +10 units and a loss limit of -2 units for a session, FBSD generated 52 units in 300 spins, which seems to be the optimal parameters for the most profitable option.
Q: Hello Izak,
This new system sounds pretty good. Just a couple of questions re your FBSD system...

Is it the money management system or the technique for finding the right dozen that is the key factor in your over all system?

How much time is involved in ascertaining the right dozen to bet on?

What would be an average number of spins you would expect before your 1 unit per 6 spins (average) is attained?

And dose this system work equally well on land based and online casinos?
A: It is the combination of both the money management techniques (there are several in the system) and the detection of the dominant dozens that are the key factors, which make the system profitable.

It takes only just a few spins to determine which dozen to bet on.

The profit of 1 unit every 6 spins is an average based on long run tests. You could make 2 units in 1 spin or it could take 20 spins to make 1 unit, which is the longest period.

The system works for all environments.
FBSD is $285 and is worth every penny. It will pay itself off within a couple of hours of play. You have my money back guarantee based on your full satisfaction, no strings attached and no questions asked.
Click here to order for an email delivery of the system. You can have a printout by mail for $5 extra.
Thank you,
Izak Matatya
Wishing you all the best,
Izak
---
Use the FBSD System at Windows Casino

---
---
Click here to get a free iPod.
---
WOULD YOU LIKE TO SUBSCRIBE? Click here.
---
---
If you missed any newsletter, click here for an archive.
---
---
Poker Guide - The world's largest poker guide PokerListings.com with reviews of 750 poker sites.

Texas Holdem - Page that compares 45 Texas Holdem online poker rooms on a number of relevant features.
---
---

A sports betting service offering sports, casino and racebook action. With more than 7 years of experience in the gaming industry and located in San Jose, Costa Rica. enVivoSports.com has it all for the sports enthusiastic!

At enVivoSports.com they offer excellent customer service and Same Day Payouts 100% guarantee and 7 days a week.

enVivoSports.com offers juicy cash bonuses and special promotions all year round, so don't forget to check our web site at www.envivosports.com

Bet it your way at enVivoSports.com
---
When you open your account at enVivoSports.com you will be able to bet on sports, casino and horseracing just call us at 877-512-3503 or access our web site www.enVivoSports.com you will receive up to a 25% SIGN UP bonus for depositing funds into your betting account. Remember at enVivoSports.com you bet it your way! (
enVivosports.com is one of the very few offshore sports books that offers a .10 Cent line in baseball
).
---