Play To Win
Tips and strategies to help make you a winning casino player

Game Rules
Learn: Blackjack, Baccarat, Craps, Roulette, Slots, Video Poker, Pai Gow Poker, Texas Hold'em, Caribbean Stud, Let It Ride, Casino War, Big Six, Sic Bo (NEW!)

Systems Gallery
Win more, more often with proven betting methods from the systems gallery

Order Form
A secure on-line order form to purchase products advertised by Let's Talk Winning.

Playing Online
All about gambling at online casinos. Find out where the best deals are

Best Casino Bonuses - NEW!
The best collection of on-line casino bonuses, where you can cash $802 on your sign-up.

Links and Things
Sign our guestbook, refer a friend, link to other gambling sites.

Gambling News - NEW!
Latest Gambling News - updated daily including gambling articles, joke of the day and a gambling dictionary.

Newsletter
Click above to read the current edition of our weekly newsletter. Then get your own free subscription right here.

Please tell all your friends about it.

On-Line Forum
Post a gambling question or opinion - get an answer . . .
---
Below is a selection of the most recommended
on-line casinos
and sportsbooks
Check out:
On-Line Casino of the Month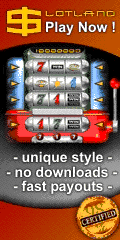 ============================================================= Wednesday, December 5, 2018

EBBS Review and Holiday Specials

Dear Let's Talk Winning subscribers, customers, friends,
The new system EBBS (Even Bet Bias system) did not have too many questions in the discussion forum. As a result, one loyal member suggested that 3 volunteers would test the system and provide their results in the forum.
I agreed immediately and indeed 3 members were sent the system, so they can run their tests on real shoes.
Those are results they provided:
1) First go with the system in test mode on 4 real shoes:

End profit 136 units.
First shoe was a difficult one. Straight into a battle.
Came back into profit midway into shoe 3 and got to 100 units by 68th hand of Shoe 3.

I will test more live shoe throughout the week. Early stages of testing.
I will of course run tests over many thousands upon thousands of random decisions.
2) Max bet 33 units

Biggest drawdown started from the first shoe. Bad shoe. Went down -167 units. Max drawdown -206.
Took 59 hands to come back into profit from the -206.

One abandoned run.
Three completed runs.
Win target per run: 100 units.
3) Test on one real shoe plus 18 hands of a 2nd shoe:

Max bet:32
Max profit:160
Drawdown -12

They were good shoes, obviously.
4) Max bet: 51
Max profit: 203
Drawdown: -102
End profit: 37
Abandoned runs: 1
Completed runs: 2
5) Test another real shoe: (53 hands to reach 100 units)

Max bet: 22
Max profit: 109
Drawdown: -4
End profit: 108

Now, even though the drawdown was -4, I had a stage where I reached 79 units midway through the shoe, then some decisions later down to 8 units and then then some decisions later got the 100 units.
6) Another real shoe:

Max bet: 29
Max profit: 90
Drawdown: -36
End profit: 77
7) On another test of a few shoes:
Max bet: 51
Max profit: 203
Drawdown: -102
End profit: 37
Conclusion: The system works as announced. There are at least 3 winning runs at +100 versus one abandoned run of -155 units in average, thus a long run profitable system. It would be good to add this system to your winning arsenal.
Well, in order to create your strong arsenal, I have the following super holiday specials for you: Buy any 5 systems of mine of your choice and pay only $200 for all 5. This makes any system as low as $40, a special not to be missed. Your minimum order needs to be of $200 or 5 systems. If you would like to purchase more, any additional system will still be not more than $40. $240 for 6 systems, $280 for 7 systems, etc. Those purchases are final and not refundable.
This offer is valid until midnight January 7, 2019, ET.
You can place your orders either via the secure purchase order form at: https://www.letstalkwinning.com/order/
and your credit card will be charged according to the above special, or simply send a PayPal payment to my id:
izak.matatya@videotron.ca with an email specifying your system choices.
Wishing you and your families all the best during your holiday season!
Best regards,
Izak
www.letstalkwinning.com
www.izakmatatya-digitalart.com

Email: webmaster@letstalkwinning.com, izak.matatya@videotron.ca or matatya.izak@gmail.com
Systems Gallery: http://www.letstalkwinning.com/gallery.htm
Newsletter: http://www.letstalkwinning.com/winalert.htm
Newsletter Archive: http://www.letstalkwinning.com/archive.htm
Recommended On-Line Casinos: http://www.letstalkwinning.com/bestonline.htm
Discussion Forum: http://www.letstalkwinning.com/forum/
Izak Matatya's new contemporary digital art online store: https://www.izakmatatya-digitalart.com
Izak's digital contemporary art portfolio and selected works: www.izakmatatya.com
---
WOULD YOU LIKE TO SUBSCRIBE? Click here.
---
If you missed any newsletter, click here for an archive.
---
Poker Guide - The world's largest poker guide PokerListings.com with reviews of 750 poker sites.

Texas Holdem - Page that compares 45 Texas Holdem online poker rooms on a number of relevant features.
---