Play To Win
Tips and strategies to help make you a winning casino player

Game Rules
Learn: Blackjack, Baccarat, Craps, Roulette, Slots, Video Poker, Pai Gow Poker, Texas Hold'em, Caribbean Stud, Let It Ride, Casino War, Big Six, Sic Bo (NEW!)

Systems Gallery
Win more, more often with proven betting methods from the systems gallery

Order Form
A secure on-line order form to purchase products advertised by Let's Talk Winning.

Playing Online
All about gambling at online casinos. Find out where the best deals are

Best Casino Bonuses - NEW!
The best collection of on-line casino bonuses, where you can cash $802 on your sign-up.

Links and Things
Sign our guestbook, refer a friend, link to other gambling sites.

Gambling News - NEW!
Latest Gambling News - updated daily including gambling articles, joke of the day and a gambling dictionary.

Newsletter
Click above to read the current edition of our weekly newsletter. Then get your own free subscription right here. Enter your e-mail address for immediate delivery of an introductory issue, including a FREE ROULETTE SYSTEM:

Please tell all your friends about it.

On-Line Forum
Post a gambling question or opinion - get an answer . . .
---

---

Wanna Win At Slots? Click Here!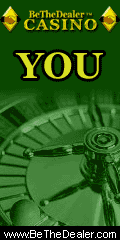 It's now $50 bonus every month!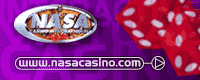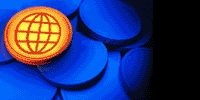 =========================================== Thursday, December 5, 2002

How to Reduce the Vig in Craps and zWallet
Hello everyone,
Larry Edell from the the CrapShooter has an interesting way to reduce the 5% vig to a 2% vig - by making a special deal with the dealer. Maybe that's another reason why they are called "dealers". Let's see how Larry accomplishes that:
Craps A to Z - "P" is for Pushing (c) 2002 by Larry Edell
Is there some way you can "push the house" to give you a better deal than it gives everyone else?

When you buy or lay a bet, you always have to pay a 5% commission (or "vig") to insure that the casino makes a profit. This discourages a lot of people from making these bets.

But, could there be a method to actually cut down the casino commission from about 5% to about 2%, making the lay or buy bet an attractive alternative to the don't pass or pass bets?

Let's find out!

The vig that the casino charges is variable somewhat, depending on how friendly your dealer is. He will still charge you a set amount, but many times you can talk him into letting you bet a higher amount and still pay the same vig. Let's look at an example.

Say you want to buy the four and ten for $20 each. You would normally pay 5% of $20 on each bet, or $1 each. So for both bets you would have to pay $2 vig. If you bet more, of course, you must pay more - always 5% of each buy bet.

There is a better way, but you must befriend the dealer by talking to him and occasionally giving him a tip. Once you are on a first name basis with him, you are ready to go.

On the four and ten buy bets, a 5% vig changes from $1 to $2 at $40, because 5% of $40 is $2. Ask your friendly dealer then, if you can buy the four (or ten) for $38 and still pay only $1 vig. This is commonly called "pushing the house." If he says no, just wait for another dealer or go to another table and try again. But if he says yes and you win your bet, you will win $76 ($38 at 2:1) instead of $50 ($25 at 2:1) and still pay the same $1 vig!

A lay bet on the four or ten is the opposite of a buy bet so now you must pay 5% of your winnings, not your bet. If you lay $40 you'll win $20 and pay 5% of $20 or $1. The vig changes from $1 to $2 at an $80 lay, because 5% of a $40 win is $2.

So, ask the friendly dealer if you can lay $78 (to win $39) and still pay only $1 vig. If he says no, just find another table. If he says yes and you win your bet, you win $39 ($78 at 1:2) and still pay the same $1 vig.

At their minimum $1 vigs, both lay and buy bets give the house about 5%. But at $38 or $39, the same $1 vig gives the house only 2.6% - making them both much better bets! And, you can make or remove a lay or buy bet at any time, unlike the pass or don't pass bets.

So have you ever wondered if you could talk the casino into giving you a better bet?

Well, now you know!

And, as always, good luck at the tables!
You can get a FREE issue of THE CRAPSHOOTER NEWSLETTER (a $7 value) just by sending two first class stamps to The Crapshooter, Dept. INT, PO Box 421440, San Diego CA 92142, or you can subscribe at
http://www.TheCrapShooter.com
. You'll also receive a FREE catalog and a special FREE offer!
---
I thought you would be interested in this new email service, that I have started using. zWallet.com is a new Internet company that not only provides with free email service but also pays to use it.
And the best thing of all, zWallet.com not only pays you to email but also pays you while your friends or people that you have referred use their service.

What's the catch? There is no catch. The money comes from advertisement banners that we see almost everywhere on the Internet. The only difference is that zWallet.com shares part of their advertising income with its members.
Members get paid every time they send or receive email - they make money every time they log in. And there is absolutely no spam or advertisements whatsoever that is sent to their email. And it makes total sense to sign up with zWallet, because let's face it, Hotmail and Yahoo don't pay you to use their emails, whereas zWallet does.

You don't even need to download anything. Go to http://www.zwallet.com/index.html?user=abcdefg1234567 to get more info or to join, it's fast and free. If you will decide to join please use my User ID: abcdefg1234567, when asked for the User ID of a person who referred you.

Make sure you tell all your friends about this revolutionary service because the more people we sign up, the greater our income will be.
Just to give you an idea on how much you can make. If you refer only 20 people to join zWallet and they find each only 5, reading and sending about 10 emails, which is the bare minimum people do, that will make you exactly $1125.72 per month.
Click here to sign in and get 2MB free storage.
Wishing you all the best,
Until next week,
Izak
---
WOULD YOU LIKE TO SUBSCRIBE?
---
If you missed any newsletter, click here for an archive.
---

---

---

---