Play To Win
Tips and strategies to help make you a winning casino player

Game Rules
Learn: Blackjack, Baccarat, Craps, Roulette, Slots, Video Poker, Pai Gow Poker, Texas Hold'em, Caribbean Stud, Let It Ride, Casino War, Big Six, Sic Bo (NEW!)

Systems Gallery
Win more, more often with proven betting methods from the systems gallery

Order Form
A secure on-line order form to purchase products advertised by Let's Talk Winning.

Playing Online
All about gambling at online casinos. Find out where the best deals are

Best Casino Bonuses - NEW!
The best collection of on-line casino bonuses, where you can cash $802 on your sign-up.

Links and Things
Sign our guestbook, refer a friend, link to other gambling sites.

Gambling News - NEW!
Latest Gambling News - updated daily including gambling articles, joke of the day and a gambling dictionary.

Newsletter
Click above to read the current edition of our weekly newsletter. Then get your own free subscription right here.

Please tell all your friends about it.

On-Line Forum
Post a gambling question or opinion - get an answer . . .
---
Below is a selection of the most recommended
on-line casinos
and sportsbooks
Check out:
On-Line Casino of the Month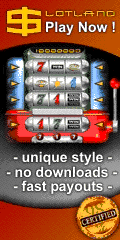 ================================================ Tuesday, December 27, 2022

Year End Free System and Holiday Specials

Dear Let's Talk Winning subscribers, customers, friends,
I hope you are having a wonderful holiday season.
Before the free system at the end of this newsletter, I would like to remind you that you have until January 7, 2023 to take advantage of the huge discount of 90% on any system for the holiday specials of year end 2022.
The specials have no limitations. You can buy as many systems as you like, even only one if you wish. And you can use the same discount code LTWHLD22 to enter at the checkout panel of https://shop.letstalkwinning.com/ within the same order by adding them to the cart or for multiple separate orders, whatever is convenient for you.
All systems you order will provide you automatic download links. Please make sure you provide your email address in the order, otherwise, the system will not know where to send the download link.
Should you have problems downloading, you can always email me at: matatya.izak@gmail.com and, as always, I will be more than happy to help you out.
You will have 105 systems available for you to download.
And now a great free roulette system for you to enjoy.
A loyal customer of mine gave me a call to present an idea and asked me to see if I can come up with an efficient system for it. And I surely did.
The idea was the following: If we are playing dozens and/or columns in roulette, we have a great disadvantage when a zero or double zero comes up and we lose our bet. What if we incorporate the zero(s) within a sector, then instead of losing on them, we actually win the bet.
Can we divide the roulette wheel into 3 sectors, which will include the zeros as well?
I said definitely we can do that. We can divide the wheel either by the roulette layout, or simply by adding the zeros to one of two dozens or columns and bet accordingly.
So how will that work? Since the odds of either dividing the wheel into 3 sectors or add the zero to either dozen do not change, I chose the option of "modifying" the dozens (or columns but we will stick to dozens for now) by simply adding the number 0 and 00 to them.
Thus, Dozen 1, which was numbers 1-12, will now include one of the zeros and we will call it Sector 1, which will cover 0-12.
Dozen 2 will stay unmodified and will be called now Sector 2, and will still include numbers 13-24.
Dozen 3 will add the 00 into it, if you're on a double zero wheel and we will call it now Sector 3 and will comprise numbers 25-36 and 00.
How do we now bet using sectors? Very simple, if we want to bet Sector 1, we simply bet one chip on each number 1-12 and one chip on the 0. Thus we will have 13 chips on the table with equal sizes. If we win the bet we win 36-13 = 23 units/chips, instead of 24. This is much better than losing to a zero. Instead we win 23 units when a zero comes up!! Not bad.
If we bet Sector 2 and we win, we win 24 units. If we lose, we lose 12 units.
If we bet Sector 3 and we win, we cash 23 units. If we lose, we lose 13 units.
Sector 1 and Sector 3 will have identical win/lose rate.
Now the system. Where do we bet? What is the bet selection?
There are four bet selections. Let's assume first that there are four players, playing each his/her/their own bet selection.
The first player bets following the last sector. If, for instance the last spin was number 26, this is Sector 3 and the player will bet on Sector 3, that is one chip on numbers 25-36 and one chip on 00.
The second player bets following the last second sector, that is on the sector of the spin previous to the last.
The third player bets following the last third sector.
And you guessed right, the fourth player bets following the last fourth sector.
And if there is only one player, that player will simulate the bets of all four players and will place bets on the last, second last, third last and fourth last sectors.
The betting will start only when 5 spins have spun, call it tracking if you like. Even 4 spins will be enough, since each "player" or part will know where to place the bets after those.
One full example will illustrate the entire thing:
Spin
Number
Sector
Bet FL
W/L FL
Bet FL Second
W/L FL Second
Bet FL Third
W/L FL Third
Bet FL Fourth
W/L FL fourth
Units FL
Units FL Second
Units FL Third
Units FL Fourth
Total Units
Cumulative Units
1
13
2
2
9
1
3
22
2
4
32
3
5
2
1
6
6
1
1
W
3
L
2
L
1
W
23
-13
-12
23
21
21
7
13
2
1
L
1
L
3
L
2
W
-13
-13
-13
24
-15
6
8
6
1
2
L
1
W
1
W
3
L
-12
23
23
-13
21
27
9
21
2
1
L
2
W
1
L
1
L
-13
24
-13
-13
-15
12
10
18
2
2
W
1
L
2
W
1
L
24
-13
24
-13
22
34
11
15
2
2
W
2
W
1
L
2
W
24
24
-13
24
59
93
12
24
2
2
W
2
W
2
W
1
L
24
24
24
-13
59
152
13
18
2
2
W
2
W
2
W
2
W
24
24
24
24
96
248
14
21
2
2
W
2
W
2
W
2
W
24
24
24
24
96
344
15
32
3
2
L
2
L
2
L
2
L
-12
-12
-12
-12
-48
296
16
9
1
3
L
2
L
2
L
2
L
-13
-12
-12
-12
-49
247
17
34
3
1
L
3
W
2
L
2
L
-13
23
-12
-12
-14
233
18
3
1
3
L
1
W
3
L
2
L
-13
23
-13
-12
-15
218
19
32
3
1
L
3
W
1
L
3
W
-13
23
-13
23
20
238
20
5
1
3
L
1
W
3
L
1
W
-13
23
-13
23
20
258
21
26
3
1
L
3
W
1
L
3
W
-13
23
-13
23
20
278
22
19
2
3
L
1
L
3
L
1
L
-13
-13
-13
-13
-52
226
23
31
3
2
L
3
W
1
L
3
W
-12
23
-13
23
21
247
24
2
1
3
L
2
L
3
L
1
W
-13
-12
-13
23
-15
232
25
6
1
1
W
3
L
2
L
3
L
23
-13
-12
-13
-15
217
26
3
1
1
W
1
W
3
L
2
L
23
23
-13
-12
21
238
27
9
1
1
W
1
W
1
W
3
L
23
23
23
-13
56
294
28
1
1
1
W
1
W
1
W
1
W
23
23
23
23
92
386
29
29
3
1
L
1
L
1
L
1
L
-13
-13
-13
-13
-52
334
30
5
1
3
L
1
W
1
W
1
W
-13
23
23
23
56
390
31
18
2
1
L
3
L
1
L
1
L
-13
-13
-13
-13
-52
338
32
19
2
2
W
1
L
3
L
1
L
24
-13
-13
-13
-15
323
33
26
3
2
L
2
L
1
L
3
W
-12
-12
-13
23
-14
309
34
30
3
3
W
2
L
2
L
1
L
23
-12
-12
-13
-14
295
35
00
3
3
W
3
W
2
L
2
L
23
23
-12
-12
22
317
36
31
3
3
W
3
W
3
W
2
L
23
23
23
-12
57
374
37
17
2
3
L
3
L
3
L
3
L
-13
-13
-13
-13
-52
322
38
26
3
2
L
3
W
3
W
3
W
-12
23
23
23
57
379
39
20
2
3
L
2
W
3
L
3
L
-13
24
-13
-13
-15
364
40
17
2
2
W
3
L
2
W
3
L
24
-13
24
-13
22
386
41
30
3
2
L
2
L
3
W
2
L
-12
-12
23
-12
-13
373
42
22
2
3
L
2
W
2
W
3
L
-13
24
24
-13
22
395
43
14
2
2
W
3
L
2
W
2
W
24
-13
24
24
59
454
44
29
3
2
L
2
L
3
W
2
L
-12
-12
23
-12
-13
441
45
25
3
3
W
2
L
2
L
3
W
23
-12
-12
23
22
463
46
12
1
3
L
3
L
2
L
2
L
-13
-13
-12
-12
-50
413
47
3
1
1
W
3
L
3
L
2
L
23
-13
-13
-12
-15
398
48
22
2
1
L
1
L
3
L
3
L
-13
-13
-13
-13
-52
346
49
8
1
2
L
1
W
1
W
3
L
-12
23
23
-13
21
367
50
14
2
1
L
2
W
1
L
1
L
-13
24
-13
-13
-15
352
51
30
3
2
L
1
L
2
L
1
L
-12
-13
-12
-13
-50
302
52
26
3
3
W
2
L
1
L
2
L
23
-12
-13
-12
-14
288
53
5
1
3
L
3
L
2
L
1
W
-13
-13
-12
23
-15
273
54
32
3
1
L
3
W
3
W
2
L
-13
23
23
-12
21
294
55
26
3
3
W
1
L
3
W
3
W
23
-13
23
23
56
350
56
21
2
3
L
3
L
1
L
3
L
-13
-13
-13
-13
-52
298
57
12
1
2
L
3
L
3
L
1
W
-12
-13
-13
23
-15
283
58
36
3
1
L
2
L
3
W
3
W
-13
-12
23
23
21
304
59
11
1
3
L
1
W
2
L
3
L
-13
23
-12
-13
-15
289
60
1
1
1
W
3
L
1
W
2
L
23
-13
23
-12
21
310
61
00
3
1
L
1
L
3
W
1
L
-13
-13
23
-13
-16
294
62
28
3
3
W
1
L
1
L
3
W
23
-13
-13
23
20
314
63
36
3
3
W
3
W
1
L
1
L
23
23
-13
-13
20
334
64
24
2
3
L
3
L
3
L
1
L
-13
-13
-13
-13
-52
282
65
27
3
2
L
3
W
3
W
3
W
-12
23
23
23
57
339
66
32
3
3
W
2
L
3
W
3
W
23
-12
23
23
57
396
67
27
3
3
W
3
W
2
L
3
W
23
23
-12
23
57
453
68
11
1
3
L
3
L
3
L
2
L
-13
-13
-13
-12
-51
402
69
5
1
1
W
3
L
3
L
3
L
23
-13
-13
-13
-16
386
70
25
3
1
L
1
L
3
W
3
W
-13
-13
23
23
20
406
71
22
2
3
L
1
L
1
L
3
L
-13
-13
-13
-13
-52
354
72
4
1
2
L
3
L
1
W
1
W
-12
-13
23
23
21
375
73
11
1
1
W
2
L
3
L
1
W
23
-12
-13
23
21
396
74
34
3
1
L
1
L
2
L
3
W
-13
-13
-12
23
-15
381
75
25
3
3
W
1
L
1
L
2
L
23
-13
-13
-12
-15
366
76
27
3
3
W
3
W
1
L
1
L
23
23
-13
-13
20
386
77
25
3
3
W
3
W
3
W
1
L
23
23
23
-13
56
442
78
0
1
3
L
3
L
3
L
3
L
-13
-13
-13
-13
-52
390
79
21
2
1
L
3
L
3
L
3
L
-13
-13
-13
-13
-52
338
80
22
2
2
W
1
L
3
L
3
L
24
-13
-13
-13
-15
323
81
33
3
2
L
2
L
1
L
3
W
-12
-12
-13
23
-14
309
82
19
2
3
L
2
W
2
W
1
L
-13
24
24
-13
22
331
83
32
3
2
L
3
W
2
L
2
L
-12
23
-12
-12
-13
318
84
3
1
3
L
2
L
3
L
2
L
-13
-12
-13
-12
-50
268
85
14
2
1
L
3
L
2
W
3
L
-13
-13
24
-13
-15
253
86
7
1
2
L
1
W
3
L
2
L
-12
23
-13
-12
-14
239
87
33
3
1
L
2
L
1
L
3
W
-13
-12
-13
23
-15
224
88
31
3
3
W
1
L
2
L
1
L
23
-13
-12
-13
-15
209
89
11
1
3
L
3
L
1
W
2
L
-13
-13
23
-12
-15
194
90
23
2
1
L
3
L
3
L
1
L
-13
-13
-13
-13
-52
142
91
28
3
2
L
1
L
3
W
3
W
-12
-13
23
23
21
163
92
24
2
3
L
2
W
1
L
3
L
-13
24
-13
-13
-15
148
93
4
1
2
L
3
L
2
L
1
W
-12
-13
-12
23
-14
134
94
31
3
1
L
2
L
3
W
2
L
-13
-12
23
-12
-14
120
95
4
1
3
L
1
W
2
L
3
L
-13
23
-12
-13
-15
105
96
30
3
1
L
3
W
1
L
2
L
-13
23
-13
-12
-15
90
97
13
2
3
L
1
L
3
L
1
L
-13
-13
-13
-13
-52
38
98
34
3
2
L
3
W
1
L
3
W
-12
23
-13
23
21
59
99
10
1
3
L
2
L
3
L
1
W
-13
-12
-13
23
-15
44
100
12
1
1
W
3
L
2
L
3
L
23
-13
-12
-13
-15
29
101
33
3
1
L
1
L
3
W
2
L
-13
-13
23
-12
-15
14
102
18
2
3
L
1
L
1
L
3
L
-13
-13
-13
-13
-52
-38
103
28
3
2
L
3
W
1
L
1
L
-12
23
-13
-13
-15
-53
104
29
3
3
W
2
L
3
W
1
L
23
-12
23
-13
21
-32
105
16
2
3
L
3
L
2
W
3
L
-13
-13
24
-13
-15
-47
106
13
2
2
W
3
L
3
L
2
W
24
-13
-13
24
22
-25
107
34
3
2
L
2
L
3
W
3
W
-12
-12
23
23
22
-3
108
00
3
3
W
2
L
2
L
3
W
23
-12
-12
23
22
19
109
5
1
3
L
3
L
2
L
2
L
-13
-13
-12
-12
-50
-31
110
29
3
1
L
3
W
3
W
2
L
-13
23
23
-12
21
-10
111
4
1
3
L
1
W
3
L
3
L
-13
23
-13
-13
-16
-26
112
29
3
1
L
3
W
1
L
3
W
-13
23
-13
23
20
-6
113
00
3
3
W
1
L
3
W
1
L
23
-13
23
-13
20
14
114
1
1
3
L
3
L
1
W
3
L
-13
-13
23
-13
-16
-2
115
6
1
1
W
3
L
3
L
1
W
23
-13
-13
23
20
18
116
32
3
1
L
1
L
3
W
3
W
-13
-13
23
23
20
38
117
33
3
3
W
1
L
1
L
3
W
23
-13
-13
23
20
58
118
23
2
3
L
3
L
1
L
1
L
-13
-13
-13
-13
-52
6
119
0
1
2
L
3
L
3
L
1
W
-12
-13
-13
23
-15
-9
120
32
3
1
L
2
L
3
W
3
W
-13
-12
23
23
21
12
121
18
2
3
L
1
L
2
W
3
L
-13
-13
24
-13
-15
-3
122
27
3
2
L
3
W
1
L
2
L
-12
23
-13
-12
-14
-17
123
15
2
3
L
2
W
3
L
1
L
-13
24
-13
-13
-15
-32
124
8
1
2
L
3
L
2
L
3
L
-12
-13
-12
-13
-50
-82
125
22
2
1
L
2
W
3
L
2
W
-13
24
-13
24
22
-60
126
9
1
2
L
1
W
2
L
3
L
-12
23
-12
-13
-14
-74
127
8
1
1
W
2
L
1
W
2
L
23
-12
23
-12
22
-52
128
2
1
1
W
1
W
2
L
1
W
23
23
-12
23
57
5
129
3
1
1
W
1
W
1
W
2
L
23
23
23
-12
57
62
130
00
3
1
L
1
L
1
L
1
L
-13
-13
-13
-13
-52
10
131
36
3
3
W
1
L
1
L
1
L
23
-13
-13
-13
-16
-6
132
13
2
3
L
3
L
1
L
1
L
-13
-13
-13
-13
-52
-58
133
16
2
2
W
3
L
3
L
1
L
24
-13
-13
-13
-15
-73
134
5
1
2
L
2
L
3
L
3
L
-12
-12
-13
-13
-50
-123
135
4
1
1
W
2
L
2
L
3
L
23
-12
-12
-13
-14
-137
136
19
2
1
L
1
L
2
W
2
W
-13
-13
24
24
22
-115
137
16
2
2
W
1
L
1
L
2
W
24
-13
-13
24
22
-93
138
15
2
2
W
2
W
1
L
1
L
24
24
-13
-13
22
-71
139
15
2
2
W
2
W
2
W
1
L
24
24
24
-13
59
-12
140
17
2
2
W
2
W
2
W
2
W
24
24
24
24
96
84
141
27
3
2
L
2
L
2
L
2
L
-12
-12
-12
-12
-48
36
142
15
2
3
L
2
W
2
W
2
W
-13
24
24
24
59
95
143
17
2
2
W
3
L
2
W
2
W
24
-13
24
24
59
154
144
10
1
2
L
2
L
3
L
2
L
-12
-12
-13
-12
-49
105
145
13
2
1
L
2
W
2
W
3
L
-13
24
24
-13
22
127
146
12
1
2
L
1
W
2
L
2
L
-12
23
-12
-12
-13
114
147
24
2
1
L
2
W
1
L
2
W
-13
24
-13
24
22
136
148
26
3
2
L
1
L
2
L
1
L
-12
-13
-12
-13
-50
86
149
21
2
3
L
2
W
1
L
2
W
-13
24
-13
24
22
108
150
11
1
2
L
3
L
2
L
1
W
-12
-13
-12
23
-14
94
151
21
2
1
L