Play To Win
Tips and strategies to help make you a winning casino player

Game Rules
Learn: Blackjack, Baccarat, Craps, Roulette, Slots, Video Poker, Pai Gow Poker, Texas Hold'em, Caribbean Stud, Let It Ride, Casino War, Big Six, Sic Bo (NEW!)

Systems Gallery
Win more, more often with proven betting methods from the systems gallery

Order Form
A secure on-line order form to purchase products advertised by Let's Talk Winning.

Playing Online
All about gambling at online casinos. Find out where the best deals are

Best Casino Bonuses - NEW!
The best collection of on-line casino bonuses, where you can cash $802 on your sign-up.

Links and Things
Sign our guestbook, refer a friend, link to other gambling sites.

Gambling News - NEW!
Latest Gambling News - updated daily including gambling articles, joke of the day and a gambling dictionary.

Newsletter
Click above to read the current edition of our weekly newsletter. Then get your own free subscription right here. Enter your e-mail address for immediate delivery of an introductory issue, including a FREE ROULETTE SYSTEM by clicking here.

Please tell all your friends about it.

On-Line Forum
Post a gambling question or opinion - get an answer . . .
---
Below is a selection of the most recommended
on-line casinos
and sportsbooks

Check out:
On-Line Casino of the Month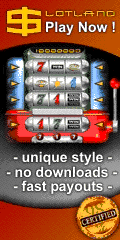 ================================================ Friday, December 26, 2008

Feedback and Success Stories on IBS4 and Holiday Specials
Hello everyone,
There are lots of success stories on the new IBS4 system being used since its launch in October. I would like to share one customer's continuous report and feedback on his usage of IBS4 in conjunction with the Matrix Sports Betting System.
Date: 11-14-08 18:40

People are asking for feedback so here is my experience so far.

After studying the IBS4 manual, I then tried to get a feel for the system rules by playing red and black on roulette using a computer game I have. I played maybe 10 sessions of 30 spins each and all sessions were winners.

Then I set up my Matrix spreadsheet like I wanted, maximum of 32 bets. Fortunately NBA was just about to start up so I started the Matrix betting on the first day of regular season. It is 17 days into the season now and I have resolved 101 runs and thus won 101 units or 5.94 units per day. The largest bet in a run so far has been 32 units. The Matrix is quite a bit of work but I will be earning 160 units or more per month until the end of NBA season so it will be worth it to me.

I have seen IBS3 and think that IBS4 is a big improvement. You have a lot more flexibility to resolve runs. At first I did not like this, I like a mechanical method. But then I saw that this flexibility is somewhat mechanical in nature and would allow for all runs to be resolved if one were patient. I could be wrong (I will let you know after basketball season is over) but I don't really see how even the most disastrous run could not be resolved with patience using the flexibility of the IBS4 rules.

Those are my impressions and experiences thus far.
---
Date: 11-15-08 20:16

Sorry it should be 109 units won, not 108.
---
Date: 11-15-08 20:20

109 units in 18 days in over 6 units per day. If that rate continues and I am able to resolve all runs I will have between 900 and 1000 units won by the end of the season. That would be nice.
---
Date: 11-15-08 21:46

Question for the reporter:

What is your

a) regular bankroll

b) conservative bankroll

c) expected ROI% per month (non-compounded) over the course of the NBA season

Thanks!
---
Date: 11-15-08 23:03

I think Izak recommends 300 units for Matrix and so far that would have been adequate. Time will tell on that question. You have money tied up in the open runs (which you will get back at the end of the season when all runs are allowed to resolve) and you need money to bet for that particular day which can be up to 32 bets in my case.

Let's say you want to play it safe and use 600 units. If you win 165 units per month that is 27.5% return per month.

In my particular situation I am using the same account I use for my other sports and horse betting and Matrix is another income stream added to the equation so I did not really think about bankroll since I have ample there already.
---
Date: 11-25-08 16:59

I have an update and more comments on my use of IBS4/Matrix. As of yesterday I have resolved 161 runs and won 161 units. I have set an upper limit of 40 units on any one bet. I have had to limit a few bets and the maximum bet so far has been 38 units. These troublesome runs have ended up resolving in the end.

One thing I have noticed today, although technically I should have won 161 units or 5.75 units per day over the last 28 days, I actually am winning more than that. This is due the rounding I am doing in the bets. If I lose $61.60 for example, I enter that as $62 dollars lost. I did this just to simplify things for myself. Apparently this adds up though, since you round and bet again and if it loses you round up again. I calculate that I am winning an extra 0.96 units per day so far just because of the rounding. So my actual units won is an average of 6.71 units per day over the last 28 days. At this rate in the typical 30 day month, you win 201 units. This should be about 1100 units by the end of the NBA season.

Another thing that would boost your return is the use of halftime bets. I have my Matrix set up for a maximum of 32 bets per day. Sometimes there are not 32 bets to be had, however. If your book offers halftime bets you could add these into the mix and most likely get the full 32 bets on most days. I have not done this yet but am considering it.

Professional sports that would work with Matrix are NBA, NFL, WNBA, CFL. NBA is November through May. NFL is September through January so you could fill in some missing bets with NFL if you need to. College football and basketball could also be used to fill in missing bets during the fall/winter/spring. WNBA and CFL run during the summer so you could even run a smaller version of Matrix in summer months and earn money all year round.

I will provide update from time to time to let you know how the system is performing.
---
Date: 12-01-08 16:58

End of month update on IBS4/Matrix.

At the end of November I am 34 days into the NBA season. I have resolved 206 runs and won 206 units (actually a bit more due to rounding as mentioned in a previous post). I did have to limit the bet size of a couple of bets in a troublesome run this week at 39 units (40 units is my max). I was happy to see that this run resolved successfully yesterday.

The last several days I have been trying to fill in missing bets in the Matrix by using college basketball, college football, NFL, and also half time bets in NBA and NFL. I have been able to place all 32 bets each day this week and will attempt to continue this. This will increase my return which currently is a theoretical 6.05 units per day. This is probably closer to 7 units per day due to the rounding.

So far I am impressed with the steady returns of this method. You have money tied up in the open runs so it takes 2 to 3 weeks before you actually see any growth in your account. After 34 days, however, I am solidly in the black and it should stay that way until the end of the season. At that time I will either let all runs resolve and thus get back all the money tied up in the open runs, or will pare down the number of open runs so that I can transition into the WNBA/CFL summer season.

Thanks, I will provide updates periodically on the system performance.
---
Date: 12-05-08 16:33

IBS4/Matrix update and observations.

I am 38 days into the NBA season and have resolved 238 runs, winning 238 units so far, an average of 6.26 units won per day.

I have been successful recently in placing the entire 32 bets in my matrix each day using other sports bets available which meet Matrix requirements to fill in missing NBA bets. I have averaged all days since the beginning of the season which have had the full 32 bets and have found that the average gain is 7.7 units per day. This strategy will increase returns in the long run.

One thing I have noticed is the amount of money tied up in the open runs is climbing. I am guessing this is due to vigorish recovery and rounding. I am afraid that before the end of the NBA season the money tied up in open runs may climb too high and possibly become a problem. Because of this possibility, I am going to allow all my runs to resolve starting today, effectively cashing out the money invested in open runs. After this process is complete, I plan to implement a cycling approach to Matrix, one of the options mentioned in the manual.

I am very interested in how long it will take for all runs to resolve. About 24% of runs resolve each day so I am thinking 14 to 21 days unless there are one or two stubborn runs that require more time.

Thanks, I will continue to update the system performance as the days progress.
---
Question for the reporter:

I am following your results closely. The escalating open runs is exactly the problem I had with original Matrix betting strategy. I was hoping that IBS-4 had resolved the big open run drawdown problem. Keep us posted. Thanks.
---
Date: 12-07-08 17:11

Thanks, I am glad that you find the information useful. I will continue to post updates from time to time. Yes, I see now that the continuous strategy may not be the best way to use the system. I think the cycling approach will perform about as well with smaller bankroll requirements.

I feel that IBS4 is an excellent even bets system. The drawdown should be much less than IBS3. I just let the Matrix cycle go on for too many days. The vigorish recovery compounds as does the rounding. I probably should have brought this first cycle to an end sooner than I did. Experience is one of the best teachers.

Currently I have resolved 13 of the 32 runs and have 19 more to go. 244 units won so far. 40 days into the cycle so 6.1 units won per day. I am pleased with IBS4/Matrix so far. This first cycle will be a very profitable one once all the runs finally resolve.

Thanks.
---
Question:

I was wondering when you said you had to bet 39 units and you max is 40, what would have happened if you lost the bet? Do you go on to bet 40? And, if you lost at this point, how many units would you lose in total?

Thanks.
---
Date: 12-09-08 16:10

The biggest bet I have lost this cycle was 36 units. I just recorded the loss as normal. That brought my open loss up to 76 units in that run. The run ended up resolving successfully 4 days later.

If the normal IBS4 rules dictate a bet higher than 40, I use the alternate rules to bring the bet down below 40. This seems less risky to me. Also you have sportsbook betting limits to deal with. If you were betting a larger unit size and were using 40 units as maximum bet, then your maximum unit size would be the sportsbook betting limit divided by 40. For example, if the sportsbook maximum bet was $3000 then your unit size could be no larger than $75 if 40 units was your max bet.

Just to update, I have resolved 18 of the 32 runs now and have 14 more to go. My account is growing as the the runs resolve and fall away. 249 units won or 5.93 units per day.
---
Date: 12-12-08 16:46

IBS4/ Matrix update.

I have successfully resolved 25 of the 32 open runs, 7 more to go. 256 units won this cycle or 5.68 units per day. It has only taken 8 days to resolve 25 of the runs, pretty impressive. The resolution process has gone very smoothly thus far.
---
Date: 12-17-08 16:42

IBS4/Matrix update.

Slow going since last post. I have successfully resolved 28 of the 32 runs, 4 more to go. 259 units won, 5.18 units won per day. Seems like the fewer open runs you have left, the slower it goes, which makes sense, I guess. 13 days into the resolution process so this is well within the 14 to 21 days time frame I was anticipating. Everything is going according to plan.
---
Question:


I do not know how this system works so I am curious if you are well in profit taking the open runs in account?

Thanks
---
Date: 12-18-08 16:47

Oh yes, well into profit. I resolved another run yesterday so I have 3 more to go. I am ahead an actual 246 units or so and have only about 25 units left in the open runs to resolve. So most of the money has already been made. When I finish these last 3 runs it will be done and I can start another cycle.

If you will notice 246 + 25 = 271 units. Theoretically I should make 263 units after these last 3 runs are resolved so I have done a little better than I should have due to rounding I think.
---
Thanks I hope it continues for you.
---
Date: 12-26-08 15:44

IBS4/Matrix update ... end of cycle

I finally completed this first Matrix cycle and have the final numbers. The total cycle was 58 days which included 37 days at full betting and then 21 days to resolve the open runs. All runs were resolved successfully. The 21 day resolution process was within the 14 to 21 day period I was expecting.

263 units were won which is 4.53 units per day. I actually earned a little more than this due to rounding and vigorish recovery. 1129 total bets were placed. Out of these only 6 bets had to be limited at 40 units, which I had chosen as my maximum bet.

All in all the cycle went smoothly and IBS4 performed well. I think Izak tested 12,207 decisions when putting together the IBS4 system, so you can add another 1129 decisions to that. I feel that IBS4 is an excellent even bets system and Matrix is a very clever way to apply this to the sports betting arena. Looking forward to many more months/years of future earnings with this combination.

Thanks. Any questions, let me know.
---
This is very encouraging, I thank you very much for your feedback.

Wishing you continuous success and happy holidays to all.

Izak
---
IBS4 has a price tag of $140 and it's worth every penny.

Click here to order for an email delivery of the system. If you require a printout, you can have it delivered to you by first class air mail, at only $5 additional fee.
Wishing you all the best,
Izak
---
---
Click here to get a free iPod.
---
WOULD YOU LIKE TO SUBSCRIBE? Click here.
---
If you missed any newsletter, click here for an archive.
---
---
Poker Guide - The world's largest poker guide PokerListings.com with reviews of 750 poker sites.

Texas Holdem - Page that compares 45 Texas Holdem online poker rooms on a number of relevant features.
---
---
---

A sports betting service offering sports, casino and racebook action. With more than 7 years of experience in the gaming industry and located in San Jose, Costa Rica. enVivoSports.com has it all for the sports enthusiastic!

At enVivoSports.com they offer excellent customer service and Same Day Payouts 100% guarantee and 7 days a week.

enVivoSports.com offers juicy cash bonuses and special promotions all year round, so don't forget to check our web site at www.envivosports.com

Bet it your way at enVivoSports.com
---
When you open your account at enVivoSports.com you will be able to bet on sports, casino and horseracing just call us at 877-512-3503 or access our web site www.enVivoSports.com you will receive up to a 25% SIGN UP bonus for depositing funds into your betting account. Remember at enVivoSports.com you bet it your way! (
enVivosports.com is one of the very few offshore sports books that offers a .10 Cent line in baseball
).
---