Play To Win
Tips and strategies to help make you a winning casino player

Game Rules
Learn: Blackjack, Baccarat, Craps, Roulette, Slots, Video Poker, Pai Gow Poker, Texas Hold'em, Caribbean Stud, Let It Ride, Casino War, Big Six, Sic Bo (NEW!)

Systems Gallery
Win more, more often with proven betting methods from the systems gallery

Order Form
A secure on-line order form to purchase products advertised by Let's Talk Winning.

Playing Online
All about gambling at online casinos. Find out where the best deals are

Best Casino Bonuses - NEW!
The best collection of on-line casino bonuses, where you can cash $802 on your sign-up.

Links and Things
Sign our guestbook, refer a friend, link to other gambling sites.

Gambling News - NEW!
Latest Gambling News - updated daily including gambling articles, joke of the day and a gambling dictionary.

Newsletter
Click above to read the current edition of our weekly newsletter. Then get your own free subscription right here.

Please tell all your friends about it.

On-Line Forum
Post a gambling question or opinion - get an answer . . .
---
Below is a selection of the most recommended
on-line casinos
and sportsbooks
Check out:
On-Line Casino of the Month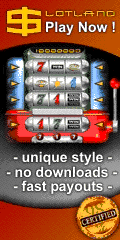 ============================================================= Wednesday, August 9, 2017

The New System by Izak Matatya - Gambler's Dream

Dear Let's Talk Winning subscribers, customers, friends,
I have always dreamt of a system that can generate as many units as placed bets. Finally I have achieved that. I would like to present you my newest system: The Gambler's Dream.
I have just very recently used it on 5 EZ Baccarat shoes. Each shoe generated 70 units, exactly the number of decisions it had. On 5 shoes, I made 350 units with the minimum bet of $25 profiting $8,750 in 5 hours of continuous play.
Hard to believe? I know, but that's exactly what happened.
It doesn't win every single bet, but by the end of the shoe, making as many units as played decisions, it feels exactly like it.
One could say, a double up Martingale could win as many units as the number of wins. Well, this would be just the number of wins and if the Martingale goes steep, such as 9-12 consecutive losses, one can say goodbye to the lifetime bankroll.
The Gambler's Dream does not use a Martingale and can sustain as many consecutive losses that a table can produce.
At the end of each run, one generates as many units as the number of wins for that particular bet selection. If, say, you are playing Baccarat and placing bets on Player decisions only and if by the end of the shoe you had 28 Players, the Dream system will generate 28 units.
If, for the same shoe, you were betting Banker only and you had say 42 Bankers, the Dream system will generate 42 units.
If you had a partner and would place bets on one side and you would place bets on the other side, the two of you would be winning 28 + 42 = 70 units together.
And every time two partners play different bets or strategies, you can be sure that this can be achieved with one player only and the Gambler's dream does just that.
With an unlimited bankroll, the Gambler's dream generates 32,000 units for 32,000 placed bets. Since we don't have unlimited bankroll, we need to have some limitations in the system and a few parameters have been introduced to control your budget and losses, if any.
One of the parameters is the maximum bet limit. And this is set to 47 units. If one exceeds this limit, the run is over and we may abandon it with a certain accepted amount of loss, which is between 50 and 100 units.
Statistics have been run over thousands of random shoes and this may happen in one out of 5 shoes. Thus you would be making 75 units per shoe 4 times versus abandoning one at a maximum loss of 100 units. Doing the math, this generates
4 X 75 - 100 or 300 - 100 or 200 units for 5 shoes, thus averaging 40 units per shoe on the long run, which is a great achievement.
A random Dragon Baccarat shoe is provided to you as a simulation. You can run this simulation an indefinite number of times and the above will be the statistics.
Also to have the simulation reflecting real life shoe, one can have between 0 and 5 Dragons, which makes your Banker bet returned to you and makes your Player bet lose.
The system will work equally well for all other even bet games, such as Roulette, Sic-Bo, Craps, etc.
Following is a typical performance chart of a Baccarat shoe: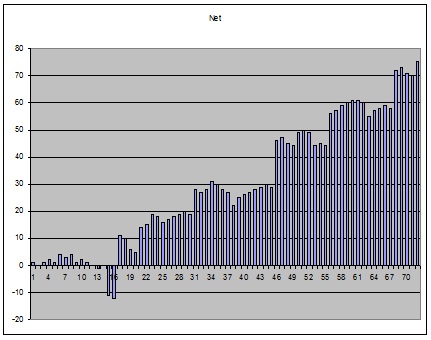 As you can see, you are not winning every single bet, but by the end of the 72 decision shoe, you are close to +75 units. Quite incredible.
The drawdown doesn't seem to be more than 12 units for this particular shoe. When one abandons a run, which is 20% of the time, then you could have a 50 unit drawdown. And this is the suggested session bankroll. A 100 units will be sufficient for a lifetime bankroll.
You could even use the system with a set win target, such as +50 units and now we're talking per shoe. You will very many times have +50 units before the system can go south by the end of the shoe and will be cashing your 50 units even on a losing shoe.
Running the simulations numerous times, you will see that the positive shoes of +50 units will way overrun the negative shoes.
The system document is no longer than 15 pages, easy to read and easy to understand with lots of examples to make it crystal clear. You can use the system with its partial power to generate as many units as the number of wins or to the full power to generate as many units as the number of decisions.
Only one simulation is provided to you for simplicity. I was told there is no further point testing the system against the Zumma tester books, as we cannot tell when a Dragon appears. Thus the simulation is just one randomly generated shoe, reflecting the true odds of EZ Baccarat for Banker, Player and Dragon decisions. You can run it infinitely and see resulting charts.
The Gambler's Dream is $950. This is what you will generate at the first hour of your usage at $25 a bet for 40 units gain. This is probably the best system you will ever have. It's been designed for continuous winning and you will be stunned on how you will make exactly the number of units matching the amounts of bets you will place.

For $20 extra you can have a printout of the system document shipped to your mailing address.
You have a full money back guarantee, if the system is not to your satisfaction, no questions asked, no strings attached, and you may return it within 30 days of your purchase.
Click here to order. You will be very happy you did. Your dreams will come true, too.

PayPal orders are welcome to my id: izak.matatya@videotron.ca
Thank you!
Izak Matatya
www.letstalkwinning.com
www.izakmatatya-digitalart.com
http://izakselectronics.com/
Email: webmaster@letstalkwinning.com, izak.matatya@videotron.ca or matatya.izak@gmail.com
Systems Gallery: http://www.letstalkwinning.com/gallery.htm
Newsletter: http://www.letstalkwinning.com/winalert.htm
Newsletter Archive: http://www.letstalkwinning.com/archive.htm
Recommended On-Line Casinos: http://www.letstalkwinning.com/bestonline.htm
Discussion Forum: http://www.letstalkwinning.com/forum/
Izak Matatya's new contemporary digital art online store: https://www.izakmatatya-digitalart.com
Izak's Microsoft affiliation store: http://izakselectronics.com/
---
WOULD YOU LIKE TO SUBSCRIBE? Click here.
---
If you missed any newsletter, click here for an archive.
---
Poker Guide - The world's largest poker guide PokerListings.com with reviews of 750 poker sites.

Texas Holdem - Page that compares 45 Texas Holdem online poker rooms on a number of relevant features.
---