Play To Win
Tips and strategies to help make you a winning casino player

Game Rules
Learn: Blackjack, Baccarat, Craps, Roulette, Slots, Video Poker, Pai Gow Poker, Texas Hold'em, Caribbean Stud, Let It Ride, Casino War, Big Six, Sic Bo (NEW!)

Systems Gallery
Win more, more often with proven betting methods from the systems gallery

Order Form
A secure on-line order form to purchase products advertised by Let's Talk Winning.

Playing Online
All about gambling at online casinos. Find out where the best deals are

Best Casino Bonuses - NEW!
The best collection of on-line casino bonuses, where you can cash $802 on your sign-up.

Links and Things
Sign our guestbook, refer a friend, link to other gambling sites.

Gambling News - NEW!
Latest Gambling News - updated daily including gambling articles, joke of the day and a gambling dictionary.

Newsletter
Click above to read the current edition of our weekly newsletter. Then get your own free subscription right here.

Please tell all your friends about it.

On-Line Forum
Post a gambling question or opinion - get an answer . . .
---
Below is a selection of the most recommended
on-line casinos
and sportsbooks
Check out:
On-Line Casino of the Month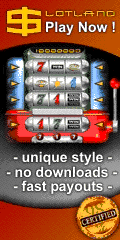 =================================================== Thursday, August 6, 2020

The New System 101 by Izak Matatya

Dear Let's Talk Winning subscribers, customers, friends,
Now that the covid-19 situation is getting better, some brick-and-mortar casinos started to re-open. We may want to go back to our games and we may want to win in a totally different way. That's why I'm here to present you my newest system: System 101.
It's a system I have been giving a lot of thought for the last 4 months of self confining, testing online and simulations.
It's designed for Baccarat only and works very well for the commission and non-commission based Baccarat games.
The concept is now perfected. It covers all possibilities of bets, bets an equal number of Player and Banker decisions, uses the special features of Baccarat and takes advantage of them by betting low when there is less advantage and bets high when the situation is advantageous to the player.
Works exactly like a successful counting system.
You don't have to count high cards or low cards or face cards. It's nothing like that. There is practically two situations to account for. Very good and less good.
And there are two types of bets: either 1 unit or 10 units. That's why the name System 101, although it sounds like it's a basic system, the way we say Math 101. Well, it's really very simple and very basic. Will take you half an hour to master it.
So no progressions at all. No raising of bets. When the advantage is determined you bet 10 units, if not just 1.
You can even avoid the 1 unit bet, and convert the system into a flat bet system, which generates even more units. The only thing is that in the regular system betting either 1 or 10, you are able to bet every single bet and no one will ask you to leave the table.
Let's take a look at some performance charts where you will be amazed with the rising profits.
All tests have been conducted on the same 500 Zumma shoe set, so you can compare the results with different parameters, with and without commissions.
Here's the performance chart on the regular system without commissions: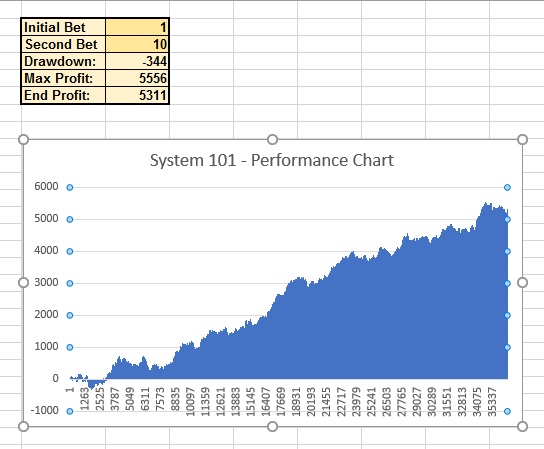 A very consistently rising profit graph, generating +5311 units for 500 shoes, averaging 10.62 units per shoe.
If we can afford a max bet of 20 units, the system generates twice as much: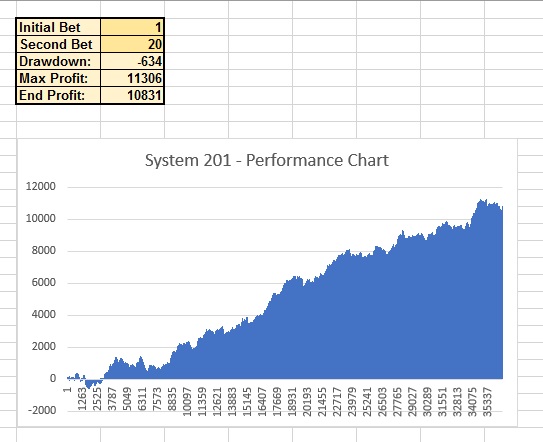 10,831 units profit. Yes, we can call it System 201 now, for bets become 20 and 1 instead.
The system's profitability is in direct proportion of the maximum bet you can afford.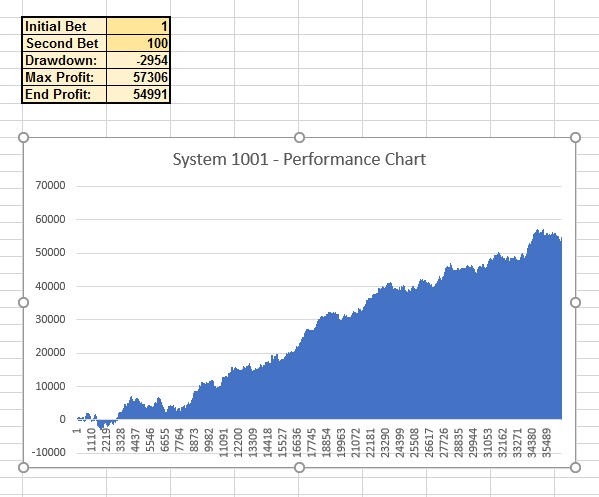 With 100 unit max bet, the profits go to 54,991 units.
And in the flat bet version, where the 1 unit is replaced with 0 unit, profits are even larger: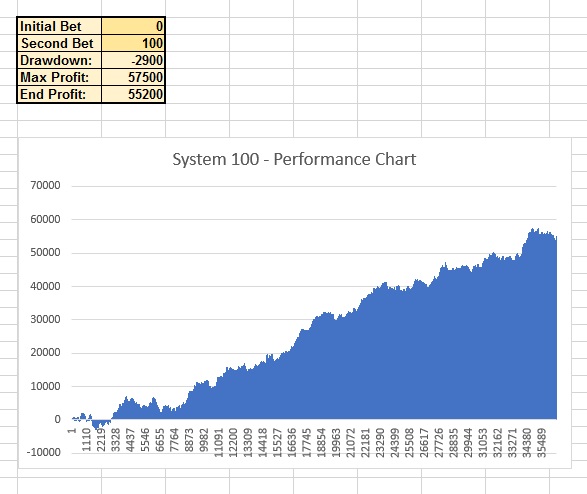 With this kind of performance, there is no stop loss nor stop win issues. The more you play, you more you gain indefinitely.
You can enter the game at any point, play until you feel you made a decent profit for the day.
With commissions our gain for the $100 bet will simply become $95 and the system will still generate profits on the long run.
And here is its performance taking commissions into account: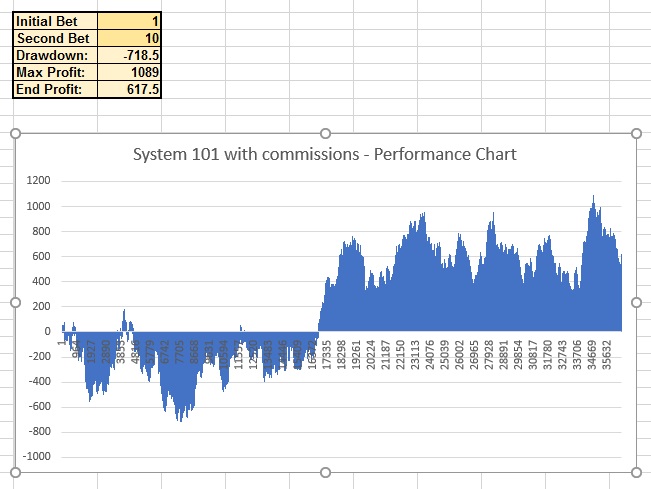 This is just the 10 unit version.
If we could use a maximum bet of 20 units, then this will increase our profits to:
| | | | |
| --- | --- | --- | --- |
| | | | |
| | Initial Bet | 1 | |
| | Second Bet | 20 | |
| | Drawdown: | -1464 | |
| | Max Profit: | 2372 | |
| | End Profit: | 1444 | |
| | | | |
Now if we use black chips only the following stats take place:
| | | | |
| --- | --- | --- | --- |
| | | | |
| | Initial Bet | | |
| | Second Bet | | |
| | Drawdown: | -7448 | |
| | Max Profit: | 12636 | |
| | End Profit: | 8056 | |
| | | | |
And that's including commissions.
The flat bet version will have:
| | | | |
| --- | --- | --- | --- |
| | | | |
| | Initial Bet | 0 | |
| | Second Bet | 100 | |
| | Drawdown: | -7480 | |
| | Max Profit: | 12830 | |
| | End Profit: | 8265 | |
| | | | |
+8,265 units taking commissions into account with a max bet of 10 units flat of a bet value of $10. Unheard of compared to other systems. And betting flat, you can go all the way to the table's maximum, if your budget allows it.
System 101 goes for only $1010. And if you purchase it till the end of August 2020, you can have it for $101, like the system name.

You will receive the 16 page easy to read system document and two simulations for non-commission and commission based Baccarat game within which you can change parameters of the initial and second bet values to experiment with different variations and profit levels.
Place your orders at the following link:
https://shop.letstalkwinning.com/collections/baccarat-systems/products/system-101
and an automatic download link will be provided to you. Do not forget to specify your email address for the link to work.

As usual, you have a full money back guarantee within 30 days of your purchase, no strings attached, no questions asked.
Thank you,
Izak Matatya
www.letstalkwinning.com
www.izakmatatya-digitalart.com

Email: webmaster@letstalkwinning.com, izak.matatya@videotron.ca or matatya.izak@gmail.com
Systems Gallery: http://www.letstalkwinning.com/gallery.htm
Newsletter: http://www.letstalkwinning.com/winalert.htm
Newsletter Archive: http://www.letstalkwinning.com/archive.htm
Recommended On-Line Casinos: http://www.letstalkwinning.com/bestonline.htm
Discussion Forum: http://www.letstalkwinning.com/forum/
Izak Matatya's new contemporary digital art online store: https://www.izakmatatya-digitalart.com, www.izakmatatya.com
---
WOULD YOU LIKE TO SUBSCRIBE? Click here.
---
If you missed any newsletter, click here for an archive.
---
Poker Guide - The world's largest poker guide PokerListings.com with reviews of 750 poker sites.

Texas Holdem - Page that compares 45 Texas Holdem online poker rooms on a number of relevant features.
---