Play To Win
Tips and strategies to help make you a winning casino player

Game Rules
Learn: Blackjack, Baccarat, Craps, Roulette, Slots, Video Poker, Pai Gow Poker, Texas Hold'em, Caribbean Stud, Let It Ride, Casino War, Big Six, Sic Bo (NEW!)

Systems Gallery
Win more, more often with proven betting methods from the systems gallery

Order Form
A secure on-line order form to purchase products advertised by Let's Talk Winning.

Playing Online
All about gambling at online casinos. Find out where the best deals are

Best Casino Bonuses - NEW!
The best collection of on-line casino bonuses, where you can cash $802 on your sign-up.

Links and Things
Sign our guestbook, refer a friend, link to other gambling sites.

Gambling News - NEW!
Latest Gambling News - updated daily including gambling articles, joke of the day and a gambling dictionary.

Newsletter
Click above to read the current edition of our weekly newsletter. Then get your own free subscription right here. Enter your e-mail address for immediate delivery of an introductory issue, including a FREE ROULETTE SYSTEM by clicking here.

Please tell all your friends about it.

On-Line Forum
Post a gambling question or opinion - get an answer . . .
---
Below is a selection of the most recommended
on-line casinos
and sportsbooks
Check out:
On-Line Casino of the Month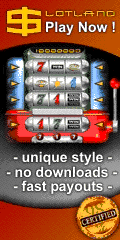 =================================================== Thursday, August 1, 2013

The New 3SB - 3 Stage Betting system by Izak Matatya
Dear Let's Talk Winning subscribers, customers, friends,
I was asked quite a few times if I can beat the entire Zumma shoes set - a collection of 1600 test shoes - with the same set of parameters. I replied that was my goal in my next system. Not only I have accomplished that in my new system 3SB - 3 Stage Betting, that I'm proud to present this week, but I have achieved it with a maximum bet not exceeding 5 units tops.
Well, here it is, the result of many years of research and the completed product based on customer requirements:
- total consistency of the use of parameters from one tester book to another
- no escalating bets to huge amounts
- flat betting only in 3 stages
- very little drawdown
- dynamic betting on every single decision
- applicability and adaptability to any casino game
- indefinite long term profitability
Sounds like a very solid system? It is! Very extensively tested: over 9 attached simulations are provided with different aspects, budgets and experimented parameters.
My 12 years experience in gambling systems design led me to develop this most recent work of mine called 3 Stage Betting or 3SB system. As the name implies, it consists of betting flat during 3 stages, with different bet sizes in each stage. The size of the bets and the duration of each stage are the actual six parameters of the system. The system document will reveal the logic behind switching stages, how to vary the size of the bets, how long to bet during each stage, in such a way that you can make indefinite profits with the continuous use of the system.

By applying those 6 parameters, you no longer need to set a loss limit or a win target. The system will adjust itself and you will know exactly when to stop, how much to bet in each stage and how long you can stay in each stage. It won't be too surprising if you stay in any one of those stages for the entire shoe, as long as you are profitable on the long run.

This is the system many of you have been waiting for. In previous systems, different parameters applied to the different portions of the Zumma tester book provided positive end profit for each part of the Zumma decisions. This system beats all 1600 Zumma shoes using the same parameters all over the entire 3 set: the 600. the first 500 shoes of the 1K and the second half of the 1K Zumma tester book. And this is achieved with the maximum bet not having to exceed 5 units tops. With 5 units max bet 3SB generates 110 units for the 600 shoe set, 173 units for the first half of 1K shoe set and 883 for the second half of 1K shoe set, thus a total of 1,166 units for 1600 Zumma shoes.

This may not seem much, but it's very consistent and besides with a max bet 5 units, you unit size can be fairly large if your budget allows.
If we stretch the system to 10 unit max bet, then again the same parameters beat the entire 1600 Zumma shoes and generate more than 3000 units, averaging about 2 units per shoe.
Otherwise, for the aggressive bettors, maximum profitability is achieved with a maximum bet of 100 units, thus placing a minimum of $10 and maximum of $1000 bet, $250,000 are made within 500 shoes.

The system is so consistent and mathematically accurate, that if we cut the maximum bet of 100 units by 10 to 10 units, the end result will be exactly 10 fold less. thus 2,500 units for the same sample set of 500 shoes, which is still quite decent, averaging 5 units per shoe, no matter what unit size you use.

You will be able to experiment with all the 6 parameters of the system in the provided simulations and set the ones which best suit your gaming style and budget. And I will provide you with as many simulations as you require if you need more than the 9 sent to you with your purchase.

The system is mainly written for EZ Baccarat or the so-called Dragon Baccarat where there are no Banker win commissions. This is a very popular game now in casinos. as players do not want to concern themselves with the calculation of commissions or paying a large amount of commission on a large bet.
They also have some extra bets such as The Panda 8, when the Player wins with a total of eight consisting of three cards. It occurs about three times a shoe and pays 25 to 1 with a house edge of 10.2%. So 3SB will not consider it and the Dragon 7, when the Banker wins with a total of seven consisting of three cards. It occurs about twice per shoe and pays 40 to 1 with a house edge of 7.6%, thus 3SB does not consider it, either.
Considering the fact that there are about 80 decisions in a shoe, hedging the Dragon bet, that is placing 1 unit extra on Banker each time, will eventually break even, since it occurs about twice a shoe, gaining twice 40 units, thus 80 units, and having spent 80 units by hedging it. So 3SB leaves it alone and doesn't have it interfere with the system. Thus the system becomes adaptable to any casino game you wish to use it for as it becomes totally transparent..

The system is not of the common progression nature 1 1 1 1 2 2 2 2 3 3 3 3, that you may be acquainted with. Those kind of progressions switch stages based on the number of times you have used the 1, or the 2 or the 3 unit bet. 3SB switches stages based on what happens at the tables and puts you into a more advantageous situation depending on the circumstances. Thus the amount of the bet and the duration of each stage is a variable depending on how you're doing, providing you an automatic money management method in a totally mechanized way. Thus the system is programmable to be simulated for any number of decisions and the results are positive no matter how long you play it.
The concept of the system is totally new and is nothing you have seen before. It took 4 months of experimenting with the system both in simulations and live play. The results have been very astonishing, promising and satisfying.
The session buy in is 68 units. A lifetime bankroll of 350 units will be quite ample to use the system indefinitely.
Just to give you an idea, following is the performance chart of the system for a sample of 500 shoes: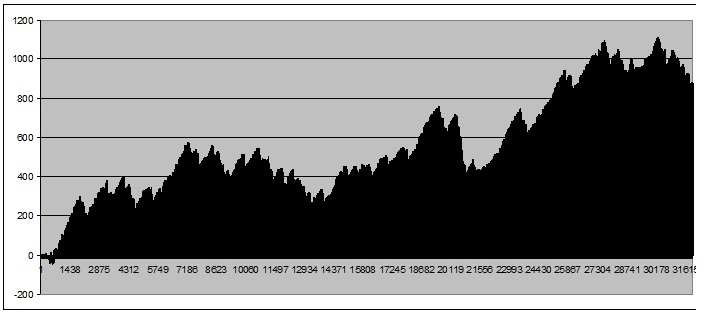 Nicely and steadily growing profits with very little drawdown.
The system is easy to understand. 24 pages of a system document with only one long example at the end that explains it all for 10 continuous shoes. Once you get the feel of it, it will be a breeze to use it. You may not even need a pen and a pad to keep track. Only very simple arithmetic is utilized in the system.
3SB goes for $600 and is worth every penny.
As usual, your full satisfaction is guaranteed. If not, you can have your money back within 30 days of your purchase, no strings attached, no questions asked.
Click here to order.
Thank you,
Izak Matatya
Wishing you all the best,
Izak
Email: webmaster@letstalkwinning.com or izak.matatya@videotron.ca
Systems Gallery: http://www.letstalkwinning.com/gallery.htm
Newsletter: http://www.letstalkwinning.com/winalert.htm
Newsletter Archive: http://www.letstalkwinning.com/archive.htm
Recommended On-Line Casinos: http://www.letstalkwinning.com/bestonline.htm
Discussion Forum: http://www.letstalkwinning.com/forum/
Latest Gambling News: http://www.letstalkwinning.com/latest-news.htm
New Art Gallery: http://www.letstalkwinning.com/Izak.Matatya.Art.htm
---
WOULD YOU LIKE TO SUBSCRIBE? Click here.
---
If you missed any newsletter, click here for an archive.
---
Poker Guide - The world's largest poker guide PokerListings.com with reviews of 750 poker sites.

Texas Holdem - Page that compares 45 Texas Holdem online poker rooms on a number of relevant features.
---