Play To Win
Tips and strategies to help make you a winning casino player

Game Rules
Learn: Blackjack, Baccarat, Craps, Roulette, Slots, Video Poker, Pai Gow Poker, Texas Hold'em, Caribbean Stud, Let It Ride, Casino War, Big Six, Sic Bo (NEW!)

Systems Gallery
Win more, more often with proven betting methods from the systems gallery

Order Form
A secure on-line order form to purchase products advertised by Let's Talk Winning.

Playing Online
All about gambling at online casinos. Find out where the best deals are

Best Casino Bonuses - NEW!
The best collection of on-line casino bonuses, where you can cash $802 on your sign-up.

Links and Things
Sign our guestbook, refer a friend, link to other gambling sites.

Gambling News - NEW!
Latest Gambling News - updated daily including gambling articles, joke of the day and a gambling dictionary.

Newsletter
Click above to read the current edition of our weekly newsletter. Then get your own free subscription right here. Enter your e-mail address for immediate delivery of an introductory issue, including a FREE ROULETTE SYSTEM by clicking here.

Please tell all your friends about it.

On-Line Forum
Post a gambling question or opinion - get an answer . . .
---
Below is a selection of the most recommended
on-line casinos
and sportsbooks
Check out:
On-Line Casino of the Month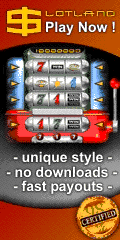 =================================================== Friday , August 16, 2013

Free Gambling System of the Month - Opportunity Betting
Dear Let's Talk Winning subscribers, customers, friends,
Here is the free gambling system promised for a few months now. Thus, I will provide you with quite a few strategies on how you can use opportunities to gain quick cash at the casinos.
Opportunities, as the name implies, are opportunities, and they don't come very often. But when they do come, we should take advantage of them.
We need to know what an opportunity is in gambling and how to identify it and then how to bet in order to win from it.
As mentioned, they are rare cases, that don't occur too often, but when they do occur, we can collect quite a few chips.
I have been playing EZ Baccarat lately, as I enjoy the fact that there are no commissions on Banker wins. I use a combination of 3SB and IHG, starting flat with 3SB and at times terminate with the mild progression of IHG to close a lot of runs. In a way, reaching the 3rd stage of 3SB is an opportunity to start using IHG.
There are two interesting bets in EZ Baccarat: The Panda 8 is when the Player wins with a total of eight consisting of three cards. It occurs about three times a shoe and pays 25 to 1 and the Dragon 7 is when the Banker wins with a total of seven consisting of three cards. It occurs about twice per shoe and pays 40 to 1.
I usually don't place bets on those, as the house edge is quite large.
However, I have been observing many EZ Baccarat shoes lately, as their scoreboards are displayed electronically and you can practically see 90% of a shoe on the screen and I can tell that so far, I have not seen a shoe without any Dragon or Panda decision.
So, if a shoe is gone through its 70% and no Panda nor Dragon decision showed up so far, I consider this as an opportunity, as there are about 20 decisions left until the end of the shoe. If you start placing 1 unit on Dragon, for instance, and still no Dragon shows up until the end of the shoe, you will be down only by 20 units. Usually, there will be at least one Dragon decision in the shoe, and that's where you get your easy 40 units cashed minus the few units you have been placing up until this Dragon shows up.
Luckily today, to everyone's amazement, including mine, the Dragon showed up on the very first bet I started putting my chip on it. I was expecting it to come up within the next 20 decisions and there it was right away. I got my 40 extra units and continued playing IHG in its normal way.
This is another thing about opportunities. You don't have to sit and wait for them. If you happen to use another system dynamically and you're placing bets on each decision, such as 3SB or IHG, when you see the opportunity, you simply go for it simultaneously to using your own system. Just be alert about them.
Otherwise, another way to look for opportunities is simply navigate and walk around different tables and observe the scores. Yes, it's true, that nothing is "due" in gambling, as the next decision has exactly the same probabilities, but historical data shows some kind of even distribution of decisions.
For instance, I saw a Roulette table among 17 of them, having 11 Blacks followed by a Red. I see that also as an opportunity, identifying the fact, that within the next, say, 10 decisions, there should be at least one more Red than Black, because of the statistical law of equal distribution. Again, you start placing 1 unit flat on Red until you are 1 unit ahead. Should there be 10 more Blacks than Reds, which I would say is very unlikely to occur, then you would be down only by 10 units. Otherwise, from my experience, at least one extra Red than Black does come up, making you take advantage of this type of opportunities.
This is much better than seeing, say, 7 Reds in a row and start using a Martingale double up progression, placing your bets on Black, thinking the the Black is "due". Obviously this is the gamblers' fallacy and I wouldn't be too surprised if another 7 Reds would show, making one losing the entire bankroll.
That's why it's important to see the end of this very unusual long streak, such as the 11 Blacks finally broken by the appearance of Red, and take the opportunity by betting flat units only.
This is valid for all even bets, such as 14 Highs followed by 1 Low (start betting 1 unit flat on Low), or 16 Evens followed by 1 Odd (start betting 1 unit flat on Odd), etc.
Same goes for Dozens. If a Dozen has repeated more than 7 times and this is followed by a different Dozen, start betting the other two dozens flat, until you are at least 1 unit ahead. Then look for another opportunity.
Similarly, if dozens have been alternating for a long period, say more than 14 spins, and finally a dozen repeats, it's time to bet 1 unit for a repeating dozen. And dozens pay 3 for 1. Bet until you are 1 or 2 units ahead.
In Baccarat, if you see a long tail (streak) of Bankers or Players, such as 11-16 of them and this is followed by the opposite decision, this is also a great opportunity to start betting on this opposite, again, until you are 1 unit ahead.
Similarly, if you see a long chop of Bankers and Players, followed finally by a repeating Banker or Player, it's time to bet 1 unit flat for a repeating decision, as trends alternate this way.
If you are looking to make just 1 unit on each opportunity, this is much easier than trying to make 5-10 units on each opportunity, as the same opportunity may not continue. That's why limit yourself to 1 unit profit per opportunity and take advantage of it by betting a relatively larger unit size. It's much easier to make 1 large size unit, then 5 smaller size units.
And finally, in Roulette, the enemy zeros can also be your friends. If you look at scoreboards around, you will generally see that green color among the Reds and Blacks. And if you happen to be navigating and a table did not have a zero for 3-4 full scoreboards, it would be a good idea to place 1 chip on the zero for the next few spins. It will have the same effect as a Dragon or Panda decision in Baccarat.
I hope you enjoyed this newsletter and wishing you to get lots of such opportunities.
Wishing you all the best,
Izak
Email: webmaster@letstalkwinning.com or izak.matatya@videotron.ca
Systems Gallery: http://www.letstalkwinning.com/gallery.htm
Newsletter: http://www.letstalkwinning.com/winalert.htm
Newsletter Archive: http://www.letstalkwinning.com/archive.htm
Recommended On-Line Casinos: http://www.letstalkwinning.com/bestonline.htm
Discussion Forum: http://www.letstalkwinning.com/forum/
Latest Gambling News: http://www.letstalkwinning.com/latest-news.htm
New Art Gallery: http://www.letstalkwinning.com/Izak.Matatya.Art.htm
---
WOULD YOU LIKE TO SUBSCRIBE? Click here.
---
If you missed any newsletter, click here for an archive.
---
Poker Guide - The world's largest poker guide PokerListings.com with reviews of 750 poker sites.

Texas Holdem - Page that compares 45 Texas Holdem online poker rooms on a number of relevant features.
---